Abstract
Adults with mental illness may experience a higher incidence of dysphagia and choking due to factors such as medication side effects and behavioural abnormalities. The aim of this study was to determine the frequency of dysphagia and the most effective interventions for this population. Studies published up to August 2010 were sought via a comprehensive electronic database search (CINAHL, PsycINFO, MEDLINE, PubMed, Cochrane, and Embase). Studies reporting dysphagia frequency or dysphagia intervention outcomes in adults with mental illness were included. Two reviewers independently assessed study eligibility and quality, and the results were synthesised descriptively. Ten studies were identified, each describing dysphagia frequency or death due to choking asphyxiation. No studies evaluating intervention effectiveness were identified. Study quality was limited by subjective assessment of outcomes. Six studies presented dysphagia frequencies ranging from 9 to 42% in varying subgroups. Four studies presented the frequency of choking asphyxiation death, including a large survey that concluded that adults with organic mental illness were 43 times more likely to die of this cause than the general population. Dysphagia is a common and significant cause of morbidity and mortality in adults with mental illness and our review found that there is a lack of studies evaluating the effectiveness of intervention techniques.
Access options
Buy single article
Instant access to the full article PDF.
US$ 39.95
Tax calculation will be finalised during checkout.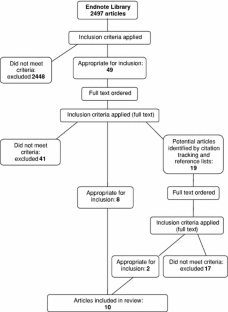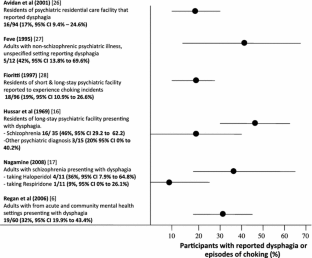 References
1.

Speech Pathology Australia. Dysphagia: General position paper, 2009, Speech Pathology Association of Australia. Available at www.speechpathologyaustralia.org.au. Accessed 26 Oct 2010.

2.

RCSLT, Dysphagia, in RCSLT Resource Manual for Commissioning and Planning Services for SCLN, RCSLT. 2009, Royal College of Speech & Language Therapists. Available at www.rcslt.org.uk. Accessed 26 Oct 2010.

3.

Langmore SE, Terpenning M, Schork A, Chen Y, Murray J, Lopatin D, Loesche W. Predictors of aspiration pneumonia: how important is dysphagia? Dysphagia. 1998;13:69–81.

4.

Groher ME, Bukatman R. The prevalence of swallowing disorders in two teaching hospitals. Dysphagia. 1986;1:3–6.

5.

Bazemore PH, Tonkonogy J, Ananth R. Dysphagia in psychiatric patients: clinical and videofluoroscopic study. Dysphagia. 1991;6(1):2–5.

6.

Regan J, Sowman R, Walsh I. Prevalence of dysphagia in acute and community mental health settings. Dysphagia. 2006;21(2):95–101.

7.

World Health Organisation. Mental health. Available at http://www.who.int/mental_health/en/ (Accessed 22 March 2011).

8.

Ruschena D, Mullen PE, Palmer S, Burgess P, Cordner SM, Drummer OH, Wallace C, Barry-Walsh J. Choking deaths: the role of antipsychotic medication. Br J Psychiatry. 2003;183:446–50.

9.

Logemann J. Evaluation and treatment of swallowing disorders. 2nd ed. Austin: Pro-Ed; 1998.

10.

Speyer R, Baijens L, Heijnen M, Zwijnenberg I. Effects of therapy in oropharyngeal dysphagia by speech and language therapists: a systematic review. Dysphagia. 2010;25(1):40–65.

11.

Bath PM, Bath-Hextall FJ, Smithard D. Interventions for dysphagia in acute stroke. Cochrane Database Syst Rev. 1999(4).

12.

Foley N, Teasell R, Salter K, Kruger E, Martino R. Dysphagia treatment post stroke: a systematic review of randomised controlled trials. Age Ageing. 2008;37:258–64.

13.

Moher D, Liberati A, Tetzlaff J, Altman DG. The PRISMA Group. Preferred reporting items for systematic reviews and meta-analyses: the PRISMA Statement. PLoS Med. 2009;6(7):e1000097.

14.

Khan KS, Ter Riet G, Popay J, Nixon J, Kleijnen J: CRD Report 4. Stage II, Conducting the review, Phase 5, Study Quality Assessment, 2001. Centre for Reviews and Dissemination, University of York, York, UK.

15.

Siwek J, Gourlay ML, Slawson DC, Shaughnessy AF. How to write an evidence-based clinical review article. Am Fam Physician. 2002;65(2):251–8.

16.

Hussar AE, Bragg DG. The effect of chlorpromazine on the swallowing function in chronic schizophrenic patients. Am J Psychiatry. 1969;126(4):570–3.

17.

Nagamine T. Serum substance P levels in patients with chronic schizophrenia treated with typical or atypical antipsychotics. Neuropsychiatr Dis Treat. 2008;4(1):289–94.

18.

Kagaya H, Okada S, Saitoh E, Baba M, Yokoyama M, Takahashi H. Simple swallowing provocation test has limited applicability as a screening tool for detecting aspiration, silent aspiration, or penetration. Dysphagia. 2010;25(1):6–10.

19.

Hussar AE. Leading causes of death in institutionalised chronic schizophrenic patients: a study of 1, 275 autopsy protocols. J Nerv Ment Dis. 1966;142(1):45–57.

20.

Craig TJ. Medication use and deaths attributed to asphyxia among psychiatric patients. Am J Psychiatry. 1980;37(11):1366–73.

21.

Corcoran E, Walsh D. Obstructive asphyxia: a cause of excess mortality in psychiatric patients. Ir J Psychol Med. 2003;20(3):88–90.

22.

World Health Organisation. ICD-10 classifications of mental and behavioural disorder: clinical descriptions and diagnostic guidelines. Geneva: World Health Organisation, 2007. Available at http://apps.who.int/classifications/apps/icd/icd10online/.

23.

Speech Pathology Australia: Fibre Endoscopic Evaluation of Swallowing (FEES). An advanced practice for speech pathologists (position paper), 2007. Melbourne: The Speech Pathology Association of Australia.

24.

Atherton M. Speech Pathology Australia Submission. In: Development of a National Mental Health Workforce Strategy and Plan—Mental Health Workforce Advisory Committee, 2009, Speech Pathology Australia. Available at www.speechpathologyaustralia.org.au. Accessed 26 Oct 2010.

25.

Feve A, Angelard B, Lacau St Guily J. Laryngeal tardive dyskinesia. J Neurol. 1995;242(7):455–9.

26.

Fioritti A, Giaccotto L, Melega V. Choking incidents among psychiatric patients: retrospective analysis of thirty-one cases from the West Bologna psychiatric wards. Can J Psychiatry. 1997;42(5):515–20.

27.

Al-Shehri AM. Drug-induced dysphagia. Ann Saudi Med. 2003;23(5):249–53.

28.

Appelbaum KL, Bazemore PH, Tonkonogy J, Ananth R, Shull S. Privilege and discharge decisions for psychiatric inpatients with dysphagia. Hosp Community Psychiatry. 1992;43(10):1023–5.

29.

Armstrong D, Ahuja N, Lloyd AJ. Quietapine-related dysphagia. Psychosomatics. 2008;49(5):450–2.

30.

Bergman P, Malasky C, Zahn TP. Oral functions in schizophrenia. J Nerv Ment Dis. 1998;146(5):351–9.

31.

Bragg DG, Hussar AE. Cineradiographic evaluation of the swallowing act in schizophrenic patients. Gastroenterology. 1971;60(2):299–304.

32.

The Brown University Geriatric Psychopharmacology Update, 12:1–8. doi:10.1002/gpu.20081.

33.

Bulling M. Drug-induced dysphagia. Aust N Z J Med. 1999;29(5):8–748.

34.

Butkovic-Soldo S, Tomic S, Stimac D, Knezevic L, Palic R, Juric S. Patients review: drug-induced movement disorders. Coll Antropol. 2005;29(2):579–82.

35.

Coombes R. Easier to swallow. Nurs Times. 2002;98(25):10–1.

36.

Craig T, Richardson MA. "Cafe coronaries" in psychiatric patients. JAMA. 1982;248(17):2114.

37.

Craig TJ, Richardson MA. Swallowing, tardive dyskinesia and anticholinergics. Am J Psychiatry. 1982;139(8):1083.

38.

Ekberg OFM. Clinical and demographic data in 75 patients with near fatal choking episodes. Dysphagia. 1992;7:205–8.

39.

Flaherty JA, Lahmeyer HW. Laryngeal-pharyngeal dystonia as a possible cause of asphyxia with haloperidol treatment. Am J Psychiatry. 1978;135(11):1414–5.

40.

Frangos E, Christodoulides H. Clinical observations of the treatment of tardive dyskinesia with haloperidol. Acta Psychiatr Belg. 1975;75(1):19–32.

41.

Glassman AH, Bigger JT. Antipsychotic drugs: prolonged QTc interval, torsade de pointes, and sudden death. Am J Psychiatry. 2001;158:1774–82.

42.

Harrison E, Jeffrey K, Kasif M, McGarry D, Mobbs L, Storey A. Identifying and managing risks of dysphagia in a long stay psychiatric hospital. Mind to Care–35th International Mental Health Nursing Conference of the Australian College of Mental Health Nurses, 2009. 29 September–2 October, Sheraton on the Park, Sydney, NSW, Australia. Int J Ment Health Nurs. 2009;18:A10–1.

43.

Haugen RK. Food apshyxiation. JAMA. 1964;188:1026.

44.

Haugen RK. The Cafe Coronary: sudden deaths in restaurants. JAMA. 1963;186(2):142–3.

45.

Haw C, Stubbs J. Administration of medicines in food and drink: a study of older in-patients with severe mental illness. Int Psychogeriatr. 2010;22(3):409–16.

46.

Heritage M. A collaborative approach to the assessment and management of dysphagia. Int J Lang Commun Disord. 2001;36(1):369–74.

47.

Hollister LE. Unexpected asphyxial death and tranquilizing drugs. Am J Psychiatry. 1957;114(4):366–7.

48.

Hollister LE, Kosek JC. Sudden death during treatment with phenothiazine derivatives. JAMA. 1965;192(12):1035–8.

49.

Hsieh HH, Bhatia SC, Andersen JM, Cheng SC. Psychotropic medication and nonfatal cafe coronary. J Clin Psychopharmacol. 1986;6(2):101–2.

50.

Hussar AE, Bragg DG. Swallowing function in schizophrenia. Ann Int Med. 1970;73(2):343–4.

51.

Jain S, Gibson RH, Guedet PJ, Lehrmann JA, Tsao CI. Aspiration pneumonia as a complication of severe mania. Gen Hosp Psychiatry. 2003;25(2):136–7.

52.

Kamin J, Manwani S, Hughes D. Extrapyramidal side effects in the psychiatric emergency service. Psychiatr Serv. 2000;51(3):287–9.

53.

Keith RM. Swallowing style in adults with schizophrenia. Am J Psychiatry. 1986;143(11):1504–5.

54.

Kelly J, Wright D. Administering medication to adult patients with dysphagia. Nurs Stand. 2009;23(29):62–8.

55.

Knol W, Van Marum RJ, Jansen PAF, Souverein PC, Schobben A, Egberts A. Antipsychotic drug use and risk of pneumonia in elderly people. J Am Geriatr Soc. 2008;56(4):661–6.

56.

Kuruvilla J, Trewby PN. Gastro-oesophageal disorders in adults with severe mental impairment. BMJ. 1989;299(6691):95–6.

57.

Massengill R, Nashold B. A swallowing disorder denoted in tardive dyskinesia patients. Acta Otolaryngol. 1969;68:457–8.

58.

McManus M. Dysphagia in psychiatric patients. J Psychosoc Nurs Ment Health Serv. 2001;39(2):24–30.

59.

Mittleman RE, Wetli CV. The Fatal Cafe Coronary. JAMA. 1982;247(9):1285–8.

60.

Mortensen PB, Juel K. Mortality and causes of death in schizophrenic patients in Denmark. Acta Psychiatr Scand. 1990;81:372–7.

61.

Moss HB, Green A. Neuroleptic-associated dysphagia confirmed by esophageal manometry. Am J Psychiatry. 1982;139(4):515–6.

62.

Nagamine T, Nakayama H. Serum substance P concentration in pneumonia patients with chronic schizophrenia. Int Med J. 2009;16(3):181–2.

63.

Newton-John H. Acute upper airway obstruction due to supraglottic dystonia induced by a neuroleptic. BMJ. 1988;297(6654):964–5.

64.

Pearlman C. Clozapine, nocturnal sialorrhea, and choking. J Clin Psychopharmacol. 1994;14(4):283.

65.

Rosenstein LD, Price RF. Shaping a normal rate of eating using audiotaped pacing in conjunction with a token economy. Neuropsychol Rehabil. 1994;4(4):387–98.

66.

Rudolph JL, Gardner KF, Gramigna GD, McGlinchey RE. Antipsychotics and oropharyngeal dysphagia in hospitalized older patients. J Clin Psychopharmacol. 2008;28(5):532–5.

67.

Sagar R, Varghese ST, Balhara YP. Dysphagia due to olanzepine, an antipsychotic medication. Indian J Gastroenterol. 2005;24(1):37–8.

68.

Sims CA. Do neuroleptics increase the risk of choking? Br J Psychiatry. 1980;136:608.

69.

Stewart JT. Reversible dysphagia associated with neuroleptic treatment. J Am Geriatr Soc. 2001;49(9):1260–1.

70.

Stones M, Kennie DC, Fulton JD. Dystonic dysphagia associated with fluspirilene. BMJ. 1990;301(6753):668–9.

71.

Stovall JG, Gussak LS. Dysphagia and chronic mental illness: looking beyond hysteria and broadening the psychiatric differential diagnosis. Prim Care Companion J Clin Psychiatry. 2001;3(3):143–400.

72.

Stroup S, Swartz M, Appelbaum P. Concealed medicines for people with schizophrenia: A U.S. perspective. Schizophr Bull. 2002;28(3):537–42.

73.

Varghese ST, Balhara YP, George SA, Sagar R. Risperidone and dysphagia. J Postgrad Med. 2006;52(4):327–8.

74.

Von Brauchitsch H, May W. Deaths from aspiration and asphyxiation in a mental hospital. Arch Gen Psychiatry. 1968;18(2):129–36.

75.

Walsh I, Regan J, Sowman R, Parsons B, McKay AP. A needs analysis for the provision of a speech and language therapy service to adults with mental health disorders. Ir J Psychol Med. 2007;24(3):89–93.

76.

Warner J. Risk of choking in mental illness. Lancet. 2004;363(9410):674.

77.

Weiden P, Harrigan M. A clinical guide for diagnosing and managing patients with drug-induced dysphagia. Hosp Community Psychiatry. 1986;37(4):396–8.

78.

Wendkos MH. Aspiration of food by psychiatric patients. JAMA. 1982;248(14):1712.

79.

Wendkos MH, Clay BW. Unusual causes for sudden unexpected death of regressed hospitalized schizophrenic patients. J Am Geriatr Soc. 1965;13:663–71.

80.

Wick R, Gilbert JD, Byard RW. Cafe coronary syndrome - fatal choking on food: an autopsy approach. J Clin Forensic Med. 2006;13(3):135–8.

81.

Wilkins T, Gillies RA, Thomas AM, Wagner PJ. The Prevalence of dysphagia in primary care patients: a HamesNet Research Network study. J Am Board Fam Med. 2007;20(2):144–50.

82.

Zugibe FT. Sudden death related to the use of psychotropic drugs. Leg Med Ann. 1980:75–90.

83.

Avidan B, Sonnenberg A, Giblovich H, Sontag SJ. Reflux symptoms are associated with psychiatric disease. Aliment Pharmacol Ther. 2001;15(12):1907–12.
Conflict of Interest
No grant or financial support was received for this project.
About this article
Cite this article
Aldridge, K.J., Taylor, N.F. Dysphagia is a Common and Serious Problem for Adults with Mental Illness: A Systematic Review. Dysphagia 27, 124–137 (2012). https://doi.org/10.1007/s00455-011-9378-5
Received:

Accepted:

Published:

Issue Date:
Keywords
Systematic review

Dysphagia

Deglutition

Deglutition disorders

Mental illness

Mental disorders