Abstract
Omohyoid muscle syndrome (OMS) is a rare clinical condition that has the pathognomonic feature of the appearance of a lateral neck mass when swallowing due to dysfunction of the omohyoid muscle (OH). We present two cases of typical OMS with electrophysiologic and dynamic imaging studies. The study results indicate that OMS is caused mainly by the loosening of the fascial attachment to the intermediate tendon of the OH. The characteristic clinical features and pathomechanism underlying OMS are also discussed.
Access options
Buy single article
Instant access to the full article PDF.
US$ 39.95
Tax calculation will be finalised during checkout.
Subscribe to journal
Immediate online access to all issues from 2019. Subscription will auto renew annually.
US$ 79
Tax calculation will be finalised during checkout.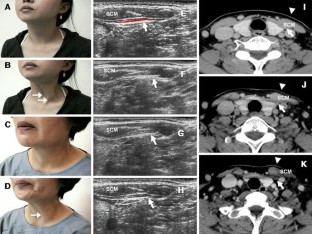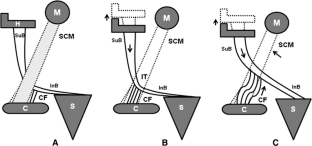 References
1.

Lee DKG. Omohyoid muscle syndrome. Kor J Otolaryngol. 2002;45:306–9.

2.

Wong DS, Li JH. The omohyoid sling syndrome. Am J Otolaryngol. 2000;21:318–22. doi:10.1053/ajot.2000.16161.

3.

Ye BY. Omohyoid muscle syndrome: report of a case. Chin Med J (Engl). 1980;93:65–8.

4.

Zhang H, Zhao C, Wang D. False dysphagia caused by omohyoid muscle syndrome: 50 cases of autopsy and 2 cases of clinical reports. Zhonghua Wai Ke Za Zhi. 1995;33:362–3.

5.

Koo J, Pyun SB, Choi KH. Electrophysiologic evaluation of the effects of volume and neck positions on swallowing. J Korean Acad Rehabil Med. 2003;27:917–21.

6.

Ertekin C, Keskin A, Kiylioglu N, Kirazli Y, On AY, Tarlaci S, et al. The effect of head and neck positions on oropharyngeal swallowing: a clinical and electrophysiologic study. Arch Phys Med Rehabil. 2001;82:1255–60. doi:10.1053/apmr.2001.25156.

7.

Standring S. Gray's anatomy: The anatomical basis of clinical practice. 39th ed. Edinburgh: Elsevier Churchill Livingston; 2005.

8.

Vanneuville G, Mondie JM, Scheye T, Guillot M, Dechelotte P, Campagne D, et al. Anatomic and physiologic comments concerning the innervation and function of the omohyoid muscle in man. Bull Assoc Anat (Nancy). 1986;70:55–9.

9.

Castro HA, Resende LA, Berzin F, Konig B. Electromyographic analysis of the superior belly of the omohyoid muscle and anterior belly of the digastric muscle in tongue and head movements. J Electromyogr Kinesiol. 1999;9:229–32. doi:10.1016/S1050-6411(98)00033-9.

10.

Gehrking E, Klostermann W, Wessel K, Remmert S. Electromyography of the infrahyoid muscles—part 1: normal findings. Laryngorhinootologie. 2001;80:662–5. doi:10.1055/s-2001-18271.

11.

Pirsig W. Congenital torticollis with dislocation of the larynx and trachea caused by contracture of one omohyoides muscle (author's transl). Arch Otorhinolaryngol. 1977;215:335–7. doi:10.1007/BF00463072.

12.

Shih TY, Chuang JH. Fibrosis of the omohyoid muscle—an unusual cause of torticollis. J Pediatr Surg. 1998;33:741–2. doi:10.1016/S0022-3468(98)90204-4.

13.

Zachary RB, Young A, Hammond JD. The omohyoid syndrome. Lancet. 1969;2:104–5. doi:10.1016/S0140-6736(69)92410-6.

14.

Makino K, Kinishi M, Kokubu M, Amatsu M. Omohyoid muscle syndrome—clinical, pathological and etiological studies. Nippon Jibiinkoka Gakkai Kaiho. 1983;86:721–4.

15.

Shibusawa M, Nishijima W, Hentona H. A case of omohyoid muscle syndrome. Nippon Jibiinkoka Gakkai Kaiho. 1986;89:833–8.

16.

Sukekawa R, Itoh I. Anatomical study of the human omohyoid muscle: regarding intermediate morphologies between normal and anomalous morphologies of the superior belly. Anat Sci Int. 2006;81:107–14. doi:10.1111/j.1447-073X.2006.00138.x.

17.

Fukuda H, Onizawa K, Hagiwara T, Iwama H. The omohyoid muscle: a variation seen in radical neck dissection. Br J Oral Maxillofac Surg. 1998;36:399–400. doi:10.1016/S0266-4356(98)90668-4.

18.

Hatipoglu ES, Kervancioglu P, Tuncer MC. An unusual variation of the omohyoid muscle and review of literature. Ann Anat. 2006;188:469–72. doi:10.1016/j.aanat.2006.03.004.

19.

Tubbs RS, Salter EG, Oakes WJ. Unusual origin of the omohyoid muscle. Clin Anat. 2004;17:578–82. doi:10.1002/ca.20039.
Additional information
No commercial party with a direct financial interest in the results of the research supporting this article has or will confer a benefit upon the authors or upon any organization with which the authors are associated.
About this article
Cite this article
Kim, L., Kwon, H. & Pyun, SB. Pseudodysphagia Due to Omohyoid Muscle Syndrome. Dysphagia 24, 357–361 (2009). https://doi.org/10.1007/s00455-008-9206-8
Received:

Accepted:

Published:

Issue Date:
Keywords
Deglutition

Omohyoid muscle syndrome

Dysphagia

Ultrasonography

Swallowing electromyography

Deglutition disorders