Abstract
This is the first study to examine dysphagia assessment practices of UK/Ireland speech and language therapists. The aims were to (1) examine practice patterns across clinicians, (2) determine levels of consistency in practice, and (3) compare practices of clinicians in the UK/Ireland with those previously reported of clinicians in the United States. A questionnaire, developed for earlier U.S. research, was adapted following a pilot study. The resulting email survey was completed by 296 speech and language therapists working with dysphagic adults. Respondents were asked to rate how frequently they use 31 components of a clinical dysphagia examination. Consistency was determined by calculating the percentage of respondents who agreed on frequency of use. Low frequency of use was reported for four components: trials with compensatory techniques, obtain patient's drug history, assessment of speech articulation/intelligibility, and screening/assessment of mental abilities. Variability among clinicians was high, with inconsistency observed for 6/31 components (19%) and high consistency for only 10/31 (32%). Results were compared with data from the earlier U.S. study. Notable differences in practice were observed for five components: cervical auscultation, trials with compensatory techniques, gag reflex, assessment of sensory function, and screening/assessment of mental abilities. Inconsistency among UK/Ireland clinicians was higher than in the comparator U.S. study. The clinical implications of these findings are discussed.
Access options
Buy single article
Instant access to the full article PDF.
USD 39.95
Price excludes VAT (USA)
Tax calculation will be finalised during checkout.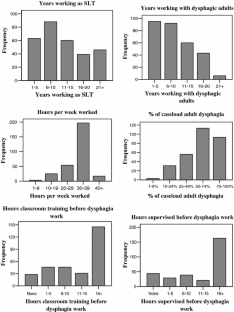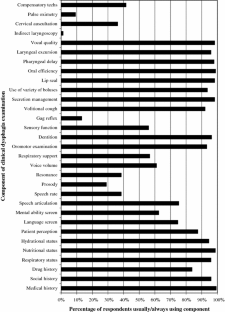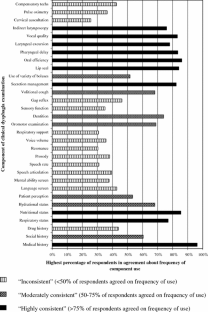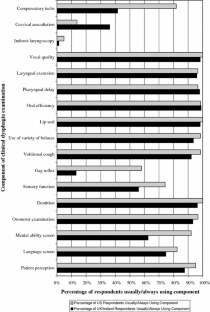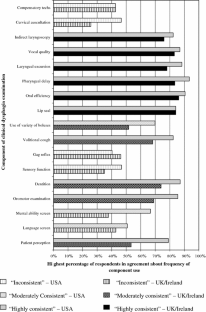 References
Langmore SE: Issues in the management of dysphagia. Folia Phoniatr Logop 51:220–230, 1999

Royal College of Speech and Language Therapists (RCSLT): Communicating Quality 2. London: RCSLT, 1996

Scottish Intercollegiate Guidelines Network (SIGN): Management of patients with stroke: Identification and management of dysphagia. Edinburgh: Scottish Intercollegiate Guidelines Network, 2004

Department of Health (DOH): National service framework for older people. London: DOH, 2001

Kirker FJ, Oliver DJ: The development and implementation of a standardized policy for the management of dysphagia in motor neurone disease. Palliat Med 17:322–326, 2003

Royal College of Physicians (RCP): Multiple sclerosis. In: National clinical guideline for diagnosis and management in primary and secondary care. London: Royal College of Physicians, 2003

Watson F: Learning disabilities and dysphagia: the patient safety agenda. Bull RCSLT 18–19, 2004

DePippo KL, Holas MA, Reding MJ: Validation of the 3-oz water swallow test for aspiration following stroke. [see comment]. Arch Neurol 49:1259–1261, 1992

Mari F, Matei M, Ceravolo MG, Pisani A, Montesi A, Provinciali L: Predictive value of clinical indices in detecting aspiration in patients with neurological disorders. J Neurol Neurosurg Psychiatry 63:456–460, 1997

Hinds NP, Wiles CM: Assessment of swallowing and referral to speech and language therapists in acute stroke. QJM 91:829–835, 1998

Perry L: Screening swallowing function of patients with acute stroke. Part one: Identification, implementation and initial evaluation of a screening tool for use by nurses. J Clin Nurs 10:463–473, 2001

Martino R, Pron G, Diamant N: Screening for oropharyngeal dysphagia in stroke: insufficient evidence for guidelines. Dysphagia 15:19–30, 2000

Perry L, Love CP: Screening for dysphagia and aspiration in acute stroke: a systematic review. Dysphagia 16:7–18, 2001

Ramsey DJ, Smithard DG, Kalra L: Early assessments of dysphagia and aspiration risk in acute stroke patients. Stroke 34:1252–1257, 2003

Leslie P, Carding PN, Wilson JA: Investigation and management of chronic dysphagia. BMJ 326:433–436, 2003

Logemann JA, Veis S, Colangelo L: A screening procedure for oropharyngeal dysphagia. Dysphagia 14:44–51, 1999

Collins MJ, Bakheit AMO: Does pulse oximetry reliably detect aspiration in dysphagic stroke patients? Stroke 28:1773–1775, 1997

Lim SH, Lieu PK, Phua SY, Seshadri R, Venketasubramanian N, Lee SH, Choo PW: Accuracy of bedside clinical methods compared with fiberoptic endoscopic examination of swallowing (FEES) in determining the risk of aspiration in acute stroke patients. Dysphagia 16:1–6, 2001

Sellars C, Dunnet C, Carter R: A preliminary comparison of videofluoroscopy of swallow and pulse oximetry in the identification of aspiration in dysphagic patients. Dysphagia 13:82–86, 1998

Smith HA, Lee SH, O'Neill PA, Connolly MJ: The combination of bedside swallowing assessment and oxygen saturation monitoring of swallowing in acute stroke: A safe and humane screening tool. Age Ageing 29:495–499, 2000

Leder SB: Use of arterial oxygen saturation, heart rate, and blood pressure as indirect objective physiologic markers to predict aspiration. Dysphagia 15:201–205, 2000

Stroud AE, Lawrie BW, Wiles CM: Inter- and intra-rater reliability of cervical auscultation to detect aspiration in patients with dysphagia. Clin Rehabil 16:640–645, 2002

Leslie P, Drinnan MJ, Finn P, Ford GA, Wilson JA: Reliability and validity of cervical auscultation: A controlled comparison using videofluoroscopy. Dysphagia 19:231–240, 2004

McCullough GH, Wertz RT, Rosenbek JC, Mills RH, Ross KB, Ashford JR: Inter- and intrajudge reliability of a clinical examination of swallowing in adults. Dysphagia 15:58–67, 2000

McCullough GH, Wertz RT, Rosenbek JC, Dinneen C: Clinicians' preferences and practices in conducting clinical/bedside and videofluoroscopic swallowing examinations in an adult, neurogenic population. Am J Speech Lang Pathol 8:149–163, 1999

Mathers-Schmidt BA, Kurlinski M: Dysphagia evaluation practices: inconsistencies in clinical assessment and instrumental examination decision-making. Dysphagia 18:114–125, 2003

Martino R, Pron G, Diamant N: Oropharyngeal dysphagia: Surveying practice patterns of the speech-language pathologist. Dysphagia 19:165–176, 2004

Boswell S: International agreement brings mutual recognition of certification. The ASHA Leader 1:22, 2004

Machin D, Campbell MJ: Design of studies for medical research. New York: Wiley, 2005

Gwet K: Handbook of inter-rater reliability: How to estimate the level of agreement between two or multiple raters. Gaithersburg, MD: Stataxis, 2001

Murray J: Manual of Dysphagia Assessment in Adults. In: Rosenbek J (ed). Dysphagia Series, San Diego, CA: Singular Publishing Group, 1999, 211 pp

Stoschus B, Allescher HD: Drug-induced dysphagia. Dysphagia 8:154–159, 1993

Spieker MR: Evaluating dysphagia. Am Fam Physician 61:3639–3648, 2000

Sagar R, Varghese ST, Balhara YP: Dysphagia due to olanzepine, an antipsychotic medication. Indian J Gastroenterol 24:37–38, 2005

Cornish P: "Avoid the crush": hazards of medication administration in patients with dysphagia or a feeding tube. CMAJ 172:871–872, 2005

Allison MC, Kontoyannis A, Durai D, Turner GI, Fone DL: GOAL: a simplified mental test for emergency medical admissions. QJM 97:663–669, 2004

Hodkinson HM: Evaluation of a mental test score for assessment of mental impairment in the elderly. Age Ageing 1:233–238, 1972

Leder SB: Gag reflex and dysphagia. Head Neck 18:138–141, 1996

Bleach NR: The gag reflex and aspiration: a retrospective analysis of 120 patients assessed by videofluoroscopy. Clin Otolaryngol Allied Sci 18:303–307, 1993

Royal College of Speech and Language Therapists (RCSLT): Recommendations for pre and post registration dysphagia education and training. London: RCSLT, 1999
Acknowledgments
The authors thank Jill Cobb at the Royal College of Speech and Language Therapists for creating the database and all the SLTs who participated in the study.
About this article
Cite this article
Bateman, C., Leslie, P. & Drinnan, M.J. Adult Dysphagia Assessment in the UK and Ireland: Are SLTs Assessing the Same Factors?. Dysphagia 22, 174–186 (2007). https://doi.org/10.1007/s00455-006-9070-3
Received:

Accepted:

Published:

Issue Date:

DOI: https://doi.org/10.1007/s00455-006-9070-3
Keywords
Swallowing

Dysphagia

Deglutition

Deglutition disorders

Survey

Practice patterns

Clinical assessment