Abstract
We tested two hypotheses using surface electrical stimulation in chronic pharyngeal dysphagia: that stimulation (1) lowered the hyoid bone and/or larynx when applied at rest, and (2) increased aspiration, penetration, or pharyngeal pooling during swallowing. Bipolar surface electrodes were placed on the skin overlying the submandibular and laryngeal regions. Maximum tolerated levels of stimulation were applied while patients held their mouth closed at rest. Videofluoroscopic recordings were used to measure hyoid movements in the superior-inferior and anterior-posterior dimensions and the subglottic air column position while stimulation was on or off. Patients swallowed 5 ml liquid when stimulation was off, at low sensory stimulation levels, and at maximum tolerated levels (motor). Speech pathologists, blinded to condition, tallied the frequency of aspiration, penetration, pooling, and esophageal entry from videofluorographic recordings of swallows. Only significant (p = 0.0175) hyoid depression occurred during stimulation at rest. Aspiration and pooling were significantly reduced only with low sensory threshold levels of stimulation (p = 0.025) and not during maximum levels of surface electrical stimulation. Those patients who had reduced aspiration and penetration during swallowing with stimulation had greater hyoid depression during stimulation at rest (p = 0.006). Stimulation may have acted to resist patients' hyoid elevation during swallowing.
This is a preview of subscription content, log in to check access.
Access options
Buy single article
Instant access to the full article PDF.
US$ 39.95
Tax calculation will be finalised during checkout.
Subscribe to journal
Immediate online access to all issues from 2019. Subscription will auto renew annually.
US$ 99
Tax calculation will be finalised during checkout.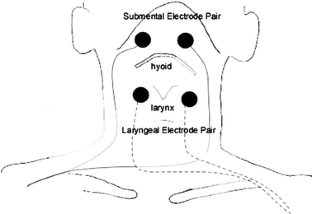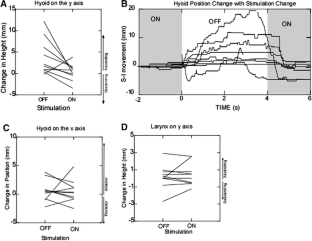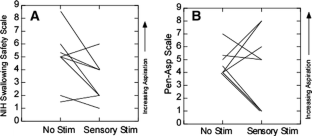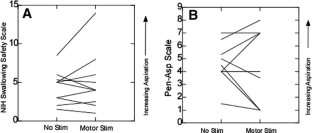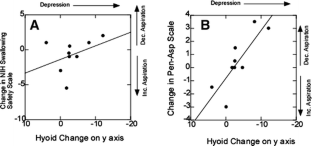 References
1.

Freed ML, Freed L, Chatburn RL, Christian M: Electrical stimulation for swallowing disorders caused by stroke. Respir Care 46(5):466–474, 2001

2.

Leelamanit V, Limsakul C, Geater A: Synchronized electrical stimulation in treating pharyngeal dysphagia. Laryngoscope 112(12):2204–2210, 2002

3.

Park CL, O'Neill PA, Martin DF: A pilot exploratory study of oral electrical stimulation on swallow function following stroke: an innovative technique. Dysphagia 12(3):161–166, 1997

4.

Power M, Fraser C, Hobson A, Rothwell JC, Mistry S, Nicholson DA, Thompson DG, Hamdy S: Changes in pharyngeal corticobulbar excitability and swallowing behavior after oral stimulation. Am J Physiol Gastrointest Liver Physiol 286(1):G45–G50, 2004

5.

Loeb GE, Gans C: Electromyography for Experimentalists. Chicago: The University of Chicago, 1986

6.

Sobotta J: Head, Neck, Upper limbs, Skin. Volume 1 of Sobotta Atlas of Human Anatomy, 11th English ed. Staubesand J (ed.) Baltimore: Urban & Schwarzenberg, 1990

7.

Wijting Y, Freed ML: VitalStim Therapy Training Manual. Hixson, TN: Chattanooga Group, 2003

8.

Folstein MF, Folstein SE, McHugh PR: "Mini-mental state." A practical method for grading the cognitive state of patients for the clinician. J Psychiatr Res 12(3):189–198, 1975

9.

Rosenbek JC, Robbins JA, Roecker EB, Coyle JL, Wood JL: A penetration-aspiration scale. Dysphagia 11(2):93–98, 1996

10.

Fleiss JL: The design and analysis of clinical experiments. New York: John Wiley & Sons, 1999, pp 1–11

11.

Hamdy S, Jilani S, Price V, Parker C, Hall N, Power M: Modulation of human swallowing behaviour by thermal and chemical stimulation in health and after brain injury. Neurogastroenterol Motil 15(1):69–77, 2003

12.

Burnett TA, Mann EA, Cornell SA, Ludlow CL: Laryngeal elevation achieved by neuromuscular stimulation at rest. J Appl Physiol 94(1):128–134, 2003

13.

Pommerenke WT: A study of the sensory areas eliciting the swallowing reflex. Am J Physiol 84(1):36–41, 1927

14.

Jean A: Control of the central swallowing program by inputs from the peripheral receptors. A review. J Auton Nerv Syst 10:225–233, 1984

15.

Jafari S, Prince RA, Kim DY, Paydarfar D: Sensory regulation of swallowing and airway protection: a role for the internal superior laryngeal nerve in humans. J Physiol 550(Pt 1):287–304, 2003
Additional information
The research was performed at the Laryngeal and Speech Section, National Institute of Neurological Disorders and Stroke, Bethesda, Maryland, and supported by the Intramural Research Program of the National Institute of Neurological Disorders and Stroke, Project No. Z01 NS 02980.
About this article
Cite this article
Ludlow, C.L., Humbert, I., Saxon, K. et al. Effects of Surface Electrical Stimulation Both at Rest and During Swallowing in Chronic Pharyngeal Dysphagia. Dysphagia 22, 1–10 (2007). https://doi.org/10.1007/s00455-006-9029-4
Keywords
Deglutition

Deglutition disorders

Hyolaryngeal movement

Aspiration

Penetration

Sensory stimulation

Resistance

Transcutaneous neuromuscular stimulation