Abstract
The main function of mastication is to transform a solid food into a bolus that can be swallowed safely. The bolus characteristics such as particles size or cohesiveness, are continuously sensed during mastication and they are important in initiating deglutition. This study examined the following question: What is the condition of the bolus just before swallowing? Ten subjects with normal dentition aged 37.5 ± 3.7 years were asked to chew without swallowing six different foods (three nuts and three vegetables) while the number of cycles and the duration of the sequence were recorded. The particle size distribution shown by the expectorated food bolus just before swallowing was examined by image analysis. The results showed that, for a given food, the sizes of the bolus particles just before swallowing were comparable in all subjects. However, the number of cycles and duration of the sequence varied between subjects. Taken together these data strongly suggest that the granularity of the bolus before swallowing has to reach a predetermined state which is obtained by using an individual chewing strategy. This suggests that the bolus structure reflects a key factor for homeostasis and explains the large interindividual variability of the mastication physiologic parameters.
Access options
Buy single article
Instant access to the full article PDF.
USD 39.95
Price excludes VAT (USA)
Tax calculation will be finalised during checkout.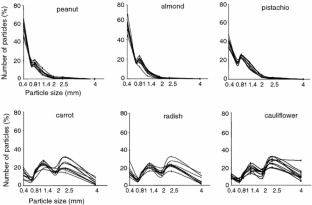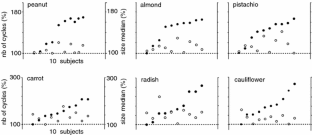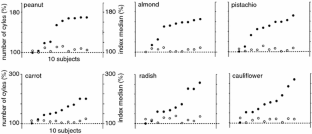 References
Lund JP: Mastication and its control by the brain stem. Crit Rev Oral Biol Med 2:33–64, 1991

Hoebler C, Karinthi A, Devaux MF, Guillon F, Gallant DJG, Bouchet B, Melegari M, Barry JL: Physical and chemical transformations of cereal food during oral digestion in human subjects. Brit J Nutr 80:429–436, 1998

Shi CS, Ouyang G, Guo TW: Masticatory efficiency determined with direct measurement of food particles masticated by subjects with natural dentitions. J Prosthet Dent 64:723–726, 1990

Feldman RS, Kapur KK, Alman JE, Chauncey HH: Aging and mastication: changes in performance and in the swallowing threshold with natural dentition. J Am Geriatric Soc 28:97–103, 1980

Prinz JF, Lucas PW: Swallow threshold in human mastication. Archs Oral Biol 40:401–403, 1995

Hoebler C, Devaux MF, Karinthi A, Belleville C, Barry JL: Particle size of solid food after human mastication and in vitro simulation of oral breakdown. Int J Food Sci Nutr 51:353–366, 2000

Mahmood WA, Watson CJ, Ogden AR, Hawkins RV: Use of image analysis in determining masticatory efficiency in patients presenting for immediate dentures. Int J Prosthodont 5:359–366, 1992

Van Der Bilt A, Van Der Glas HW, Mowlana F, Heath MR: A comparison between sieving and optical scanning for the determination of particle size distributions obtained by mastication in man. Archs Oral Biol 38:159–162, 1993

Peyron MA, Mishellany A, Woda A: Particle size distribution of food boluses after mastication of six natural foods. J Dent Res 83:578–582, 2004

Lassauzay C, Peyron MA, Albuisson E, Dransfield E, Woda A: Variability of the masticatory process during chewing of elastic model foods. Eur J Oral Sci 108:484–492, 2000

Lindauer SJ, Gay T, Rendell J: Electromyographic-force characteristics in the assessment of oral function. J Dent Res 70:1417–1421, 1991

Peyron MA, Lassauzay C, Woda A: Effects of increased hardness on jaw movement and muscle activity during chewing of visco-elastic model foods. Exp Brain Res 142:41–51, 2002

Pröschel P, Hoffmann M: Frontal chewing patterns of the incisor point and their dependence on the resistance of food and type occlusion. J Prosthet Dent 59:617–624, 1988

Peyron MA, Blanc O, Lund JP, Woda A: Influence of age on adaptability of human mastication. J Neurophysiol 92:773–779, 2004

Wayler AH, Chauncey HH: Impact of complete dentures and impaired natural dentition on masticatory performance and food choice in healthy aging men. J Prosthet Dent 49:427–433, 1983

Edlund J, Lamm CJ: Masticatory efficiency. J Oral Rehabil 7:123–130, 1980

Jiffry MTM: The coefficient of swallowable composition of masticated hard-baked soya beans. J Oral Rehabil 14:51–54, 1987

Lucas PW, Luke DA: Method for analyzing the breakdown of food in human mastication. Archs Oral Biol 28:813–819, 1983

Manly RS, Braley LC: Masticatory performance and efficiency. J Dent Res 29:448–462, 1950

Olthoff LW, Van Der Bilt A, Bosman F, Kleizen HH: Distribution of particle sizes in food comminuted by human mastication. Archs Oral Biol 29:899–903, 1984

Eliyas F, Heath MR: The comminution of nuts during the first masticatory stroke. J Dent Res 68:936, 1989

Langton M, Hermansson AM: Image analysis determination of particle size distribution. Food Hydrocolloids 7:11–22, 1993

Mowlana F, Heath MR, Van Der Bilt A, Van Der Glas HW: Assessment of chewing efficiency: a comparison of particle size distribution determined using optical scanning and sieving of almonds. J Oral Rehabil 21:545–551, 1994

Slagter AP, Bosman F, Van Der Glas HW, Van Der Bilt A: Human jaw-elevator muscle activity and food comminution in the dentate and edentulous state. Archs Oral Biol 38:195–205, 1993

Agrawal KR, Lucas PW, Prinz JF, Bruce IC: Mechanical properties of foods responsible for resisting food breakdown in the human mouth. Archs Oral Biol 42:1–9, 1997

Hutchings JB, Lillford PJ: The perception of food texture—The philosophy of the breakdown path. J Texture Stud 19:103–115, 1988

Lillford PJ: Mechanisms of fracture in foods. J Texture Stud 32:397–417, 2001

Lucas PW, Luke DA: Optimum mouthful for food comminution in human mastication. Archs Oral Biol 29:205–210, 1984

Feldman RS: Age, masticatory ability and swallowing. Nutr Rev 41:344–346, 1983

Garcia RI, Perlmuter LC: Effects of dentition status and personality on masticatory performance and food acceptability. Dysphagia 4:121–126, 1989

Wayler AH, Muench ME, Kapur KK, Chauncey HH: Masticatory performance and food acceptability in persons with removable partial dentures, full dentures and intact natural dentition. J Gerontol 39:284–289, 1984

Allison P, Hennequin M, Faye M, Peyron MA: Video validation of mastication. Validation in persons with Down syndrome. Dysphagia 19:95–99, 2004

Hennequin M, Allison PJ, Faulks D, Orliaguet T, Feine J: Chewing indicators between adults with Down syndrome and controls. J Dent Res 84:1057–1061, 2005

Alexander RM: Engineering approaches to chewing and digestion. Sci Progr 82:71–184, 1999

Prinz JF, Lucas PW: An optimisation model for mastication and swallowing in mammals. Proc Biol Sci 264:1715–1721, 1997

Jean A: Brainstem control of swallowing: localization and organization of the central pattern generator for swallowing. In: Taylor A (ed.): Neurophysiology of the jaws and teeth. New York: McMillan Press, 1990, pp 294–321

Lund JP, Enomoto S: The generation of mastication by the mammalian central nervous system. In: Cohen A, Rossignol S, Grillner S (eds.): Neural control of rhythmic movements in vertebrates. New York: John Wiley & Sons, 1988, pp 41–72
Acknowledgments
The authors thank the Institut National de la Recherche Agronomique (INRA) de Clermont-Ferrand-Theix and Université d'Auvergne for technical help and funding.
About this article
Cite this article
Mishellany, A., Woda, A., Labas, R. et al. The Challenge of Mastication: Preparing a Bolus Suitable for Deglutition. Dysphagia 21, 87–94 (2006). https://doi.org/10.1007/s00455-006-9014-y
Published:

Issue Date:

DOI: https://doi.org/10.1007/s00455-006-9014-y
Keywords
Food bolus

Granularity

Image analysis

Parameters of mastication

Deglutition

Deglutition disorders