Abstract
The effect of effortful swallow on pharyngeal pressure and UES relaxation onsets and durations was examined. Eighteen adults, nine males and nine females (mean age = 27.9 yr), participated. Timing of pharyngeal pressure and onset and duration of UES relaxation were measured across ten trials of normal and ten trials of effortful swallows. Results revealed that manometric timing measurements are consistent across trials. The first and second statistical analyses investigated the pharyngeal pressure and UES relaxation onsets and durations, respectively. Both analyses identified a significant interaction of swallow type (i.e., effortful vs. normal) by manometric sensor location (p < 0.05). Across normal and effortful swallows, UES relaxation preceded pharyngeal pressure onsets, yet the rate of change (or degree of delay) varied across the sensors. Furthermore, the effortful swallow elicited longer pharyngeal pressure and UES relaxation durations, yet the pressure duration measured in the upper pharynx was significantly longer than that measured lower in the pharynx. These findings offer insight as to the potential positive and negative influence of the effortful swallow on pharyngeal timing.
Access options
Buy single article
Instant access to the full article PDF.
USD 39.95
Price excludes VAT (USA)
Tax calculation will be finalised during checkout.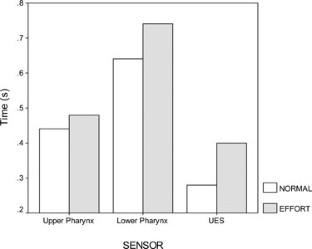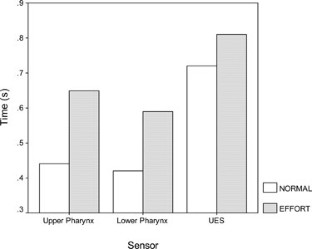 References
ML Huckabee CA Pelletier (1999) Management of Adult Neurogenic Dysphagia. Singular Publishing San Diego

SE Langmore (2001) Endoscopic Evaluation and Treatment of Swallowing Disorders Thieme New York

JA Logemann (1995) ArticleTitleDysphagia: evaluation and treatment Folia Phoniatr Logop 47 140–164 Occurrence Handle7640720

NB Swigert (1996) The Source for Dysphagia LinguiSystems East Moline, IL

Martin BJW: Treatment of dysphagia in adults. In: Clinical Management of Dysphagia in Adults and Children. Aspen: Rehabilitation Institute of Chicago, 1994, pp 153–183

AL Perlman K Schulze–Delrieu (1997) Deglutition and its Disorders: Anatomy, Physiology, Clinical Diagnosis, and Management Singular Publishing San Diego, CA

M Bülow R Olsson O Ekberg (1999) ArticleTitleVideomanometric analysis of supraglottic swallow, effortful swallow, and chin tuck in healthy volunteers Dysphagia 14 67–72 Occurrence Handle10028035

M Bülow R Olsson O Ekberg (2001) ArticleTitleVideomanometric analysis of supraglottic swallow, effortful swallow, and chin tuck in patients with pharyngeal dysfunction Dysphagia 16 190–195

M Bülow R Olsson O Ekberg (2002) ArticleTitleSupraglottic swallow, effortful swallow, and chin tuck did not alter hypopharyngeal intrabolus pressure in patients with pharyngeal dysfunction Dysphagia 17 197–201 Occurrence Handle10.1007/s00455-002-0050-y Occurrence Handle12140645

JA Hind MA Nicosia EB Roecker ML Carnes JA Robbins (2001) ArticleTitleComparison of effortful and noneffortful swallows in healthy middle-aged and older adults Arch Phys Med Rehabil 82 1661–1665 Occurrence Handle10.1053/apmr.2001.28006 Occurrence Handle11733879

R Olsson J Castell B Johnston O Ekberg DO Castell (1997) ArticleTitleCombined videomanometric identification of abnormalities related to pharyngeal retention Acad Radiol 4 349–354 Occurrence Handle9156231

PJ Kahrilas JA Logemann C Krugler E Flanagan (1991) ArticleTitleVolitional augmentation of upper esophageal sphincter opening during swallowing Am J Physiol 260 G450–G456 Occurrence Handle2003609

R Olsson H Nilsson O Ekberg (1995) ArticleTitleSimultaneous videoradiography and pharyngeal solid state manometry (videomanometry) in 25 nondysphagic volunteers Dysphagia 10 36–41 Occurrence Handle10.1007/BF00261278 Occurrence Handle7859531

A Hila JA Castell DO Castell (2001) ArticleTitlePharyngeal and upper esophageal sphincter manometry in the evaluation of dysphagia J Clin Gastroenterol 33 IssueID5 355–361 Occurrence Handle10.1097/00004836-200111000-00003 Occurrence Handle11606849

FMS McConnel (1988) ArticleTitleAnalysis of pressure generation and bolus transit during pharyngeal swallowing Laryngoscope 98 71–78 Occurrence Handle3336265

FMS McConnel D Cerenko RT Jackson TN Guffin (1988) ArticleTitleTiming of major events of pharyngeal swallowing Arch Otolaryngol Head Neck Surg 114 1413–1418 Occurrence Handle3190869

JR Salassa KR DeVault FMS McConnel (1998) ArticleTitleProposed catheter standards for pharyngeal manofluorography (videomanometry) Dysphagia 13 105–110 Occurrence Handle9513306

R Olsson JA Castell DO Castell O Ekberg (1994) ArticleTitleSolid-state computerized manometry improves diagnostic yield in pharyngeal dysphagia: simultaneous videoradiography and manometry in dysphagia patients with normal barium swallows Abdom Imaging 20 230–235

FMS McConnel D Cerenko MS Mendelsohn (1988) ArticleTitleManofluorographic analysis of swallowing Otolaryngol Clin N Am 21 625–635

RW Doty JF Bosma (1956) ArticleTitleAn electromyographic analysis of reflex deglutition J Neurophysiol 19 IssueID1 44–60 Occurrence Handle13286721

PJ Kahrilas JA Logemann S Lin GA Ergun (1992) ArticleTitlePharyngeal clearance during swallowing: A combined manometric and videofluoroscopic study Gastroenterology 103 128–136 Occurrence Handle1612322

R Olsson O Kjellin O Ekberg (1996) ArticleTitleVideomanometric aspects of pharyngeal constrictor activity Dysphagia 11 83–86 Occurrence Handle10.1007/BF00417894 Occurrence Handle8721063

F Lagerlof C Dawes (1984) ArticleTitleThe volume of saliva in the mouth before and after swallowing J Dent Res 63 618–621 Occurrence Handle6584462
Acknowledgments
We would like to acknowledge the support of Bill Roche and the financial support of St. Joseph's Medical Center Grant Funds, Paterson, NJ, USA.
About this article
Cite this article
Hiss, S.G., Huckabee, M.L. Timing of Pharyngeal and Upper Esophageal Sphincter Pressures as a Function of Normal and Effortful Swallowing in Young Healthy Adults. Dysphagia 20, 149–156 (2005). https://doi.org/10.1007/s00455-005-0008-y
Issue Date:

DOI: https://doi.org/10.1007/s00455-005-0008-y
Keywords