Abstract
SmartH2O is a software platform that creates a virtuous feedback cycle between water users and the utilities, providing users information on their consumption in quasi real time, and thus enabling water utilities to plan and implement strategies to reduce/reallocate water consumption. The SmartH2O platform adopts a gamification paradigm to motivate users to change their water use behaviour and different incentives (virtual, physical, and social) are used to stimulate the competition among users. The SmartH2O platform, developed during the EU-FP7 project that bears the same name, has been deployed in two test sites: in Terre di Pedemonte, a small municipality in Tessin, Switzerland, and in Valencia, a large urban centre, in Spain. Thanks to its use it has been observed an average reduction in consumption of 10% in Switzerland and of 20% in Spain among the platform adopters.
Access options
Buy single article
Instant access to the full article PDF.
US$ 39.95
Tax calculation will be finalised during checkout.
Subscribe to journal
Immediate online access to all issues from 2019. Subscription will auto renew annually.
US$ 54.41
Tax calculation will be finalised during checkout.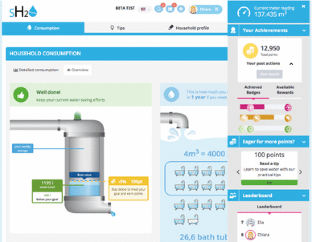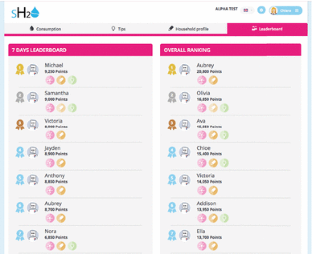 References
1.

Cominola A, Giuliani M, Piga D, Castelletti A, Rizzoli A (2015) Benefits and challenges of using smart meters for advancing residential water demand modeling and management: a review. Environ Model Softw 72:198–214. doi:10.1016/j.envsoft.2015.07.012

2.

Harou J, Garrone P, Rizzoli A, Maziotis A, Castelletti A, Fraternali P, Novak J, Wissmann-Alves R, Ceschi P (2014) Smart metering, water pricing and social media to stimulate residential water efficiency: opportunities for the SmartH2O project. Procedia Eng 89:1037–1043. doi:10.1016/j.proeng.2014.11.222
Acknowledgements
This work is partially supported by the SmartH2O project funded by the EU FP7 Programme, Grant Agreement No. 619172.
About this article
Cite this article
Rizzoli, A.E., Castelletti, A., Fraternali, P. et al. Demo Abstract: SmartH2O, demonstrating the impact of gamification technologies for saving water. Comput Sci Res Dev 33, 275–276 (2018). https://doi.org/10.1007/s00450-017-0380-5
Keywords
Water saving

Gamification

Behavioral Change