Abstract
Mathematical modeling is a key step in the analysis of power system stability. In view of model accuracy, this process should include all relevant details that affect the transient behavior of the power system. To this aim, an extension of the generator subsystem model is introduced in OpenModelica by adding a new turbine-governor model. Taking advantage of the multi-domain modeling property of OpenModelica, two libraries are coupled to interconnect the mechanical and electrical domains of the generator subsystem. The new generator subsystem is tested using the standard IEEE 9-Bus test feeder and the simulation results in OpenModelica are furthermore compared to respective results in DIgSILENT PowerFactory. The new generator subsystem model is integrated into the validated 20 kV power grid model of KIT-Campus North and respective results are presented for abrupt load changes.
This is a preview of subscription content, log in to check access.
Access options
Buy single article
Instant access to the full article PDF.
US$ 39.95
Price includes VAT for USA
Subscribe to journal
Immediate online access to all issues from 2019. Subscription will auto renew annually.
US$ 99
This is the net price. Taxes to be calculated in checkout.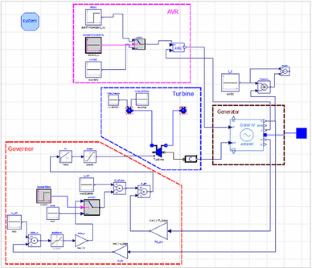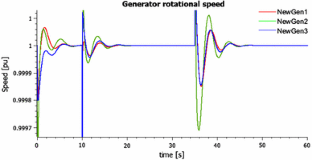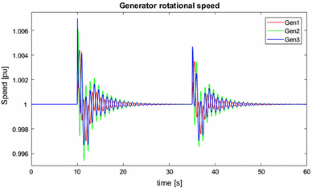 References
1.

DIgSILENT GmbH (2016) DIgSILENT PowerFactory User manual Version 2016. Gomaringen, Germany

2.

Milano F, Vanfretti L (2009) State of the art and future of OSS for power. Power and Energy Society General Meeting, Calgary, AB, Canada

3.

Fritzson P (2015) Principles of object-oriented modeling and simulation with Modelica 3.3: a cyber-physical approach. Wiley-IEEE Press, New York

4.

Hagenmeyer V et al (2016) Information and communication technology in energy lab 2.0: smart energies system simulation and control center with an open-street-map-based power flow simulation example. Energy Technol. 4(1):145–162

5.

Energy System 2050. https://www.helmholtz.de/en/research/energy/energy_system_2050/
Acknowledgements
This work is part of the Energy System 2050 initiative of the Helmholtz Association [5].
About this article
Cite this article
Kyesswa, M., Çakmak, H.K., Kühnapfel, U. et al. Poster Abstract: Implementation of an extended generator subsystem in OpenModelica and comparative analysis with DIgSILENT PowerFactory. Comput Sci Res Dev 33, 253–255 (2018). https://doi.org/10.1007/s00450-017-0370-7
Keywords
Generator subsystem

Modeling and simulation

OpenModelica

Power system dynamics