Abstract
The increasing installation of decentralized energy converters merges networks of different energy carriers to a multi-carrier energy distribution network (MEDN). To operate MEDNs efficiently and safe, the state of the network has to be monitored. An economically reasonable approach for monitoring MEDNs is provided by state estimation techniques, which however expect the network to be observable. To the best of our knowledge, we are the first to address the observability on MEDNs. Hence, we introduce a first graph-theoretic model serving as a starting point for introducing structural concepts, such as observability, for MEDNs.
This is a preview of subscription content, log in to check access.
Access options
Buy single article
Instant access to the full article PDF.
US$ 39.95
Price includes VAT for USA
Subscribe to journal
Immediate online access to all issues from 2019. Subscription will auto renew annually.
US$ 99
This is the net price. Taxes to be calculated in checkout.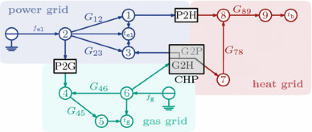 References
1.

Baldwin TL, Mili L, Boisen MB, Adapa R (1993) Power system observability with minimal phasor measurement placement. IEEE Trans Power Syst 8(2):707–715

2.

Cerbe G (2004) Grundlagen der Gastechnik (engl.: Basics of gas technology). HANSER. ISBN 3-446-22803-9

3.

Clements KA (1990) Observability methods and optimal meter placement. Int J Electr Power Energy Syst 12(2):88–93

4.

EnergieAgentur.NRW (2016) Power-to-gas in Germany and North-Rhine Westphalia (NRW): ideas, potential, projects. Technical report, Düsseldorf

5.

Geidl M, Andersson G (2005) A modeling and optimization approach for multiple energy carrier power flow. In: IEEE Power Tech, Russia

6.

Geidl M, Andersson G (2005) Optimal power dispatch and conversion in systems with multiple energy carriers. In: Proceedings of 15th Power Systems Computation Conference (PSCC)

7.

Geidl M, Andersson G (2006) Operational and structural optimization of multi-carrier energy systems. Eur Trans Electr Power 16(5):463–477

8.

Gores S, Jörß W, Zell-Ziegler C (2015) Aktueller Stand der KWK-Erzeugung [Current status of cogeneration]. Technical report, Öko-Institut e.V., Berlin

9.

Maurer J, Sauter PS, Kluwe M, Hohmann S (2016) Optimal energy management of low level multi-carrier distribution grids. In: IEEE International Conference on Power System Technology (POWERCON), pp 1–6
Additional information
This work was funded (in part) by the Helmholtz Program Storage and Cross-linked Infrastructures, Topic 6 Superconductivity, Networks and System Integration.
About this article
Cite this article
Hohmann, S., Maaß, H., Mieth, C. et al. Poster abstract: graph-theoretic model for observability in multi-carrier energy distribution networks. Comput Sci Res Dev 33, 237–239 (2018). https://doi.org/10.1007/s00450-017-0366-3
Keywords
Multi-carrier networks

Observability

Steady-state

Graph theory
Mathematics Subject Classification