Abstract
The increasing amount of renewable energy sources in the energy system calls for new market approaches to price and distribute the volatile and decentralized generation. Local energy markets, on which consumers and prosumers can trade locally produced renewable generation directly within their community, balance generation and consumption locally in a decentralized approach. We present a comprehensive concept, market design and simulation of a local energy market between 100 residential households. Our approach is based on a distributed information and communication technology, i.e. a private blockchain, which underlines the decentralized nature of local energy markets. Thus, we provide energy prosumers and consumers with a decentralized market platform for trading local energy generation without the need of a central intermediary. Furthermore, we present a preliminary economic evaluation of the market mechanism and a research agenda for the technological evaluation of blockchain technology as the local energy market's main information and communication technology.
This is a preview of subscription content, log in to check access.
Access options
Buy single article
Instant access to the full article PDF.
US$ 39.95
Price includes VAT for USA
Subscribe to journal
Immediate online access to all issues from 2019. Subscription will auto renew annually.
US$ 99
This is the net price. Taxes to be calculated in checkout.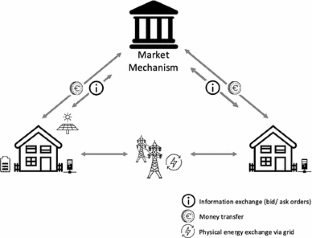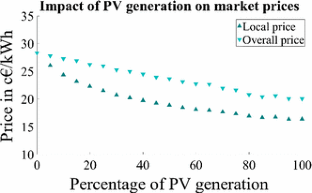 References
1.

Adil AM, Ko Y (2016) Socio-technical evolution of decentralized energy systems: a critical review and implications for urban planning and policy. Renew Sustain Energy Rev 57:1025–1037

2.

Aitzhan NZ, Svetinovic D (2016) Security and privacy in decentralized energy trading through multi-signatures, blockchain and anonymous messaging streams. IEEE Tran Dependable Secure Comput PP(99):1

3.

Al Kawasmi E, Arnautovic E, Svetinovic D (2015) Bitcoin-based decentralized carbon emissions trading infrastructure model. Syst Eng 18(2):115–130

4.

Alam MT, Li H, Patidar A (2015) Bitcoin for smart trading in smart grid. In: International workshop on local and metropolitan area networks (LANMAN 2015), pp 1–2

5.

Augur (2017) Welcome to the future of forecasting. https://augur.net/. Accessed 3 Aug 2017

6.

Beck R, Stenum Czepluch J, Lollike N, Malone S (2016) Blockchain–the gateway to trust-free cryptographic transactions. In: European conference on information systems (ECIS 2016)

7.

Block C, Neumann D, Weinhardt C (2008) A market mechanism for energy allocation in micro-chp grids. In: Proceedings of the 41st annual hawaii international conference on system sciences, pp 172–172

8.

Blouin MR, Serrano R (2001) A decentralized market with common values uncertainty: non-steady states. Rev Econ Stud 68(2):323–346

9.

Böhme R, Christin N, Edelman B, Moore T (2015) Bitcoin: economics, technology, and governance. J Econ Perspect 29(2):213–238

10.

Brooklyn Microgrid (2016) The Brooklyn Microgrid. http://brooklynmicrogrid.com/. Accessed 9 May 2017

11.

Commission European (2016) Clean energy for all europeans. Com, (2016) 860 final. EC. Accessed 31 July 2017

12.

Docker Deployment (2017) eAuction. https://gitlab.com/eAuction/docker_deployment. Accessed 3 Aug 2017

13.

Etemad RH, Lahouti F (2016) Resilient decentralized consensus-based state estimation for smart grid in presence of false data. In: International conference on acoustics, speech and signal processing (ICASSP 2016)

14.

Ethereum (2017) Solidity—copyright 2016–2017, Ethereum. Revision c3b839ca. https://solidity.readthedocs.io/en/develop/. Accessed 9 May 2017

15.

Ethereum Foundation (2017) Ether—the crypto-fuel for the Ethereum network. https://www.ethereum.org/ether. Accessed 9 May 2017

16.

Glaser F, Bezzenberger L (2015) Beyond cryptocurrencies—a taxonomy of decentralized consensus systems. In: European conference on information systems (ECIS 2015), association for information systems (AIS), AIS Electronic Library

17.

Gödde M, Kaiser A, Stumpp M (2017) DEX—decentralized energy exchange. https://github.com/BlockInfinity. Accessed 18 May 2017

18.

Gode DK, Sunder S (1993) Allocative efficiency of markets with zero-intelligence traders: market as a partial substitute for individual rationality. J Polit Econ 101(1):119–137

19.

Goebel C, Jacobsen HA, Razo V, Doblander C, Rivera J, Ilg J, Flath C, Schmeck H, Weinhardt C, Pathmaperuma D, Appelrath HJ, Sonnenschein M, Lehnhoff S, Kramer O, Staake T, Fleisch E, Neumann D, Strüker J, Erek K, Zarnekow R, Ziekow H, Lässig J (2014) Energy informatics. Bus Inf Syst Eng 6(1):25–31

20.

Kok K, Roossien B, MacDougall P, Van Pruissen O, Venekamp G, Kamphuis R, Laarakkers J, Warmer C (2012) Dynamic pricing by scalable energy management systems field experiences and simulation results using PowerMatcher. In: Power and energy society general meeting, 2012 IEEE, pp 1–8

21.

Kosba A, Miller A, Shi E, Wen Z, Papamanthou C (2016) Hawk: the blockchain model of cryptography and privacy-preserving smart contracts. In: 2016 IEEE symposium on security and privacy (SP), pp 839–858

22.

Lamparter S, Becher S, Fischer JG (2010) An agent-based market platform for smart grids. In: Proceedings of the 9th international conference on autonomous agents and multiagent systems: industry track, international foundation for autonomous agents and multiagent systems, pp 1689–1696

23.

Li CT, Weng CY, Lee CC, Wang CC (2015) A hash based remote user authentication and authenticated key agreement scheme for the integrated epr information system. J Med Syst 39(11):1–11

24.

Mengelkamp E, Gärttner J, Rock K, Kessler S, Orsini L, Weinhardt C (2017) Designing microgrid energy markets: a case study: the brooklyn microgrid. Appl Energy. https://doi.org/10.1016/j.apenergy.2017.06.054

25.

Mihaylov M, Jurado S, Avellana N, Van Moffaert K, de Abril IM, Nowe A (2014) NRGcoin: virtual currency for trading of renewable energy in smart grids. In: International conference on the European energy market (EEM 2014). IEEE, pp 1–6

26.

Mihaylov M, Jurado S, Van Moffaert K, Avellana N, Nowé A (2014b) NRG-X-change—a novel mechanism for trading of renewable energy in smart grids. In: SMARTGREENS, pp 101–106

27.

Monacchi A, Elmenreich W (2016) Assisted energy management in smart microgrids. J Ambient Intell Humaniz Comput 7(6):901–913

28.

Nakamoto S (2008) Bitcoin: a peer-to-peer electronic cash system. https://bitcoin.org/bitcoin.pdf. Accessed 9 May 2017

29.

Nicolaisen J, Petrov V, Tesfatsion L (2001) Market power and efficiency in a computational electricity market with discriminatory double-auction pricing. IEEE Trans Evol Comput 5(5):504–523

30.

Nieße A, Lehnhoff S, Tröschel M, Uslar M, Wissing C, Appelrath HJ, Sonnenschein M (2012) Market-based self-organized provision of active power and ancillary services: an agent-based approach for smart distribution grids. In: Complexity in engineering (COMPENG), 2012, pp 1–5

31.

O'Dwyer KJ, Malone D (2013) Bitcoin mining and its energy footprint. In: Irish signals and systems conference 2014 and 2014 China–Ireland international conference on information and communications technologies, pp 280–285

32.

Pass R, et al (2015) Micropayments for decentralized currencies. In: Proceedings of the 22nd ACM SIGSAC conference on computer and communications security, ACM, pp 207–218

33.

Schleicher-Tappeser R (2012) How renewables will change electricity markets in the next five years. Energy Policy 48:64–75

34.

Sikorski JJ, Haughton J, Kraft M (2017) Blockchain technology in the chemical industry: machine-to-machine electricity market. Appl Energy 195:234–246

35.

Stadtwerke Unna (2002) VDEW-Lastprofile. http://tinyurl.com/j4qa7qb. Accessed 9 May 2017

36.

Tian F (2016) An agri-food supply chain traceability system for China based on RFID and blockchain technology. In: 13th international conference on service systems and service management (ICSSSM), 2016, pp 1–6

37.

Vytelingum P, Ramchurn SD, Voice TD, Rogers A, Jennings NR (2010a) Trading agents for the smart electricity grid. In: Proceedings of the 9th international conference on autonomous agents and multiagent systems, pp 897–904

38.

Vytelingum P, Voice TD, Ramchurn SD, Rogers A, Jennings NR (2010b) Agent-based micro-storage management for the smart grid. In: Proceedings of the 9th international conference on autonomous agents and multiagent systems: volume 1, international foundation for autonomous agents and multiagent systems, pp 39–46

39.

Wattenhofer R (2016) The science of the blockchain, 1st edn. Inverted Forest Publishing, Zurich

40.

Wüstenhagen R, Wolsink M, Bürer MJ (2007) Social acceptance of renewable energy innovation: an introduction to the concept. Energy Policy 35(5):2683–2691

41.

Xu X, Pautasso C, Zhu L, Gramoli V, Ponomarev A, Tran AB, Chen S (2016) The blockchain as a software connector. In: 13th Working IEEE/IFIP conference on software architecture (WICSA), 2016, pp 182–191

42.

Yuan Y, Wang FY (2016) Towards blockchain-based intelligent transportation systems. In: 2016 IEEE 19th international conference on intelligent transportation systems, pp 2663–2668
Acknowledgements
Financial support of Boerse Stuttgart is gratefully acknowledged.
About this article
Cite this article
Mengelkamp, E., Notheisen, B., Beer, C. et al. A blockchain-based smart grid: towards sustainable local energy markets. Comput Sci Res Dev 33, 207–214 (2018). https://doi.org/10.1007/s00450-017-0360-9
Keywords
Local energy markets

Market design

Decentralization

Blockchain