Abstract
With efforts to establish smart energy systems (SES), distribution system operators (DSO) have seen technological and political challenges, which will require fundamental changes towards their operational and organizational structures as well as their underlying information system landscapes. We propose a model-based approach for integrating the system landscapes of DSOs in order to establish SES and utilize domain-wide standards. For this, we define a middleware architecture, which utilizes the Common Information Model (CIM) and assists DSO system landscape migration from system landscapes employing application-specific interfaces towards system landscapes employing application-independent interfaces.
This is a preview of subscription content, log in to check access.
Access options
Buy single article
Instant access to the full article PDF.
US$ 39.95
Price includes VAT for USA
Subscribe to journal
Immediate online access to all issues from 2019. Subscription will auto renew annually.
US$ 99
This is the net price. Taxes to be calculated in checkout.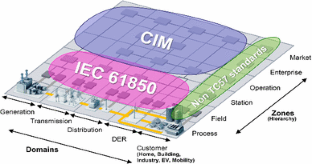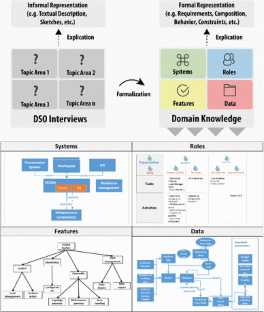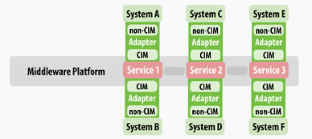 References
1.

Andrén F, Stifter M, Strasser T (2013) Towards a semantic driven framework for smart grid applications: model-driven development using CIM, IEC 61850 and IEC 61499. Inform Spektrum 36(1):58–68

2.

Ascher D, Hackenberg G (2016) The TRANSP-0 framework for integrated transportation and power system design. In: 2016 IEEE 19th international conference on intelligent transportation systems. IEEE, pp 945–952

3.

Atkinson C, Kühne T (2003) Model-driven development: a metamodeling foundation. IEEE software 20(5):36–41

4.

Bredillet P, Lambert E, Schultz E (2010) Cim, 61850, cosem standards used in a model driven integration approach to build the smart grid service oriented architecture. In: 2010 First IEEE international conference on smart grid communications (SmartGridComm). IEEE, pp 467–471

5.

Dänekas C, Neureiter C, Rohjans S, Uslar M, Engel D (2014) Towards a model-driven-architecture process for smart grid projects. Digit Enterp Des Manag 261:47–58

6.

Fan Z, Kulkarni P, Gormus S, Efthymiou C, Kalogridis G, Sooriyabandara M, Zhu Z, Lambotharan S, Chin WH (2013) Smart grid communications: Overview of research challenges, solutions, and standardization activities. IEEE Commun Surv Tutor 15(1):21–38

7.

Fang X, Misra S, Xue G, Yang D (2012) Smart grid — the new and improved power grid: a survey. IEEE Commun Surv Tutor 14(4):944–980

8.

Goering A, Meister J, Lehnhoff S, Jung M, Rohr M, Herdt P (2016) Architecture and quality standards for the joint development of modular open source software for power grid distribution management systems. In: 5th DA-CH+ Energy informatics conference in conjunction with 7th symposium on communications for energy systems (ComForEn), p 36

9.

Gungor VC, Sahin D, Kocak T, Ergut S, Buccella C, Cecati C, Hancke GP (2013) A survey on smart grid potential applications and communication requirements. IEEE Trans Ind Inform 9(1):28–42

10.

Haq E, Haller D, Rahman KA, Iverson B (2011) Use of common information model (cim) in electricity market at california iso. In: 2011 IEEE power and energy society general meeting. IEEE, pp 1–6

11.

Kent S (2002) Model driven engineering. In: Butler M, Petre L, Sere K (eds) Proceedings of the third international conference on integrated formal methods, IFM '02. Springer-Verlag, London, UK, pp 286–298

12.

Lara JD, Guerra E, Cuadrado JS (2014) When and how to use multilevel modelling. ACM Trans Softw Eng Methodol (TOSEM) 24(2):12

13.

Lefebvre T, Englert H (2013) Current and future smart grid standardization activities of IEC TC57-power system management and associated information exchange. IEC, Geneva, Switzerland. http://www.iec.ch/resources/tcdash/IEC_TC57_Scope_and_current_work_2013.pdf

14.

Object Management Group (OMG) (2006) Meta-Object Facility (MOF) Specification, Version 2.0. OMG Document Number formal/2006-01-01 (http://www.omg.org/spec/MOF/2.0)

15.

Rohjans S, Uslar M, Bleiker R, González J, Specht M, Suding T, Weidelt T (2010) Survey of smart grid standardization studies and recommendations. In: 2010 first IEEE international conference on smart grid communications (SmartGridComm). IEEE, pp 583–588

16.

Shao S, Pipattanasomporn M, Rahman S (2012) Grid integration of electric vehicles and demand response with customer choice. IEEE Trans Smart Grid 3(1):543–550

17.

Smart Grid Coordination Group (2012) Smart grid reference architecture. CEN-CENELEC-ETSI

18.

Uslar M, Rohjans S, Bleiker R, González J, Specht M, Suding T, Weidelt T (2010) Survey of smart grid standardization studies and recommendations–part 2
Acknowledgements
The research leading to the results presented in this work has been conducted within the German federal research initiative Future-proof Power Grids and funding by the German Federal Ministry for Economic Affairs and Energy is gratefully acknowledged.
About this article
Cite this article
Ascher, D., Bytschkow, D. Integrating distribution system operator system landscapes. Comput Sci Res Dev 33, 169–175 (2018). https://doi.org/10.1007/s00450-017-0355-6
Keywords
Model-driven engineering

Domain modeling

Distribution system operation

Smart energy systems

Common information model (CIM)