Abstract
The present investigation reports a simple, rapid, inexpensive, and eco-friendly approach for synthesizing Amphiroa rigida-mediated silver nanoparticles (AR-AgNPs) for the first time. The biomimetic synthesized AR-AgNPs were characterized by both spectral and microscopic analysis. The UV–visible spectrum showed the surface plasmon peak at 420 nm, which indicated the formation of AR-AgNPs. X-ray diffraction characterization of AR-AgNPs showed a face-centered cubic crystal (25 nm) and the transmission electron microscope micrograph showed spherical shape. The functional group of polysaccharide that plays a major role as a stabilizing and reducing agent is confirmed by Fourier-transform infrared spectroscopy. The biomimetic synthesized AR-AgNPs showed antibacterial activity against Staphylococcus aureus (21 ± 0.2 mm) and Pseudomonas aeruginosa (15 ± 0.2 mm). Further, the cytotoxic effects of AR-AgNPs against MCF-7 human breast cancer cells were observed through acridine orange-ethidium bromide and Hoechst staining. Besides, AR-AgNPs are found to be inhibit the growth of 3rd and 4th instar larvae of Aedes aegypti in a dose-dependent manner.
Access options
Buy single article
Instant access to the full article PDF.
USD 39.95
Price excludes VAT (USA)
Tax calculation will be finalised during checkout.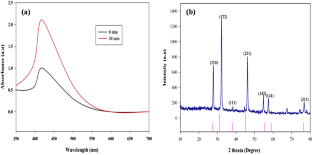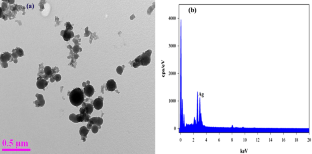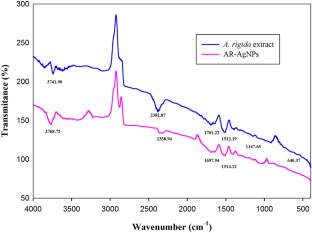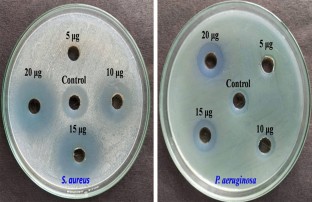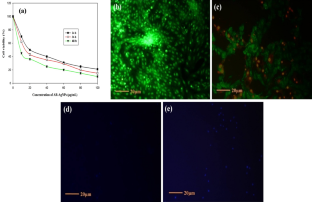 References
Priya K, Vijayakumar M, Janani B (2020) Chitosan-mediated synthesis of biogenic silver nanoparticles (AgNPs), nanoparticle characterisation and in vitro assessment of anticancer activity in human hepatocellular carcinoma HepG2 cells. Int J Biol Macromol. https://doi.org/10.1016/j.ijbiomac.2020.02.007

Pugazhendhi A, Prabhu R, Muruganantham K, Shanmuganathan R, Natarajan S (2019) Anticancer, antimicrobial and photocatalytic activities of green synthesized magnesium oxide nanoparticles (MgONPs) using aqueous extract of Sargassum wightii. J Photoch Photobio B 190:86–97

Ozturk BY, Gursu BY, Dag I (2019) Antibiofilm and antimicrobial activities of green synthesized silver nanoparticles using marine red algae Gelidium corneum. Process Biochem. https://doi.org/10.1016/j.procbio.2019.10.027

Arya A, Mishra V, Chundawat TS (2019) Green synthesis of silver nanoparticles from green algae (Botryococcus braunii) and its catalytic behavior for the synthesis of benzimidazoles. Chem Data Coll 20:100190

Manikandan R, Anjali R, Beulaja M, Prabhu N, Koodalingam A, Saiprasad G, Chitra P, Arumugam M (2019) Synthesis, characterization, anti-proliferative and wound healing activities of silver nanoparticles synthesized from Caulerpa scalpelliformis. Process Biochem 79:135–141

Hamouda RA, Abd El-Mongy M, Eid KF (2019) Comparative study between two red algae for biosynthesis silver nanoparticles capping by SDS: insights of characterization and antibacterial activity. Microb Pathog 129:224–232

Pugazhendhi A, Prabakar D, Jacob JM, Karuppusamy I, Saratale RG (2018) Synthesis and characterization of silver nanoparticles using Gelidium amansii and its antimicrobial property against various pathogenic bacteria. Microb Pathog 114:41–45

Massironi A, Morelli A, Grassi L, Puppi D, Braccini S, Maisetta G, Esin S, Batoni G, Pina CD, Chiellini F (2018) Ulvan as novel reducing and stabilizing agent from renewable algal biomass: application to green synthesis of silver nanoparticles. Carbohydr Polym 203:310–321

Bao Z, Cao J, Kang G, Lan CQ (2018) Effects of reaction conditions on light-dependent silver nanoparticle biosynthesis mediated by cell extract of green alga Neochloris oleoabundans. Environ Sci Pollut Res 26:2873–2881

Selvam K, Sudhakar C, Govarthanan M, Thiyagarajan P, Sengottaiyan A, Senthilkumar B, Selvankumar T (2017) Eco-friendly biosynthesis and characterization of silver nanoparticles using Tinospora cordifolia (Thunb.) miers and evaluate its antibacterial, antioxidant potential. J Radiat Res Appl Sc 10:6–12

Rajeshkumar S, Menon S, Venkat Kumar S, Tambuwala MM, Bakshi HA, Mehta M, Satija S, Gupta G, Chellappan D, Thangavelu L, Dua K (2019) Antibacterial and antioxidant potential of biosynthesized copper nanoparticles mediated through Cissus arnotiana plant extract. J Photoch Photobio B 197:111531

Nwanya AC, Razanamahandry LC, Bashir AKH, Ikpo CO, Nwanya SC, Botha S, Ntwampe SKO, Ezema FI, Iwuohad EI, Maaza M (2019) Industrial textile effluent treatment and antibacterial effectiveness of Zea mays L. dry husk mediated bio-synthesized copper oxide nanoparticles. J Hazard Mater 375:281–289

Subramanian P, Ravichandran A, Manoharan V, Muthukaruppan R, Somasundram S, Pandi B, Krishnane A, Marimuthu PN, Somasundaram SSN, You S (2019) Synthesis of Oldenlandia umbellata stabilized silver nanoparticles and their antioxidant effect, antibacterial activity, and bio-compatibility using human lung fibroblast cell line WI-38. Process Biochem 86:196–204

Mosmann T (1983) Rapid colorimetric assay for cellular growth and survival: application to proliferation and cytotoxicity assays. J Immunol Methods 65:55–63

Jeyarani S, Vinitha NM, Puja P, Senthamilselvi S, Devan U, Velangani AJ, Biruntha M, Pugazhendhi A, Kumar P (2020) Biomimetic gold nanoparticles for its cytotoxicity and biocompatibility evidenced by fluorescence-based assays in cancer (MDA-MB-231) and non-cancerous (HEK 293) cells. J Photoch Photobio B 202:111715

Kumar P, Senthamilselvi S, Govindaraju M, Sankar R (2014) Unraveling the caspase-mediated mechanism for phloroglucinol-encapsulated starch biopolymer against the breast cancer cell line MDA-MB-231. RSC Adv 4:46157–46163

Sankar R, Maheswari R, Karthik S, Shivashangari KS, Ravikumar V (2014) Anticancer activity of Ficus religiosa engineered copper oxide nanoparticles. Mater Sci Eng C 44:234–239

Prabhu R, Pugazhendhi A, Natarajan S (2020) One-pot fabrication of multifunctional catechin@ZIF-L nanocomposite: assessment of antibiofilm, larvicidal and photocatalytic activities. J Photoch Photobio B 203:111774

Shanmugasundaram T, Balagurunathan R (2015) Mosquito larvicidal activity of silver nanoparticles synthesised using actinobacterium, Streptomyces sp. M25 against Anopheles subpictus, Culex quinquefasciatus and Aedes aegypti. J Parasit Dis 39:677–684

Kumar B, Vizuete KS, Sharma V, Debut A, Cumbal L (2019) Ecofriendly synthesis of monodispersed silver nanoparticles using Andean mortino berry as reductant and its photocatalytic activity. Vacuum 160:272–278

Yadav R, Saini H, Kumar D, Pasi S, Agrawal V (2019) Bioengineering of Piper longum L. extract mediated silver nanoparticles and their potential biomedical applications. Mater Sci Eng C 104:109984

Priyadharshini RI, Prasannaraj G, Geetha N, Venkatachalam P (2014) Microwave-mediated extracellular synthesis of metallic silver and zinc oxide nanoparticles using macro-algae (Gracilaria edulis) extracts and its anticancer activity against human PC3 cell lines. Appl Biochem Biotechnol 174:2777–2790

Khoshnamvand M, Ashtiani S, Chen Y, Liu J (2020) Impacts of organic matter on the toxicity of biosynthesized silver nanoparticles to green microalgae Chlorella vulgaris. Environ Res 185:109433

Singh AK, Tiwari R, Singh VK, Singh P, Khadim SR, Singh U, Laxmi SV, Hasan SH, Asthana RK (2019) Green synthesis of gold nanoparticles from Dunaliella salina, its characterization and in vitro anticancer activity on breast cancer cell line. J Drug Deliv Sci Tec 51:164–176

Khani R, Roostaei B, Bagherzade G, Moudi M (2018) Green synthesis of copper nanoparticles by fruit extract of Ziziphus spina-christi (L.) Willd.: application for adsorption of triphenylmethane dye and antibacterial assay. J Mol Liq 255:541–549

Chaudhary S, Rohilla D, Umar A, Kaur N, Shanavas A (2019) Synthesis and characterizations of luminescent copper oxide nanoparticles: toxicological profiling and sensing applications. Ceram Int 45:15025–15035

Aisida SO, Ugwu K, Akpa PA, Nwanya AC, Nwankwo U, Botha SS, Ejikeme PM, Ahmad I, Maaza M, Ezema FI (2019) Biosynthesis of silver nanoparticles using bitter leave (Veronica amygdalina) for antibacterial activities. Surf Interfaces 17:100359

Fatima R, Priya M, Indurthi L, Radhakrishnan V, Sudhakaran R (2020) Biosynthesis of silver nanoparticles using red algae Portieria hornemannii and its antibacterial activity against fish pathogens. Microb Pathog 138:103780

El-Rafie H, El-Rafie M, Zahran M (2013) Green synthesis of silver nanoparticles using polysaccharides extracted from marine macro algae. Carbohydr Polym 96:403–410

Puja P, Vinita NM, Devan U, Velangani AJ, Srinivasan P, Yuvakkumar R, Arul Prakash P, Kumar P (2020) Fluorescence microscopy-based analysis of apoptosis induced by platinum nanoparticles against breast cancer cells. Appl Organomet Chem. https://doi.org/10.1002/aoc.5740

Arasu MV, Arokiyaraj S, Viayaraghavan P, Kumar TSJ, Duraipandiyan V, Al-Dhabi NA, Kaviyarasu K (2019) One step green synthesis of larvicidal, and azo dye degrading antibacterial nanoparticles by response surface methodology. J Photoch Photobio B 190:154–162

Morejon B, Pilaquinga F, Domenech F, Ganchala D, Debut A, Neira M (2018) Larvicidal activity of silver nanoparticles synthesized using extracts of Ambrosia arborescens (Asteraceae) to control Aedes aegypti L. (Diptera: Culicidae). J Nanotechnol. https://doi.org/10.1155/2018/6917938
Ethics declarations
Conflict of interest
The authors declare that they have no confict of interest.
Additional information
Publisher's Note
Springer Nature remains neutral with regard to jurisdictional claims in published maps and institutional affiliations.
About this article
Cite this article
Gopu, M., Kumar, P., Selvankumar, T. et al. Green biomimetic silver nanoparticles utilizing the red algae Amphiroa rigida and its potent antibacterial, cytotoxicity and larvicidal efficiency. Bioprocess Biosyst Eng 44, 217–223 (2021). https://doi.org/10.1007/s00449-020-02426-1
Received:

Accepted:

Published:

Issue Date:

DOI: https://doi.org/10.1007/s00449-020-02426-1
Keywords