Abstract
We present a first stratigraphy of the flood basalt succession in eastern Wollo province, northern Ethiopian plateau, based on detailed field logging. This study was initiated to resolve outstanding issues in the region regarding the timing and extent of flood volcanism, assisting a wider correlation of stratigraphic sequences across the Ethiopian plateau. Our approach involved construction of stratigraphic sections from six selected gorge localities having ~ 100% exposure. Individual flow thickness, lithology, and sequence were recorded at each locality. Features common to all localities indicate a single magmatic plumbing system for the mapped area. Three formations are identified and named, and linked to published Oligocene radiometric ages from neighboring areas. These formations are from base to top: Teri Basalt, the main phase of flood basalt emission, is conformably overlain by the Wegeltena Rhyolite, composed of silicic ignimbrites dated at ~ 30.2 Ma. Upon this rests a thin bed of conglomerate, sandstone, and mudstone representing a ~ 3 Ma episode of volcanic quiescence. At the top of the sequence lies the Kon Basalt, dated at 27.8–26.7 Ma. Comparison of this new stratigraphy with other Oligocene sequences on the northern plateau reveals significant variations in lithology and age range, with implications for how the Ethiopian flood basalt province was constructed. More work is required in seeking the fissure vents and their geometry.
Access options
Buy single article
Instant access to the full article PDF.
US$ 39.95
Tax calculation will be finalised during checkout.
Subscribe to journal
Immediate online access to all issues from 2019. Subscription will auto renew annually.
US$ 119
Tax calculation will be finalised during checkout.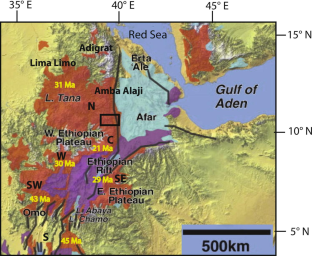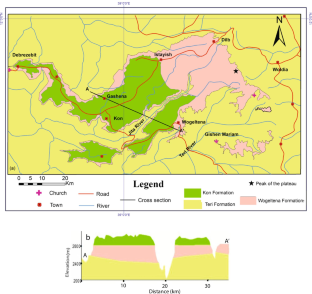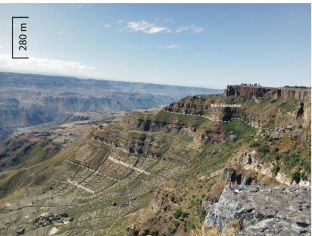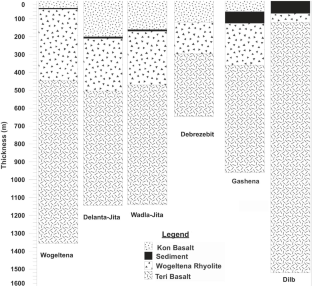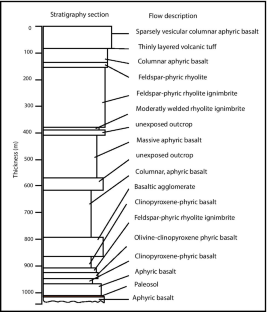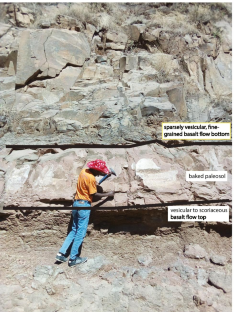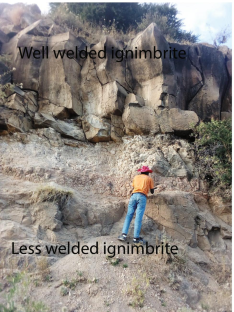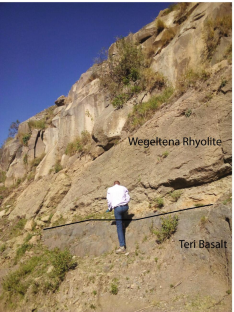 References
Abate B, Koeberl C, Buchanan PC, Körner W (1998) Petrography and geochemistry of basaltic and rhyodacitic rocks from Lake Tana and the Gimjabet-Kosober areas (north central Ethiopia). J Afr Earth Sci 26:119–134

Abbate E, Bruni P, Ferretti MP, Delmer C, Laurenzi MA, Hagos M, Bedri O, Rook L, Sagri M, Libsekal Y (2014) The east Africa Oligocene intertrappean beds: regional distribution, depositional environments and Afro/Arabian mammal dispersals. J Afr Earth Sci 99:463–489

Assefa G (1991) Lithostratigraphic and environment of deposition of late Jurassic-early Cretaceous sequence of the central part of northwestern plateau, Ethiopia. N Jb Geol Palaont Abb 182(3):255–284 (Stugart)

Ayalew D (2011) The relations between felsic and mafic volcanic rocks in continental flood basalts of Ethiopia: implication for the thermal weakening of the crust. In: Van Hinsbergen DJJ, Buiter SJH, Torsvik TH, Gaina C, Webb SJ (eds) The formation and evolution of Africa: a synopsis of 3.8 Ga of Earth history. Geol Soc Lon Spec Publ 357, pp 253–264

Ayalew D, Barbey P, Marty B, Reisberg L, Yirgu G, Pik R (2002) Source, genesis and timing of giant ignimbrite deposits associated with Ethiopian continental flood basalts. Geochim Cosmochim Acta 66:1429–1448

Ayalew D, Pik P, Bellahsen N, France L, Yirgu G (2019) Differential fractionation of rhyolites during the course of crustal extension, western Afar (Ethiopian rift). Geochem Geophy Geosy 20(2):571–593

Ayalew D, Yirgu Y (2003) Crustal contribution to the genesis of Ethiopian plateau rhyolitic ignimbrites: basalt and rhyolite geochemical provinciality. J Geol Soc Lon 160:47–56

Ayalew D, Yirgu G, Pik R (1999) Geochemical and isotopic (Sr, Nd and Pb) characteristics of volcanic rocks from southwestern Ethiopia. J Afr Earth Sci 29:381–391

Baker J, Snee L, Menzies MA (1996) A brief Oligocene period of flood volcanism in Yemen: implications for the duration and rate of continental flood basalt volcanism at the Afro-Arabian triple junction. Earth Planet Sci Lett 138:39–55

Beccaluva L, Bianchini G, Natali C, Siena F (2009) Continental flood basalts and mantle plumes: a case study of the northern Ethiopian plateau. J Petrol 50(7):1377–1403

Bellieni G, Comin-Chiaramonti P, Marques LS, Melfi AJ, Nardy AJR, Papatrechas C, Piccirillo EM, Roisenberg A, Stolfa D (1986) Petrogenetic aspects of acid and basaltic lavas from the Paraná plateau (Brazil): geological, mineralogical and petrochemical relationships. J Petrol 27:915–944

Berhe SM, Desta B, Nicoletti M, Teferra M (1987) Geology, geochronology and geodynamic implications of the Cenozoic magmatic province of W and SE Ethiopia. J Geol Soc Lon 144:213–266

Blanford WT (1870) Observations on the geology and zoology of Abyssinia, made during the progress of the British expedition to that country in 1867–1868. Macmillan and Co., London, p 487

Bonini G, Corti M, Innocenti F, Manetti P, Mazzarini F, Abebe T, Pecskay Z (2005) Evolution of the main Ethiopian rift in the frame of Afar and Kenya rifts propagation. Tectonics 24:1–21

Chang S-J, Kendall E, Davaille A, Ferreira AMG (2020) The evolution of mantle plumes in east Africa. J Geophys Res 125(12):e2020JB019929

Chernet T, Hart WK, Aronson JL, Walter RC (1998) New age constraints on the timing of volcanism and tectonism in the northern main Ethiopian rift-southern Afar transition zone (Ethiopia). J Volcanol Geotherm Res 80:267–280

Chorowicz J, Collet B, Bonavia F, Mohr P, Parrot J, Korme T (1998) The Tana basin, Ethiopia: intra-plateau uplift, rifting and subsidence. Tectonophysics 295:351–367

Coulie E, Quideleur X, Gillot PY, Courtillot V, Lefevre JC, Chiesa S (2003) Comparative K-Ar and Ar/Ar dating of Ethiopian and Yemenite Oligocene volcanism: implications for timing and duration of the Ethiopian traps. Earth Planet Sci Lett 206:477–492

Cox KG, Hawkesworth CJ (1985) Geochemical stratigraphy of the Deccan Traps at Mahabaleshwar, Western Ghats, India, with implications for open system magmatic processes. J Petrol 26:355–377

Courtillot V, Féraud G, Maluski H, Vandamme D, Moreau MG, Besse J (1988) The Deccan flood basalts and the Cretaceous-Tertiary boundary. Nature 333:843–845

Courtillot V, Jaupart C, Manighetti I, Tapponnier P, Besse J (1999) On causal links between flood basalts and continental breakup. Earth Planet Sci Lett 166:177–195

Davidson A, Rex DC (1980) Age of volcanism and rifting in southwestern Ethiopia. Nature 283:657–658

Desissa M, Johnson NE, Whaler KA, Hautot S, Fisseha S, Dawes GJK (2013) A mantle magma reservoir beneath an incipient mid-ocean ridge in Afar, Ethiopia. Nat Geosci 6:861–865

Dugda MT, Nyblade AA, Julia J (2007) Thin lithosphere beneath the Ethiopian plateau revealed by a joint inversion of rayleigh wave group velocities and receiver functions. J Geophys Res Solid Earth 112(B8), https://doi.org/10.1029/2006JB004918

Ebinger CJ, Hayward NJ (1996) Soft plates and hot spots: views from Afar. J Geophys Res 101(B10):21859–21876

Faccenna C, Becker TW, Auer L, Billi A, Boschi L, Brun JP, Capitanio FA, Funiciello F, Horvath F, Jolivert L, Piromallo C, Rovden L, Rossetti F, Serpelloni E (2014) Mantle dynamics in the Mediterranean. Rev Geophys 52:283–332

Fantozzi PL (1996) Transition from continental to oceanic rifting in the Gulf of Aden: structural evidence from field mapping in Somalia and Yemen. Tectonophysics 259:285–311

Ferrando S, Frezzotti ML, Neumann E-R, De Astis G, Peccerillo A, Ayalew D, Yirgu G, Ayalew T (2008) Composition and thermal structure of the lithosphere beneath the Ethiopian plateau: evidence from mantle xenoliths in basanites, Injibara, Lake Tana province. Mineral Petrol 93:47–78

Garland F, Hawkesworth CJ, Mantovani MSM (1995) Description, and petrogenesis of the Parana rhyolites, southern Brazil. J Petrol 36:1193–1227

George R, Rogers N, Kelley S (1998) Earliest magmatism in Ethiopia: evidence for two mantle plumes in one flood basalt province. Geology 26:923–926

Gortani M, Bianchi A (1941) Note illustrative su la carta geologica degli altipiani hararini e della Dancalia meridionale. Mem r Accad Sci Ist Bologna 8:3–18

Hahn GA, Raynolds RGH, Wood RA (1977) The geology of the Angareb ring complex, north-western Ethiopia. Bull Volcanol 40:1–10

Hammond JOS, Kendall JM, Stuart GW, Keir D, Ebinger C, Ayele A, Belachew M (2011) The nature of the crust beneath the Afar triple junction: evidence from receiver functions. Geochem Geophys Geosys 12. https://doi.org/10.1029/2011GC003738

Hofmann C, Courtillot V, Feraud G, Rochette P, Yirgu G, Ketefo E, Pik R (1997) Timing of the Ethiopian flood basalt event and implications for plume birth and global change. Nature 389:338–341

Hooper PR, Camp VE, Reidel SP, Ross ME (2007) The origin of the Columbia River flood basalt province: plume versus nonplume models. In: Foulger GR, Jurdy DM (eds) Plates, plumes, and planetary processes. Geol Soc Am Spec Pap 430, pp 635–668

Juch D (1975) Geology of the southeastern escarpment of Ethiopia between 39° and 42° long, East. In: Pilger A, Roesler A (eds) Afar depression of Ethiopia. Schweizerbart, Stuttgart, pp 310–316

Justin-Visentin E, Nicoletti M, Tolomeo L, Zanettin B (1974) Miocene and Pliocene volcanic rocks of the Addis Ababa - Debra Berhan area (Ethiopia). Bull Volcanol 38:237–253

Kenea NH, Ebinger C, Rex DC (2001) Late Oligocene volcanism and extension in the southern Red Sea Hills. Sudan J Geol Soc 158(2):285–294

Kieffer B, Arndt N, Lapierre H, Bastien F, Bosch D, Pecher A, Yirgu G, Ayalew D, Weis D, Jerram DA, Keller F, Meugniot C (2004) Flood and shield basalts from Ethiopia: magmas from the African superswell. J Petrol 45:793–834

Krans SR, Rooney TO, Kappelman J, Yirgu G, Ayalew D (2018) From initiation to termination: a petrostratigraphic tour of the Ethiopian low-Ti flood basalt province. Contrib Mineral Petrol 173:37–58

Marty B, Pik P, Yirgu G (1996) Helium isotopic variations in Ethiopian plume lavas; nature of magmatic sources and limit on lower mantle contribution. Earth Planet Sci Lett 144:223–237

McDougall I, Morton WH, Williams MAJ (1975) Age and denudation rates of Trap Series basalts in the Nile gorge, Ethiopia. Nature 254:207–209

Merla G, Minucci E (1938) Missione Geologica nel Tigrai-1 La serie dei terreni. R Acad Ital, p 363

Merla G, Abbate E, Canuti P, Sagri M, Tacconi P (1979) Geological map of Ethiopia and Somalia (1973): 1: 2 000 000 and comment, with map of major landforms. Centro Stampa, Firenze

Miller JA, Harris C (2007) Petrogenesis of the Swaziland and northern Natal rhyolites of the Lebombo rifted volcanic margin, south east Africa. J Petrol 48:185–218

Mohr PA (1962) The geology of Ethiopia. Haile Selassie Univ Pres Addis Ababa p 268

Mohr PA (1967) Review of the geology of the Simien Mountains. Bull Geophys Obs Addis Ababa 10:79–93

Mohr P (1982) Musings on continental rifts. In: Palmason, G (ed) Continental and oceanic rifts. Amer Geophys U, pp 293–309

Mohr P, Wood CA (1976) Volcano spacings and lithospheric attenuation in the eastern rift of Africa. Earth Planet Sci Lett 33:126–144

Mohr P, Zanettin B (1988) The Ethiopian flood basalt province. In: Macdougall JD (ed) Continental flood basalts. Kluwer Academic Publications, Dordrecht, pp 63–110

Natali C, Beccaluva L, Bianchini G, Ellam RM, Savo A, Siena F, Stuart FM (2016) High-MgO lavas associated to CFB as indicators of plume-related thermochemical effects: the case of ultra-titaniferous picrite–basalt from the northern Ethiopian-Yemeni plateau. Gondwana Res 34:29–48

Natali C, Beccaluva L, Biachini G, Siena F (2011) Rhyolites associated to Ethiopian CFB: clues for initial rifting at the Afar plume axis. Earth Planet Sci Lett 312(1):59–68

Natali C, Beccaluva L, Bianchini G, Siena F (2013) The Axum-Adwa basalt–trachyte complex: a late magmatic activity at the periphery of the Afar plume. Contrib Mineral Petrol 166:351–370

Nelson WR, Hanan BB, Graham DW, Shirey SB, Yirgu G, Ayalew D, Furman T (2019) Distinguishing plume and metasomatized lithospheric mantle contributions to post-flood basalt volcanism on the southeastern Ethiopian plateau. J Petrol 60(5):1063–1094

Pik R, Deniel C, Coulon C, Yirgu G, Hofmann C, Ayalew D (1998) The northwestern Ethiopian plateau flood basalts: classification and spatial distribution of magma types. J Volcanol Geotherm Res 81:91–111

Pik R, Deniel C, Coulon C, Yirgu G, Marty B (1999) Isotopic and trace element signatures of Ethiopian flood basalts: evidence for plume-lithosphere interactions. Geochim Cosmochim Acta 63(15):2263–2279

Pik R, Marty B, Carignan J, Yirgu G, Ayalew T (2008) Timing of east African rift development in southern Ethiopia: implication for mantle plume activity and evolution of topography. Geology 36(2):167–170

Reidel SP, Camp VE, Tolan TL, Martin BS (2013) The Columbia River flood basalt province: stratigraphy, areal extent, volume, and physical volcanology. In: Reidel SP, Camp VE, Ross ME, Wolff JA, Martin BS, Tolan TL, Wells RE (eds) The Columbian River flood basalt province. Geol Soc Am Spec Pap 497, pp 1–43

Rochette P, Tamrat E, Féraud G, Pik R, Courtillot V, Ketefo E, Coulon C, Hofmann C, Vandamme D, Yirgu G (1998) Magnetostratigraphy and timing of the Oligocene Ethiopian traps. Earth Planet Sci Lett 164:497–510

Rooney TO (2017) The Cenozoic magmatism of east-Africa: part I – flood basalts and pulsed magmatism. Lithos 286(2):264–301

Rooney TO, Krans SR, Mege D, Arnaud N, Korme T, Kappelman J, Yirgu G (2018) Constraining the magmatic plumbing system in a zoned continental flood basalt province. Geochem Geophys Geosys 19(10):3917–3944

Sembroni A, Faccenna C, Becker TW, Molin P, Abebe B (2016) Long-term, deep-mantle support of the Ethiopia-Yemen plateau. Tectonics 35:469–488

Ukstins IA, Renne PR, Wolfenden E, Baker J, Ayalew D, Menzies M (2002) Matching conjugate volcanic rifted margins: 40Ar/39Ar chrono-stratigraphy of pre- and syn-rift bimodal flood volcanism in Ethiopia and Yemen. Earth Planet Sci Lett 198:289–306

Ukstins-Peate I, Baker JA, Al-Kadasi M, Al-Subbary A, Knight KB, Riisager P, Thirlwall MF, Peate DW, Renne PR, Menzies MA (2005) Volcanic stratigraphy of large-volume silicic pyroclastic eruptions during Oligocene Afro-Arabian flood volcanism in Yemen. Bull Volcanol 68:135–156

Wolfenden E, Ebinger C, Yirgu G, Deino A, Ayalew D (2004) Evolution of the northern main Ethiopian rift: birth of a triple junction. Earth Planet Sci Lett 224:213–228

Wolfenden E, Ebinger C, Yirgu G, Renne PR, Kelley SP (2005) Evolution of a volcanic rifted margin: southern Red Sea, Ethiopia. Geol Soc Am Bull 117:846–864

Zanettin B, Gregnanin A, Justin-Visentin E, Mezzacasa G, Piccirillo EM (1976) New chemical analyses of the tertiary volcanics from the central Ethiopian plateau. Cons Naz Ricerche Ist Min Univ Padova, p 43

Zanettin B, Justin-Visentin E (1973) Serie di vulcaniti etiopiche. I: la serie dell'altipiano etiopico centro-orientale. Boll Soc Geol It 92:313–327

Zanettin B, Justin-Visentin E, Nicoletti M, Piccirillo EM (1980) Correlations among Ethiopian volcanic formations with special references to the chronological and stratigraphical problems of the 'Trap Series.' Acad Naz Linc Roma 47:231–252
Acknowledgements
We thank Paul Mohr and Cindy Ebinger, and other anonymous journal reviewers and Associate Editor Hannah R. Dietterich for their excellent comments that improve the initial manuscript.
Funding
Funding has been provided by Addis Ababa University through the "Thematic Research" scheme.
Additional information
Publisher's note
Springer Nature remains neutral with regard to jurisdictional claims in published maps and institutional affiliations.
Editorial responsibility: H. Dietterich
Supplementary information
Below is the link to the electronic supplementary material.
About this article
Cite this article
Ayalew, D., Getaneh, W., Pik, R. et al. Stratigraphic framework of the northeastern part of the Ethiopian flood basalt province. Bull Volcanol 83, 57 (2021). https://doi.org/10.1007/s00445-021-01482-z
Received:

Accepted:

Published:
Keywords
Ethiopia

Flood basalt

Formation

Plateau

Stratigraphy