Abstract
Magma recharge into a differentiated reservoir is one of the main triggering mechanisms for explosive eruptions. Here we describe the petrology of the eruptive products of the last explosive eruption of Tutupaca volcano (southern Peru) in order to constrain the pre-eruptive physical conditions (P-T-XH2O) of the Tutupaca dacitic reservoir. We demonstrate that prior to the paroxysm, magma in the Tutupaca dacitic reservoir was at low temperature and high viscosity (735 ± 23 °C), with a mineral assemblage of plagioclase, low-Al amphibole, biotite, titanite, and Fe-Ti oxides, located at 8.8 ± 1.6 km depth (233 ± 43 MPa). The phenocrysts of the Tutupaca dacites show frequent disequilibrium textures such as reverse zonation, resorption zones, and overgrowth rims. These disequilibrium textures suggest a heating process induced by the recharge of a hotter magma into the dacitic reservoir. As a result, high-Al amphibole and relatively high-Ca plagioclase phenocryst rims and microlites were formed and record high temperatures from just before the eruption (840 ± 45 °C). Based on these data, we propose that the recent eruption of Tutupaca was triggered by the recharge of a hotter magma into a highly crystallized dacitic magma reservoir. As a result, the resident dacitic magma was reheated and remobilized by a self-mixing process. These magmatic processes induced an enhanced phase of dome growth that provoked destabilization of the NE flank, producing a debris avalanche and its accompanying pyroclastic density currents.
Access options
Buy single article
Instant access to the full article PDF.
USD 39.95
Price includes VAT (USA)
Tax calculation will be finalised during checkout.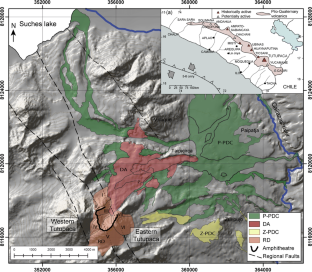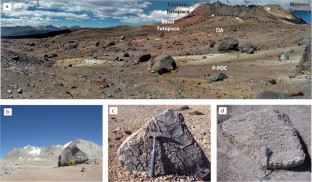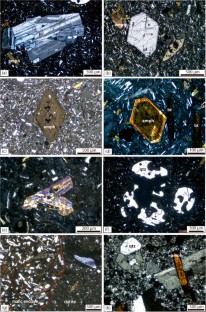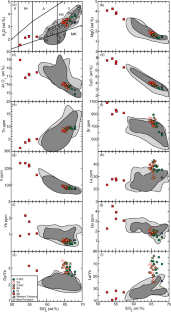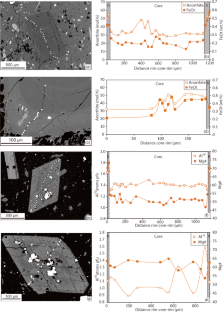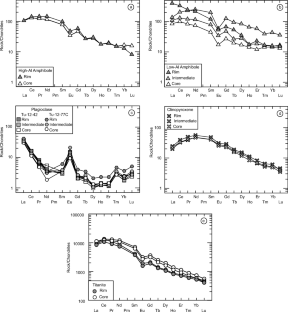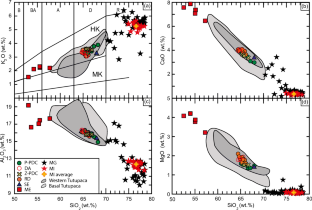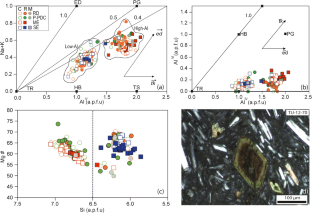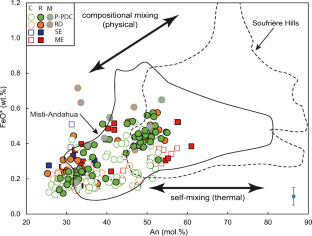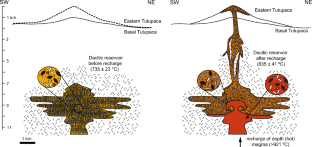 References
Anderson JL, Smith DR (1995) The effects of temperature and fO2 on the Al-in-hornblende barometer. Am Mineral 80(549):559

Andujar J, Martel C, Pichavant M, Samaniego P, Scaillet B, Molina I (2017) Structure of the plumbing system at Tungurahua volcano, Ecuador: insights from phase equilibrium experiments on July-August 2006 eruption products. J Petrol 58:1249–1278

Bachmann O, Dungan MA (2002) Temperature-induced Al-zoning in horblendes of the Fish Canyon magma, Colorado. Am Mineral 87:723–738

Belousov A (1996) Deposits of the 30 March 1956 directed blast at Bezymianny volcano. Bull Volcanol 57:649–662

Belousov A, Voight B, Belousova M (2007) Directed blasts and blast-generated pyroclastic density currents: a comparison of the Bezymianny 1956, Mount St Helens 1980, and Soufrière Hills, Montserrat 1997 eruptions and deposits. Bull Volcanol 69:701–740

Benavente C, Zerathe S, Audin L, Hall SR, Robert X, Delgado F, Carcaillet J, ASTER Team (2017) Active transpressional tectonics in the Andean forearc of southern Peru quantified by 10Be surface exposure dating of an active fault scarp. Tectonics 36. https://doi.org/10.1002/2017TC004523

Bindeman IN, Davis AM, Drake MJ (1998) Ion microprobe study of plagioclase-basalt partition experiments at natural concentration levels of trace elements. Geochim Cosmochim Acta 62:1175–1193

Blundy J, Holland T (1990) Calcic amphibole equilibria and a new amphibole-plagioclase geothermometer. Contrib Mineral Petrol 104:208–224

Castro JM, Dingwell DB (2009) Rapid ascent of rhyolitic magma at Chaitén volcano, Chile. Nature 461:780–783

Castruccio A, Clavero J, Segura A, Samaniego P, Roche O, Le Pennec JL, Droguett B (2016) Eruptive parameters and dynamics of the April 2015 sub-Plinian eruptions of Calbuco volcano (southern Chile). Bull Volcanol 78:62

Chen Y, Provost A, Schiano P, Cluzel N (2011) The rate of water loss from olivine-hosted melt inclusions. Contrib Mineral Petrol 162:625–636

Cotten J, Le Dez A, Bau M, Caroff M, Maury RC, Dulski P, Fourcade S, Bohn M, Brousse R (1995) Origin of anomalous rare-earth element and Yttrium enrichments in subaerial exposed basalts: evidence from French Polynesia. Chem Geol 119:115–138

Couch S, Sparks RSJ, Carroll MR (2001) Mineral disequilibrium in lavas explained by convective self-mixing in open magma chambers. Nature 41:1037–1039

De Angelis SH, Larsen J, Coombs M (2013) Pre-eruptive magmatic conditions at Augustine volcano, Alaska, 2006: evidence from amphibole geochemistry and textures. J Petrol 54:1939–1961

Erdmann S, Martel C, Pichavant M, Kushnir A (2014) Amphibole as an archivist of magmatic crystallization conditions: problems, potential, and implications for inferring magma storage prior to the paroxysmal 2010 eruption of Mount Merapi, Indonesia. Contrib Mineral Petrol 167:1016

Fidel L, Zavala B (2001) Mapa preliminar de amenaza volcánica del volcán Tutupaca. Boletín 24, Serie C: Geodinámica e Ingeniería Geológica. INGEMMET, p 109

Gaetani GA, O'Leary JA, Shimizu N, Bucholv CE, Newville M (2012) Rapid re-equilibration of H2O and oxygen fugacity in olivine-hosted inclusions. Geology 40:915–918

Giletti BJ, Shanahan TM (1997) Alkali diffusion in plagioclase feldspar. Chem Geol 139:3–20

Ginibre C, Wörner G, Kronz A (2002) Minor- and trace-element zoning in plagioclase: implications for magma chamber processes at Parinacota Volcano, northern Chile. Contrib Mineral Petrol 143:300–315

Hattori K, Sato H (1996) Magma evolution recorded in plagioclase zoning in 1991 Pinatubo eruption products. Am Mineral 81:982–994

Hayden LA, Watson EB, Wark DA (2008) A thermobarometer for sphene (titanite). Contrib Mineral Petrol 155:529–540

Hoblitt RP, Miller CD, Vallance JW (1981) Origin and stratigraphy of the deposit produced by the May 18 directed blast. In: Lipman PW, Mullineaux DR (eds) The 1980 eruptions of Mount St. Helens, vol 1250. USGS Prof Paper, Washington, pp 401–419

Holland T, Blundy J (1994) Non-ideal interactions in calcic amphiboles and their bearing on amphibole-plagioclase thermometry. Contrib Mineral Petrol 116:433–447

Holtz F, Sato H, Lewis J, Behrens H, Nakada S (2005) Experimental petrology of the 1991 – 1995 Unzen Dacite, Japan . Part I: phase relations, phase composition and pre-eruptive conditions. J Petrol 46:319–337

Humphreys MCS, Christopher T, Hards V (2009) Microlite transfer by disaggregation of mafic inclusions following magma mixing at Soufrière Hills volcano Montserrat. Contrib Mineral Petrol 157:609–624. https://doi.org/10.1007/s00410-008-0356-3

Johnson MC, Rutherford MJ (1989) Experimental calibration of the aluminum-in-hornblende geobarometer with application to Long Valley caldera (California) volcanic rocks. Geology 17:837–841

Kiss B, Harangi S, Ntaflos T, Mason PRD, Pál-Molnár E (2014) Amphibole perspective to unravel pre-eruptive processes and conditions in volcanic plumbing systems beneath intermediate arc volcanoes: a case study from Ciomadul volcano (SE Carpathians). Contrib Mineral Petrol 167:986

Kono M, Fukao Y, Yamamoto A (1989) Mountain building in the Central Andes. J Geophys Res 94:3891–3905

Lange R, Frey H, Hector J (2009) A thermodynamic model for the plagioclase-liquid hygrometer/thermometer. Am Mineral 94:494–506

Lara LE, Naranjo JA, Moreno H (2004) Rhyodacitic fissure eruption in Southern Andes (Cordón Caulle; 40.5°S) after the 1960 (Mw:9.5) Chilean earthquake: a structural interpretation. J Volcanol Geotherm Res 138:127–138

Lasaga AC (1998). Kinetic theory in the earth sciences. Princetown series in geochemistry. Princeton University Press, Princeton.

Leake BE, Woolley AR, Arps CES, Birch WD, Gilbert MC, Grice JD, Hawthorne FC, Kato A, Kisch HJ, Krivovichev VG, Linthout K, Laird J, Mandarino JA, Maresch WV, Nickel EH, Rock NMS, Schumacher JC, Smith DC, Stephenson CN, Ungaretti L, Whittaker EJW, Youzhi G (1997) Nomenclature of amphiboles: report of the Subcommittee on Amphiboles of the International Mineralogical Association, commission on new minerals and minerals' names. Am Mineral 82:1019–1037

Lloyd AS, Plank T, Ruprecht P, Hauri EH, Rose W (2012) Volatile loss from melt inclusions in pyroclasts of differing sizes. Contrib Mineral Petrol 165:129–153

Mamani M, Wörner G, Sempere T (2010) Geochemical variation in igneous rocks of the Central Andean orocline (13 °S to 18 °S): tracing crustal thickening and magmas generation through time and space. Geol Soc Am Bull 97:241–254

Mariño J, Samaniego P, Manrique N, Valderrama P, Macedo L (2019) Geología y mapa del Complejo Volcánico Tutupaca. INGEMMET, Boletín, Serie C: Geodinámica e Ingeniería Geológica, 66, 165 p., 2 mapas.

Médard E, Le Pennec JL (2019) Petrologic imaging of the magma chambers that feed super-eruptions. Submitted

Médard E, Le Pennec JL, Francomme JE, Temel A, Nauret F (2013) Reconstructing the magma feeding system of the Cappadocian ignimbrites (Turkey) through amphibole thermobarometry. Goldschmidt conference, Florence

Morimoto N, Fabries J, Ferguson AK, Ginzburg IV, Ross M, Seifert FA, Zussman J (1988) Nomenclature of pyroxenes. Am Mineral 73:1123–1133

Murphy MD, Sparks RSJ, Barclay J, Carroll MR, Brewer TS, Gene DE (2000) Remobilization of andesite magma by intrusion of mafic magma at the Soufriere Hills Volcano, Montserrat, West Indies. J Petrol 41:21–42

Mutch EJF, Blundy JD, Tattitch BC, Cooper FJ, Brooker RA (2016) An experimental study of amphibole stability in low-pressure granitic magmas and a revised Al-in-hornblende geobarometer. Contrib Mineral Petrol 171:85

Pallister JS, Hoblitt RP, Reyes AG (1992) A basalt trigger for the 1991 eruptions of Pinatubo volcano? Nature 356:426–428

Peccerillo P, Taylor SR (1976) Geochemistry of Eocene calc-alkaline volcanic rocks from the Kastamonu area, northern Turkey. Contrib Mineral Petrol 58:63–81

Poli S, Schmidt MW (1992) A comment on calcic amphibole equilibria and a new amphibole-plagioclase thermometre by JD Blundy and TJB Holland. Contrib Mineral Petrol 104:208–224

Prouteau G, Scaillet B (2003) Experimental constraints on the origin of the 1991 Pinatubo dacite. J Petrol 44:2203–2241

Ridolfi F, Renzulli A (2012) Calcic amphiboles in calc-alkaline and alkaline magmas: thermobarometric and chemometric empirical equations valid up to 1130oC and 2.2 GPa. Contrib Mineral Petrol 163:877–895

Ridolfi F, Renzulli A, Puerini M (2010) Stability and chemical equilibrium of amphibole in calc-alkaline magmas: an overview, new thermobarometric formulations and application to subduction-related volcanoes. Contrib Mineral Petrol 160:45–66

Rivera M, Thouret JC, Samaniego P, Le Pennec JL (2014) The 2006–2009 activity of Ubinas volcano (Peru): petrology of the 2006 eruptive products and insights into genesis of andesite magmas, magma recharge and plumbing system. J Volcanol Geotherm Res 270:122–141

Rivera M, Martin H, Le Pennec JL, Thouret JC, Gourgaud A, Gerbe MC (2017) Petro-geochemical constraints on the source and evolution of magmas at El Misti volcano (Peru). Lithos 268–271:240–259a

Rubin AE, Cooper KM, Till CB, Kent AJR, Costa F, Bose M, Gravley D, Deering C, Cole J (2017) Rapid cooling and cold storage in a silicic magma reservoir recorded in individual crystals. Science 356:1154–1156

Ruprecht P, Bachmann O (2010) Pre-eruptive reheating during magma mixing at Quizapu volcano and the implications for the explosiveness of silicic arc volcanoes. Geology 38:919–922

Ruprecht P, Wörner G (2007) Variable regimes in magma systems documented in plagioclase zoning patterns: El Misti stratovolcano and Andahua monogenetic cones. J Volcanol Geotherm Res 165:142–162

Ruprecht P, Bergantz G, Cooper K, Hildreth W (2012) The crustal magma storage system of Volcán Quizapu, Chile, and the effects of magma mixing on magma diversity. J Petrol 53:801–840. https://doi.org/10.1093/petrology/egs002

Rutherford MJ, Devine JD (1988) The May 18, 1980, Eruption of Mount St. Helens 3. Stability and chemistry of amphibole in the magma chamber. J Geophys Res 93:11949–11959

Rutherford MJ, Devine JD (2003) Magmatic conditions and magma ascent as indicated by hornblende phase equilibria and reactions in the 1995–2002 Soufrière Hills magma. J Petrol 44:1433–1454

Rutherford MJ, Hill P (1993) Magma ascent rates from amphibole breakdown: an experimental study applied to the 1980–1986 Mount St. Helens eruptions. J Geophys Res:98:19667–19685. https://doi.org/10.1029/93JB01613

Samaniego P, Le Pennec JL, Robin C, Hidalgo S (2011) Petrological analysis of the pre-eruptive magmatic process prior to the 2006 explosive eruptions at Tungurahua volcano (Ecuador). J Volcanol Geotherm Res 199:69–84

Samaniego P, Valderrama P, Mariño J, van Wyk de Vries B, Roche O, Manrique N, Chédeville C, Liorzou C, Fidel L, Malnati J (2015) The historical (218 ± 14 aBP) explosive eruption of Tutupaca volcano (Southern Peru). Bull Volcanol 77:51

Samaniego P, Rivera M, Mariño J, Guillou H, Liorzou C, Zerathe S, Delgado R, Valderrama P, Scao V (2016) The eruptive chronology of the Ampato–Sabancaya volcanic complex (Southern Peru). J Volcanol Geotherm Res 323:110–128

Scaillet B, Evans BW (1999) The 15 June 1991 Eruption of Mount Pinatubo: I. Phase equilibria and pre-eruption P–T–fO2–fH2O conditions of the dacite magma. J Petrol 40:381–411

Schiavi F, Bolfan-Casanova N, Withers AC, Médard E, Laumonier M, Laporte D, Flaherty T, Gomez-Ulla A (2018) Water quantification in silicate glasses by Raman spectroscopy: correcting for the effects of confocality, density and ferric iron. Chem Geol 483:312–331

Schmidt MW (1992) Amphibole composition in tonalite as a function of pressure: an experimental calibration of the Al-in-hornblende barometer. Contrib Mineral Petrol 110:304–310

Shane P, Smith VC (2013) Using amphibole crystals to reconstruct magma storage temperatures and pressures for the post-caldera collapse volcanism at Okataina volcano. Lithos 156–159:159–170

Stix J, Torres R, Narváez L, Cortés G, Raigosa J, Gómez D, Castonguay R (1997) A model of Vulcanian eruptions at Galeras volcano, Colombia. J Volcanol Geotherm Res 77:285–303

Sun SS, McDonough WF (1989) Chemical and isotopic systematics of oceanic basalts: implications for mantle composition and processes. In: Saunders AD, Norry MJ (eds) Magmatism in the ocean basins. Special Publication 42. Geological Society, London, pp 313–345

Tepley FJ, de Silva S, Salas G (2013) Magma dynamics and petrological evolution leading to the VEI 5 2000 BP eruption of El Misti volcano, Southern Peru. J Petrol 54:2033–2065

Thouret J, Wörner G, Gunnell Y, Singer B, Zhang X, Souriot T (2007) Geochronologic and stratigraphic constraints on canyon incision and Miocene uplift of the Central Andes in Peru. Earth Planet Sci Lett 263:151–166

Valderrama P, Roche O, Samaniego P, van Wyk de Vries B, Bernard K, Mariño J (2016) Dynamic implications of ridges on a debris avalanche deposit at Tutupaca volcano (southern Peru). Bull Volcanol 78:14

Valdivia JG (1847) Fragmentos para la historia de Arequipa. Folletín de "El Deber", Arequipa, 109–111 p

Van Orman JA, Cherniak DJ, Kita NT (2014) Magnesium diffusion in plagioclase: dependence on composition, and implications for thermal resetting of the 26Al–26Mg early solar system chronometer. Earth Planet Sci Lett 385:79–88

Voight B, Komorowski JC, Norton GE, Belousov AB, Belousova M, Boudon G, Francis PW, Franz W, Heinrich P, Sparks RSJ, Young SR (2002) The 1997 Boxing Day sector collapse and debris avalanche, Soufriere Hills Volcano, Montserrat, W.I. In: Druitt T, Kokelaar BP (eds), The eruption of Soufrière Hills Volcano, Montserrat, from 1995 to 1999. Mem Geol Soc London 21:363– 407

Waters LE, Lange RA (2015) An updated calibration of the plagioclase-liquid hygrometer-thermometer applicable to basalts through rhyolites. Am Mineral 100:2172–2184

Zamàcola y Jaúregui JD (1804) Apuntes para la historia de Arequipa. Imp. De La Bolsa-Guañamarca, N. 49. 1888

Zhang X, Liu B, Wang J, Zhang Z, Shi K, Wu S (2014) Adobe photoshop quantification (PSQ) rather than point-counting: a rapid and precise method for quantifying rock textural data and porosities. Comput Geosci 69:62–71
Acknowledgements
This work is part of a Peruvian-French cooperation programme carried out between the Instituto Geológico, Minero y Metalúrgico (INGEMMET, Peru), and the Institut de Recherche pour le Développement (IRD, France). We warmly thank F. van Wyk de Vries for improvements to the English in the manuscript. We are grateful to P. Ruprecht and an anonymous reviewer for their constructive comments and J. Fierstein and J. Taddeucci for the editorial handling. This is Laboratory of Excellence ClerVolc contribution no. 381.
Additional information
Editorial responsibility: J. Fierstein; Deputy Executive Editor: J. Tadeucci
About this article
Cite this article
Manrique, N., Samaniego, P., Médard, E. et al. Pre-eruptive magmatic processes associated with the historical (218 ± 14 aBP) explosive eruption of Tutupaca volcano (southern Peru). Bull Volcanol 82, 6 (2020). https://doi.org/10.1007/s00445-019-1335-4
Received:

Accepted:

Published:
Keywords
Tutupaca

Magma recharge

Self-mixing

Thermobarometry