Abstract
Very little is known about the volatile element makeup of the gaseous emissions of Nyamulagira volcano. This paper tries to fill this gap by reporting the first gas composition measurements of Nyamulagira's volcanic plume since the onset of its lava lake activity at the end of 2014. Two field surveys were carried out on 1 November 2014, and 13–15 October 2015. We applied a broad toolbox of volcanic gas composition measurement techniques in order to geochemically characterize Nyamulagira's plume. Nyamulagira is a significant emitter of SO2, and our measurements confirm this, as we recorded SO2 emissions of up to ~ 14 kt/d during the studied period. In contrast to neighbouring Nyiragongo volcano, however, Nyamulagira exhibits relatively low CO2/SO2 molar ratios (< 4) and a high H2O content (> 92% of total gas emissions). Strong variations in the volatile composition, in particular for the CO2/SO2 ratio, were measured between 2014 and 2015, which appear to reflect the simultaneous variations in volcanic activity. We also determined the molar ratios for Cl/S, F/S and Br/S in the plume gas, finding values of 0.13 and 0.17, 0.06 and 0.11, and 2.3·10−4 and 1·10−4, in 2014 and 2015, respectively. A total gas emission flux of 48 kt/d was estimated for 2014. The I/S ratio in 2015 was found to be 3.6·10−6. In addition, we were able to distinguish between hydrogen halides and non-hydrogen halides in the volcanic plume. Considerable amounts of bromine (18–35% of total bromine) and iodine (8–18% of total iodine) were found in compounds other than hydrogen halides. However, only a negligible fraction of chlorine was found as compounds other than hydrogen chloride.
Access options
Buy single article
Instant access to the full article PDF.
US$ 39.95
Tax calculation will be finalised during checkout.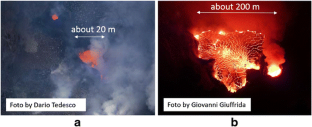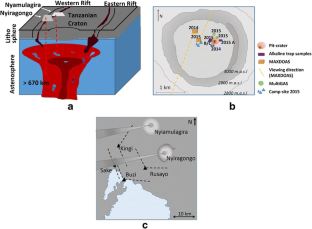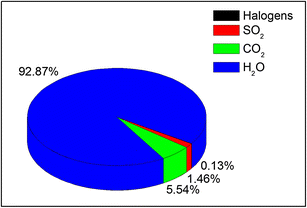 References
Aiuppa A, Federico C, Giudice G, Gurrieri S, Liuzzo M, Shinohara H, Favara R, Valenza M (2006) Rates of carbon dioxide plume degassing from Mount Etna volcano. J Geophys Res 111:B09207. https://doi.org/10.1029/2006JB004307

Aoki K, Yoshida T, Yusa K, Nakamura Y (1985) Petrology and geochemistry of Nyamulagira volcano, Zaire. J Volcanol Geotherm Res 25(1-2):1–28. https://doi.org/10.1016/0377-0273(85)90002-2

Arellano S, Yalire M, Galle B, Bobrowski N, Dingwell A, Johansson M, Norman P (2016) Long-term monitoring of SO2 quiescent degassing from Nyiragongo's lava lake. J Afr Earth Sci 134:866–873. https://doi.org/10.1016/j.jafrearsci.2016.07.002

Bobrowski, N (2005) Volcanic gas studies by MAX-DOAS. Doctoral dissertation, PhD thesis, University of Heidelberg, Heidelberg

Bobrowski N, Von Glasow R, Aiuppa A, Inguaggiato S, Louban I, Ibrahim OW, Platt U (2007) Reactive halogen chemistry in volcanic plumes. J Geophys Res Atmos 112(D6)

Bobrowski N, Glasow R, Giuffrida GB, Tedesco D, Aiuppa A, Yalire M, Arellano S, Johansson M, Galle B (2015) Gas emission strength and evolution of the molar ratio of BrO/SO2 in the plume of Nyiragongo in comparison to Etna. J Geophys Res: Atmos 120(1):277–291

Bluth GJS, Carn SA (2008) Exceptional sulfur degassing from Nyamulagira volcano, 1979–2005. Int J Remote Sens 29(22):6667–6685. https://doi.org/10.1080/01431160802168434

Buat M, Arnold (1978) The heavy metal chemistry of atmospheric particulate matter emitted by Mount Etna volcano. Geophys Res Lett 5:245–248

Buck A (1981) New equations for computing vapor pressure and enhancement factor. J Appl Meteorol 20(12):1527–1537. https://doi.org/10.1175/1520-0450(1981)020<1527:NEFCVP>2.0.CO;2

Burton MR, Sawyer GM, Granieri D (2013) Deep carbon emissions from volcanoes. Rev Mineral Geochem 75(1):323–354. https://doi.org/10.2138/rmg.2013.75.11

Campion R (2014) New lava lake at Nyamulagira volcano revealed by combined ASTER and OMI SO2 measurements. Geophys Res Lett 41(21):7485–7492. https://doi.org/10.1002/2014GL061808

Carn S, Clarisse L, Prata AJ (2016) Multi-decadal satellite measurements of global volcanic degassing. J Volcanol Geotherm Res 311:99–134. https://doi.org/10.1016/j.jvolgeores.2016.01.002

Carn SA, Fioletov VE, McLinden CA, Li C, Krotkov NA (2017) A decade of global volcanic SO2 emissions measured from space. Sci Rep 7:44095. https://doi.org/10.1038/srep44095

Carroll MR, Holloway J.R (1994) Volatiles in Magmas. vol. 30, Washington: Mineralogical Society of America

Chakrabarti R, Basu AR, Santo AP, Tedesco D, Vaselli O (2009) Isotopic and geochemical evidence for a heterogeneous mantle plume origin of the Virunga volcanics, Western rift, East African Rift system. Chem Geol 259(3-4):273–289. https://doi.org/10.1016/j.chemgeo.2008.11.010

Coppola D, Campion R, Laiolo M, Cuoco E, Balagizi C, Ripepe M, Cigolini C, Tedesco D (2016) Birth of a lava lake: Nyamulagira volcano 2011–2015. Bull Volcanol 78(3):1–13

Galle B, Johansson M, Rivera C, Zhang Y, Kihlman M, Kern C, Lehmann T, Platt U, Arellano S, Hidalgo S (2010) Network for observation of volcanic and atmospheric change (NOVAC)—a global network for volcanic gas monitoring: network layout and instrument description. J Geophys Res: Atmos 115(D5). https://doi.org/10.1029/2009JD011823

Gliß J, Bobrowski N, Vogel L, Pöhler D, Platt U (2015) OClO and BrO observations in the volcanic plume of Mt. Etna—implications on the chemistry of chlorine and bromine species in volcanic plumes. Atmos Chem Phys 15(10):5659–5681. https://doi.org/10.5194/acp-15-5659-2015

Global Volcanism Program, (2013) Nyamulagira (223020) in volcanoes of the world, v. 4.5.1. Venzke, E (ed.). Smithsonian Institution. Downloaded 20 Oct 2016 (http://volcano.si.edu/volcano.cfm?vn=223020). Doi: https://doi.org/10.5479/si.GVP.VOTW4

Global Volcanism Program, (2015) Report on Nyamuragira (DR Congo). In: Wunderman, R (ed.), Bulletin of the global volcanism network, 40:1. Smithsonian Institution

Hamaguchi H (1983) Seismological evidence for magma intrusion during the 1981-1982 Nyamuragira eruption. In: Hamaguchi, H (ed.), volcanoes Nyiragongo and Nyamuragira: geophysical aspects, Tohoku University, Sendai, Japan, 29–33

Head EM, Shaw AM, Wallace PJ, Sims KW, Carn SA (2011) Insight into volatile behavior at Nyamulagira volcano (DR Congo, Africa) through olivine-hosted melt inclusions. Geochem Geophys Geosyst 12:10. https://doi.org/10.1029/2011GC003699

Hilton DR, Fischer TP, Marty B (2002) Noble gases and volatile recycling at subduction zones. Rev Mineral Geochem 47(1):319–370. https://doi.org/10.2138/rmg.2002.47.9

Hinkley TK, Wilson SA, Finnegan DL, Gerlach TM (1999) Metal emissions from Kilauea, and a suggested revision of the estimated worldwide metal output by quiescent degassing of volcanoes. Earth Planet Sci Lett 170(3):315–325. https://doi.org/10.1016/S0012-821X(99)00103-X

Huygen C (1962) The sampling of sulfur dioxide in air with impregnated filter paper. Anal Chim Acta 28:349–360. https://doi.org/10.1016/S0003-2670(00)87244-X

Jones MT, Jerram DA, Svensen HH, Grove C (2016) The effects of large igneous provinces on the global carbon and sulphur cycles. Palaeogeogr Palaeoclimatol Palaeoecol 441:4–21. https://doi.org/10.1016/j.palaeo.2015.06.042

Kutterolf S, Hansteen TH, Appel K, Freundt A, Krüger K, Pérez W, Wehrmann H (2013) Combined bromine and chlorine release from large explosive volcanic eruptions: a threat to stratospheric ozone? Geology 41(6):707–710. https://doi.org/10.1130/G34044.1

Le Guern F (1987) Mechanism of energy transfer in the lava lake of Niragongo (Zaire), 1959-1977. J Volcanol Geotherm Res 31(1-2):17–31. https://doi.org/10.1016/0377-0273(87)90003-5

Malinconico LL (1979) Fluctuations in SO2 emission during recent eruptions of Etna. Nature 278(5699):43–45. https://doi.org/10.1038/278043a0

Mather TA, Pyle DM, Oppenheimer C (2003) Tropospheric volcanic aerosol. Geophys Monograph Series 139:189–212

Mavonga T, Zana N, Durrheim R (2010) Studies of crustal structure, seismic precursors to volcanic eruptions and earthquake hazard in the eastern provinces of the Democratic Republic of Congo. J Afr Earth Sci 58(4):623–633

Moussallam Y, Bani P, Curtis A, Barnie T, Moussallam M, Peters N et al (2016) Sustaining persistent lava lakes: observations from high-resolution gas measurements at Villarrica volcano, Chile. Earth Planet Sci Lett 454:237–247. https://doi.org/10.1016/j.epsl.2016.09.012

Noguchi K, Kamiya H (1963) Prediction of volcanic eruption by measuring the chemical composition and amounts of gases. Bull Volcanol 26(1):367–378. https://doi.org/10.1007/BF02597298

Platt U, Stutz J (2008) Differential optical absorption spectroscopy—principles and applications, physics of earth and space environments, first edition (Physics of Earth and Space Environments). Springer, Berlin, pp 597

Platt U, Bobrowski N, (2015) Quantification of volcanic reactive halogen emissions. Volcanism and Global Change, eds A. Schmidt, K. Fristad, L. Elkins-Tanton, Cambridge University Press, Cambridge

Platz T, Foley S, Andre L (2004) Low-pressure fractionation of the Nyiragongo volcanic rocks, Virunga Province, D.R. Congo. J Volcanol Geotherm Res 136(3-4):269–295. https://doi.org/10.1016/j.jvolgeores.2004.05.020

Roberts TJ, Martin RS, Jourdain L (2014) Reactive bromine chemistry in Mount Etna's volcanic plume: the influence of total Br, high-temperature processing, aerosol loading and plume–air mixing. Atmos Chem Phys 14(20):11201–11219

Robock A (2000) Volcanic eruptions and climate. Rev Geophys 38(2):191–219. https://doi.org/10.1029/1998RG000054

Rüdiger J, Bobrowski N, Liotta M, Hoffmann T (2017) Development and application of a sampling method for the determination of reactive halogen species in volcanic gas emissions. Anal Bioanal Chem 409(25):5975–5985. https://doi.org/10.1007/s00216-017-0525-1

Sahama TG (1973) Evolution of the Nyiragongo magma. J Petrol 14(1):33–48

Sano Y, Takahata N, Nishio Y, Fischer TP, Williams SN (2001) Volcanic flux of nitrogen from the earth. Chem Geol 171(3):263–271. https://doi.org/10.1016/S0009-2541(00)00252-7

Sawyer GM, Carn SA, Tsanev VI, Oppenheimer C, Burton M (2008a) Investigation into magma degassing at Nyiragongo volcano, Democratic Republic of the Congo. Geochem Geophys Geosyst 9(2). https://doi.org/10.1029/2007GC001829

Sawyer GM, Oppenheimer C, Tsanev VI, Yirgu G (2008b) Magmatic degassing at Erta'Ale volcano, Ethiopia. J Volcanol Geotherm Res 178(4):837–846. https://doi.org/10.1016/j.jvolgeores.2008.09.017

Shinohara H (2005) A new technique to estimate volcanic gas composition: plume measurements with a portable multi-sensor system. J Volcanol Geotherm Res 143(4):319–333. https://doi.org/10.1016/j.jvolgeores. 2004.12.004

Shinohara H (2008) Excess degassing from volcanoes and its role on eruptive and intrusive activity. Rev Geophys 46:RG4005. https://doi.org/10.1029/2007RG000244

Smets B, d'Oreye N, Kervyn F, Kervyn M, Albino F, Arellano SR, Bagalwa M, Balagizi C, Carn S, Darrah TH, Fernández J, Galle B, González PJ, Head E, Karume K, Kavotha D, Lukaya F, Mashagiro N, Mavonga G, Norman P, Osodundu E, Pallero J, Prieto JF, Samsonov S, Syauswa M, Tedesco D, Tiampo K, Wauthier C, Yalire MM (2014) Detailed multidisciplinary monitoring reveals pre-and co-eruptive signals at Nyamulagira volcano (North Kivu, Democratic Republic of Congo). Bull V olcanol 76(1):787

Symonds RB, Rose WI, Bluth GJS, Gerlach TM (1994) Volcanic-gas studies; methods, results, and applications. Rev Mineral Geochem 30(1):1–66

Tamburello G (2015) Ratiocalc: software for processing data from multicomponent volcanic gas analyzers. Comput Geosci 82:63–67. https://doi.org/10.1016/j.cageo.2015.05.004

Textor C, Graf H-F, Timmreck C, Robock A (2004) Emissions from volcanoes. In: Granier C, Artaxo P, Reeves C (eds) Emissions of atmospheric trace compounds. Kluwer, Dordrecht, pp 269–303. https://doi.org/10.1007/978-1-4020-2167-1_7

Toombs AC, Wadge G (2012) Co-eruptive and inter-eruptive surface deformation measured by satellite radar interferometry at Nyamuragira volcano, D.R. Congo, 1996 to 2010. J Volcanol Geotherm Res 245–246:98–122

Varecamp J, Thomas E, Germania M, Busec P (1986) Particle geochemistry of volcanic plumes of Etna and Mount St. Helens. J of Geophys Res 91(B12):12,233–12,248

Verhoogen J (1939) New data on volcanic gases; the 1938 eruption of Nyamlagira. Am J Sci 237(9):656–672. https://doi.org/10.2475/ajs.237.9.656

von Glasow R, Bobrowski N, Kern C (2009) The effects of volcanic eruptions on atmospheric chemistry. Chem Geol 263(1):131–142. https://doi.org/10.1016/j.chemgeo.2008.08.020

von Glasow R (2010) Atmospheric chemistry in volcanic plumes. Proc Natl Acad Sci 107(15):6594–6599. https://doi.org/10.1073/pnas.0913164107

Wadge G, Burt L (2011) Stress field control of eruption dynamics at a rift volcano: Nyamulagira, DR Congo. J Volcanol Geothermal Res 207(1):1–15. https://doi.org/10.1016/j.jvolgeores.2011.06.012

Wauthier C, Cayol V, Poland M, Kervyn F, d' Oreye N, Hooper A, Samsonov S, Tiampo K, Smets B (2013) Nyamulagira's plumbing system inferred from 15 years of InSAR. Geol Soc Lond Spec Publ 380(1):39–65. https://doi.org/10.1144/SP380.9

Wittmer J, Bobrowski N, Liotta M, Giuffrida G, Calabrese S, Platt U (2014) Active alkaline traps to determine acidic-gas ratios in volcanic plumes: sampling technique and analytical methods. Geochem Geophys Geosyst 15(7):2797–2820. https://doi.org/10.1002/2013GC005133
Acknowledgements
The authors thank the staff of the Goma Volcano Observatory and the UN mission of MONUSCO and the South African pilots (MONUSCO) for their support in terms of the helicopter and logistics, as well as financial support from UN. N.B. and J.M.C. thank for financial support from the VAMOS research center at the University of Mainz during the time of writing. Support for running the NOVAC stations came mostly from the Swedish International Development Cooperation Agency (SIDA). We also thank Patrick Allard and Andrew Harris as editors, to Alessandro Aiuppa, Fran Van Wyk de Vries and an anonymous referee for their useful comments, which improved the quality of our manuscript. We thank Mike Cassidy and Tjarda Roberts for improving the language of our manuscript.
Additional information
Editorial responsibility: P. Allard
Electronic supplementary material
About this article
Cite this article
Bobrowski, N., Giuffrida, G.B., Arellano, S. et al. Plume composition and volatile flux of Nyamulagira volcano, Democratic Republic of Congo, during birth and evolution of the lava lake, 2014–2015. Bull Volcanol 79, 90 (2017). https://doi.org/10.1007/s00445-017-1174-0
Received:

Accepted:

Published:
Keywords
Nyamulagira

Plume composition

Total gas flux