Abstract
The rifting episode associated with the Bárdarbunga-Holuhraun eruption in 2014–2015 included the first observations of major dyke propagation under ice. Three shallow ice depressions (ice cauldrons) with volumes ranging from 1 to 18 million m3 formed in Dyngjujökull glacier above the 48-km-long lateral path of the magma, at 4, 7 and 12 km from the northern glacier edge. Aircraft-based radar altimetry profiling was used to map the evolution of the cauldrons and construct a time series of the heat transfer rates. Out of the three scenarios explored: (1) onset or increase of hydrothermal activity, (2) convection within vertical fissures filled with water overlying intruded magma and (3) subglacial eruptions, the last option emerges as the only plausible mechanism to explain the rapid heat transfer observed in a location far from known geothermal areas. The thermal signals at two of the cauldrons are consistent with effusive subglacial eruptions. The formation of the northernmost cauldron was more rapid, indicating faster heat transfer rates. Radio-echo sounding data indicate that in contrast to the other two cauldrons, an intrusion of eruptive products occurred into the glacier, reaching 50–60 m above bedrock with the increased magma-ice contact explaining the more rapid heat transfer. We propose that the ~2-m widening associated with graben formation increased the groundwater storage capacity of the bedrock, creating space for the meltwater to be stored, explaining the absence of meltwater pulses draining from Dyngjujökull.
This is a preview of subscription content, log in to check access.
Access options
Buy single article
Instant access to the full article PDF.
US$ 39.95
Price includes VAT for USA
Subscribe to journal
Immediate online access to all issues from 2019. Subscription will auto renew annually.
US$ 199
This is the net price. Taxes to be calculated in checkout.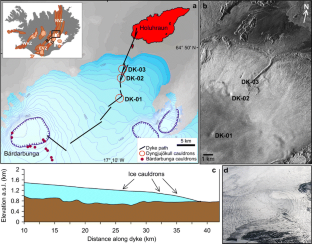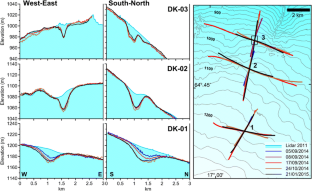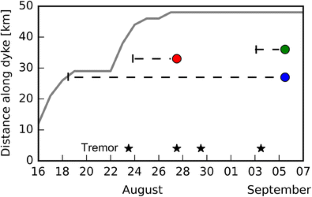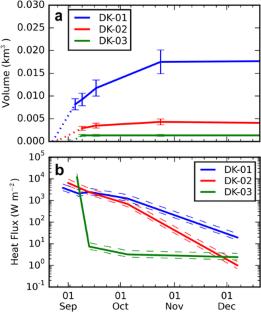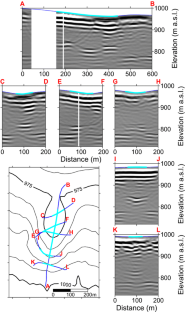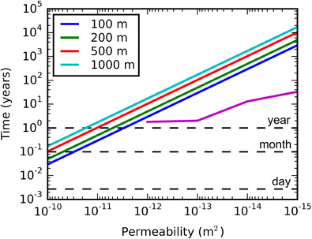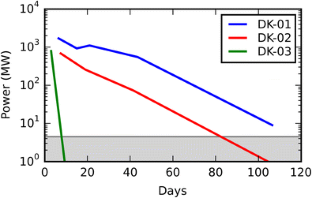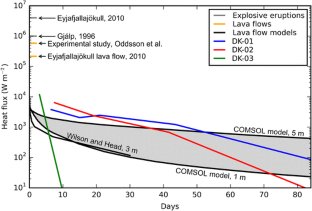 References
Arnórsson S, Axelsson G, Sæmundsson K (2008) Geothermal systems in Iceland. Jökull 58:269–302

Björnsson H (1976) Subglacial water reservoirs, jökulhlaups and volcanic eruptions. Jökull 25:1–15

Björnsson H, Einarsson P (1990) Volcanoes beneath Vatnajökull, Iceland: evidence from radio-echo sounding, earthquakes and jökulhlaups. Jökull 40:147–148

Björnsson H, Pálsson F, Guðmundsson MT (2000) Surface and bedrock topography of the Mýrdalsjökull ice cap, Iceland: the Katla caldera, eruption sites and routes of jökulhlaups. Jökull 49:29–46

Clauser C, Huenges E (1995) Thermal conductivity of rocks and minerals. Rock physics & phase relations: a handbook of physical constants, 105–126

Eibl EPS, Bean CJ, Vogfjörd KS, Ying Y, Lokmer I, Möllhoff M, O'Brien GS, Pálsson F (2017) Tremor-rich shallow dyke formation followed by silent magma flow at Bárðarbunga in Iceland. Nat Geosci. doi:10.1038/ngeo2906

Galeczka I, Sigurdsson G, Eiriksdottir ES, Oelkers EH, Gislason SR (2016) The chemical composition of rivers and snow affected by the 2014/2015 Bárðarbunga eruption, Iceland. J Volcanol Geotherm Res 316:101–119

Gíslason SR, Eiríksdóttir ES, Galeczka I et al (2015) Environmental pressure from the 2014–15 eruption of Bárðarbunga volcano, Iceland. Geochemical Perspectives Letters 1:84–93

Gudmundsson MT (2003) Melting of ice by magma-ice-water interactions during subglacial eruptions as an indicator of heat transfer in subaqueous eruptions. In: White JDL, Smellie JL Clague D (eds) Geophysical monograph 140, Explosive subaqueous volcanism, AGU, 61–72

Gudmundsson MT, Sigmundsson F, Björnsson H, Högnadóttir T (2004) The 1996 eruption at Gjálp, Vatnajökull ice cap, Iceland: efficiency of heat transfer, ice deformation and subglacial water pressure. Bulletin Volcanol 66(1):46–65

Gudmundsson MT, Högnadóttir T, Kristinsson AB, Gudbjörnsson S (2007) Geothermal activity in the subglacial Katla caldera, Iceland, 1999–2005, studied with radar altimetry. Ann Glaciol 45:66–72

Gudmundsson MT, Jónsdóttir K, Hooper A et al (2016) Gradual caldera collapse at Bárdarbunga volcano, Iceland, regulated by lateral magma outflow. Science 353:aaf8988. doi:10.1126/science.aaf8988

Hartley ME, Thordarson T (2013) The 1874–1876 volcano-tectonic episode at Askja, North Iceland: lateral flow revisited. Geochem Geophys Geosyst 14(7):2286–2309

Hayba DO, Ingebritsen SE (1997) Multiphase groundwater flow near cooling plutons. J Geophys Res 102(B6):12,235–12,252

Hjartardóttir Á, Einarsson P, Gudmundsson MT, Högnadóttir T (2016) Fracture movements and graben subsidence during the 2014 Bárðarbunga dike intrusion in Iceland. J Volcanol Geotherm Res 310:242–252

Höskuldsson Á, Sparks RSJ (1997) Thermodynamics and fluid dynamics of effusive subglacial eruptions. Bull Volcanol 59:219–230

Icelandic Meteorological Office (2014) Bárðarbunga and Holuhraun—overview. Accessed 13 July 2016. http://en.vedur.is/earthquakes-and-volcanism/volcanic-eruptions/holuhraun/

Ingebritsen SE, Sanford WE (1999) Groundwater in geologic processes. Cambridge University Press, Cambridge

Jarosch AH, Gudmundsson MT (2007) Numerical studies of ice flow over subglacial geothermal heat sources at Grímsvötn, Iceland, using full Stokes equations. J Geophys Res 112:F02008

Jarosch AH, Gudmundsson MT, Högnadóttir T, Axelsson G (2008) Progressive cooling of the hyaloclastite ridge at Gjálp, Iceland, 1996–2005. J Volcanol Geotherm Res 170:218–229

Jóhannesson H, Saemundsson K (1998) Geological map of Iceland. Bedrock geology, scale 1:500.000. Icelandic Institute of Natural History, Reykjavík (2nd edition)

Jóhannesson T, Björnsson H, Magnússon E, Guðmundsson S, Pálsson F, Sigurðsson O, Thorsteinsson T, Berthier E (2013) Ice-volume changes, bias estimation of mass-balance measurements and changes in subglacial lakes derived by lidar mapping of the surface of Icelandic glaciers. Ann Glaciol 54(63):63–74

Kipp KL, Hsieh PA, Charlton SR (2008) Guide to the revised ground-water flow and heat transport simulator: HYDROTHERM — Version 3: U.S. Geological Survey Techniques and Methods 6−A25, p.160

Kristmannsdóttir H, Björnsson A, Pálsson S, Sveinbjörnsdóttir ÁE (1999) The impact of the 1996 subglacial volcanic eruption in Vatnajökull on the river Jökulsá Á Fjöllum, North Iceland. J Volcanol Geotherm Res 92(3–4):359–372

Larsen G, Gudmundsson MT, Björnsson H (1998) Eight centuries of periodic volcanism at the center of the Iceland hotspot revealed by glacier tephrostratigraphy. Geology 26:943–946

Magnusson E, Gudmundsson MT, Roberts MJ, Sigurdsson G, Höskuldsson F, Oddsson B (2012) Ice-volcano interactions during the 2010 Eyjafjallajökull eruption, as revealed by airborne imaging radar. J Geophy Res 117:B07405

McNutt SR (1992) Volcanic tremor. Encyclopedia of earth system science 4:417–425

Montanaro C, Scheu B, Gudmundsson MT et al (2016) Multidisciplinary constraints of hydrothermal explosions based on the 2013 Gengissig lake events, Kverkfjöll volcano, Iceland. Earth Planet Sci Lett 434:308–319

Oddsson B, Gudmundsson MT, Sonder I, Zimanowski B, Schmid A (2016a) Experimental studies of heat transfer at the dynamic magma ice/water interface: application to subglacially emplaced lava. J Geophys Res Solid Earth. doi:10.1002/2016JB012865

Oddsson B, Gudmundsson MT, Edwards BR, Thordarson T, Magnússon E, Sigurðsson G (2016b) Subglacial lava propagation, ice melting and heat transfer during emplacement of an intermediate lava flow in the 2010 Eyjafjallajökull eruption. Bull Volcanol 78(7):1–17

Óladóttir BA, Larsen G, Sigmarsson O (2011) Holocene volcanic activity at Grímsvötn, Bárdarbunga and Kverkfjöll subglacial centres beneath Vatnajökull, Iceland. Bull Volc 73(9):1187–1208

Pedersen GBM, Höskuldsson A, Dürig T, Thordarson T, Jónsdóttir I, Riishuus MS, Óskarsson BV, Dumont S, Magnusson E, Gudmundsson MT, Sigmundsson F, Drouin VJPB, Gallagher C, Askew R, Guðnason J, Moreland WM, Nikkola P, Reynolds HI, Schmith J (2017) Lava field evolution and emplacement dynamics of the 2014–2015 basaltic fissure eruption at Holuhraun, Iceland. J Volcanol Geotherm Res. doi:10.1016/j.jvolgeores.2017.02.027

Riel B, Milillo P, Simons M et al (2015) The collapse of Bárðarbunga caldera, Iceland. Geophys J Int 202:446–453

Robertson EC (1988) Thermal properties of rocks. USGS Open-File Report 88-441, p. 106

Rossi C, Minet C, Fritz T, Eineder M, Bamler R (2016) Temporal monitoring of subglacial volcanoes with TanDEM-X—application to the 2014–2015 eruption within the Bárðarbunga volcanic system, Iceland. Remote Sens Environ 181:186–197

Schneider WA (1978) Integral formulation for migration in two and three dimensions. Geophysics 43:49–76

Sigmundsson F, Hooper A, Hreinsdóttir S et al (2015) Segmented lateral dyke growth in a rifting event at Bárðarbunga volcanic system, Iceland. Nature 517:191–195

Thordarson T, Larsen G (2007) Volcanism in Iceland in historical time: volcano types, eruption styles and eruption history. J Geodyn 43:118–152

Tuffen H (2007) Models of ice melting and edifice growth at the onset of subglacial basaltic eruptions. J Geophys Res 112:B03203

Vogfjörd K, Bean C, Roberts M, Ofeigsson B, Guralp Systems Ltd. (2013) Extending Icelandic volcanological network operations into the ice caps. In: EGU General Assembly Conference Abstracts, Vienna, vol. 15, p13319

Wilson L, Head JW (2002) Heat transfer and melting in subglacial basaltic volcanic eruptions: implications for volcanic deposit morphology and meltwater volumes. In: Smellie, JL, Chapman MG (eds) Volcano-ice interaction on Earth and Mars. Geol Soc London, Special Publications, vol. 202, pp. 5–26

Wilson L, Head JW (2007) Heat transfer in volcano–ice interactions on earth. Ann Glaciol 45(1):83–86

Woodcock DC, Gilbert JS, Lane SJ (2012) Particle-water heat transfer during explosive volcanic eruptions. J Geophys Res 117:B10205

Wright TL, Peck DL, Shaw HR (1976) Kiluea lava lakes: natural laboratories of study of cooling, crystallization and differentiation of basaltic magma. In: Sutton GH, Manghnani MH, Moberly R (eds) The geophysics of Pacific Ocean basin and its margin. American Geophysical Union, Washington DC, pp 375–390

Wright TJ, Sigmundsson F, Pagli C et al (2012) Geophysical constraints on the dynamics of spreading centres from rifting episodes on land. Nat Geosci 5:242–250
Acknowledgements
We acknowledge the support of the EU Seventh Framework Marie Curie project NEMOH no. 289976, the Research Fund of the University of Iceland and Landsvirkjun power company. Fieldwork was supported with crisis response funding from the Icelandic government through the Civil Protection Department of the National Commissioner of the Iceland Police, and through the European Community's Seventh Framework Programme grant no. 308377 (Project FUTUREVOLC). We thank The Icelandic Coast Guard who provided assistance in monitoring from their TF-SIF aircraft and ISAVIA (Icelandic Aviation Operation Services) and their crew on board the TF-FMS which was used for altimeter-DGPS profiling. The Iceland Glaciological Society assisted with fieldwork logistics in June 2015.
Additional information
Editorial responsibility: J. Taddeucci
About this article
Cite this article
Reynolds, H.I., Gudmundsson, M.T., Högnadóttir, T. et al. Subglacial volcanic activity above a lateral dyke path during the 2014–2015 Bárdarbunga-Holuhraun rifting episode, Iceland. Bull Volcanol 79, 38 (2017). https://doi.org/10.1007/s00445-017-1122-z
Received:

Accepted:

Published:
Keywords
Subglacial eruptions

Volcano-ice interaction

Rifting event

Ice cauldrons

Heat flux

Holuhraun