Abstract
Most eruptions are fed by dikes whose spatial distribution can provide important insights into the positions of possible old eruptive centers that are no longer clearly identifiable in the field. Locating these centers can in turn have further applications, e.g., in hazard assessment. We propose a purely geometrical algorithm—implemented as an R open-source script—named FIERCE (FInding volcanic ERuptive CEnters) based on the number of intersections of dikes identified within a grid of rectangular cells overlain onto a given search region. The algorithm recognizes radial distributions, tangential distributions, or combinations of both. We applied FIERCE to both well-known and less-studied volcanic edifices, in different tectonic settings and having different evolution histories, ages, and compositions. At Summer Coon volcano, FIERCE demonstrated that a radial dike distribution clearly indicates the position of the central vent. On Etna, it confirmed the position of the most important ancient eruptive centers and allowed us to study effects of the structural alignments and topography. On Stromboli, FIERCE not only enabled confirmation of some published locations of older vents but also identified possible vent areas not previously suggested. It also highlighted the influence of the regional structural trend and the collapse scars. FIERCE demonstrated that the dikes at the Somma-Vesuvius were emplaced before formation of Mt. Somma's caldera and indicated a plausible location for the old volcanic crater of Mt. Somma which is compatible with previous studies. At the Vicuña Pampa Volcanic Complex, FIERCE highlights the position of two different vents of a highly degraded volcano.
Access options
Buy single article
Instant access to the full article PDF.
USD 39.95
Price includes VAT (USA)
Tax calculation will be finalised during checkout.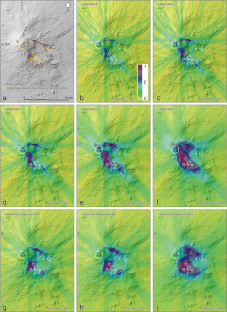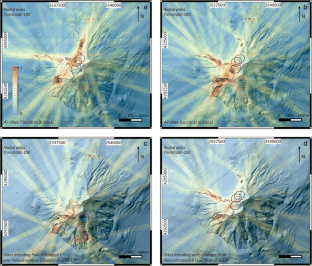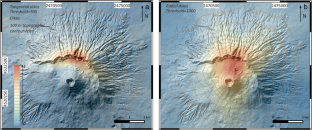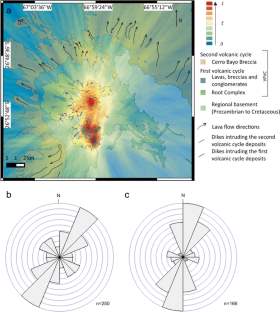 References
Acocella V, Tibaldi A (2005) Dike propagation driven by volcano collapse: a general model tested at Stromboli, Italy. Geophys Res Lett 32:L08308

Acocella V, Neri M (2009) Dike propagation in volcanic edifices: overview and possible developments. Tectonophysics 471:67–77. doi:10.1016/j.tecto.2008.10.002

Acocella V, Neri M, Scarlato P (2006a) Understanding shallow magma emplacement at volcanoes: orthogonal feeder dikes during the 2002–2003 Stromboli (Italy) eruption. Geophys Res Lett 33:L17310. doi:10.1029/2006GL026862

Acocella V, Porreca M, Neri M, Massimi E, Mattei M (2006b) Propagation of dikes at Vesuvio (Italy) and the effect of Mt. Somma. Geophys Res Lett 33:L08301. doi:10.1029/2005GL025590

Acocella V, Neri M, Sulpizio R (2009) Dike propagation within active central volcanic edifices: constraints from Somma-Vesuvius, Etna and analogue models. Bull Volcanol 71:219–223. doi:10.1007/s00445-008-0258-2

Acocella V, Neri M, Norini G (2013) An overview of analogue models to understand a complex volcanic instability: application to Etna, Italy. J Volcanol Geotherm Res 251:98–111. doi:10.1016/j.jvolgeores.2012.06.003

Acocella V, Neri M, Behncke B, Bonforte A, Del Negro C, Ganci G (2016) Why does a mature volcano need new vents? The case of the new southeast crater at Etna. Front Earth Sci. doi:10.3389/feart.2016.00067

Battaglia M, Di Bari M, Acocella V, Neri M (2011) Dike emplacement and flank instability at Mount Etna: constraints from a poro-elastic-model of flank collapse. J Volcanol Geotherm Res 199:153–164. doi:10.1016/j.jvolgeores.2010.11.005

Behncke B, Neri M, Nagay A (2005) Lava flow hazard at Mount Etna (Italy): new data from a GIS-based study. In: Manga M, Ventura G (eds) Kinematics and dynamics of lava flows. Geol Soc Am Spec Pap 396:187–205. doi:10.1130/0-8137-2396-5.189

Behncke B, Fornaciai A, Neri M, Favalli M, Ganci G, Mazzarini F (2016) LiDAR surveys reveal eruptive volumes and rates at Etna, 2007-2010. Geophys Res Lett 43. doi:10.1002/2016GL068495

Bisson M, Spinetti C, Neri M, Bonforte A (2016) Mt. Etna volcano high-resolution topography: airborne LiDAR modelling validated by GPS data. International Journal of Digital Earth. doi:10.1080/17538947.2015.1119208

Branca S, Coltelli M, Groppelli G (2015) Carta Geologica del Vulcano Etna. Mem Descr Carta Geol D'Italia 98

Bruno PP, Rapolla A (1999) Study of the sub-surface structure of Somma-Vesuvius (Italy) by seismic reflection data. J Volcanol Geotherm Res 92:373–387

Calvari S, Groppelli G, Pasquaré G (1994) Preliminary geological data on the south-western wall of the Valle del Bove, Mt. Etna, Italy. Acta Vulcanol 5:15–30

Calvari S, Tanner LH, Groppelli G, Norini G (2004) A comprehensive model for the opening of the Valle del Bove depression and hazard evaluation for the eastern flank of Etna volcano. In: Bonaccorso A, Calvari S, Coltelli M, Del Negro C, Falsaperla S (eds) Etna volcano laboratory, AGU (geophysical monograph), vol 143, pp 65–75

Cappello A, Neri M, Acocella V, Gallo G, Vicari A, Del Negro C (2012) Spatial vent opening probability map of Mt. Etna volcano (Sicily, Italy). Bull Volcanol 74:2083–2094. doi:10.1007/s00445-012-0647-4

Chadwick WW, Howard KA (1991) The pattern of circumferential and radial eruptive fissures on the volcanoes of Fernandina and Isabela islands, Galapagos. Bull Volcanol 53:259–275

Chadwick JR, Dieterich JH (1995) Mechanical modeling of circumferential and radial dike intrusion on Galapagos volcanoes. J Volcanol Geotherm Res 66:37–52

Cioni R, Santacroce R, Sbrana A (1999) Pyroclastic deposits as a guide for reconstructing the multi-stage evolution of the Somma-Vesuvius caldera. Bull Volcanol 60:207–222

Coltelli M, Garduño VH, Neri M, Pasquarè G, Pompilio M (1994) Geology of northern wall of Valle del Bove, Etna (Sicily). Acta Vulcanol 5:55–68

Corazzato C, Francalanci L, Menna M, Petrone C, Renzulli A, Tibaldi A, Vezzoli L (2008) What controls sheet intrusion in volcanoes? Petrological and structural characters of the Stromboli sheet complex, Italy. J Volcanol Geotherm Res 173:26–54

Corbi F, Rivalta E, Pinel V, Maccaferri F, Bagnardi M, Acocella V (2015) How caldera collapse shapes the shallow emplacement and transfer of magma in active volcanoes. Earth Planet Sci Lett 431:287–293

Corsaro RA, Neri M, Pompilio M (2002) Paleo-environmental and volcano-tectonic evolution of the south-eastern flank of Mt. Etna during the last 225 ka inferred from volcanic succession of the «Timpe», Acireale, Sicily. J Volcanol Geotherm Res 113:289–306. doi:10.1016/S0377-0273(01)00262-1

ENVI (2016) ENVI geospatial software. http://www.exelisinc.com/solutions/ENVI/

Falsaperla S, Neri M (2015) Seismic footprints of shallow dyke propagation at Etna, Italy. Sci Rep 5:11908. doi:10.1038/srep11908

Ferrari L, Garduño VH, Neri M (1991) I dicchi della Valle del Bove, Etna: un metodo per stimare le dilatazioni di un apparato vulcanico. Mem Soc Geol It 47:495–508

Fiske RS, Jackson ED (1972) Orientation and growth of Hawaiian volcanic rifts: the effect of regional structure and gravitational stresses. Proc R Soc Lond 329:299–326

Francalanci L, Manetti P, Peccerillo A, Keller J (1993) Magmatological evolution of the Stromboli volcano (Aeolian Arc, Italy): inferences from major and trace element and Sr-isotopic composition of lavas and pyroclastic rocks. Acta Vulcanol 3:127–151

Garduño VH, Neri M, Pasquarè G, Borgia A, Tibaldi A (1997) Geology of NE rift of Mount Etna, Sicily (Italy). Acta Vulcanol 9(1/2):91–100

Geshi N, Neri M (2014) Dynamic feeder dyke systems in basaltic volcanoes: the exceptional example of the 1809 Etna eruption (Italy). Front Earth Sci 2:13. doi:10.3389/feart.2014.00013

Giammanco S, Melián G, Neri M, Hernández PA, Sortino F, Barrancos J, López M, Pecoraino G, Perez NM (2016) Active tectonic features and structural dynamics of the summit area of Mt. Etna (Italy) revealed by soil CO2 and soil temperature surveying. J Volcanol Geotherm Res 311:79–98. doi:10.1016/j.jvolgeores.2016.01.004

Guzmán S, Carniel R, Caffe PJ (2014) AFC3D: a 3D graphical tool to model assimilation and fractional crystallization with and without recharge in the R environment. Lithos 190-191:264–278

Guzmán S, Strecker MR, Martí J, Petrinovic I, Schildgen TF, Grosse P, Montero-López C, Neri M, Carniel R, Hongn FD, Muruaga C, Sudo M (2017) Construction and degradation of a broad volcanic massif: the Vicuña Pampa Volcanic Complex, southern Central Andes, NW Argentina. GSA Bulletin, in press. doi:10.1130/B31631.1

Janoušek V (2006) Saturnin, R language script for application of accessory-mineral saturation models in igneous geochemistry. Geol Carpath 57(2):131–142

Janoušek V, Farrow CM, Erban V (2006) Interpretation of whole-rock geochemical data in igneous geochemistry: introducing Geochemical Data Toolkit (GCDkit). J Petrol 47(6):1255–1259

Janoušek V, Moyen J-F, Martin H, Erban V, Farrow C (2015) Geochemical modelling of igneous processes—principles and recipes in R language: bringing the power of R to a geochemical community. Springer Geochemistry, Springer-Verlag, Berlin, Heidelberg

Jaquet O, Carniel R (2003) Multivariate stochastic modelling: towards forecasts of paroxysmal phases at Stromboli. J Volcanol Geotherm Res 311:261–271

Larson R (2014) Precalculus, 9th ed. Cengage Learning, ISBN-13: 9781133949015, 976 pp.

Lipman PW (1968) Geology of the summer coon volcanic center, eastern San Juan Mountains, Colorado. Colo Sch Mines Q 63:211–236

Lucchi F, Keller J, De Astis G, Francalanci L, Tranne CA (2013) Geological Map of Stromboli (Aeolian Archipelago). Università di Bologna, Universitat Freiburg, Istituto Nazionale di Geofisica e Vulcanologia, Università di Firenze.

McGuire WJ, Pullen AD (1989) Location and orientation of eruptive fissures and feeder-dykes at Mount Etna: influence of gravitational and regional stress regimes. J Volcanol Geotherm Res 38:325–344

Moats WP (1990) Geometry and emplacement of silicic dikes at Summer Coon Volcano, Rio Grande and Saguache counties, Colorado. MS Thesis, Arizona State University, Tempe, Arizona, USA.

Neri M, Lanzafame G, Acocella V (2008) Dike emplacement and related hazard in volcanoes with sector collapse: the 2007 Stromboli eruption. J Geol Soc Lond 165:883–886. doi:10.1144/0016-76492008-002

Neri M, Acocella V, Behncke B, Giammanco S, Mazzarini F, Rust D (2011) Structural analysis of the eruptive fissures at Mount Etna (Italy). Ann Geophys 54(5):464–479. doi:10.4401/ag-5332

Pasquarè G, Francalanci L, Garduño VH, Tibaldi A (1993) Structure and geologic evolution of the Stromboli volcano, Aeolian islands, Italy. Acta Vulcanol 3:79–89

Poland MP, Moats MP, Fink JH (2008) A model for radial dike emplacement in composite cones based on observations from Summer Coon volcano, Colorado, USA. Bull Volcanol 70:861–875

Porreca M, Acocella V, Massimi E, Mattei M, Funiciello R, De Benedetti AA (2006) Geometric and kinematic features of the dike complex at Mt. Somma, Vesuvio (Italy). Earth Planet Sci Lett 245:389–407

QGIS Development Team (2016) QGIS Geographic Information System. Open Source Geospatial Foundation Project. URL http://qgis.osgeo.org

R Core Team (2016) R: A language and environment for statistical computing. R Foundation for Statistical Computing, Vienna, Austria. URL http://www.R-project.org/.

Rittner M, Müller W (2012) 2D mapping of LA-ICPMS trace element distributions using R. Comput Geosci 42:152–161

Rust D, Neri M (1996) The boundaries of large-scale collapse on the flanks of Mount Etna, Sicily. In: WC MG, Jones AP, Neuberg J (eds) Volcano instability on the earth and other planets, Geological Society, Special Publication N, vol 110, pp 193–208. doi:10.1144/GSL.SP.1996.110.01.15

Santacroce R (ed) (1987) Somma-Vesuvius. CNR Quaderni della Ricerca Scientifica 114(8):251

Santacroce R, Sbrana A (2003) Carta Geologica del Vesuvio, Scala 1:15000, Progetto CARG, Servizio Geologico Nazionale - Consiglio Nazionale delle Ricerche.

Scandone R, Giacomelli L, Gasparini P (1993) Mount Vesuvius: 2000 years of volcanological observations. J Volcanol Geoth Res 58:4–25

Takada A (1997) Cyclic flank-vent and central-vent eruption patterns. Bull Volcanol 58:539–556

Tibaldi A (2001) Multiple sector collapses at Stromboli volcano: how they work. Bull Volcanol 63:112–125

Tibaldi A, Corazzato C, Marani M, Gamberi F (2009) Subaerial and submarine evidence of structures feeding magma to Stromboli Volcano, Italy, and relations with edifice flank failure and creep. Tectonophysics 469:112–136

Tibaldi A, Bonali FL, Corazzato C (2014) The diverging volcanic rift system. Tectonophysics 611:94–113

Vermeesch P, Resentini A, Garzanti E (2016) An R package for statistical provenance analysis. Sediment Geol 336:14–25
Acknowledgments
SG is grateful for funding by the Agencia Nacional de Promoción Científica y Técnica (PICT 2011-0407) and Consejo Nacional de Investigaciones Científicas y Técnicas (PIP 489). We are grateful to Alberto Beinat for discussions and to Stephen Conway for revising the English. The quality of the manuscript was substantially improved by the comments of the Associate Editor Valerio Acocella, of the Executive Editor James D.L. White and of the anonymous referees.
Additional information
Editorial responsibility: V. Acocella
Electronic supplementary material
About this article
Cite this article
Carniel, R., Guzmán, S. & Neri, M. FIERCE: FInding volcanic ERuptive CEnters by a grid-searching algorithm in R. Bull Volcanol 79, 19 (2017). https://doi.org/10.1007/s00445-017-1102-3
Received:

Accepted:

Published:
Keywords
Dikes

Eruptive centers

R

Grid-searching algorithm

Eroded volcanoes

Open source