Abstract
Ağrı Dağı (Ararat), whilst being the tallest volcano in Turkey, is largely understudied. Two predominant peaks, Greater and Lesser Ağrı, make up the main edifice, which has been built during four main phases. The most recent phase consisted of two volcanic eruptions. The respective surface area and volume of the first volcanic eruption were estimated at 96 km2 and 3.2 km3, whereas those of the second eruption were much smaller with the surface area and volume estimated at 25 km2 and 0.6 km3. It is unusual for stratovolcanoes to produce basaltic eruptions of more than 3 km3, although these and larger volumes are not uncommon in flood basalt-type eruptions. Large basaltic eruptions from stratovolcanoes normally require volcano-tectonic forcing (e.g. subsidence of collapse caldera and graben). However, there is no evidence for such volcano-tectonic forcing, during the most recent eruptions at Ağrı Dağı (Ararat), and therefore, their comparatively large volume basaltic lavas need to be explained in a different way. Here, we present an analytical method for calculating the source volume needed to supply magma to the eruptions at Ağrı Dağı. We found that the lava flow of 3.2 km3 was likely fed by a very large magma reservoir (∼13,000 km3), while the second flow of 0.6 km3 was fed by a reservoir of a much smaller effective size (or ∼2000 km3). 'Effective size' depends on what fraction of the reservoir participates in the eruption. We propose that the entire reservoir supplied magma to the larger eruption, but only one of its compartments (about one fifth of the total volume of the reservoir) supplied magma to the smaller eruption. Although seismic tomography indicates a magma reservoir at great depths (>20–30 km) below the Ağrı Dağı volcano, geochemical constraints on some of the later-formed rocks suggest an interaction between a shallow chamber (at 8–10-km depth) and the deep reservoir approximately 0.5 Ma. We provide numerical models whose results indicate that dykes injected from the lateral margins of the deep-seated reservoir are more likely to reach the surface directly rather than replenish the shallow magma chamber, suggesting also that the compartment for the second eruption was at the margin of the reservoir.
Access options
Buy single article
Instant access to the full article PDF.
US$ 39.95
Tax calculation will be finalised during checkout.
Subscribe to journal
Immediate online access to all issues from 2019. Subscription will auto renew annually.
US$ 119
Tax calculation will be finalised during checkout.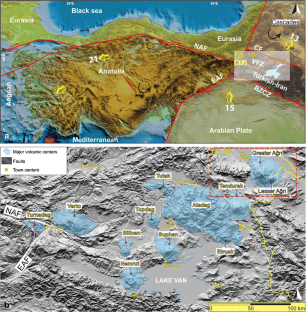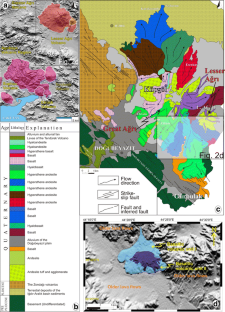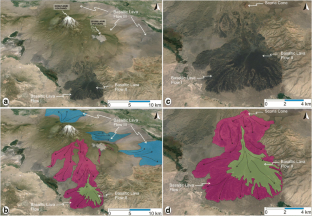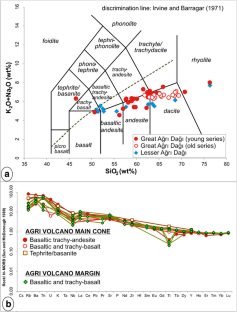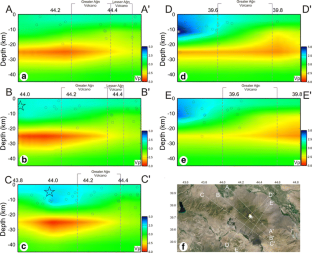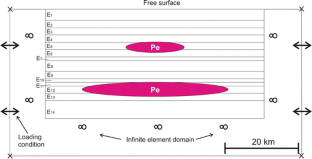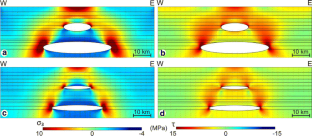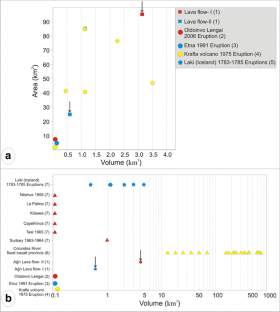 References
Alici P, Temel A, Gourgaud A, Vidal P, Gundogdu MN (2001) Quaternary tholeiitic to alkaline volcanism in the Karasu Valley, Dead Sea rift zone, Southeast Turkey: Sr-Nd-Pb-O isotopic and trace-element approaches to crust-mantle interaction. Int Geol Rev 43(2):120–138

Al-Lazki A, Seber D, Sandvol E, Turkelli N, Mohamad R, Barazangi M (2003) Tomographic Pn velocity and anisotropy structure beneath the Anatolian plateau (eastern Turkey) and the surrounding regions. Geophysc Res Lett 30:24. doi:10.1029/2003GL017391

Al-Lazki AI, Sandvol E, Seber D, Barazangi M, Turkelli N, Mohamad R (2004) Pn tomographic imaging of mantle lid velocity and anisotropy at the junction of the Arabian, Eurasian and African plates. Geophys J Int 158:1024–1040. doi:10.1111/j.1365-246X.2004.02355x

Amadei B, Stephenson O (1997) Rock stress and its measurement. Chapman and Hall, London

Andrew RE, Gudmundsson A (2007) Distribution, structure, and formation of Holocene lava shields in Iceland. J Volcanol Geoth Res 168(1):137–154

Angus DA, Wilson DC, Sandvol E, Ni JF (2006) Lithospheric structure of the Arabian and Eurasian collision zone in Eastern Turkey from S-wave receiver functions. Geophys J Int 166:1335–1346

Barka AA (1992) The North Anatolian fault zone. Ann Tecton 6:164–195

Barnett ZA, Gudmundsson A (2014) Numerical modelling of dykes deflected into sills to form a magma chamber. J Volcanol Geoth Res 281:1–11

Bingöl E, Bal I, Can N (eds) (1989) Geological map of Turkey, scale 1:2000000, General Directorates of Mineral Research and Exploration, Ankara, Turkey

Bjornsson H (1983) A natural calorimeter at Grimsvötn; an indicator of geothermal and volcanic activity. Jökull 33:13–18

Bozkurt E (2001) Neotectonics of Turkey—a synthesis. Geodin Acta 14:3–30

Browning J, Gudmundsson A (2015) Caldera faults capture and deflect inclined sheets: an alternative mechanism of ring dike formation. B Volcanol 77(1): 1–13

Browning J, Drymoni K, Gudmundsson A (2015) Forecasting magma-chamber rupture at Santorini volcano, Greece. Sci Rep 5:15785. doi:10.1038/srep15785

Cakir O, Erduran M, Cinar H, Yılmazturk A (2000) Forward modeling receiver functions for crustal structure beneath station TBZ (Trabzon, Turkey). Geophys J Int 140:341–356

Calvert A, Sandvol E, Seber D, Barazangi M, Roecker S, Mourabit T, Vidal F, Alguacil G, Jabour N (2000) Geodynamic evolution of the lithosphere and upper mantle beneath the Alboran region of the western Mediterranean: constraints from travel time tomography. J Geophys Res 105(B5):10871–10898

Cavalié O, Jónsson S (2014) Block-like plate movements in eastern Anatolia observed by InSAR. Geophys Res Lett 41:26–31

Chester D (1993) Volcanoes and society. Edward Arnold, London

Coppola D, Piscopo D, Staudacher T, Cigolini C (2009) Lava discharge rate and effusive pattern at piton de la Fournaise from MODIS data. J Volcanol Geoth Res 184(1):174–192

Daniels KA, Kavanagh JL, Menand T, Stephen JSR (2012) The shapes of dikes: evidence for the influence of cooling and inelastic deformation. Geol Soc Am Bull 124(7–8):1102–1112

Deb D (2006) Finite element method, concepts and applications in geomechanics. PHI Learning Private Limited, New Delhi

Elshaafi A, Gudmundsson A (2016) Volcano-tectonics of the Al Haruh Volcanic Province, Central Libya. J Volcanol Geoth Res 325:189–202

Ercan T, Fujitani T, Madsuda JI, Notsu K, Tokel S, Tadahide UI (1990) Dogu ve güneydogu Anadolu Neojen-Kuvaterner volkanitlerine iliskin yeni jeokimyasal, radyometrik ve izotopik verilerin yorumu: M.T.A Dergisi 110:143–164

Gerbault M (2012) Pressure conditions for shear and tensile failure around a circular magma chamber; insight from elasto-plastic modelling. Geol Soc Lond Spec Publ 367(1):111–130

Gudmundsson A (1986) Mechanical aspects of postglacial volcanism and tectonics of the Reykjanes Peninsula, Southwest Iceland. J Geophys Res-Solid 91(B12):12711–12721

Gudmundsson A (1987) Geometry, formation and development of tectonic fractures on the Reykjanes peninsula, southwest Iceland. Tectonophysics 139(3–4):295–308

Gudmundsson A (1990) Emplacement of dikes, sills and crustal magma chambers at divergent plate boundaries. Tectonophysics 176:257–275

Gudmundsson A (1998) Magma chambers modeled as cavities explain the formation of rift zone central volcanoes and their eruption and intrusion statistics. J Geophys Res 103:7401–7412

Gudmundsson A (2006) How local stresses control magma-chamber ruptures, dyke injections, and eruptions in composite volcanoes. Earth-Sci Rev 79:1–31

Gudmundsson A (2011) Rock fractures in geological processes. Cambridge University Press, Cambridge

Gudmundsson A (2012) Magma chambers: formation, local stresses, excess pressures, and compartments. J Volcanol Geoth Res 237–238:19–41

Gudmundsson A (2015) Collapse-driven large eruptions. J Volcanol Geoth Res 304:1–10

Gudmundsson A (2016) The mechanics of large eruptions. Earth Sci Rev. doi:10.1016/j.earscirev.2016.10.003

Gulen L (1984) Sr, Nd, Pb isotope and trace element geochemistry of calc-alkaline and alkaline volcanics, Eastern Turkey. Doctoral dissertation, Massachusetts Institute of Technology

Gurocak Z, Solanki P, Alemdag S, Zaman MM (2012) New considerations for empirical estimation of tensile strength of rocks. Eng Geol 145:1–8

Harris AJL, Flynn LP, Garbeil H, Mouginis-Mark P, Okubo C, Pilger E, Dean K (2000) Detecting and monitoring volcanic hot spots from space. In: Mouginis-Mark PJ, Crisp JA, Fink JH (eds) Remote sensing of active volcanism monograph. Am Geophys Union, Washington, pp 139–159

Hasenaka T (1994) Size, distribution, and magma output rate for shield volcanoes of the Michoac in-Guanajuato volcanic field, Central Mexico. J Volcanol Geoth Res 63:13–31

Hearn TM (1999) Uppermost mantle velocities and anisotropy beneath Europe. J Geophys Res 104:15123–15139

Hermance JF (1981) Crustal genesis in Iceland: geophysical constraints on crustal thickening with age. Geophysc Res Lett 8(3):203–206

Innocenti F, Mazzuoli R, Pasquare G, Redicat di Brozolo F, Villari L (1976) Evolution of the volcanism in the area of interaction between the Arabian, Anatolian and Iranian plates (Lake Van, Eastern Turkey). J Volcanol Geoth Res 1:103–112

Innocenti F, Mazzuoli R, Pasquare G, Serri G, Villari L (1980) Geology of the volcanic area north of Lake Van (Turkey). Geol Rundsch 69:292–322

Irvine TN, Baragar WRA (1971) A guide to the chemical classification of the common volcanic rocks. Can J Earth Sci 8:523–548

Karakhanian A, Djrbashian R, Trifonov V, Philip H, Arakelian S, Avagian A (2002) Holocene–historical volcanism and active faults as natural risk factors for Armenia and adjacent countries. J Volcanol Geoth Res 113:319–344

Karaoğlu Ö, Özdemir Y, Tolluoğlu AÜ, Karabıyıkoğlu M, Köse O, Froger JL (2005) Stratigraphy of the volcanic products around Nemrut Caldera: implications for reconstruction of the Caldera Formation. Turk J Earth Sci 14:123–143

Karaoğlu Ö, Browning J, Bazargan M, Gudmundsson A (2016) Numerical modelling of triple-junction tectonics at Karlıova, Eastern Turkey, with implications for regional magma transport. Earth Planet Sc Lett 452:152–170

Kervyn M, Ernst GG, Klaudius J, Keller J, Kervyn F, Mattsson HB, Belton F, Mbede E, Jacobs P (2008) Voluminous lava flows at Oldoinyo Lengai in 2006: chronology of events and insights into the shallow magmatic system. B Volcanol 70(9):1069–1086

Keskin M (2007) Eastern Anatolia: a hot spot in a collision zone without a mantle plume. In: Foulger GR, Jurdy D (eds) Plates, plumes, and planetary processes. Geol Soc Am Spec Pap 430:693722

Keskin M, Pearce JA, Mitchell JG (1998) Volcano-stratigraphy and geochemistry of collision-related volcanism on the Erzurum-Kars Plateau, North Eastern Turkey. J Volcanol Geoth Res 85:355–404

Kheirkhah M, Allen MB, Emami M (2009) Quaternary syn-collision magmatism from the Iran/Turkey borderlands. J Volcanol Geoth Res 182(1):1–12

Le Corvec N, Menand T, Lindsay J (2013) Interaction of ascending magma with pre-existing crustal fractures in monogenetic basaltic volcanism: an experimental approach. J Geophys Res-Sol Ea 118(3):968–984

Le Corvec N, McGovern PJ, Grosfils EB, Galgana G (2015) Effects of crustal-scale mechanical layering on magma chamber failure and magma propagation within the Venusian lithosphere. J Geophys Res 120(7):1279–1297

Lebedev VA, Sharkov EV, Keskin M, Oyan V (2010) Erratum: geochronology of Late Cenozoic volcanism in the area of Lake Van, Turkey: an example of developmental dynamics for magmatic processes. Dokl Earth Sci 433(2):1031–1037

LeMaitre RW (2002) Igneous rocks: a classification and glossary of terms: recommendations of the International Union of Geological Sciences. Subcommission on the Systematics of Igneous Rocks. Cambridge University Press, Cambridge

Lustrino M, Keskin M, Mattioli M, Lebedev V, Chugaev A, Sharkov E, Kavak O (2010) Early activity of the largest Cenozoic shield volcano in the circum-Mediterranean area: Mt. Karacadag SE Turkey. Eur J Mineral 22:343–362

Maccaferri F, Rivalta E, Keir D, Acocella V (2014) Off-rift volcanism in rift zones determined by crustal unloading. Nat Geosci 7(4):297–300

Meyer PS, Sigurdsson H, Schilling JG (1985) Petrological and geochemical variations along Iceland's neovolcanic zones. J Geophys Res-Solid 90(B12):10043–10072

Murase T, McBirney AR (1973) Properties of some common igneous rocks and their melts at high temperatures. Geol Soc Am Bull 84(11):3563–3592

Nagao K, Matsuda JI, Kita I, Ercan T (1989) Noble gas and carbon isotopic compositions in Quaternary volcanic area in Turkey. Bull Geomorphol 17:101–110

Notsu K, Fujitani T, Ui T, Matsuda J, Ercan T (1995) Geochemical features of collision-related volcanic rocks in central and eastern Anatolia, Turkey. J Volcanol Geoth Res 64:171–192. doi:10.1016/0377-0273(94)00077-T

Okay AI, Tüysüz O (1999) Tethyan sutures of northern Turkey. Geol Soc Spec Publ 156:475–515

Örgülü G, Aktar M, Türkelli N, Sandvol E, Barazangi M (2003) Contribution to the seismotectonics of Eastern Turkey from moderate and small size events. Geophysc Res Lett 30(24)

Ozacar AA, Gilbert H, Zandt G (2008) Upper mantle discontinuity structure beneath East Anatolian Plateau (Turkey) from receiver functions. Earth Planet Sc Lett 269:426–434

Pearce JA et al (1990) Genesis of collision volcanism in Eastern Anatolia, Turkey. J Volcanol Geotherm Res 44:189–229

Reidel SP, Camp VE, Tolan TL, Martin BS (2013) The Columbia River flood basalt province: stratigraphy, areal extent, volume, and physical volcanology. Geol Soc Am Spec Pap 497:1–43

Richter FM, McKenzie D (1984) Dynamical models for melt segregation from a deformable matrix. J Geol 92:729–740

Rodgers AJ, Ni JF, Hearn TM (1997) Propagation characteristics of short-period Sn and Lg in the Middle East. B Seismol Soc Am 87:396–413

Salah MK, Sahin S, Aydin U (2011) Seismic velocity and Poisson's ratio tomography of the crust beneath east Anatolia. J Asian Earth Sci 40:746–761. doi:10.1016/j.jseaes.2010.10.021

Sanver M (1968) A palaeomagnetic study of Quaternary volcanic rocks from Turkey. Phys Earth Planet Inter 1:403–421

Scott DR, Stevenson DJ (1986) Magma ascent by porous flow. J Geophys Res-Sol Ea 91(B9):9283–9296

Selçuk-Sağlam S, Erturaç MK, Nomade S (2016) Geology of the Çaldıran Fault, Eastern Turkey: age, slip rate and implications on the characteristic slip behaviour. Tectonophysics 680:155–173

Şengör AMC, Özeren S, Genç T, Zor E (2003) East Anatolian high plateau as a mantle supported, north-south shortened domal structure. Geophysc Res Lett 30. doi:10.1029/2003GL017858

Shabanian E, Acocella V, Gioncada A, Habibolllah G, Belier O (2012) Structural control on volcanism in intraplate post collisional settings: Late Cenozoic to Quaternary examples of Iran and eastern Turkey. Tectonics 31:TC3013

Small C, Naumann T (2001) The global distribution of human population and recent volcanism. Global Environmental Change Part B Environmental Hazards 3(3):93–109

Sun SS, McDonough W (1989) Chemical and isotopic systematics of oceanic basalts: implications for mantle composition and processes. Geol Soc Lond Spec Publ 42:313–345

Thordarson T, Self S (1993) The Laki (Skaftár Fires) and Grímsvötn eruptions in 1783–1785. B Volcanol 55(4):233–263

Tibaldi A (2015) Structure of volcano plumbing systems: a review of multi-parametric effects. J Volcanol Geotherm Res 298:85–135

Tryggvason E (1984) Widening of the Krafla fissure swarm during the 1975–1981 volcano-tectonic episode. Bull Volcanol 47:47–69

Tuffen H, James MR, Castro JM, Schipper CI (2013) Exceptional mobility of an advancing rhyolitic obsidian flow at Cordón Caulle volcano in Chile. Nat Commun 4

Türkünal S (1980) Doğu ve Güneydoğu Anadolu'nun jeolojisi. TMMOB Jeoloji Mühendisleri Odası.

White JDL, Houghton B (2000) Surtseyan and related phreatomagmatic eruptions. Encyclopedia of volcanoes. Academic, San Diego, p 495–513

Yılmaz Y, Guner Y, Saroglu F (1998) Geology of the Quaternary volcanic centres of the East Anatolia. J Volcanol Geoth Res 85:173–210

Zhao D, Hasegawa A, Horiuchi S (1992) Tomographic imaging of P- and S-wave velocity structure beneath northeastern Japan. J Geophys Res 97:19909–19928

Zhao D, Hasegawa A, Kanamori H (1994) Deep structure of Japan subduction zone as derived from local, regional and teleseismic events. J Geophys Res 99:22313–22329

Zhao D, Yanada T, Hasegawa A, Umino N, Wei W (2012) Imaging the subducting slabs and mantle upwelling under the Japan Islands. Geophys J Int 190:816–828

Zienkiewicz OC (1979) The finite element method. McGraw-Hill, New York, p 787

Zor E, Sandvol E, Gurbuz C, Turkelli N, Seber D, Barazangi M (2003) The crustal structure of East Anatolian plateau from receiver functions. Geophysc Res Lett 30. doi:10.1029/2003GLO18192
Acknowledgements
Özgür Karaoğlu is supported by The Scientific and Technological Research Council of Turkey (TUBITAK) International Postdoctoral Research Fellowship Programme. John Browning is supported by NERC project NE/N002938/1. We are grateful to the Editor Valerio Acocella and the reviewers, Alessandro Tibaldi and an anonymous reviewer, for comments which greatly improved this work. This study is dedicated to the memory of Okan Delibaş.
Additional information
Editorial responsibility: V. Acocella
Electronic supplementary material
About this article
Cite this article
Karaoğlu, Ö., Elshaafi, A., Salah, M.K. et al. Large-volume lava flows fed by a deep magmatic reservoir at Ağrı Dağı (Ararat) volcano, Eastern Turkey. Bull Volcanol 79, 15 (2017). https://doi.org/10.1007/s00445-016-1098-0
Received:

Accepted:

Published:
Keywords
Large eruptions

Magma chambers

Magma reservoirs

Volcano-tectonic forcing

Crustal stresses

Numerical models