Abstract
A 45-km-long regional dike was emplaced over a period of 2 weeks in August 2014 at the boundary between the East and North Volcanic Zones in Iceland. This is the first regional dike emplacement in Iceland monitored with modern geophysical networks, the importance of which relates to regional dikes feeding most of the large fissure (e.g., Eldgja 934 and Laki 1783) and lava shield (e.g. early Holocene Skjaldbreidur and Trölladyngja) eruptions. During this time, the dike generated some 17,000 earthquakes, more than produced in Iceland as a whole over a normal year. The dike initiated close to the Bardarbunga Volcano but gradually extended to the northeast until it crossed the boundary between the East Volcanic Zone (EVZ) and the North Volcanic Zone (NVZ). We infer that the strike of the dike changes abruptly at a point, from about N45°E (coinciding with the trend of the EVZ) to N15°E (coinciding with the trend of the NVZ). This change in strike occurs at latitude 64.7°, exactly the same latitude at which about 10 Ma dikes in East Iceland change strike in a similar way. This suggests that the change in the regional stress field from the southern to the northern part of Iceland has been maintained at this latitude for 10 million years. Analytical and numerical models indicate that the dike-induced stress field results in stress concentration around faults and particularly shallow magma chambers and calderas in its vicinity, such as Tungnafellsjökull, Kverkfjöll, and Askja. In particular, the dike has induced high compressive, shear, and tensile stresses at the location of the Bardarbunga shallow chamber and (caldera) ring-fault where numerous earthquakes occurred during the dike emplacement, many of which have exceeded M5 (the largest M5.7). The first segment of the dike induced high tensile stresses in the nearby part of the Bardarbunga magma chamber/ring-fault resulting in radially outward injection of a dike from the chamber at a high angle to the strike of the regional dike. The location of maximum stress at Bardarbunga fluctuates along the chamber/ring-fault boundary in harmony with dike size and/or pressure changes and encourages ring-dike formation and associated magma flow within the chamber. Caldera collapse and/or eruption in some of these volcanoes is possible, most likely in Bardarbunga, but depends largely on the future development of the regional dike.
Access options
Buy single article
Instant access to the full article PDF.
USD 39.95
Price includes VAT (USA)
Tax calculation will be finalised during checkout.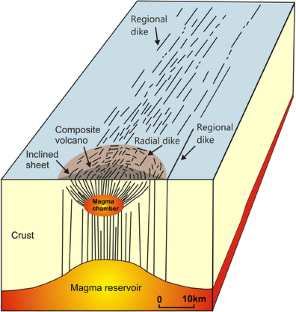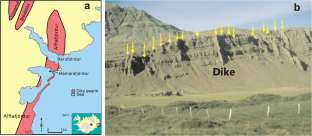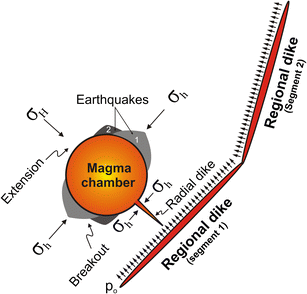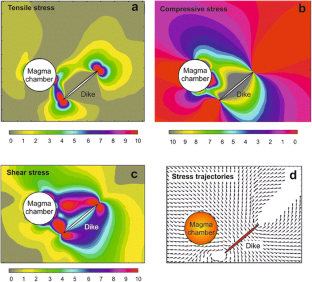 References
Acocella V (2007) Understanding caldera structure and development: an overview of analogue models compared to natural calderas. Earth Sci Rev 85:125–160. doi:10.1016/j.earscirev.2007.08.004

Andrew REB, Gudmundsson A (2008) Volcanoes as elastic inclusions: their effects on the propagation of dykes, volcanic fissures, and volcanic zones in Iceland. J Volcanol Geotherm Res 177:1045–1054. doi:10.1016/j.jvolgeores.2008.07.025

Becerril L, Galindo I, Gudmundsson A, Morales JM (2013) Depth of origin of magma in eruptions. Sci Rep 3:2763. doi:10.1038/srep02762

Bosworth W, Burke K, Strecker M (2003) Effect of stress fields on magma chamber stability and the formation of collapse calderas. Tectonics 22:1042. doi:10.1029/2002TC001369

Brandsdottir B, Menke WH (2008) The seismic structure of Iceland. Jökull 58:17–34

Gudmundsson A (1995) Infrastructure and mechanics of volcanic systems in Iceland. J Volcanol Geotherm Res 64:1–22

Gudmundsson A (2011) Rock fractures in geological processes. Cambridge University Press, Cambridge

Gudmundsson A, Friese N, Galindo I, Philipp SL (2008) Dike-induced reverse faulting in a graben. Geology 36:123–126. doi:10.1130/G24185A

Hartley ME, Thordarson T (2013) The 1874-1876 volcano‐tectonic episode at Askja, North Iceland: lateral flow revisited. Geochem Geophys Geosyst 14:2286–2309. doi:10.1002/ggge.20151

Iceland Meteorological Office (2014) Bárðarbunga 2014 - recent earthquakes. Main data for the earthquakes shown in Fig. 1 accessed 30 August 2014. http://www.vedur.is

Larsen G, Gudmundsson MT, Einarsson P, Thordarson T (2013) Bardarbunga. In: Solnes J, Sigmundsson F, Bessason B (eds) Natural hazards in Iceland. University of Iceland Press, Reykjavik, pp 252–261 (in Icelandic)

Martin E, Paquette JL, Bosse V, Ruffet G, Tiepolo M, Sigmarsson O (2011) Geodynamics of rift–plume interaction in Iceland as constrained by new 40Ar/39Ar and in situ U–Pb zircon ages. Earth Planet Sci Lett 311:28–38. doi:10.1016/j.epsl.2011.08.036

Reverso T, Vandemeulebrouck J, Jouanne F, Pinel V, Villemin T, Sturkell E, Bascou P (2014) A two-magma chamber model as a source of deformation at Grimsvötn Volcano, Iceland. J Geophys Res 119:4666–4683. doi:10.1002/2013JB010569

Savin GN (1961) Stress concentrations around holes. Pergamon, New York

Sturkell E, Einarsson P, Sigmundsson F, Geirsson H, Olafsson H, Pedersen R, De Zeeuw-van DE, Linde AT, Sacks IS, Stefánsson R (2006) Volcano geodesy and magma dynamics in Iceland. J Volcanol Geotherm Res 150:14–34

Thordarson T, Höskuldsson A (2008) Postglacial volcanism in Iceland. Jökull 58:197–228

Thordarson T, Larsen G (2007) Volcanism in Iceland in historical time: volcano types, eruption styles and eruptive history. J Geodyn 43:118–152. doi:10.1016/j.jog.2006.09.005
Acknowledgments
We thank the Iceland Meteorological Office, in particular the SIL-seismic monitoring group, for making earthquake data available for this study. These outstanding data and the SIL-network have opened up entirely new possibilities for detailed quantitative volcano-tectonic studies in Iceland. AG also thanks Ari Trausti Gudmundsson for fruitful discussions about this volcano-tectonic episode. We thank the BV reviewers, in particular the Editor, James White, for very helpful comments that significantly improved the paper.
Additional information
Editorial responsibility: J.D.L. White
About this article
Cite this article
Gudmundsson, A., Lecoeur, N., Mohajeri, N. et al. Dike emplacement at Bardarbunga, Iceland, induces unusual stress changes, caldera deformation, and earthquakes. Bull Volcanol 76, 869 (2014). https://doi.org/10.1007/s00445-014-0869-8
Received:

Accepted:

Published:
Keywords
Crustal stresses

Dike propagation

Feeder dike

Volcano deformation

Volcano earthquakes

Calderas