Abstract
Five consecutive multibeam bathymetries collected before, during, and after the 2007 Stromboli eruption, combined with visual inspections, allowed us to document the morphological evolution of an 'a'ā lava-fed delta and to reconstruct the main processes acting during its submarine emplacement. The 2007 Stromboli delta extended down to 600-m water depth and covered an area of 420 × 103 m2, with a maximum thickness of 65 m and a total estimated volume of ≈7 × 106 m3, i.e., three times larger than its subaerial counterpart. The lava delta grew mainly through the emplacement of discrete lobes about 50–150 m in size. Lobes were fed from point sources along the paleoshoreline, and their subaqueous pathways seem to be mainly controlled by the submarine morphology, with flows mostly filling in depressions left by previous lobes. The main controlling factors on the lobe morphology and thickness are the effusion rates and the pre-eruption morphology, i.e., the geometry and gradients of the basal surface. Data also shows that sudden slope failure of portions of the submarine delta may occur simultaneously with accretion, implying that a significant part of the delta material can be transported to greater depths by submarine gravity flows. The present study is relevant for future monitoring and hazard assessment during the growth of active lava-fed deltas as well as for a better interpretation of ancient volcaniclastic successions inland.
Access options
Buy single article
Instant access to the full article PDF.
US$ 39.95
Tax calculation will be finalised during checkout.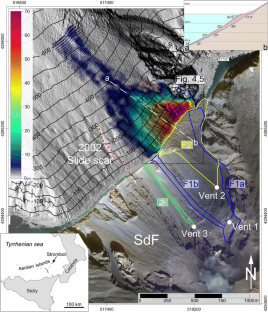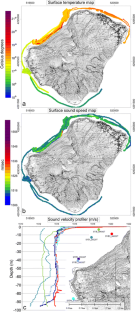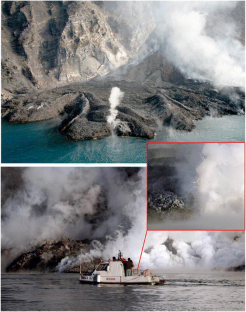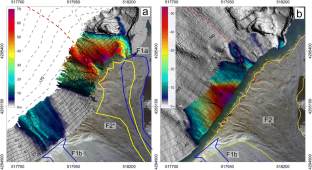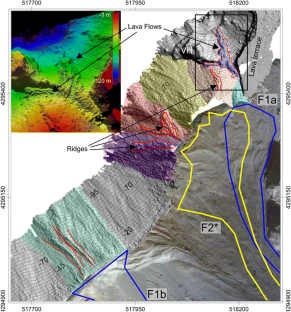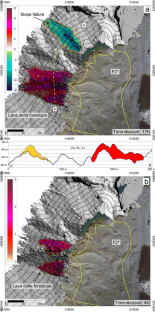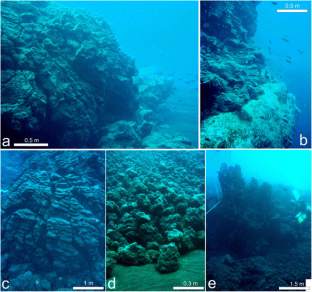 References
Barberi F, Rosi M, Sodi A (1993) Volcanic hazard assessment at Stromboli based on review of historical data. Acta Vulcanol 3:173–187

Barberi F, Civetta L, Rosi M, Scandone R (2009) Chronology of the 2007 eruption of Stromboli and the activity of the Scientific Synthesis Group. J Volcanol Geotherm Res 182:123–130. doi:10.1016/j.jvolgeores.2008.09.019

Boldini D, Wang F, Sassa K, Tommasi P (2009) Application of large-scale ring shear tests to the analysis of tsunamigenic landslides at the Stromboli volcano, Italy. Landslides 6:231–240

Bosman A, Chiocci FL, Romagnoli C (2009) Morpho-structural setting of Stromboli volcano, revealed by high-resolution bathymetry and backscatter data of its submarine portions. Bull Volcanol 71:1007–1019

Calvari S, Spampinato L, Lodato L, Harris AJL, Patrick MR, Dehn J, Burton MR, Andronico D (2005) Chronology and complex volcanic processes during the 2002–2003 flank eruption at Stromboli volcano (Italy) reconstructed from direct observations and surveys with a handheld thermal camera. J Geophys Res 110, B02201. doi:10.1029/2004JB003129

Calvari S, Lodato L, Steffke A, Cristaldi A, Harris AJL, Spampinato L, Boschi E (2010) The 2007 Stromboli eruption: event chronology and effusion rates using thermal infrared data. J Geophys Res 115:B04201. doi:10.1029/2009JB006478

Caress DW, Clague DA, Paduan JB, Martin J, Dreyer B, Chadwick WW Jr, Denny A, Kelley DS (2012) Repeat bathymetric surveys at 1-metre resolution of lava flows erupted at Axial Seamount in April 2011. Nat Geosci 5:483–488. doi:10.1038/NGEO1496

Carr PF, Jones BG (2001) The influence of palaeoenvironment and lava flux on the emplacement of submarine, near-shore Late Permian basalt lavas, Sydney Basin (Australia). J Volcanol Geotherm Res 112:247–266

Casalbore D, Romagnoli C, Chiocci FL, Frezza V (2010) Morpho-sedimentary characteristics of the volcaniclastic apron around Stromboli volcano (Italy). Mar Geol 269:132–148

Casalbore D, Romagnoli C, Bosman A, Chiocci FL (2011) Potential tsunamigenic landslides at Stromboli Volcano (Italy): insight from marine DEM analysis. Geomorphology 126:42–50

Chiocci FL, Romagnoli C, Bosman A (2008a) Morphologic resilience and depositional processes due to the rapid evolution of the submerged Sciara del Fuoco (Stromboli Island) after the December 2002 submarine slide and tsunami. Geomorphology 100:356–365

Chiocci FL, Romagnoli C, Tommasi P, Bosman A (2008b) Stromboli 2002 tsunamigenic submarine slide: characteristics and possible failure mechanisms. J Geophys Res 113, B10102. doi:10.1029/2007JB005172

Gregg TKP, Fink JH (2000) A laboratory investigation into the effects of slope on lava flow morphology. J Volcanol Geotherm Res 96:145–149

Kelly KM, Hon K, Tribble GW (1989) Bathymetric and submarine studies of an active lava delta near Kupapau Point, Kilauea Volcano, Hawaii. Eos 70:1202

Kokelaar BP, Romagnoli C (1995) Sector collapse, sedimentation and clast-population evolution at an active island-arc volcano: Stromboli, Italy. Bull Volcanol 57:240–262

Landi P, Corsaro RA, Francalanci L, Civetta L, Miraglia L, Pompilio M, Tesoro R (2009) Magma dynamics during the 2007 Stromboli eruption (Aeolian Islands. Italy): mineralogical, geochemical and isotopic data. J Volcanol Geotherm Res 182:255–268

Lescinsky D, Fink J (2000) Lava and ice interaction at stratovolcanoes: use of characteristic features to determine past glacial extents and future volcanic hazards. J Geophys Res B Solid Earth 105:23,711–23,726

Lodato L, Spampinato L, Harris AJL, Calvari S, Dehn J, Patrick M (2007) The morphology and evolution of the Stromboli 2002–2003 lava flow field: an example of Basaltic flow field emplaced on a steep slope. Bull Volcanol 69:661–679. doi:10.1007/s00445-006-0101-6

Marsella M, Sonnessa A, Proietti C, Bernardo E, Coltelli M, Tommasi P (2009) The Sciara del Fuoco subaerial slope evolution during the 2007 eruption of Stromboli volcano: relation between lava effusion activity and deformation processes. J Volcanol Geotherm Res 182:201–213

Mattox T, Mangan M (1997) Littoral hydrovolcanic explosions: a case study of lava-seawater interaction at Kilauea volcano. J Volcanol Geotherm Res 75:1–17

Mitchell NC, Beir C, Rosin PL, Quartau R, Tempera F (2008) Lava penetrating water: submarine lava flows around the coasts of Pico Island, Azores. Geochem Geophys Geosyst 9, Q03024. doi:10.1029/2007GC001725

Moore J, Phillips RL, Grigg RW, Peterson DW, Swanson DA (1973) Flow of lava into the sea, 1969–1971, Kilauea volcano, Hawaii. Geol Soc Am Bull 84:537–546

Obata S, Umino S (1999) Morphology of A.D. 864 Aokigahara lava flow exposed on the coast of Motosuko Lake, Fuji Volcano. Bull Volcanol Soc Jpn 44:201–216

Rivera J, Lastras G, Canals M, Acosta J, Arrese B, Hermida N, Micallef A, Tello O, Amblas D (2013) Construction of an oceanic island: insights from the El Hierro (Canary islands) 2011–2012 submarine volcanic eruption. Geology 41:355–358. doi:10.1130/G33863.1

Romagnoli C, Casalbore D, Chiocci FL, Bosman A (2009a) Offshore evidence of large scale lateral collapses on the eastern flank of Stromboli, Italy, due to structurally controlled, bilateral flank instability. Mar Geol 262:1–13

Romagnoli C, Kokelaar P, Casalbore D, Chiocci FL (2009b) Lateral collapses and active sedimentary processes on the northwestern flank of Stromboli volcano. Italy. Mar Geol 265:101–119

Sansone FJ, Smith JR (2006) Rapid mass wasting following nearshore submarine volcanism on Kilauea volcano, Hawaii. J Volcanol Geotherm Res 151:133–139

Schmitt T, Mitchell NC, Ramsay ATS (2008) Characterizing uncertainties for quantifying bathymetry change between time-separated multibeam echo-sounder surveys. Cont Shelf Res 28:1166–1176

Skilling IP (2002) Basaltic pahoehoe lava-fed deltas: Large-scale characteristics, clast generation, emplacement processes and environmental discrimination. In: Smellie JL, Chapman MG (eds) Volcano-ice interaction on Earth and Mars: Geological Society of London Special, vol 202, Publication., pp 91–113

Smellie JL, Rocchi S, Gemelli M, Di Vincenzo G, Armienti P (2011) A thin predominantly cold-based Late Miocene East Antarctic ice sheet inferred from glaciovolcanic sequences in northern Victoria Land, Antarctica. Palaeogeogr Palaeoclimatol Palaeoecol 307:129–149. doi:10.1016/j.palaeo.2011.05.008

Smellie JL, Wilch TI, Rocchi S (2013) 'A'ā lava-fed deltas: a new reference tool in paleoenvironmental studies. Geology 41:403–406. doi:10.1130/G33631.1

Stevenson JA, Mitchell NC, Mochrie F, Cassidy M, Pinkerton H (2012) Lava penetrating water: the different behaviours of pahoehoe and 'a'a at the Nesjahraun, Þingvellir, Iceland. Bull Volcanol 74:33–46

Tibaldi A (2001) Multiple sector collapses at Stromboli volcano, Italy: how they work. Bull Volcanol 63:112–125

Tribble GW (1991) Underwater observations of active lava flows from Kilauea volcano, Hawaii. Geology 19:633–636

Tucker D, Scott K (2009) Structures and facies associated with the flow of subaerial basaltic lava into a deep freshwater lake: the Sulphur Creek lava flow, North Cascades, Washington. J Volcanol Geotherm Res 185:311–322

Ware C, Knight W, Wells D (1991) Memory intensive statistical algorithms for multibeam bathymetric data. Comput Geosci 17:985–993

Watts AB, Peirce C, Grevemeyer I, Paulatto M, Stratford W, Bassett D, Hunter JA, Kalnins LM, de Ronde CEJ (2012) Rapid rates of growth and collapse of Monowai submarine volcano in the Kermadec Arc. Nat Geosci 5:510–515. doi:10.1038/ngeo1473
Acknowledgments
The data was collected by the CNR-IGAG and Sapienza University of Roma in support of the emergency activity conducted by the Department for Civil Protection (DPC) during the 2007 Stromboli eruption. We also gratefully acknowledge the support from the MaGIC (Marine Geohazards along the Italian Coasts) and RITMARE (La Ricerca ITaliana per il MARE) Projects funded by DPC and MIUR, respectively. Crew of R/V Urania, Universitatis, and Uranoare gratefully acknowledged along with the people who took part in the surveys. A special thank is due to Claudio Del Deo for the photos realized during the scuba dives, Marilena Calarco, Mario Raspagliosi, and Andrea Grazzini for their support during the realization of syn-eruption surveys, and André Fascetti for post-processing of multibeam data. Finally, we acknowledge journal reviewers Neil C. Mitchell, John Smellie, and associate editor Pierre-Simon Ross for their suggestions that greatly improved the quality of the paper.
Additional information
Editorial responsibility: P-S Ross
Electronic supplementary material
Gradient map of the 'a'ā lava delta built on 6 March 2007. (JPEG 1259 kb)
Zoom on the lava flows shown in the inset of Fig. 5. (JPEG 715 kb)
About this article
Cite this article
Bosman, A., Casalbore, D., Romagnoli, C. et al. Formation of an 'a'ā lava delta: insights from time-lapse multibeam bathymetry and direct observations during the Stromboli 2007 eruption. Bull Volcanol 76, 838 (2014). https://doi.org/10.1007/s00445-014-0838-2
Received:

Accepted:

Published:
Keywords
Multibeam

Scuba dives

Submarine volcanic landform

Instability processes

Hazards

Lava delta