Abstract
Lakes formed in the Aysén region of southern Chile after the retreat of mountain glaciers, established by ~17,900 calendar years before present (cal years BP) or earlier, contain numerous late-glacial and Holocene tephra layers derived from >70 eruptions of the volcanoes in the region, including Hudson, the southernmost in the Andean Southern Volcanic Zone (SVZ). Sediment cores from seven of these lakes contain an unusually thick late-glacial age tephra layer, which based on its distribution and bulk trace-element composition was derived from a large explosive eruption of Hudson volcano between 17,300 and 17,440 cal years BP and is termed Ho. In 13 cores from six of these lakes, each located ~100 km generally northeast of Hudson, the Ho tephra layer ranges between 50 and 88 cm in thickness, and contains pumice grains up to 2 cm in maximum diameter. Comparison with three previously documented large explosive Holocene Hudson eruptions (H1 at 7,750 cal years BP, H2 at 3,920 cal years BP, and H3 in 1991 AD) suggests that Ho was larger, with an estimated tephra volume of >20 km3, the largest post-glacial eruption documented for any volcano in the southern Andes and most likely responsible for the formation of the Hudson caldera. In total, Hudson has erupted ≥45 km3 of pyroclastic material in the last ~17,500 years, making it the most productive volcano in the southern Andes in terms of the total volume erupted since the beginning of deglaciation in the region. Chemical stratification is not seen in the waterlain Ho tephra, but these deposits are bi-modal, consisting of a much greater proportion of dark glassy basaltic-trachyandesite dense fragments and pumice, with glasses which range between 55 and 59 wt.% SiO2, along with volumetrically less-significant lighter-colored trachydacite pumice, with glass of 66 wt.% SiO2. In contrast, H1 products are trachyandesitic in composition, H2 ones are more felsic than H1, being composed essentially of trachydacite, and although H3 1991 AD again produced tephra of bi-modal compositions, it erupted a much smaller proportion of mafic compared to felsic material than did Ho. Thus, the repetitive large explosive eruptions of Hudson volcano have evolved to progressively less-mafic overall compositions from late-glacial to historic times, and their volumes have decreased. Sr-isotopic composition of bulk samples of the most mafic dense glass and most felsic pumice components of the Ho tephra, as well as samples from other Hudson eruptions, which overall range from 51 to 66 wt.% SiO2, with 525 to 227 ppm Sr, are all similar (0.70444 ± 0.00007), indicating that crystal-liquid fractionation rather than crustal assimilation was the main process responsible for these chemical variations.
Access options
Buy single article
Instant access to the full article PDF.
USD 39.95
Price excludes VAT (USA)
Tax calculation will be finalised during checkout.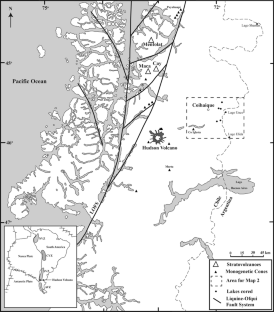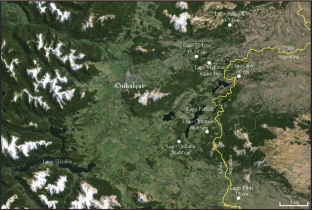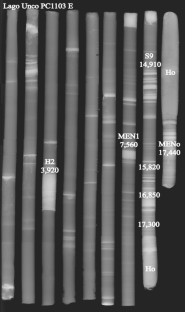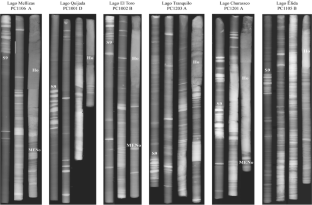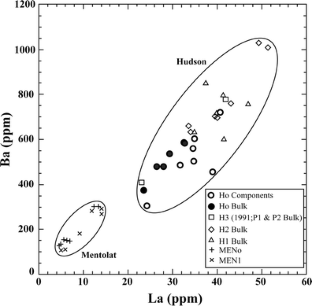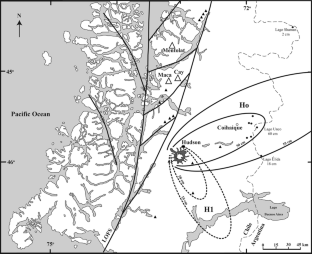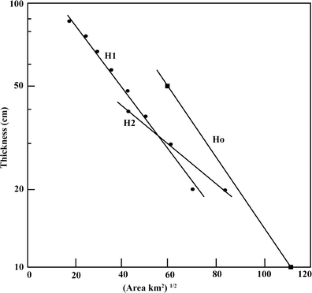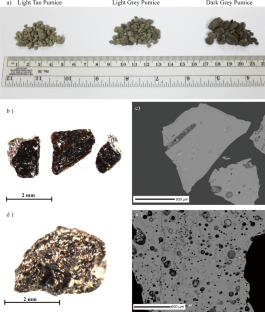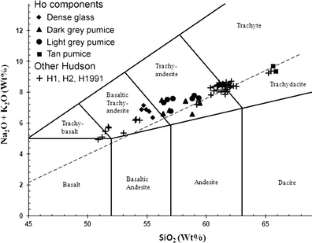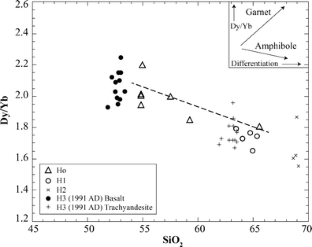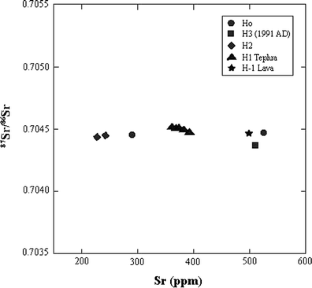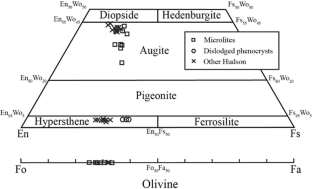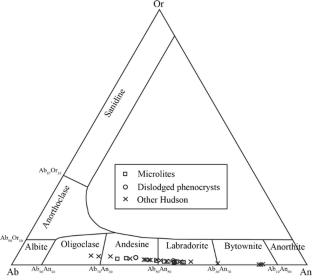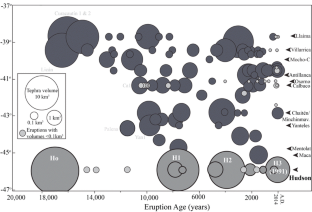 References
Auer V (1974) The isorythmicity subsequent to the Fuego-Patagonian and Fennoscandian ocean level transgressions and regressions of the latest glaciation. Ann Acad Sci Fenn (Hels) Ser A III Geol Geogr 115:1–188

Best JL (1989) Fluidization pipes in volcaniclastic mass flows, Volcán Hudson, southern Chile. Terra Nova 1:203–208

Best JL (1992) Sedimentology and event timing of a catastrophic volcaniclastic mass flow, Volcán Hudson, southern Chile. Bull Volcanol 54:299–318

Cande SC, Leslie RB (1986) Late Cenozoic tectonics of the southern Chile trench. J Geophys Res 91(B1):471–496

Cembrano J, Hervé F, Lavenu A (1996) The Liquiñe-Ofqui fault zone: long-lived intra-arc fault system in southern Chile. Tectonophysics 259:55–66

Cevo J (1978) Informe preliminar sobre erupción del Volcán Hudson norte o Volcán Huemules. Trapananda 1:35–42

D'Orazio M, Innocenti F, Manetti P, Tamponi M, Tonarini S, González-Ferrán O, Lahsen A (2003) The Quaternary calc-alkaline volcanism of the Patagonian Andes close to the Chile triple junction: geochemistry and petrogenesis of volcanic rocks from the Cay and Maca volcanoes (∼45°S, Chile). J South Am Earth Sci 16(4):219–242

Davidson J, Turner S, Handley H, Macpherson C, Dosseto A (2007) Amphibole "sponge" in arc crust? Geology 35(9):787–790

de Porras ME, Maldonado A, Abarzúa AM, Cárdenas ML, Francois JP, Martel-Cea A, Stern CR (2012) Postglacial vegetation, fire and climate dynamics at Central Chilean Patagonia (Lake Shaman, 44°S). Quat Sci Rev 50:71–85

Farmer GL, Broxton DE, Warren RG, Pickthorn W (1991) Nd, Sr, and O isotopic variations in metaluminous ash-flow tuffs and related volcanic rocks at Timber Mountain/Oasis Valley Caldera, Complex, SW Nevada: implication for the origin and evolution of large-volume silicic magma bodies. Contrib Mineral Petrol 109:53–68

Fuenzalida RP (1976) The Hudson volcano. Proceedings of the IAVCEI symposium on Andean and Antarctic volcanology problems, 1974, Santiago, Chile pp 78–87

Fuenzalida RP, Espinosa WN (1974) Hallazgo de una caldera volcánica en la provincia de Aisén. Rev Geol Chile 1:64–66

Futa K, Stern CR (1988) Sr and Nd isotopic and trace element compositions of Quaternary volcanic centers of the southern Andes. Earth Planet Sci Lett 88:253–262

Gutiérrez F, Gioncada A, Gonzalez-Ferran O, Lahsen A, Mazzuoli R (2005) The Hudson volcano and surrounding monogenetic centres (Chilean Patagonia): an example of volcanism associated with ridge-trench collision environment. J Volcanol Geotherm Res 145:207–233

Haberle SG, Lumley SH (1998) Age and origin of tephras recorded in postglacial lake sediments to the west of the southern Andes, 44°S to 47°S. J Volcanol Geotherm Res 84:238–256

Hildreth W, Drake RE (1992) Volcán Quizapu, Chilean Andes. Bull Volcanol 54:93–125

Irvine TN, Baragaar WRA (1971) A guide to the chemical classification of the common volcanic rocks. Can J Earth Sci 8(5):523–548

Kratzmann DJ, Carey S, Scasso RA, Naranjo JA (2009) Compositional variations and magma mixing in the 1991 eruptions of Hudson volcano, Chile. Bull Volcanol 71(4):419–439

Kratzmann DJ, Carey S, Scasso RA, Naranjo JA (2010) Role of cryptic amphibole crystallization in magma differentiation at Hudson volcano, Southern Volcanic Zone, Chile. Contrib Mineral Petrol 159:237–264

López-Escobar L, Kilian R, Kempton P, Tagiri M (1993) Petrology and geochemistry of Quaternary rocks from the southern volcanic zone of the Andes between 41°30′ and 46°00′S, Chile. Rev Geol Chile 20:33–55

Miranda CG, Moreno PI, Vilanova I, Villa-Martinez RP (2013) Glacial fluctuations in the Coyhaique-Balmaceda sector of central Patagonia (45S-46S) during the last glacial termination. Boll Geofis Teor Appl 54(Supplement 2):268–271

Naranjo JA (1991) Nueva erupción del volcán Hudson. Rev Geol Chile 18:183–184

Naranjo JA, Stern CR (1998) Holocene explosive activity of Hudson Volcano, southern Andes. Bull Volcanol 59(4):291–306

Naranjo JA, Stern CR (2004) Holocene tephrochronology of the southernmost part (42°30′-45°S) of the Andean Southern Volcanic Zone. Rev Geol Chile 31(2):225–240

Naranjo JA, Moreno H, Banks NG (1993) La erupción del volcán Hudson 1991 (46°S), Región de Aisén, Chile. Serv Nac Geol Min Boletin 44:1–50

Nelson E, Forsythe R, Arit I (1994) Ridge collision tectonics in terrane development. J South Am Earth Sci 7(3–4):271–278

Orihashi Y, Naranjo JA, Motoki A, Sumino H, Hirata D, Anma R, Nagao K (2004) Quaternary volcanic activity of Hudson and Lautaro volcanoes, Chilean Patagonia: New constraints from K-Ar ages. Rev Geol Chile 31(2):207–224

Pankhurst RJ, Weaver SD, Hervé F, Larrondo P (1999) Mesozoic–Cenozoic evolution of the North Patagonian Batholith in Aysén, southern Chile. J Geol Soc 156:673–694

Prieto A, Stern CR, Esterves J (2013) The peopling fo the Fuego-Patagonian fjords by littoral hunter-gatherers after the mid-Holocene H1 eruption of Hudson Volcano. Quat Int 317:3–13

Scasso RA, Corbella H, Tiberi P (1994) Sedimentological analysis of the tephra from the 12–15 August 1991 eruption of Hudson volcano. Bull Volcanol 56:121–132

Stern CR (1991) Mid-Holocene tephra on Tierra del Fuego (54°S) derived from the Hudson volcano (46°S): evidence for a large explosive eruption. Rev Geol Chile 18:139–146

Stern CR (2004) Active Andean Volcanism: its geologic and tectonic setting. Rev Geol Chile 31(2):161–206

Stern CR (2008) Holocene tephrochronology record of large explosive eruptions in the southernmost Patagonian Andes. Bull Volcanol 70(4):435–454

Stern CR, Moreno H, López-Escobar L, Clavero JE, Lara LE, Naranjo JA, Parada MA, Skewes MA (2007) Chilean volcanoes. Chapter 5 in "The Geology of Chile" (T Moreno & W. Gibbons, eds), Geologic Society of London, pp 149–180

Stern CR, Kilian R (1996) Role of the subducted slab, mantle wedge and continental crust in the generation of adakites from the Andean austral volcanic zone. Contrib Mineral Petrol 123:263–281

Stern CR, Moreno PI, Henrique WI, Villa-Martinez RP, Sagredo E, Aravena JC (2013) Tehrochronolgy in the area around Cochrane, southern Chile. Boll Geofis Teor Appl 54(Supplement 2):199–202

Stuiver M, Reimer PJ, Braziunas TF (1998) High-precision radiocarbon age calibration for terrestrial and marine samples. Radiocarbon 40(3):1127–1151

Tobar A (1972) Event 80–71. l971 Annual Report, Smithsonian Institution, Center of short-lived phenomena, pp 105–109

Watt SFL, Pyle DM, Mather TA (2013) The volcanic response to deglaciation: evidence from glaciated arcs and a reassessment of global eruption records. Earth Sci Rev 122:77–102

Weller DJ, Stern CR, Miranda CG, Moreno PI, Villa-Martinez RP (2013) A very large (>20km3) late-glacial eruption (Ho) of the Hudson volcaono, southern Chile. Boll Geofis Teor Appl 54(Supplement 2):203–206

Wilson TM, Cole JW, Stewart C, Cronin SJ, Johnston DM (2011) Ash storms: impacts of wind-remobilised volcanic ash on rural communities and agriculture following the 1991 Hudson eruption, southern Patagonia, Chile. Bull Volcanol 73:223–239

Wilson T, Cole J, Johnston D, Cronin S, Stewart C, Dantas A (2012) Short-and long-term evacuation of people and livestock during a volcanic crisis: lessons from the 1991 eruption of Volcan Hudson, Chile. J Appl Volcanol 1:2

Wright HE Jr (1967) A square-rod piston sampler for lake sediments. J Sed Petrol 37:975–976
Acknowledgments
We thank M. Kaplan, M. Fletcher, I. Villanova, W. Henriquez, and E. Simi for the assistance in the field obtaining the cores. J. Muñoz, S. Watt, and Associate Editor M. Coombs provided constructive comments that helped improve the final manuscript. This research was supported by Fondecyt (Chile) grant #1121141, the Institute of Ecology and Biodiversity grants ICM P05–002 and PFB-23, and the Department of Geological Sciences, CU-Boulder. We also would like to thank A. Vichick, T. Nightingale, M., D.T., D.R, and D.T. Weller for their continued support.
Additional information
Editorial responsibility: M.L. Coombs
About this article
Cite this article
Weller, D., Miranda, C.G., Moreno, P.I. et al. The large late-glacial Ho eruption of the Hudson volcano, southern Chile. Bull Volcanol 76, 831 (2014). https://doi.org/10.1007/s00445-014-0831-9
Received:

Accepted:

Published:

DOI: https://doi.org/10.1007/s00445-014-0831-9
Keywords