Abstract
Scoria cones are common volcanic features and are thought to most commonly develop through the deposition of ballistics produced by gentle Strombolian eruptions and the outward sliding of talus. However, some historic scoria cones have been observed to form with phases of more energetic violent Strombolian eruptions (e.g., the 1943–1952 eruption of Parícutin, central Mexico; the 1975 eruption of Tolbachik, Kamchatka), maintaining volcanic plumes several kilometers in height, sometimes simultaneous with active effusive lava flows. Geologic evidence shows that violent Strombolian eruptions during cone formation may be more common than is generally perceived, and therefore it is important to obtain additional insights about such eruptions to better assess volcanic hazards. We studied Irao Volcano, the largest basaltic monogenetic volcano in the Abu Monogenetic Volcano Group, SW Japan. The geologic features of this volcano are consistent with a violent Strombolian eruption, including voluminous ash and fine lapilli beds (on order of 10−1 km3 DRE) with simultaneous scoria cone formation and lava effusion from the base of the cone. The characteristics of the volcanic products suggest that the rate of magma ascent decreased gradually throughout the eruption and that less explosive Strombolian eruptions increased in frequency during the later stages of activity. During the eruption sequence, the chemical composition of the magma became more differentiated. A new K–Ar age determination for phlogopite crystallized within basalt dates the formation of Irao Volcano at 0.4 ± 0.05 Ma.
Access options
Buy single article
Instant access to the full article PDF.
US$ 39.95
Tax calculation will be finalised during checkout.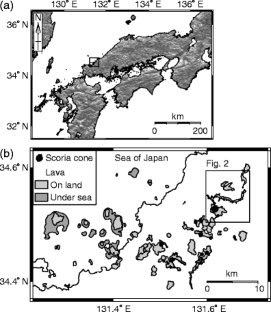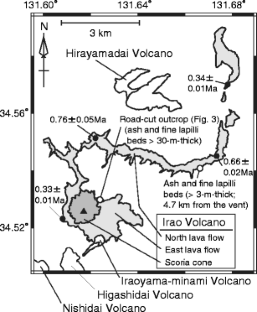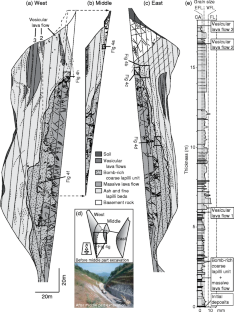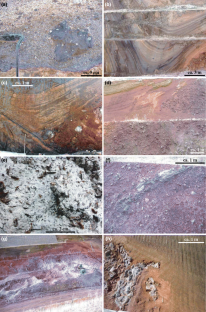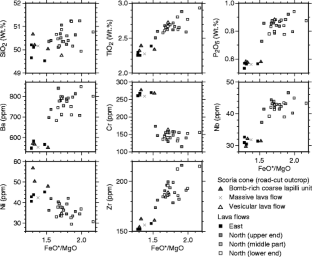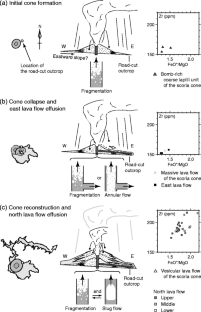 References
Budnikov VA, Markhinin YK, Ovsyannikov AA (1983) The quantity, distribution and petrochemical features of pyroclastics of the great Tolbachik fissure eruption. In: Fedotov SA, Markhinin YK (eds) The Great Tolbachik Fissure Eruption. Cambridge University Press, Cambridge, pp 41–56

Cas RAF, Porritt L, Pittari A, Hayman P (2008) A new approach to kimberlite facies terminology using a revised general approach to the nomenclature of all volcanic rocks and deposits: descriptive to genetic. J Volcanol Geotherm Res DOI 10.1016/j.jvolgeores.2007.12.018

Cashman K, Delgado H, Johnson E, Pioli L, Rosi M, Wallace P (2004) A new look at violent Strombolian eruptions: past behavior and future potential. Abstracts, IAVCEI General Assembly 2004, Pucon, Chile

Connor CB, Lichtner PC, Conway FM, Hill BE, Ovsyannikov AA, Federchenko I, Doubik Y, Shapar VN, Taran YA (1997) Cooling of an igneous dike 20 yr after intrusion. Geology 25:711–714

Courtland LM, Kruse SE, Connor CB, Connor LJ, Savov IP, Martin KT (2012) GPR investigation of tephra fallout, Cerro Negro volcano, Nicaragua: a method for constraining parameters used in tephra sedimentation models. Bull Volcanol 74:1409–1424

Courtland LM, Kruse SE, Connor CB (2013) Violent Strombolian or not? Using ground penetrating radar to distinguish deposits of low and high energy scoria cone eruptions. Bull Volcanol (in press)

Di Traglia F, Cimarelli C, de Rita D, Gimeno Torrente D (2009) Changing eruptive styles in basaltic explosive volcanism: examples from Croscat complex scoria cone, Garrotxa Volcanic Field (NE Iberian Peninsula). J Volcanol Geotherm Res 180:89–109

Doubik P, Hill BE (1999) Magmatic and hydromagmatic conduit development during the 1975 Tolbachik Eruption, Kamchatka, with implications for hazards assessment at Yucca Mountain, NV. J Volcanol Geotherm Res 91:43–64

Fedotov SA, Markhinin YK (1983) The great Tolbachik fissure eruption, 1975–1976. Cambridge University Press, Cambridge, pp 1–341

Foshag WF, González J (1956) Birth and development of Parícutin Volcano Mexico. US Geol Surv Bull 965:355–489

Fries CJ (1953) Volumes and weights of pyroclastic material, lava, and water erupted by Paricutin volcano, Michoacan, Mexico. Trans Am Geophys Union 34:603–616

Geyh MA, Schleicher H (1990) Absolute age determination: physical and chemical dating methods and their application. Springer, Berlin

Hayakawa Y (1985) Pyroclastic geology of Towada volcano. Bull Earthq Res Inst, Univ Tokyo 60:507–592

Houghton BF, Schmincke H-U (1989) Rothenberg scoria cone, East Eifel: a complex Strombolian and phreatomagmatic volcano. Bull Volcanol 52:28–48

Itaya T, Nagao K, Inoue K, Honjou Y, Okada T, Ogata A (1991) Argon isotope analysis by a newly developed mass spectrometric system for K-Ar dating. Mineral J 15:203–221

Iwamori H (1991) Zonal structure of Cenozoic basalts related to mantle upwelling in southwest Japan. J Geophys Res 96:6157–6170

Kakubuchi S, Nagao T, Nagao K (2000) K–Ar ages and magmatic history of the Abu Monognetic Volcano Group. Japanese Magazine of Mineralogical and Petrological Sciences 29:191–198 (in Japanese with English abstract)

Kaneoka I, Takahashi N, Arai S (2001) 40Ar–39Ar analysis of phlogopite in the Horoman Peridotite Complex, Hokkaido, Japan and implications for its origin. The Island Arc 10:22–32

Kereszturi G, Németh K (2012) Monogenetic basaltic volcanoes: genetic classification, growth, geomorphology and degradation. In: Németh K (ed) Updates in volcanology—new advances in understanding volcanic systems, ISBN: 978-953-51-0915-0. InTech, pp 3–88

Kimura JI, Kunikiyo T, Osaka I, Nagao T, Yamauchi S, Kakubuchi S, Okada S, Fujibayashi N, Okada R, Murakami H, Kusano T, Umeda K, Hayashi S, Ishimaru T, Ninomiya A, Tanase A (2003) Late Cenozoic volcanic activity in the Chugoku area, southwest Japan arc during back-arc basin opening and reinitiation of subduction. The Island Arc 12:22–45

Kiyosugi K, Connor CB, Zhao D, Connor LJ, Tanaka K (2010) Relationships between volcano distribution, crustal structure, and P-wave tomography: an example from the Abu Monogenetic Volcano Group, SW Japan. Bull Volcanol 72:331–340

Koyaguchi T (1986) Textural and compositional evidence for magma mixing and its mechanism, Abu volcano group, Southwestern Japan. Contrib Mineral Petrol 93:33–45

Krauskopf K (1948) Mechanism of eruption at Parícutin Volcano, Mexico. Geol Soc Amer Bull 59:711–732

Legros F (2000) Minimum volume of tephra fallout deposit estimated from a single isopach. J Volcanol Geotherm Res 96:25–32

Luhr JF, Simkin T (eds) (1993) Paricutin: the volcano born in a Mexican cornfield. Geoscience Press, Phoenix

MacDonald G (1972) Volcanoes. Prentice-Hall. Englewood Cliffs, New Jersey

Martin U, Németh K (2006) How Strombolian is a "Strombolian" scoria cone? Some irregularities in scoria cone architecture from the Transmexican Volcanic Belt, near Volcán Ceboruco, (Mexico) and Al Haruj (Libya). J Volcanol Geotherm Res 155:104–118

McGetchin TR, Settle M, Chouet BA (1974) Cinder cone growth modeled after Northeast Crater, Mount Etna, Sicily. J Geophys Res 79:3257–3272

Nagao K, Inoue K, Ogata A (1984) Primordial rare gases in Belgica 7904 (C2) carbonaceous chondrite. Mem Natl Inst Polar Res Spec Issu 35:257–266

Nagao T, Kakubuchi S, Shiraki K (1997) Quantitative major and trace element analyses of rocks by X-ray fluorescence spectrometry (Rigaku/RIX3000). Report of Center for Instrumental Analysis, Yamaguchi University 5:10–15 (in Japanise)

Nagao T, Hase Y, Nagamine S, Kakubuchi S, Sakaguchi K (1999) Late Miocene to middle Pleistocene Hisatsu Volcanic Rocks generated from heterogeneous magma sources: evidence from temporal-spatial variation of distribution and chemistry of the rocks. J Mineral Petrol Econ Geol 94:461–481 (in Japanese with English abstract)

Németh K, Risso C, Nullo F, Kereszturi G (2011) The role of collapsing and cone rafting on eruption style changes and final cone morphology: Los Morados scoria cone, Mendoza, Argentina. Centr Eur J Geosci 3:102–118

Oji Y (1961) Petrology of the Cenozoic basaltic rocks of western San-in and north Kyushu, Japan. Bull Fukuoka Gakugei Univ sp 1:1–89

Parfitt EA (2004) A discussion of the mechanisms of explosive basaltic eruptions. J Volcanol Geotherm Res 134:77–107

Pioli L, Erlund E, Jonhson E, Cashman K, Wallace P, Rosi M, Delgado-Granados H (2008) Explosive dynamics of violent strombolian eruptions: the eruption of Parícutin volcano 1943–1952 (Mexico). Earth Planet Sci Lett 271:359–368

Pioli L, Azzopardi BJ, Cashman KV (2009) Controls on the explosivity of scoria cone eruptions: Magma segregation at conduit junctions. J Volcanol Geotherm Res 186:407–415

Riedel C, Ernst GGJ, Riley M (2003) Controls on the growth and geometry of pyroclastic constructs. J Volcanol Geotherm Res 127:121–152

Riggs NR, Duffield WA (2008) Record of complex scoria cone eruptive activity at Red Mountain, Arizona, USA, and implications for monogenetic mafic volcanoes. J Volcanol Geotherm Res 178:763–776

Uto K, Koyaguchi T (1987) K-–Ar ages of three alkaline basalts from the Abu Monogenetic Volcano Group, Southwest Japan. Bull Volcanol Soc Jpn 32:263–267 (in Japanese)

Uto K (1995) Volcanoes and age determination: now and future of K–Ar and 40Ar/39Ar dating. Bull Volcanol Soc Jpn 40:S27–S46 (in Japanese with English abstract)

Valentine GA, Krier D, Perry FV, Heiken G (2005) Scoria cone construction mechanisms, Lathrop Wells volcano, southern Nevada, USA. Geology 33:629–632

Valentine GA, Perry FV, Krier D, Keating GN, Kelley RE, Cogbill AH (2006) Small-volume basaltic volcanoes: eruptive products and processes, and post-eruptive geomorphic evolution in Crater Flat (Pleistocene), southern Nevada. Geol Soc Amer Bull 118:1313–1330

Valentine GA, Krier DJ, Perry FV, Heiken G (2007) Eruptive and geomorphic processes at the Lathrop Wells scoria cone volcano. J Volcanol Geotherm Res 161:57–80

Valentine GA, Gregg TKP (2008) Continental basaltic volcanoes—processes and problems. J Volcanol Geotherm Res 177:857–873

Vergniolle S, Jaupart C (1986) Separated two-phase flow and basaltic eruptions. J Geophys Res 91:12842–12860

Vergniolle S, Mangan MT (2000) Hawaiian and Strombolian eruptions. In: Sigurdsson H, Houghton BF, McNutt SR, Rymer H, Stix J (eds) Encyclopedia of volcanoes. Academic, New York, pp 447–461

Vespermann D, Schmincke HU (2000) Scoria Cones and Tuff Rings. In: Sigurdsson H, Houghton BF, McNutt SR, Rymer H, Stix J (eds) Encyclopedia of volcanoes. Academic, New York, pp 683–694

Walker GPL (1973) Explosive volcanic eruptions—a new classification scheme. Geol Rundsch 62:431–461
Acknowledgments
The work was partially supported by West Japan Engineering Consultants, Inc. (West Jec). The findings do not necessarily reflect the views of West Jec. We benefited from conversations with T. Ui, T. Kobayashi, T. Hasenaka, D. Miura, and P. H. Wetmore about the formation of Irao-yama scoria cone. We are grateful to Hagi Agriculture and Forestry Office of Yamaguchi Prefectural Government who presented us with the opportunity to study the outcrop formed during their road construction and who decided to preserve a part of it for education and research. We thank reviewers K. Németh and L. Pioli, associate editor P. J. Wallace and executive editor J.D.L. White for their careful reviews that resulted in further improvements to the manuscript.
Additional information
Editorial responsibility: P. Wallace
About this article
Cite this article
Kiyosugi, K., Horikawa, Y., Nagao, T. et al. Scoria cone formation through a violent Strombolian eruption: Irao Volcano, SW Japan. Bull Volcanol 76, 781 (2014). https://doi.org/10.1007/s00445-013-0781-7
Received:

Accepted:

Published:
Keywords
Monogenetic volcano

Violent Strombolian

Volcano formation

Scoria cone collapse

Volcanic hazard

K–Ar dating