Abstract
El Hierro Island in the Canary Archipelago recently experienced a submerged eruption a few kilometers off its southern shore, detected 2011 October 10 on the island's south-rift alignment. The seismic activity suddenly increased around mid 2011 July, and ground deformation was then detected on the only geodetic benchmark that is continuously observed by global navigation satellite systems techniques and provides public data access. Based on that information, several other global navigation satellite system signal receivers were deployed on the island to provide continuous observation. For data collected by these receivers, a processing strategy was applied to achieve millimeter-level half-hourly positioning solutions. Position updates every 24 h are satisfactory to determine tectonic-plates' velocities. Updates near 1 s or less are required to characterize seismic waves. In between, minute-level updates are well suited for monitoring active volcano's inflation or deflation, providing an optimal time resolution of the local ground deformation. In half-hourly positioning solutions, the heterogeneous satellites' distribution in their orbital planes gives different constraints during satellite-constellation revolution, which can bias the solutions. Also, several geophysical influences can bias the solutions, including those related to gravitational movements. These influences have mostly semi-diurnal periodicities and may be considered Gaussian colored noise on the position's time series. Daily solutions that average out these influences can be applied in active volcanoes, but they can impose some limitations because they average the daily deformation, and the update waiting time is not suitable when near real-time surveillance is mandatory. These semi-diurnal biases do need to be removed or minimized to achieve millimeter-level sub-daily positioning solutions, however, and to do so, a discrete Kalman filter was applied to enhance the half-hourly positioning solutions required during El Hierro's 2011–2012 unrest and eruption. Throughout El Hierro's volcanic activity, there were correlations between ground deformation and seismic activity. Many times the deformation preceded the earthquakes, though at other times the seismic activity was followed by the ground deformation response. This correlation is the outcome of ground deformation taking place as the result of energy accommodation, whereas seismic events correspond to energy release. Hence, those observed correlations indicate that the Kalman filter-enhanced half-hourly positioning solutions measured local ground deformation accurately; they were not a mathematical "trick" producing a spurious precision.
Access options
Buy single article
Instant access to the full article PDF.
USD 39.95
Price excludes VAT (USA)
Tax calculation will be finalised during checkout.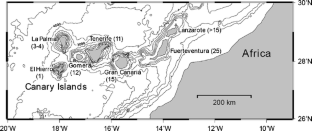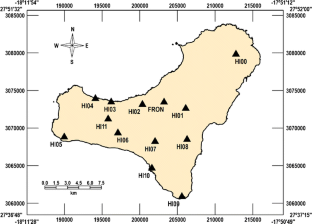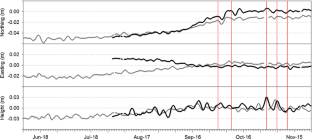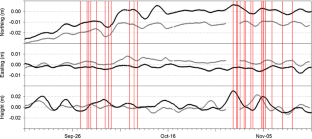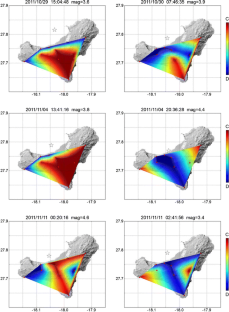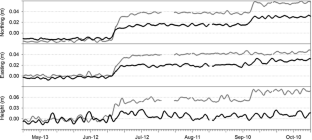 References
Acosta J, Uchupi E, Smith D, Muñoz A, Herranz P, Palomo C, Llanes P, Ballesteros M, ZEE Working Group (2003) Comparison of volcanic rifts on La Palma and El Hierro, Canary Islands and the Island of Hawaii. Mar Geophys Res 24:59–90

Ancochea E, Hernán F, Cendrero A, Cantagrel JM, Foester JM, Ibarrola E, Coello J (1994) Constructive and destructive episodes in the building of a young oceanic island, La Palma, Canary Islands, and genesis of the Caldera de Taburiente. J Volcanol Geotherm Res 60(3–4):243–262

Anguita F, Hernán F (2000) The Canary Islands origin: a unifying model. J Volcanol Geotherm Res 103:1–26

Araña V, Ortiz R (1991) The Canary Islands: tectonics, magmatism and geodynamic framework. In: Kampunzu AB, Lubala RT (eds) Magmatism in extensional structural settings—the Phanerozoic African Plate. Springer, Berlin, pp 209–249

Astiz M, Ortiz R, García A, Felpeto A (1999) Análisis estadístico del riesgo volcánico en Canarias. I Asamblea Hispano-Portuguesa de Geodesia y Geofísica. Universidad de Almería. Instituto Geográfico Nacional, Spain

Berrocoso M, Fernandez-Ros A, Prates G, Martin M, Hurtado R, Pereda J, Garcia MJ, Garcia-Cañada L, Ortiz R, Garcia A (2012) Analysis of surface deformation during the eruptive process of El Hierro Island (Canary Islands, Spain): detection, evolution and forecasting. EGU2012:4351

Blanco-Montenegro I, Nicolosi I, Pignatelli A, Chiappini M (2008) Magnetic imaging of the feeding system of oceanic volcanic islands: El Hierro (Canary Islands). Geophys J Int 173:339–350

Bosshard E, Macfarlane DJ (1970) Crustal structure of the western Canary Islands from seismic refraction and gravity data. J Geophys Res 75(26):4901–4918

Carbó A, Muñoz-Martín A, Llanes P, Álvarez J (2003) Gravity analysis offshore the Canary Islands from a systematic survey. Mar Geophys Res 24(1–2):113–127

Carracedo JC (1999) Growth, structure, instability and collapse of Canarian volcanoes and comparisons with Hawaiian volcanoes. J Volcanol Geotherm Res 94:1–19

Carracedo JC, Rodriguez-Badiola E, Guillou H, de la Nuez J, Perez-Torrado FJ (2001) Geology and volcanology of La Palma and El Hierro, Western Canaries. Estudios Geológicos, 57:171–295

Catalán M, Martín-Davila J (2003) A magnetic anomaly study offshore the Canary Archipelago. Mar Geophys Res 24:129–148

Dach R, Hugentobler U, Fridez P, Meindl M (eds) (2007) Bernese GPS Software Ver. 5.0 User manual. Astronomical Institute, University of Bern, p. 612

Dow JM, Neilan RE, Rizos C (2009) The International GNSS Service in a changing landscape of Global Navigation Satellite Systems. J Geod 83:191–198

Dzurisin D (2007) Volcano deformation: new geodetic monitoring techniques. Springer, New York, p 441

García A, Vila J, Ortiz R, Macia R, Sleeman R, Marrero JM, Sánchez N, Tárraga M, Correig AM (2006) Monitoring the reawakening of Canary Islands' Teide volcano. EOS Trans 87(6):61–72

Gee MJR, Masson DG, Watts AB, Mitchell NC (2001) Offshore continuation of volcanic rift zones, El Hierro, Canary Islands. J Volcanol Geotherm Res 105:107–119

Geldmacher J, Hoernle K, van den Bogaard P, Zankl G, Garbe-Schonberg D (2001) Earlier history of the ≥70-Ma-old Canary hotspot based on the temporal and geochemical evolution of the Selvagem Archipelago and neighboring seamounts in the eastern North Atlantic. J Volcanol Geoth Res 111:55–87

Gorbatikov, AV, Montesinos FG, Arnoso J, Stepanova MY (2010) El Hierro Island Model-Canary-On a Basis of Joint Interpretation of Microseismic Sounding and Gravity Inversions. 4th Saint Petersburg International Conference & Exhibition 2010, Saint Petersburg. 5 p

Gudmundsson A (2000) Dynamics of volcanic systems in Iceland: example of tectonism and volcanism at juxtaposed hot spot and mid-ocean ridge systems. Ann Rev Earth Planet Sci 28:107–140

Gudmundsson A, Brenner SL (2004) How mechanical layering affects local stresses, unrests, and eruptions of volcanoes. Geophys Res Lett 31, L16606

Guillou H, Carracedo JC, Perez-Torrado FJ, Rodriguez-Badiola E (1996) K-Ar ages and magnetic stratigraphy of a hotspot-induced, fast grown oceanic island: El Hierro, Canary Islands. J Volcanol Geotherm Res 73:141–155

Hernández-Pacheco A (1982) Sobre una posible erupción en 1793 en la isla de El Hierro (Canarias). Estud Geol 38:15–25

Kalman RE (1960) A new approach to linear filtering and prediction problems. J Basic Eng D-82:35–45

López C, Blanco MJ, Abella R, Brenes B, Cabrera-Rodríguez VM, Casas B, Domínguez-Cerdeña I, Felpeto A, Fernández de Villalta M, del Fresno C, García O, García-Arias MJ, García-Cañada L, Gomis-Moreno A, González-Alonso E, Guzmán-Pérez J, Iribarren I, López-Díaz R, Luengo-Oroz N, Meletlidis S, Moreno M, Moure D, Pereda de Pablo J, Rodero C, Romero E, Sainz-Maza S, Sentre-Domingo MA, Torres PA, Trigo P, Villasante-Marcos V (2012) Monitoring the volcanic unrest of El Hierro (Canary Islands) before the onset of the 2011–2012 submarine eruption. Geophys Res Lett 39, L13303

Lyard F, Lefèvre F, Letellier T, Francis O (2006) Modelling the global ocean tides: a modern insight from FES2004. Ocean Dyn 56:394–415

Martí J, Ortiz R, Gottsmann J, García A, de la Cruz-Reyna S (2009) Characterising unrest during the reawakening of the central volcanic complex on Tenerife, Canary Islands, 2004–2005, and implications for assessing hazards and risk mitigation. J Volcanol Geotherm Res 182:23–33

Martí J, Pinel V, López C, Geyer A, Abella R, Tárraga M, Blanco MJ, Castro A, Rodríguez C (2013) Causes and mechanisms of the 2011–2012 El Hierro (Canary Islands) submarine eruption. J Geophys Res Solid Earth 118

Masson DG, Watts AB, Gee MJR, Urgeles R, Mitchell NC, Le Bas TP, Canals M (2002) Slope failures on the flanks of the western Canary Islands. Earth Sci Rev 57:1–35

Mitchell NC, Masson DG, Watts AB, Gee MJR, Urgeles R (2002) The morphology of the submarine flanks of volcanic ocean islands: a comparative study of the Canary and Hawaiian hotspot islands. J Volcanol Geotherm Res 115:83–107

Mogi K (1958) Relations between the eruption of various volcanoes and the deformation of the ground surfaces around them. Bull Earthquake Res Inst 36:99–134

Montesinos FG, Arnoso J, Vieira R (2005) Using a genetic algorithm for 3-D inversion of gravity data in Fuerteventura (Canary Islands). Int J Earth Sci 94:301–316

Montesinos FG, Arnoso J, Benavent M, Vieira R (2006) The crustal structure of El Hierro (Canary Islands) from 3-D gravity inversion. J Volcanol Geotherm Res 150:283–299

Prates G (2012) GNSS-GPS Geodetic Time Series Treatment for Volcanic Activity Monitoring and Surveillance: Spatial Dilatometer and Inclinometer. Applied to Deception (Antarctica) and El Hierro (Canaries) Islands. PhD Thesis. Facultad de Ciencias, Universidad de Cádiz, 140 p

Prates G, Berrocoso M, Fernández-Ros A, García A (2013) Enhancement of sub-daily positioning solutions for surface deformation monitoring at Deception volcano (South Shetland Islands–Antarctica). Bull Volcanol 75(2):10

Stroncik NA, Klüegel A, Hansteen TH (2009) The magmatic plumbing system beneath El Hierro (Canary Islands): constraints from phenocrysts and naturally quenched basaltic glasses in submarine rocks. Contrib Mineral Petrol 157:593–607

Watts AB (1994) Crustal structure, gravity anomalies and flexure of the lithosphere in the vicinity of the Canary Islands. Geophys J Int 119:648–666
Acknowledgments
This work was financially supported by the following research projects: VOLRESTE (CGL2008-03874/BTE) and GEOTINANT (CTM2009-07251/ANT) by the Spanish Ministry of Education and Science; PEVERTE (CGL2010-28682-C02-01) and VIVOLDEC (CTM2011-14936-E) by the Spanish Ministry of Economy and Competitiveness; and (201130E011) by the Spanish National Research Council (CSIC). Also, the access to GNSS-GPS data from the Canary Islands is acknowledged to the Canarian Regional Government and the Spanish National Geographic Institute (IGN). Both the contributions of the Editors and of two anonymous reviewers are very much appreciated, which greatly helped to improve the manuscript.
Additional information
Editorial responsibility: S. De la Cruz-Reyna
About this article
Cite this article
Prates, G., García, A., Fernández-Ros, A. et al. Enhancement of sub-daily positioning solutions for surface deformation surveillance at El Hierro volcano (Canary Islands, Spain). Bull Volcanol 75, 724 (2013). https://doi.org/10.1007/s00445-013-0724-3
Received:

Accepted:

Published:

DOI: https://doi.org/10.1007/s00445-013-0724-3
Keywords