Abstract
The 1669 AD flank eruption was the most destructive event on Etna volcano in historical times (∼700 BC) and provided, because of the presence of numerous quarries and subsurface data, the opportunity for a unique case study in which we directly measured the thickness of the lava field. Moreover, analysis of historical documents allowed reconstruction of the temporal evolution of the lava field and estimation of the average effusion rate. One hundred and thirty-eight thickness measurements, acquired from field surveys and subsurface data, allowed us to divide the lava field into 12 zones of homogenous mean thickness and to calculate a total lava volume of (607 ± 105) × 106 m3, corresponding to an average effusion rate of 58 ± 10 m3/s. This new volume differs by −24 % up to +64 %, from previously published values. The temporal evolution of the cumulative volume and average effusion rate were reconstructed for the first fourteen days, from field data and analysis of historical records. A short initial phase was characterized by a rapid increase in effusion rate, which reached a peak of ∼640 m3/s after 3 days. This was followed by a longer phase in which the flow rate decreased. The first 14 days were crucial for the development of the lava field, and in this time it covered 72 % of its final area and produced most of the damage. Thereafter, the growth of a complex lava tube network promoted lava field lengthening to the city of Catania, 17 km away from the vent. Effusion rate trends like those of the 1669 eruption can be adopted for future investigations aimed at assessing the effects of similar events on Etna's most highly urbanized area and at other effusive basaltic volcanoes.
Access options
Buy single article
Instant access to the full article PDF.
US$ 39.95
Tax calculation will be finalised during checkout.
Subscribe to journal
Immediate online access to all issues from 2019. Subscription will auto renew annually.
US$ 119
Tax calculation will be finalised during checkout.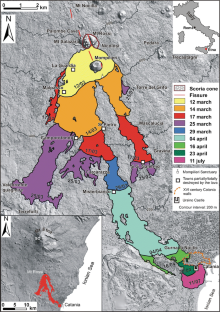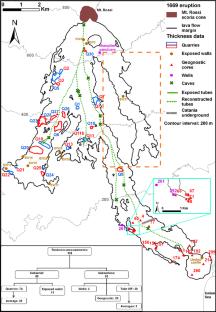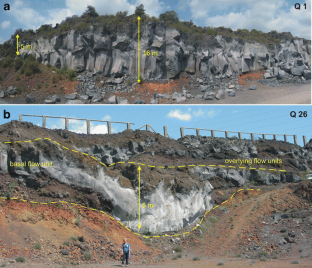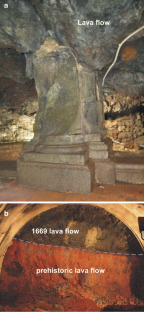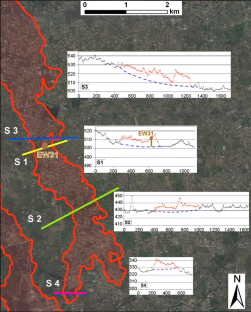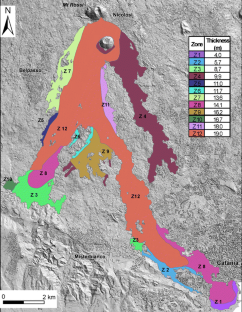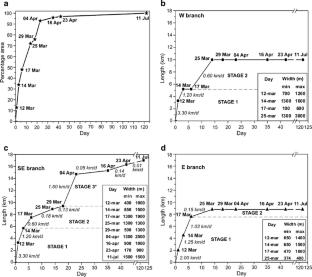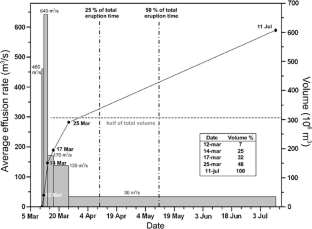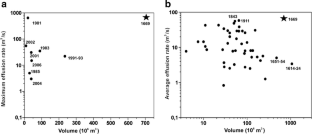 References
Aidala F (2001) Caratteristiche geologiche e idrogeologiche del settore meridionale dell'area urbana di Catania. PhD Thesis, University of Catania

Alessi G (1829–35) Storia delle eruzioni dell'Etna. Atti Acc Gioenia Sci Nat Catania, ser 1, volumes 3−4−5−6−7−8−9

Amico VM (1733) Siciliae sacrae. libri quarti, Catania

Barberi F, Carapezza ML (2004) The control of lava flows at Mt. Etna. In: Bonaccorso A, Calvari S, Coltelli M, Del Negro C, Falsaperla S (eds) Mount Etna Volcano Laboratory. Geophysical Monograph Series, 143. AGU, Washington, pp 357–369

Behncke B, Neri M, Nagay A (2005) Lava flow hazard at Mount Etna (Italy): new data from a GIS-based study. In: Manga M, Ventura G (eds) Kinematics and dynamics of lava flows. Geol Soc Amer Spec Pap 396, pp 189–208

Boschi E, Guidoboni E (2001) Catania terremoti e lave dal mondo antico alla fine del Novecento. Compositori, Bologna

Branca S, Del Carlo P (2005) Types of eruptions of Etna Volcano AD 1670–2003: implications for short-term eruptive behaviour. Bull Volcanol 67:732–742

Branca S, Coltelli M, Groppelli G, Lentini F (2011) Geological map of Etna volcano, 1:50,000 scale. It J Geosci 130(3):265–291

Calvari S, Pinkerton H (1998) Formation of lava tubes and extensive flow field during the 1991–93 eruption of Mount Etna. J Geophys Res 103:27291–27302

Calvari S, Pinkerton H (1999) Lava tube morphology on Etna and evidence for lava flow emplacement mechanisms. J Volcanol Geotherm Res 90:263–280

Centro Speleologico Etneo (1999) Dentro il vulcano. Le grotte dell'Etna. Parco dell'Etna, Catania

Chester DK, Duncan AM, Guest JE, Kilburn CJR (1985) Mount Etna: the anatomy of a volcano. Chapman and Hall, London

Coltelli M, Proietti C, Branca S, Marsella M, Andronico D, Lodato L (2007) Analysis of the 2001 lava flow eruption of Mt. Etna from three-dimensional mapping. J Geophys Res 112:F02029. doi:10.1029/2006JF000598

Coltelli M, Marsella M, Proietti C, Scifoni S (2012) The case of the 1981 eruption of Mount Etna, an example of very fast moving lava flows. Geochem Geophys Geosyst 13. doi:10.1029/2011GC003876

Condomines M, Tanguy JC, Michaud V (1995) Magma dynamics at Mount Etna: constraints from U–Th–Ra–Pb radioactive disequilibria and Sr isotopes in historical lavas. Earth Planet Sci Lett 132:297–314

Corsaro RA, Cristofolini R, Patanè L (1996) The 1669 eruption at Mount Etna: chronology, petrology and geochemistry, with inferences on the magma sources and ascent mechanisms. Bull Volcanol 58:348–358

Crisci GM, Di Gregorio S, Rongo R, Scarpelli M, Spataro W, Calvari S (2003) Revisiting the 1669 Etnean eruptive crisis using a cellular automata model and implications for volcanic hazard in the Catania area. J Volcanol Geotherm Res 123:211–230

Ferrara F (1818) Descrizione dell'Etna, con la storia delle eruzioni e il catalogo dei prodotti. Lorenzo Dato, Palermo

Fujita E, Hidaka M, Goto A, Umino S (2008) Simulations of measures to control lava flows. Bull Volcanol 71(4):401–408. doi:10.1007/s00445-008-0229-7

Gemmellaro C (1858) La vulcanologia dell'Etna. Atti Acc Gioenia Sci Nat II 14–15:27–140

Guest JE, Duncan AM (1981) Internal plumbing of Mount Etna. Nature 290:584–586

Gurrieri G (1930) Gallerie e cavità nella colata lavica etnea del 1669. Istituto Vulcanologico Etneo R. Università di Catania, Memoria V

Gwinner K, Coltelli M, Flohrer J, Jaumann R, Matz KD, Marsella M, Roatsch T, Scholten F, Trauthan F (2006) The HRSC-AX Mt. Etna project: High-resolution orthoimages and 1 m DEM at regional scale. ISPRS Com. I Symposium, Paris, France, 3–6 July 2006

Harris AJL, Steffke A, Calvari S, Spampinato L (2011) Thirty years of satellite-derived lava discharge rates at Etna: implications for steady volumetric output. J Geophys Research-Solid Earth 116:B08204. doi:10.1029/2011JB008237

Hughes JW, Guest JE, Duncan AM (1990) Changing styles of effusive eruption on Mount Etna since AD 1600. In: Ryan MP (ed) Magma transport and storage. Wiley J and Sons, New York, pp 385–406

Hulme G (1974) The interpretation of lava flow morphology. Geophys J R Astron Soc 39:361–383

Kilburn CRJ (1996) Patterns and predictability in emplacement of subaerial lava flows and flow fields. In: Scarpa R, Tilling RI (eds) Monitoring and Mitigation of Volcano Hazards. Springer, Berlin, pp 491–537

Kilburn CRJ (2000) Lava flows and flow fields. In: Sigurdsson H (ed) Encyclopedia of Volcanoes. Academic Press, San Diego, pp 291–305

Kilburn CRJ, Guest GE (1993) Lava crusts, aa flow lengthening and the pahoehoe−aa transition. In: Kilburn CRJ, Luongo G (eds) Active lavas: monitoring and modelling. UCL Press, London, pp 73–101

Kilburn CRJ, Lopes RMC (1988) The growth of aa lava flow fields on Mount Etna, Sicily. J Geophys Res 93:14759–14772

Lipman PW, Banks NG (1987) Aa flow dynamics, Mauna Loa 1984. US Geol Surv Prof Pap 1350:1527–1567

Lockwood JG, Torgerson FA (1980) Diversion of lava flows by aerial bombing-lesons from Mauna Loa volcano, Hawaii. Bull Volcanol 43:727–741

Macdonald GA (1962) The 1959 and 1960 eruptions of Kilauea volcano, Hawaii, and the construction of walls to restrict the spread of the lava flows. Bull Volcanol 24:249–294

Macdonald GA, Abbott AT, Peterson FL (1983) Volcanoes in the sea: the geology of Hawaii. University of Hawaii press, USA

Malin MC (1980) Lengths of Hawaiian lava flows. Geology 8:306–308

Mancino C (1669) Narrativa del fuoco uscito da Mongibello il di undici di Marzo del 1669. Giuseppe Bisagni, Messina

Mattox TN, Heliker C, Kauahikaua J, Hon K (1993) Development of the 1990 Kalapan Flow Field, Kilauea Volcano, Hawaii. Bull Volcanol 55:407–413

Monaco F (1669) Cataclysmus ætnæus sive inundatio ignea Ætnæ montis anni 1669.Venezia

Murray JB, Stevens NF (2000) New formulae for estimating lava flow volumes at Mt. Etna Volcano, Sicily. Bull Volcanol 61:515–526

Naranjo JA, Sparks RSJ, Stasiuk MV, Moreno H, Ablay GJ (1992) Morphological, structural and textural variations in the 1988–1990 andesite lava of Lonquimay Volcano, Chile (38° S). Geol Mag 129:657–678

Proietti C, Coltelli M, Marsella M, Fujita E (2009) A quantitative approach for evaluating lava flow simulation reliability: LavaSIM code applied to the 2001 Etna eruption. Geochem Geophys Geosyst 10. doi:10.1029/2009GC002426

Proietti C, De Beni E, Coltelli M, Branca S (2011) Etna flank eruption history as a constraint on lava flow hazard assessing. Ann Geophys 54:480–490

Recupero G (1815) Storia Naturale e Generale dell'Etna. Vol.1−2, Stamperia Regia Università, Catania

Riker JM, Cashman KV, Kauahikaua JP, Montierth CM (2009) The length of channelized lava flows: Insight from the 1859 eruption of Mauna Loa Volcano, Hawai'i. J Volcanol Geotherm Res 183:139–156

Romano R, Sturiale C (1982) The historical eruptions of Mt. Etna. In: Romano R (ed) Mount Etna Volcano. Mem Soc Geol It 23, pp 75–97

Romano R, Lentini F, Sturiale C, et al (1979) Carta geologica del Monte Etna, scala 1:50.000. Progetto Finalizzato Geodinamica, Istituto Internazionale di Vulcanologia-C.N.R. In: Mem. Soc Geol It 23 (1982)

Scifoni S, Coltelli M, Marsella M, Proietti C, Napoleoni Q, Vicari A, Del Negro C (2010) Mitigation of lava flow invasion hazard through optimized barrier configuration aided by numerical simulation: the case of the 2001 Etna eruption. J Volcanol Geotherm Res 192:16–26

Squillaci P (1669) Relatione del fuoco di Mongibello, e di quel che seguì. Stamperia del Dragondelli, Roma

Stevens NF, Wadge G, Murray JB (1999) Lava flow volume and morphology from digitised contour maps: a case study at Mount Etna, Sicily. Geomorphology 28:251–261

Tanguy JC (1981) Les Eruptions historiques de l'Etna: chronologie et localisation. Bull Volcanol 44(3):586–640

Tedeschi Paternò T (1669) Breve Raguaglio degl'Incendi di Mongibello avvenuti in quest'anno1669. Egidio Longo, Napoli

Vicari A, Herault A, Del Negro C, Coltelli M, Marsella M, Proietti C (2007) Modeling of the 2001 lava flow at etna volcano by a cellular automata approach. Environ Model Softw 22:1465–1471

Vicari A, Ciraudo A, Del Negro C, Herault A, Fortuna L (2009) Lava flow simulations using discharge rates from thermal infrared satellite imagery during the 2006 Etna eruption. Nat Hazard 50:539–550

Wadge G (1977) The storage and release of magma on Mount Etna. J Volcanol Geotherm Res 2:361–384

Wadge G (1978) Effusion rate and the shape of aa lava flow-fields on Mount Etna. Geology 6:503–506

Wadge G (1981) The variation of magma discharge during basaltic eruptions. J Volcanol Geotherm Res 11:139–168

Wadge G, Walker GPL, Guest JE (1975) The output of Etna volcano. Nature 294:548–550

Walker GPL (1971) Compound and simple lava flows and flood basalts. Bull Volcanol 35:579–590

Walker GPL (1973) Lengths of lava flows. Philos Trans R Soc London Ser A 274:107–118

Walker GPL (1975) The strombolian scoria fall deposits of 1669 and 1974. In: Huntingdon AT, Walker GPL, Argent CR (eds) United Kingdom Research on Mount Etna 1974. The Royal Society London, pp 24–26

Waltershausen WS (1845–59) Atlas des Aetna. Göttingen, Weimar, Berlin
Acknowledgements
We are very grateful to F. Fallico for furnishing the stratigraphy of the wells, G. Scamarda for the borehole data inside Catania urban area, M. Grasso, R. De Pietro and B. Rossi for the working-faces data of the new Catania underground. We also thank G. Santi and N. Barone for helping us in the measurements in the old Sanctuary of Mompilieri, and A. Bonaccorso for the suggestions during the analyses of the lava field and had helped us to solve the problem of errors estimation. A special acknowledgement is due to those who kindly accompained us inside the quarries and to R. Maugeri for helping us locate caves and tubes. An early version of the manuscript has been very significantly improved thanks to critical comments and revisions by C. Kilburn, S. Rowland and S. Calvari. The paper benefited from reviews by K. Cashman and C. Hamilton, as well as by the Associated Editor M.R. Patrick and the Executive Editor J. White. The research was financially supported by INGV-Osservatorio Etneo grants. The paper is dedicated to the newborns Alessandro and Gabriele.
Additional information
Editorial responsibility: M.R. Patrick
About this article
Cite this article
Branca, S., De Beni, E. & Proietti, C. The large and destructive 1669 AD eruption at Etna volcano: reconstruction of the lava flow field evolution and effusion rate trend. Bull Volcanol 75, 694 (2013). https://doi.org/10.1007/s00445-013-0694-5
Received:

Accepted:

Published:
Keywords
Mount Etna

1669

Lava flow field

Lava volume

Effusion rate trend