Abstract
Deception Island is one of the most visited places in Antarctica. There are biological, geological, and archeological features that are major attractions within Port Foster, its horse shoe-shaped natural inner bay, and two scientific bases that are occupied during austral summers. Deception Island is an active volcano, however, and needs to be monitored in order to reduce risk to people on the island. Surface deformation in response to fluid pressure is one of the main volcanic activities to observe. Automated data acquisition and processing using the global navigation satellite systems allow measurements of surface deformation in near real time. Nevertheless, the positioning repeatability in sub-daily solutions is affected by geophysical influences such as ocean tidal loading, among others. Such periodic influences must be accurately modeled to achieve similar repeatability as daily solutions that average them. However, a single solution each 24 h will average out the deformation suffered during that period, and the position update waiting time can be a limitation for near real-time purposes. Throughout the last five austral summer campaigns in Deception, using simultaneous wireless communications between benchmarks, a processing strategy was developed to achieve millimeter-level half-hourly positioning solutions that have similar repeatability as those given by 24-h solutions. For these half-hourly solutions, a tidal analysis was performed to assess any mismodeling of ocean tide loading, and a discrete Kalman filter was designed and implemented to enhance the sub-daily positioning repeatability. With these solutions, the volcano-dynamic activity resulting in localized surface deformation for the last five austral summer campaigns is addressed. Although based on only three carefully located benchmarks, it is shown that Deception has been shortening and subsiding during these last 4 years. The method's accuracy in baselines up to a few hundred kilometers assures its applicability to other volcanoes worldwide.
Access options
Buy single article
Instant access to the full article PDF.
USD 39.95
Price excludes VAT (USA)
Tax calculation will be finalised during checkout.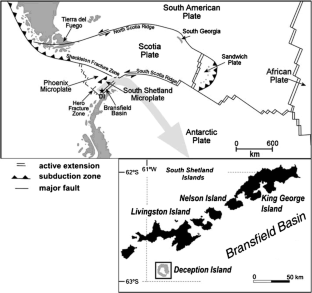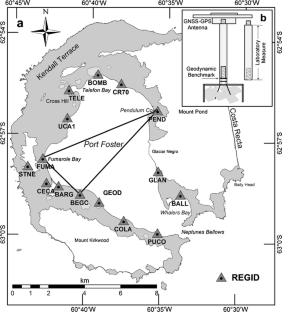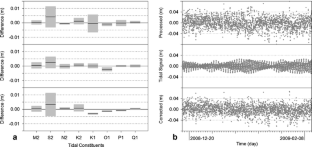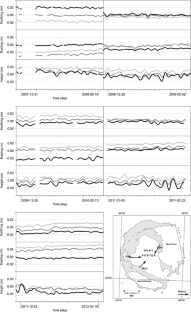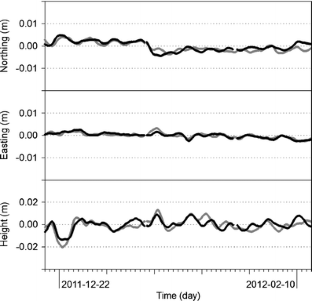 References
Berrocoso M, Ramírez ME, Fernández-Ros A (2006) Horizontal deformation models for the Deception Island. In: Sansó F, Gil AJ (eds) Geodetic deformation monitoring: from geophysical to engineering roles, international association of geodesy symposia (IAG), 131. Springer, Berlín, pp 217–221

Berrocoso M, Fernández-Ros A, Ramírez ME, Salamanca JM, Torrecillas C, Pérez-Peña A, Páez R, García-García A, Jiménez-Teja Y, García-García F, Soto R, Gárate J, Martín-Davila J, Sánchez-Alzola A, de Gil A, Fernández-Prada JA, Jigena B (2008) Geodetic Research on Deception Island and its Environment (South Shetland Islands, Bransfield Sea and Antarctic Peninsula) During Spanish Antarctic Campaigns (1987–2007). In: Capra A, Dietrich R. (eds) Geodetic and Geophysical Observations in Antarctica. Springer-Verlag, Berlin, pp 97–124

Choi K, Bilich A, Larson K, Axelrad P (2004) Modified sidereal filtering: implications for high-rate GPS positioning. Geophys Res Lett 31(22):L22608

Dach R, Hugentobler U, Fridez P, Meindl M (eds.) (2007) Bernese GPS Software Ver. 5.0 User manual. Astronomical Institute, University of Bern, 612 p

Dietrich R, Dach R, Engelhardt G, Ihde J, Korth W, Kutterer H, Lindner K, Mayer M, Menge F, Miller H, Müller C, Niemeier W, Perlt J, Pohl M, Salbach H, Schenke HW, Schöne T, Seeber G, Veit A, Völksen C (2001) ITRF coordinates and plate velocities from repeated GPS campaigns in Antarctica—an analysis based on different individual solutions. J Geod 74:756–766

Dow JM, Neilan RE, Rizos C (2009) The international GNSS service in a changing landscape of global navigation satellite systems. J Geod 83:191–198

Dzurisin D (2007) Volcano deformation: new geodetic monitoring techniques. Springer, New-York, 441 p

Egbert GD, Erofeeva SY, Han S-C, Luthcke SB, Ray RD (2009) Assimilation of GRACE tide solutions into a numerical hydrodynamic inverse model. Geophys Res Lett 36:L20609

Fretzdorff S, Worthington TJ, Haase KM, Hékinian R, Franz L, Keller RA, Stoffers P (2004) Magmatism in the Bransfield basin: rifting of the South Shetland Arc? J Geophys Res 109:B12208

Galindo-Zaldívar J, Gamboa L, Maldonado A, Nakao S, Bochu Y (2004) Tectonic development of the Bransfield Basin and its prolongation to the South Scotia Ridge, Northern Antarctic Peninsula. Mar Geol 206(1–4):267–282

García A, DECVOL Working Group (2002) A crossdisciplinary study at Deception Island (South Shetland Islands, Antarctica): evaluation of the recent volcanological status. Consejo Superior de Investigaciones Científicas, Museo Nacional de Ciencias Naturales, Madrid

García A, Blanco I, Torta JM, Astiz MM, Ibáñez JM, Ortiz R (1997) A search for the volcanomagnetic signal at Deception volcano (South Shetland I., Antarctica). Ann Geofis 40(2):319–327

González-Casado JM, Giner-Roles JL, López-Martinez J (2000) Bransfield Basin, Antarctic Peninsula: not a normal backarc basin. Geology 28:1043–1046

González-Ferrán O (1991) The Bransfield rift and its active volcanism. In: Thomson RA, Crame JA, Thomson JW (eds) Geological evolution of Antarctica. Cambridge University Press, Cambridge, pp 505–509

Ibáñez JM, del Pezzo E, Almendros J, la Rocca M, Alguacil G, Ortiz R, García A (2000) Seismovolcanic signals at Deception Island Volcano, Antarctica: wavefield analysis and source modelling. J Geophys Res 105:13905–13931

Ibáñez JM, Carmona E, Almendros J, Saccorotti G, del Pezzo E, Abril M, Ortiz R (2003) The 1998–1999 seismic series at Deception Island volcano, Antarctica. J Volcanol Geotherm Res 128(1–3):65–88

Jin YK, Lee J, Hong JK, Nam SH (2009) Is subduction ongoing in the South Shetland Trench, Antarctic Peninsula?: new constraints from crustal structures of outer trench wall. Geosci J 13(1):59–67

Kahn SA, Tscherning CC (2001) Determination of semi-diurnal ocean tide loading constituents using GPS in Alaska. Geophys Res Lett 28(11):2249–2252

Kalman RE (1960) A New approach to linear filtering and prediction problems. J Basic Eng D82:35–45

Kay SM (1993) Fundamentals of statistical signal processing: estimation theory. Prentice-Hall PTR, New Jersey, 625 p

King MA, Watson CS (2010) Long GPS coordinate time series: multipath and geometry effects. J Geophys Res 115:B04403

King MA, Penna NT, Clarke PJ, King EC (2005) Validation of ocean tide models around Antarctica using onshore GPS and gravity data. J Geophys Res 110(B8):B08401

Livermore R, Balanyá JC, Maldonado A, Martínez JM, Rodríguez-Fernández J, Galdeano CS, Galindo-Zaldívar J, Jabaloy A, Barnolas A, Somoza L, Hernández-Molina J, Suriñach E, Viseras C (2000) Autopsy on a dead spreading center: the Phoenix Ridge, Drake Passage, Antarctica. Geology 28:607–610

Maestro A, Somoza L, Rey J, Martinez-Frias J, Lopez-Martinez J (2007) Active tectonics, fault patterns, and stress field of Deception Island: a response to oblique convergence between the Pacific and Antarctic plates. J S Am Earth Sci 23:256–268

Marti J, Vila J, Rey J (1996) Deception Island (Bransfield strait, Antarctica): an example of collapse caldera developed by extensional tectonics. In: McGuire WC, Jones AP, Neuberg J (eds) Volcano instability on the Earth and other Planets. Geological Society Special Publication, London, UK, pp 253–265

Meng X, Roberts GW, Cosser E, Dodson AH (2003) Real-time bridge deflection and vibration monitoring using an integrated GPS/Accelerometer/Pseudolite System. Proceedings of 11th FIG Symposium on Deformation Measurements. Copenhagen, Denmark

Muñoz-Martín A, Catalán M, Martín-Dávila J, Carbó A (2005) Upper crustal structure of Deception Island area (Bransfield Strait, Antarctica) from gravity and magnetic modelling. Antarct Sci 17:213–224

Pawlowicz R, Beardsley B, Lentz S (2002) Classical tidal harmonic analysis including error estimates in MATLAB using T_TIDE. Comput Geosci 28:929–937

Penna NT, Bos MS, Baker TF, Scherneck H-G (2008) Assessing the accuracy of predicted ocean tide loading displacement values. J Geod 82(12):893–907

Ramírez ME, Berrocoso M, González MJ, Fernández A (2008) Crustal Deformation Models and Time-Frequency Analysis of GPS Data from Deception Island Volcano (South Shetland Islands, Antarctica). In: Donner R, Barbosa S (eds) Nonlinear Time Series Analysis in the Geosciences. Lecture Notes in Earth Sciences, 112:245–272

Rey J, Somoza L, Martínez-Frías J (1995) Tectonic, volcanic, and hydrothermal event sequence on Deception Island (Antarctica). Geo-Mar Lett 15(1):1–8

Robertson-Maurice SD, Wiens DA, Shore PJ, Vera E, Dorman LMM (2003) Seismicity and tectonics of the South Shetland Islands and Bransfield Strait from a regional broadband seismograph deployment. J Geophys Res 108(B10):2461–2472

Santerre R (1991) Impact of GPS satellite sky distribution. Manuscr Geodaet 16:28–53

Smellie JL (2001) Lithostratigraphy and volcanic evolution of Deception Island, South Shetland Islands. Antarct Sci 13:188–209

Smellie JL, Pankhurst RJ, Thomson MRA, Davies RES (1984) The geology of the South Shetland Islands: VI. Stratigraphy, geochemistry and evolution. British Antarctic Survey Scientific Report 87. Cambridge, UK, 85 p

Somoza L, Martínez-Frías J, Smellie JL, Rey J, Maestro A (2004) Evidence for hydrothermal venting and sediment volcanism discharged after recent short-lived volcanic eruptions at Deception Island, Bransfield Strait, Antarctica. Mar Geol 203(1–2):119–140

Taylor FW, Bevis MG, Dalziel IWD, Smalley R Jr, Frohlich C, Kendrick E, Foster J, Phillips D, Gudipati K (2008) Kinematics and segmentation of the South Shetland Islands-Bransfield basin system, northern Antarctic Peninsula. Geochem Geophys Geosyst 9:Q04035

Vergnolle M, Bouin M-N, Morel L, Masson F, Durand S, Nicolas J, Melachroinos SA (2008) GPS estimates of ocean tide loading in NW-France: determination of ocean tide loading constituents and comparison with a recent ocean tide model. Geophys J Int 173:444–458

Vey S, Calais E, Llubes M, Florsch N, Woppelmann G, Hinderer J, Amalvict M, Lalancette MF, Simon B, Duquenne F, Haase JS (2002) GPS measurements of ocean loading and its impact on zenith tropospheric delay estimates: a case study in Brittany, France. J Geod 76(8):419–427

Zandomeneghi D, Barclay A, Almendros J, Ibañez J, Godoy JM, Wilcock WSD, Ben-Zvi T (2009) Crustal structure of Deception Island volcano from P wave seismic tomography: tectonic and volcanic implications. J Geophys Res 114:B06310
Acknowledgments
This geodetic research has been carried out with the support of the Spanish Ministry of Education and Science as part of the National Antarctic Program. The following research projects directly contributed to this work: "Recognition and fast evaluation of volcanic activity on Deception Island (GEODESY) (ANT1999-1430-E/HESP)"; "Geodetic Studies on Deception Island: deformation models, geoid determination and Scientific Information System (REN2000-0551-C03-01/ANT)"; "Acquisition of scientific software for GPS data processing (REN2000-2690-E)"; "Geodetic Control of the volcanic activity of Deception Island (CGL2004-21547-E/ANT)"; "Update of the Spanish Cartography for Deception Island (CGL2004-20408-E/ANT)"; "Volcano-tectonic activity on Deception Island: geodetic, geophysical investigations and Remote Sensing on Deception Island and its surroundings (CGLl2005-07589-c03-01/ANT)"; and "Geodetic and Geothermal Researches, Time Serial Analysis and Volcanic Innovation in Antarctica (South Shetland Islands and Antarctic Peninsula (GEOTINANT)(CTM2009-07251/ANT)."
Both the contributions of the editors and of two anonymous reviewers are very much appreciated, which greatly helped to improve the manuscript.
Additional information
Editorial responsibility: S. De la Cruz-Reyna
About this article
Cite this article
Prates, G., Berrocoso, M., Fernández-Ros, A. et al. Enhancement of sub-daily positioning solutions for surface deformation monitoring at Deception volcano (South Shetland Islands, Antarctica). Bull Volcanol 75, 688 (2013). https://doi.org/10.1007/s00445-013-0688-3
Received:

Accepted:

Published:

DOI: https://doi.org/10.1007/s00445-013-0688-3
Keywords