Abstract
The eruption of Novarupta within the Katmai Volcanic Cluster, south-west Alaska, in June 1912 was the most voluminous eruption of the twentieth century but the distal distribution of tephra deposition is inadequately quantified. We present new syntheses of published tephrostratigraphic studies and a large quantity of previously un-investigated historical records. For the first time, we apply a geostatistical technique, indicator kriging, to integrate and interpolate such data. Our results show evidence for tephra deposition across much of Alaska, Yukon, the northern Pacific, western British Columbia and northwestern Washington. The most distal tephra deposition was observed around 2,500 km downwind from the volcano. Associated with tephra deposition are many accounts of acid deposition and consequent impacts on vegetation and human health. Kriging offers several advantages as a means to integrate and present such data. Future eruptions of a scale similar to the 1912 event have the potential to cause widespread disruption. Historical records of tephra deposition extend far beyond the limit of deposition constrained by tephrostratigraphic records. The distal portion of tephra fallout deposits is rarely adequately mapped by tephrostratigraphy alone; contemporaneous reports of fallout can provide important constraints on the extent of impacts following large explosive eruptions.
Access options
Buy single article
Instant access to the full article PDF.
US$ 39.95
Tax calculation will be finalised during checkout.
Subscribe to journal
Immediate online access to all issues from 2019. Subscription will auto renew annually.
US$ 119
Tax calculation will be finalised during checkout.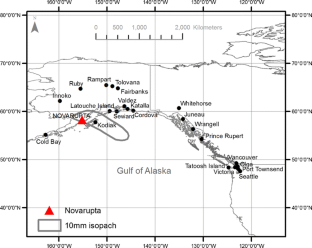 References
Anon (1912) Volcanoes in Alaska, Nat Geogr 23:824–832

Barancourt C, Creutin JD, Rivoirard J (1992) A method for delineating and estimating rainfall fields. Water Resour Res 28:1133–1144

Brooker P (2010) Fear in a handful of dust: aviation and the Icelandic Volcano. Significance 7:112–115

Davies SM, Larsen G, Wastegård S, Turney CSM, Hall VA, Coyle L, Thordarson T (2010) Widespread dispersal of Icelandic tephra: how does the Eyjafjöll eruption of 2010 compare to past Icelandic events? J Quat Sci 25:605–611

De Smith MJ, Goodchild MF, Longley PA (eds) (2009) Geospatial analysis: a comprehensive guide to principles, techniques and software tools. Troubador, Leicester

Fierstein J (2007) Explosive eruptive record in the Katmai region, Alaska Peninsula: an overview. Bull Volcanol 69:469–509

Fierstein J, Hildreth W (1992) The Plinian eruptions of 1912 at Novarupta, Katmai National Park, Alaska. Bull Volcanol 54:646–684

Fierstein J, Hildreth W (2001) Preliminary volcano-hazard assessment for the Katmai volcanic cluster, Alaska. Open File Report 00.489. USGS, Anchorage

Fierstein J, Nathenson M (1992) Another look at the calculation of fallout tephra volumes. Bull Volcanol 54:156–167

Grattan J, Charman DJ (1994) Non-climatic factors and the environmental impact of volcanic volatiles: implications of the Laki fissure eruption of ad 1783. Holocene 4:101–106

Griggs RF (1922) The Valley of Ten Thousand Smokes. National Geographic Society, Washington, DC

Griggs RF (1933) The colonization of the Katmai Ash, a new and inorganic "soil". Am J Bot 20:92–113

Gudmundsson G (2011) Respiratory health effects of volcanic ash with special reference to Iceland. A review. Clin Respir J 5:2–9

Hadley D, Hufford GL, Simpson JJ (2004) Resuspension of relic volcanic ash and dust from Katmai: still an aviation hazard. Wea Forecast 19:829–840

Hansen HP (1949) Postglacial Forests in South Central Alberta, Canada. Am J Bot 36:54–65

Hildreth W (1983) The compositionally zoned eruption of 1912 in the Valley of Ten Thousand Smokes, Katmai National Park, Alaska. J Volcanol Geotherm Res 18:1–56

Hobbs PV, Hegg DA, Radke LF (1983) Resuspension of volcanic ash from Mount St Helens. J Geophys Res 88:3919–3921

Holt KA, Lowe DJ, Hogg AC, Wallace RC (2011) Distal occurrence of mid-Holocene Whakatane tephra on the Chatham Islands, New Zealand, and potential for cryptotephra studies. Quat Int 246:344–351

Horberg L, Robie RA (1955) Postglacial volcanic ash in the Rocky Mountain piedmont, Montana and Alberta. Geol Soc Am Bull 66:949–956

Horwell CJ, Baxter PJ (2006) The respiratory health hazards of volcanic ash: a review for volcanic risk mitigation. Bull Volcanol 69:1–24

Houghton F, Wilson CJN, Fierstein F, Hildreth W (2004) Complex proximal deposition during the Plinian eruptions of 1912 at Novarupta, Alaska. Bull Volcanol 66:95–133

Isaaks EH, Srivastava RM (1989) An introduction to applied geostatistics. Oxford University Press, New York, p 561

Kilian R, Hohner M, Biester H, Wallrabe-Adams HJ, Stern CR (2003) Holocene peat and lake sediment record from the southernmost Chilean Andes (53–55°S). Rev Geol Chile 30:23–37

Kilian R, Biester H, Behrmann J, Baeza O, Fesq-Martin M, Hohner M, Schimpf D, Friedmann A, Mangini A (2006) Millenium-scale volcanic impact on a superhumid and pristine ecosystem. Geology 34:609–612

Kimball H (1913) The effect upon atmospheric transparency of the eruption of Katmai Volcano. Mon Weather Rev 41:153–159

Larsen G, Newton AJ, Dugmore AJ, Vilmundardóttir EG (2001) Geochemistry, dispersal, volumes and chronology of Holocene silicic tephra layers from the Katla volcanic system, Iceland. J Quat Sci 16:119–132

Martin GC (1913) The recent eruption of Katmai Volcano in Alaska. Nat Geogr 24:131–181

Martin RS, Watt SFL, Pyle DM, Mather TA, Matthews NE, Georg RB, Day JA, Fairhead T, Witt MLI, Quayle BM (2009) Environmental effects of ashfall in Argentina from the 2008 Chaltén volcanic eruption. J Volcanol Geotherm Res 184:462–472

Matsu'ura T, Miyagi I, Furusawa A (2011) Late Quaternary cryptotephra detection and correlation in loess in northeastern Japan using cummingtonite geochemistry. Quat Res 75:624–635

Miller TP, Smith RL (1987) Late Quaternary caldera-forming eruptions in the eastern Aleutian arc, Alaska. Geology 15:434–438

Nayudu YR (1964) Volcanic ash deposits in the Gulf of Alaska and problems of correlation of deep-sea ash deposits. Marine Geol 1:194–212

Newnham RM, Dirks KM, Samaranayake D (2010) An investigation into longdistance health impacts of the 1996 eruption of Mt Ruapehu, New Zealand. Atmos Environ 44:1568–1578

Payne RJ, Edwards KJ, Blackford JJ (2012) Volcanic impacts on the Holocene vegetation history of Britain and Ireland? A review and meta-analysis of the pollen evidence. Veget Hist Archaeobot. doi:10.1007/s00334-012-0359-x

Rhoades DA, Dowrick DJ, Wilson CJN (2002) Volcanic hazard in New Zealand: scaling and attenuation relations for tephra fall deposits from Taupo Volcano. Nat Hazards 26:147–174

Rose WI, Self S, Murrow PJ, Bonadonna C, Durant AJ, Ernst GGJ (2008) Nature and significance of small volume fall deposits at composite volcanoes: insights from the October 14, 1974 Fuego eruption, Guatemala. Bull Volcanol 70:1043–1067

Symeonakis E, Bonifaçio R, Drake N (2009) A comparison of rainfall estimation techniques for sub-Saharan Africa. Int J Appl Earth Obs 11:15–26

Volz FE (1975) Distribution of turbidity after the 1912 Katmai eruption in Alaska. J Geophy Res 80:2643–2648

Watt SFL, Pyle DM, Mather TA, Martin RS, Matthews NE (2009) Fallout and distribution of volcanic ash over Argentina following the May 2008 explosive eruption of Chaitén, Chile. J Geophys Res 114:B04207

Welchman R (2010) Bringing the world to a standstill: an investigation into the effects of a Novarupta scale volcanic rruption on today's aviation industry. MSc dissertation, University of Portsmouth

Yalcin K, Wake CP, Germani MS (2003) A 100-year record of North Pacific volcanism in an ice core from Eclipse Icefield, Yukon Territory, Canada. J Geophys Res 108:D14012

Yalcin K, Wake CP, Kreutz KJ, Germani MS, Whitlow SI (2007) Ice core paleovolcanic records from the St. Elias Mountains, Yukon, Canada. J Geophys Res 112:D08102

Zielinski GA, Mayewski PA, Meeker LD, Whitlow S, Twickler MS, Morrison M, Meese DA, Gow AJ, Alley RB (1994) Record of volcanism since 7000 b.c. from the GISP2 Greenland ice core and implications for the volcano-climate system. Science 264:948–952
Acknowledgments
Grateful thanks to the numerous scientists and librarians across North America who assisted with the location of relevant material and particularly to Siân Hughes of the Sir Kenneth Green Library, Manchester Metropolitan University. Thanks to four reviewers and two editors for helpful and insightful comments on previous versions of the manuscript. The first author would like to hear from any readers with knowledge of Novarupta tephra records not included in Online resource 1, particularly any other historical records from the distal zone.
Additional information
Editorial responsibility: P. Delmelle
Electronic supplementary material
Below is the link to the electronic supplementary material.
Raw data: 'presence' locations for all data types and data sources. (XLSX 56 kb)
Raw data: 'absence' locations for all data types. (XLSX 20 kb)
About this article
Cite this article
Payne, R.J., Symeonakis, E. The spatial extent of tephra deposition and environmental impacts from the 1912 Novarupta eruption. Bull Volcanol 74, 2449–2458 (2012). https://doi.org/10.1007/s00445-012-0674-1
Received:

Accepted:

Published:

Issue Date:
Keywords
Tephra

Tephrostratigraphy

Cryptotephra

Volcanic hazards

Acid deposition