Abstract
Mt Iriga in southeastern Luzon is known for its spectacular collapse scar that was possibly created in 1628 ad by a 1.5-km3 debris avalanche. The debris avalanche deposit (DAD) covered 70 km2 and dammed the Barit River to form Lake Buhi. The collapse has been ascribed to a non-volcanic trigger related to a major strike-slip fault under the volcano. Using a combination of fieldwork and remote sensing, we have identified a similar size, older DAD to the southwest of the edifice that originated from a sector oblique to the underlying strike-slip fault. Both deposits cover wide areas of low, waterlogged plains, to a distance of about 16 km for the oldest and 12 km for the youngest. Hundreds of metre-wide and up to 50-m-high hummocks of intact conglomerate, sand and clay units derived from the base of the volcano show that the initial failure planes cut deep into the substrata. In addition, large proportions of both DAD consist of ring-plain sediments that were incorporated by soft-sediment bulking and extensive bulldozing. An ignimbrite unit incorporated into the younger DAD forms small (less than 5 m high) discrete hummocks between the larger ones. Both debris avalanches slid over water-saturated soft sediment or ignimbrite and spread out on a basal shear zone, accommodated by horst and graben formation and strike-slip faults in the main mass. The faults are listric and flatten into a well-developed basal shear zone. This shear zone contains components from the substrate and has a diffuse contact with the intact substrata. Long, transport-normal ridges in the distal parts are evidence of compression related to deceleration and bulldozing. The collapse orientation and structure on both sectors and DAD constituents are consistent with collapse being a response to combined transtensional faulting and gravity spreading. Iriga can serve as a model for other volcanoes, such as Mayon, that stand in sedimentary basins undergoing transtensional strike-slip faulting.
Access options
Buy single article
Instant access to the full article PDF.
USD 39.95
Price includes VAT (USA)
Tax calculation will be finalised during checkout.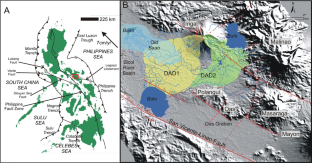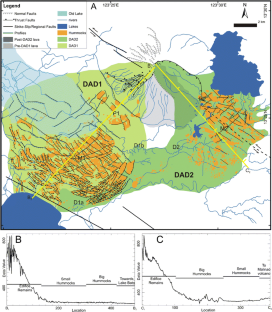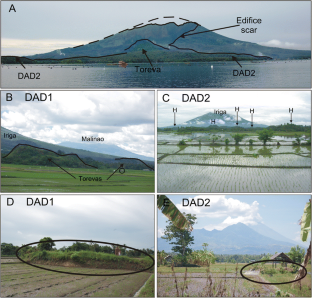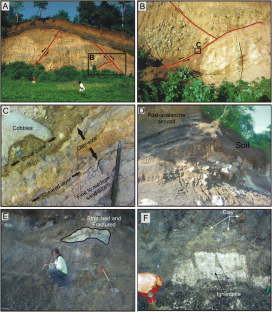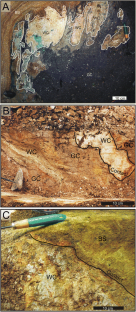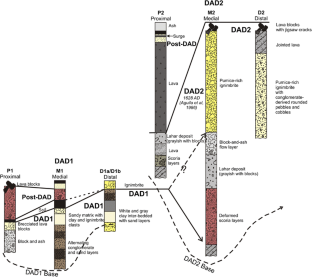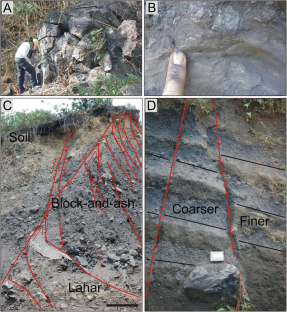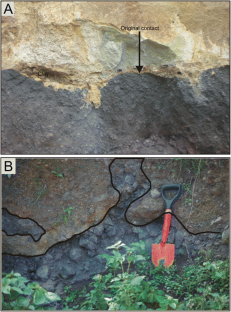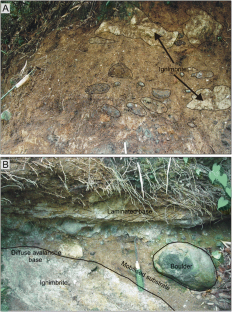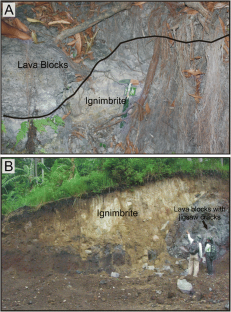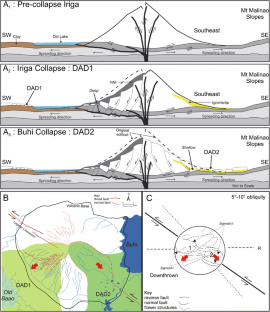 References
ASTER GDEM (2011) Advanced Spaceborne Thermal Emission and Reflection Radiometer (ASTER) Global digital elevation model (GDEM). At: http://www.gdem.aster.ersdac.or.jp/search.jsp. Accessed 23 Feb 2010

Aguila LG, Newhall CG, Miller CD, Listanco EL (1986) Reconnaissance geology of a large debris avalanche from Iriga volcano Philippines. Philippine J Volcanol 3:54–72

Andrade D, van Wyk de Vries B (2010) Structural analysis of the early stages of catastrophic stratovolcano flank-collapse using analogue models. Bull Volcanol 72:771–789. doi:10.1007/s00445-010-0363-x

Aurelio MA (2000) Tectonics of the Philippines revisited. J Geol Soc Philippines 55(3–4):119–183

Aurelio MA, Barrier E, Gaulon R, Rangin C (1997) Deformation and stress states along the central segment of the Philippine Fault: implications to wrench fault tectonics. J Asian Earth Sci 15(2–3):107–119

Barrier E, Huchon P, Aurelio M (1991) Philippine Fault: a key for Philippine kinematics. Geology 19:32–35

Belousov A, Belousov M, Voight B (1999) Multiple edifice failures, debris avalanches and associated eruptions in the Holocene history of Shiveluch volcano, Kamchatka, Russia. Bull Volcanol 61:324–342

Belousov A, Belousov M, Listanco E (2011) The youngest eruptions and edifice collapse of Iriga volcano, Philippines. IUGG General Assembly, Melbourne

Bernard B, van Wyk de Vries B, Leyrit H (2009) Distinguishing volcanic debris avalanche deposits from their reworked products: the Perrier sequence (French Massif Central). Bull Volcanol 71:1041–1056. doi:10.1007/s00445-009-0285-7

Borgia A, Ferrari L, Pasquaré G (1992) Importance of gravitational spreading in the tectonic and volcanic evolution of Mt. Etna. Nature 357:231–235

Borgia A, Delaney P, Denlinger RP (2000) Spreading volcanoes. Annu Rev Earth Planet Sci 28:539–570

Bureau of Mines and Geosciences (1963) Geological map of the Philippines. Scale, 1:1,000,000, 9 sheets

Bureau of Mines and Geosciences (1981) Geology and mineral resources of the Philippines. Vol.1, Geology, 406

Dade WB, Huppert HE (1998) Long run-out rockfalls. Geology 26:803–806

Donnadieu F, Merle O (1998) Experiments on the indentation process during cryptodome intrusions: new insights into Mount St. Helens deformation. Geology 26:79–82

Elsworth D, Voight B (1996) Evaluation of volcano flank instability triggered by dike intrusion. In: McGuire WJ, Jones AP, Neuberg J (eds) Volcano instability on the Earth and other planets. Geol Soc London Spec Pub 110:45–53

Glicken H (1998) Rockslide-debris avalanche of May 18, 1980, Mount St Helens Volcano, Washington. Geol Soc Japan Bull 29(2–3):55–106

Kerle N, van Wyk de Vries B (2001) The 1998 debris avalanche at Casita volcano, Nicaragua-investigation of structural deformation as the cause of slope instability using remote sensing. J Volcanol Geotherm Res 105:49–63

Lagmay AMF, van Wyk de Vries B, Kerle N, Pyle DM (2000) Volcano instability induced by strike-slip faulting. Bull Volcanol 62:331–346. doi:10.1007/s004450000103

Lagmay AMF, Tengonciang AMP, Uy HS (2005) Structural setting of the Bicol Basin and kinematic analysis of fractures on Mayon volcano, Philippines. J Volcanol Geotherm Res 144:23–36

Mathieu L, van Wyk de Vries B (2011) The impact of strike-slip, transtensional and transpressional fault zones on volcanoes. Part I: scaled experiments. J Structural Geol. doi:10.1016/j.jsg2011.03.002

Montaldo A, Vinciguerra S, Menza Z, Patane G (1996) Recent seismicity of Mount Etna: implications for flank instability. In: McGuire WJ, Jones AP, Neuberg J (eds) Volcano instability on the earth and other planets. Geol Soc London Spec Pub 110:169-177

Moriya I (1994) Geomorphology of continental and island volcanoes: development and classification. Technical Report Kanazawa Univ, Dept Geography, 76 p and 41 plates (in Japanese)

Google Earth (2010) Mt Iriga. 13° 25′ N and 123° 25′ E. Google Earth. Cited 20 Feb 2010

Panem CC, Cabel AC (1998) Geology of Isarog-Iriga geothermal prospect. PNOC-EDC Internal report

Philippine Institute of Volcanology and Seismology (1988) The Bicol volcanic chain (poster)

Reid ME, Sisson TW, Brien DL (2001) Volcano collapse promoted by hydrothermal alteration and edifice shape, Mount Rainier, Washington. Geology 29:779–782

Shea T, van Wyk de Vries B (2008) Structural analysis and analogue modeling of the kinematics and dynamics of rockslide avalanches. Geosphere 4(4):657–686. doi:10.1130/GES00131.1

Shea T, van Wyk de Vries B, Pilato M (2008) Emplacement mechanisms of contrasting debris avalanches at Volcan Mombacho (Nicaragua), provided by structural and facies analysis. Bull Volcanol 70:899–921. doi:10.1007/ss00445-007-0177-7

Siebert L (2002) Landslides resulting from structural failure of volcanoes. Geol Soc Am Rev Eng Geol 15:209–235

CGIAR-CSI (2012) The NASA shuttle radar topography mission digital elevation data (DEM). http://srtm.csi.cgiar.org. Accessed 22 Feb 2010

Tibaldi A (2001) Multiple sector collapses at Stromboli volcano, Italy: how they work. Bull Volcanol 63:112–125

Travaglia C, Baes AF (1979) Geology of Sorsogon Province. Technical report, Soil and Land Resources Appraisal and Training Project, Bureau of Soils, UNDP/FAO Programme, Manila

van Wyk de Vries B, Borgia A (1996) The role of basement in volcano deformation. In: McGuire WC, Jones AP, Neuberg J (eds) Volcano instability on the earth and other planets. Geol Soc Lond Spec Publ 110:95–110

van Wyk de Vries B, Francis PW (1997) Catastrophic collapse at statovolcanoes induced by gradual volcano spreading. Nature 387:387–390

van Wyk de Vries B, Kerle N, Petley D (2000) Sector collapse forming at Casita volcano, Nicaragua. Geology 28:167–170

van Wyk de Vries B, Self S, Francis PW, Keszthelyi L (2001) A gravitational spreading origin for the Socompa debris avalanche. J Volcanol Geotherm Res 105:225–247

Vidal N, Merle O (2000) Reactivation of basement faults beneath volcanoes: a new model of flank collapse. J Volcanol Geotherm Res 99:9–26

Voight B, Janda RJ, Glicken H, Douglass PM (1983) Nature and mechanics of the Mount St. Helens rockslide-avalanche of the 18 May 1980. Geotechnique 33:243–273

Wadge G, Francis PW, Ramirez CF (1995) The Socompa collapse and avalanche event. J Volcanol Geotherm Res 66:309–336

Wooller L, van Wyk de Vries B, Murray JB, Rymer H, Meyer S (2004) Volcano spreading controlled by dipping substrata. Geology 32(7):573–576. doi:10.1130/G20472.1

Wooller L, van Wyk de Vries B, Cecchi E, Rymer H (2009) Analogue models of the effect of long-term basement fault movement on volcanic edifices. Bull Volcanol 71:1111–1131. doi:10.1007/s00445-009-0289-3
Acknowledgments
This study is a result of the co-tutelle PhD programme between the Université Blaise Pascal and the University of the Philippines. Funding was provided by the French Embassy in Manila and the EIFFEL Excellence Scholarship. Gerard 'Titan' Quina, Cathy Abon, Caloy Arcilla (NIGS Director), Meryl Calibo, Analiza and Jerry Morada and the family of Buhi, Camarines Sur, and Grace Bato provided invaluable field assistance and logistics support. Comments and reviews by Lee Siebert and an anonymous reviewer improved the manuscript. Editorial review by Professor Jocelyn McPhie was especially valuable and appreciated.
Additional information
Editorial responsibility: J. McPhie
Electronic supplementary material
Below is the link to the electronic supplementary material.
About this article
Cite this article
Paguican, E.M.R., van Wyk de Vries, B. & Lagmay, A.M.F. Volcano-tectonic controls and emplacement kinematics of the Iriga debris avalanches (Philippines). Bull Volcanol 74, 2067–2081 (2012). https://doi.org/10.1007/s00445-012-0652-7
Received:

Accepted:

Published:

Issue Date:
Keywords
Mt Iriga

Debris avalanche deposit

Volcano-tectonics

Transtensional faulting

Emplacement kinematics