Abstract
Maderas volcano is a small, andesitic stratovolcano located on the island of Ometepe in Lake Nicaragua, Nicaragua, with no record of historic activity. Twenty-one samples were collected in 2010 from lava flows of Maderas. The selected samples were analyzed for whole-rock geochemistry using ICP-AES and/or were dated using the 40Ar/39Ar method. The results of these analyses were combined with previously collected data from Maderas as well as field observations to determine the eruptive history of the volcano and create a geologic map. The results of the geochemical analyses indicate that Maderas has higher concentrations of alkalies than most Nicaraguan and Costa Rican volcanoes including its nearest neighbor, Concepción volcano. It is also different from Concepción in that it displays higher incompatible elements. Determined age dates range from 179.2 ± 16.4 ka to 70.5 ± 6.1 ka. Based on these ages and the geomorphology of the volcano which is characterized by a bisecting graben, it is proposed that Maderas experienced two generations of development: initial build-up of the older cone including pre-graben lava flows, followed by post-graben lava flows. The ages also indicate that Maderas is markedly older than Concepción which is historically active. Volcanic hazards were also assessed. The 40Ar/39Ar ages indicate that Maderas has likely been inactive for tens of thousands of years and future volcanic eruptions are not considered an immediate hazard. However, earthquake and lahar hazards exist for the communities around the volcano. The steep slopes of the eroded older cone are the most likely sources of lahar hazards.
Access options
Buy single article
Instant access to the full article PDF.
USD 39.95
Price excludes VAT (USA)
Tax calculation will be finalised during checkout.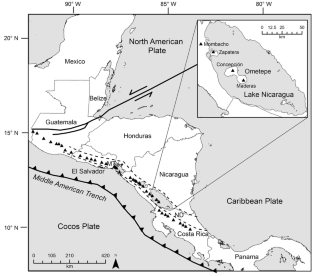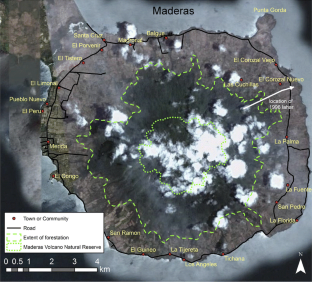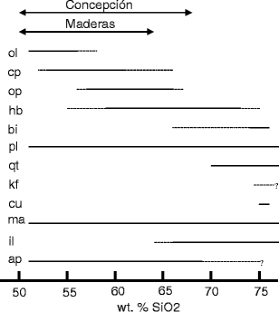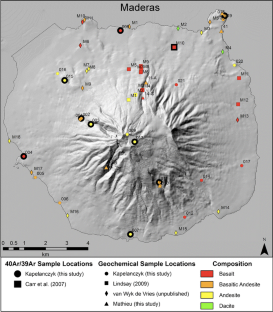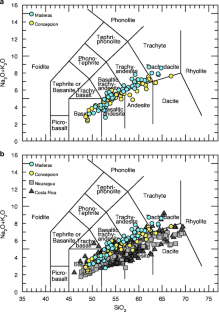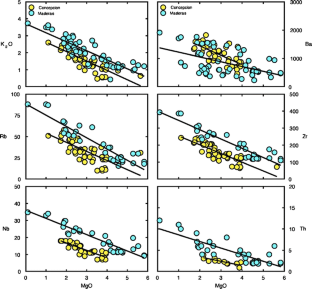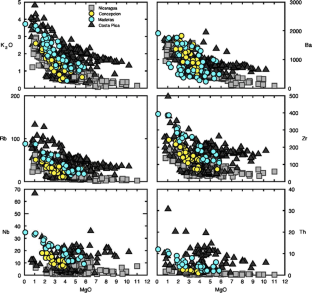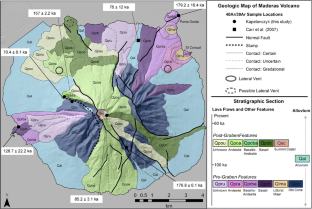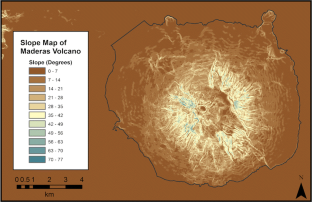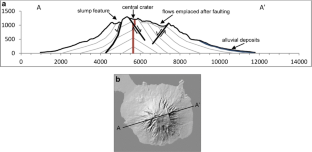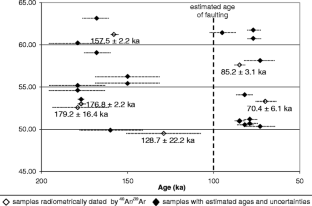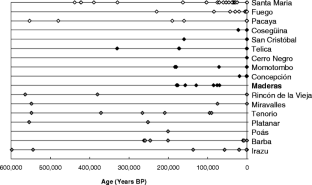 References
Alvarado GE, Carr MJ, Turrin BD, Swisher CC, Schmincke H-U, Hudnut KW (2006) Recent volcanic history of Irazú volcano, Costa Rica: alternation and mixing of two magma batches, and pervasive mixing. In: Rose WI, Bluth GJS, Carr MJ, Ewert J, Patino LC, Vallance J (eds) Volcanic hazards in Central America. Geol Soc Am Spec Pap 412:259–276. doi:10.1130/2006.2412(14)

Anderson T (1908) The volcanoes of Guatemala. Geogr J 31(5):473–485

Bardintzeff J-M, Deniel C (1992) Magmatic evolution of Pacaya and Cerro Chiquito volcanological complex, Guatemala. Bull Volcanol 54:267–283

Bolge LL, Carr MJ, Milidakis KI, Lindsay FN, Feigenson MD (2009) Correlating geochemistry, tectonics, and volcanic volume along the Central American volcanic front. Geochem Geophys Geosys 10 Q12S18. doi:10.1029/2009GC002704

Borgia A, van Wyk de Vries B (2003) The volcano-tectonic evolution of Concepción, Nicaragua. Bull Volcanol 65(4):248–266. doi:10.1007/s00445-002-0256-8

Borgia A, Delaney PT, Denlinger RP (2000) Spreading volcanoes. Annu Rev Earth Planet Sci 28:539–570. doi:10.1146/annurev.earth.28.1.539

Carr MJ, Rose WI (1987) CENTAM—a data base of Central American volcanic rocks. J Volcanol Geotherm Res 33(1–3):239–240. doi:10.1016/0377-0273(87)90066-7

Carr MJ, Rose WI, Stoiber RE (1982) Central America. In: Thorpe RS (ed) Andesites: orogenic andesites and related rocks. Wiley, New York, pp 149–166

Carr MJ, Feigenson MD, Patino LC, Walker JA (2003) Volcanism and geochemistry in Central America: progress and problems. In Eiler J (ed) Inside the subduction factory. Geophys Monogr Ser 138:153–174. doi:10.1029/138GM09

Carr MJ, Patino LC, Feigenson MD (2007a) Petrology and geochemistry of lavas (Chapter 22). In: Bundschuh J, Alvarado GE (eds) Central America: geology, resources and hazards. Taylor & Francis, London, pp 565–590. doi:10.1201/9780203947043.ch22

Carr MJ, Saginor I, Alvardo GE, Bolge LL, Lindsay FN, Milidakis K, Turrin BD, Feigenson MD, Swisher CC (2007b) Element fluxes from the volcanic front of Nicaragua and Costa Rica. Geochem Geophys Geosyst 8:Q06001. doi:10.1029/2006CG001396

de Boer J (1979) The outer arc of the Costa Rican orogen (oceanic basement complexes of the Nicoya and Santa Elena Peninsulas). Tectonophysics 56(3–4):221–259. doi:10.1016/0040-1951(79)90084-2

Delcamp A, van Wyk de Vries B, James MR (2008) The influence of edifice slope and substrata on volcano spreading. J Volcanol Geotherm Res 177(4):925–943. doi:10.1016/j.jvolgeores.2008.07.014

DeMets C (2001) A new estimate for present-day Cocos–Caribbean plate motion: implications for slip along the Central American volcanic arc. Geophys Res Lett 28(21):4043–4046

Denyer P, Baumgartner PO (2006) Emplacement of Jurassic–Lower Cretaceous radiolarites of the Nicoya Complex (Costa Rica). Geol Acta 4(1–2):203–218

Diez M, Connor C, Navarro M, Strauch W, Tenorio V, Tenorio L, Aviles R (2006) Volcanic hazards at Concepcion volcano, Nicaragua, and recommendations for hazard mitigation. Prepared for the US Southern Command

Escobar-Wolf RP, Diehl JF, Singer BS, Rose WI (2010) 40Ar/39Ar and paleomagnetic constraints on the evolution of Volcán de Santa María, Guatemala. Geol Soc Am Bull 122(5–6):757–771. doi:10.1130/B26569.1

Freundt A, Strauch W, Kutterolf S, Schmincke H-U (2007) Volcanogenic tsunamis in lakes: examples from Nicaragua and general implications. Pure Appl Geophys 164(2–3):527–545. doi:10.1007/s00024-006-0178-z

Funk J, Mann P, McIntosh K, Stephens J (2009) Cenozoic tectonics of the Nicaraguan depression, Nicaragua, and Median Trough, El Salvador, based on seismic-reflection profiling and remote-sensing data. Geol Soc Am Bull 121(11–12):1491–1521. doi:10.1130/B26428.1

Grosse P, van Wyk de Vries B, Petrinovic IA, Euillades PA, Alvarado GE (2009) Morphometry and evolution of arc volcanoes. Geology 37(7):651–654. doi:10.1130/G25734A.1

Hoernle K, Hauff F, van den Bogaard P (2004) 70 m.y. history (139–69 Ma) for the Caribbean large igneous province. Geology 32(8):697–700. doi:10.1130/G20574.1

Koppers AP (2002) ArArCALC-software for 40Ar/39Ar age calculations. Comput Geosci 28(5):605–619. doi:10.1016/S0098-3004(01)00095-4

Kuiper KF, Deino A, Hilgen FJ, Krijgsman W, Renne PR, Wijbrans JR (2008) Synchronizing rock clocks of Earth history. Science 320(5875):500–504. doi:10.1126/science.1154339

Le Bas MJ, Le Maitre RW, Streckeisen A, Zanettin B (1986) A chemical classification of volcanic rocks based on the total alkali-silica diagram. J Petrol 27(3):745–750. doi:10.1093/petrology/27.3.745

Lindsay FN (2009) Geochemistry of lavas from southeastern Nicaragua and of mantle xenoliths from Cerro Mercedes, Costa Rica. Dissertation, Rutgers, The State University of New Jersey, New Brunswick

MacKenzie L, Abers GA, Fischer KM, Syracuse EM, Protti JM, Gonzalez V, Strauch W (2008) Crustal structure along the southern Central American volcanic front. Geochem Geophys Geosyst 9(8):Q08S09. doi:10.1029/2008GC001991

Mathieu L (2010) The impact of strike–slip movements on the structure of volcanoes: a case study of Guadeloupe, Maderas and Mt. Cameroon volcanoes. Dissertation, Trinity College, Dublin

Mathieu L, van Wyk de Vries B, Pilato M, Troll VR (2011) The interaction between volcanoes and strike–slip, transtensional and transpressional fault zones: analogue models and natural examples. J Struct Geol 33(5):898–906. doi:10.1016/j.jsg.2011.03.003

McBean G (2004) Climate change and extreme weather: a basis for action. Nat Hazards 31(1):177–190. doi:10.1023/B:NHAZ.0000020259.58716.0d

McBirney AR, Williams H (1965) Volcanic history of Nicaragua. University of California Press, Berkeley, p 73

Min K, Mundil R, Renne PR, Ludwig KR (2000) A test for systematic errors in 40Ar/39Ar geochronology through comparison with U/Pb analysis of a 1.1-Ga rhyolite. Geochim Cosmochim Acta 64(1):73–98. doi:10.1016/S0016-7073(99)00204-5

Saginor I, Gazel E, Carr MJ, Swisher CC III, Turrin B (2011) New Pliocene–Pleistocene 40Ar/39Ar ages fill in temporal gaps in the Nicaraguan volcanic record. J Volcanol Geotherm Res 202:143–152. doi:10.1016/j.jvolgeores.2011.02.002

Sebesta J (2001) Análisis de origen dinámico del relieve, Isla de Ometepe. Czech Geologic Service, Prague, Czech Republic

Siebert L, Simkin T, Kimberly P (2010) Volcanoes of the World. University of California Press, Berkeley, p 551

Singer BS, Smith KE, Jicha BR, Beard BL, Johnson CM, Rogers NW (2011) Tracking open-system differentiation during growth of Santa María volcano, Guatemala. J Petrol 52(12):2335–2363. doi:10.1093/petrology/egr047

Smithsonian Institution (1996) Maderas. Bull Glob Volcanism Netw, 21(09)

Syracuse EM, Abers GA (2006) Global compilation of variations in slab depth beneath arc volcanoes and implications. Geochem Geophys Geosyst 7:Q05017. doi:10.1029/2005GC001045

Vallance JW, Schilling SP, Matías O, Rose WI, Howell MM (2001) Volcano hazards at Fuego and Acatenango, Guatemala. US Geological Survey Open-File Report 01–431, Denver

van Wyk de Vries B (1986) Mapa Geologico Isla de Ometepe. Instituto Nicaraguense de Estudios Terretoriales (INETER), Managua

van Wyk de Vries B (1993) Tectonics and magma evolution of Nicaraguan volcanic systems. Dissertation, The Open University

van Wyk de Vries B, Borgia A (1996) The role of basement in volcano deformation. Geol Soc Spec Publ 110:95–110. doi:10.1144/GSL.SP.1996.110.01.07

Wilder PR (2010) Concepción está en plena erupción. Grupo Editorial La Prensa. Managua, Nicaragua. http://www.laprensa.com.ni/2010/03/19/nacionales/19551. Accessed 28 February 2012
Acknowledgments
This study was supported by US National Science Foundation PIRE Grant #0530109. The costs of the first author's time in the field at Maderas were paid by the US Peace Corps. We thank Lucie Mathieu for allowing us to use samples that she collected from Maderas and Ben van Wyk de Vries for sharing his expertise of Nicaraguan volcanoes and chemical analyses of many samples from Ometepe. Heather Cunningham is thanked for her support in preparing the samples for 40Ar/39Ar analysis.
Additional information
Editorial responsibility: J.E. Gardner
Electronic supplementary material
Below is the link to the electronic supplementary material.
About this article
Cite this article
Kapelanczyk, L., Rose, W.I. & Jicha, B. An eruptive history of Maderas volcano using new 40Ar/39Ar ages and geochemical analyses. Bull Volcanol 74, 2007–2021 (2012). https://doi.org/10.1007/s00445-012-0644-7
Received:

Accepted:

Published:

Issue Date:

DOI: https://doi.org/10.1007/s00445-012-0644-7
Keywords
40Ar/39Ar dating

Eruptive history

Volcano

Maderas