Abstract
Using a network of 15 seismometers around the inflating Uturuncu Volcano from April 2009 to 2010, we find an average rate of about three local volcano-tectonic earthquakes per day, and swarms of 5–60 events a few times per month with local magnitudes ranging from −1.2 to 3.7. The earthquake depths are near sea level, more than 10 km above the geodetically inferred inflation source and the Altiplano Puna Magma Body. The Mw 8.8 Maule earthquake on 27 February 2010 triggered hundreds of earthquakes at Uturuncu with the onset of the Love and Rayleigh waves and again with the passage of the X2/X3 overtone phases of Rayleigh waves. This is one of the first incidences in which triggering has been observed from multiple surface wave trains. The earthquakes are oriented NW–SE similar to the regional faults and lineaments. The b value of the catalog is 0.49, consistent with a tectonic origin of the earthquakes. We perform ambient noise tomography using Love wave cross-correlations to image a low-velocity zone at 1.9 to 3.9 km depth below the surface centered slightly north of the summit. The low velocities are perhaps related to the hydrothermal system and the low-velocity zone is spatially correlated with earthquake locations. The earthquake rate appears to vary with time—a seismic deployment from 1996 to 1997 reveals 1–5 earthquakes per day, whereas 60 events/day were seen during 5 days using one seismometer in 2003. However, differences in analysis methods and magnitudes of completeness do not allow direct comparison of these seismicity rates. The rate of seismic activity at Uturuncu is higher than at other well-monitored inflating volcanoes during periods of repose. The frequent swarms and triggered earthquakes suggest the hydrothermal system is metastable.
Access options
Buy single article
Instant access to the full article PDF.
USD 39.95
Price includes VAT (USA)
Tax calculation will be finalised during checkout.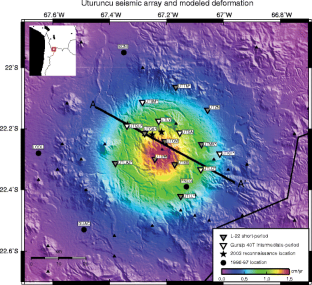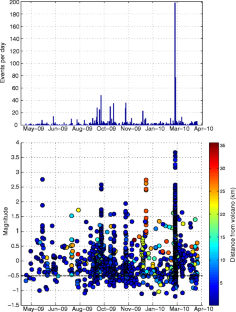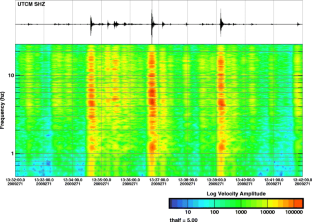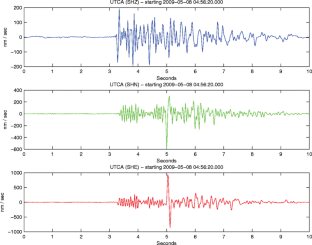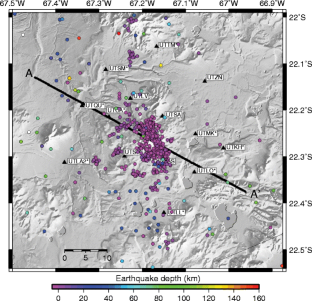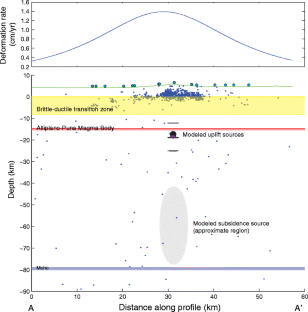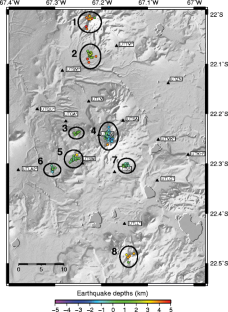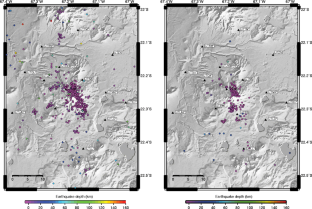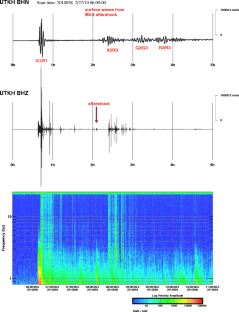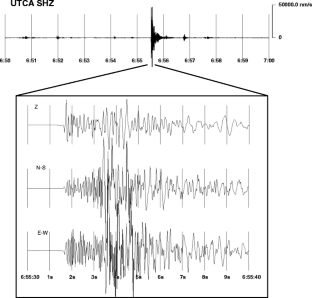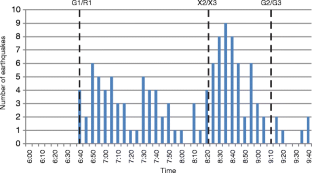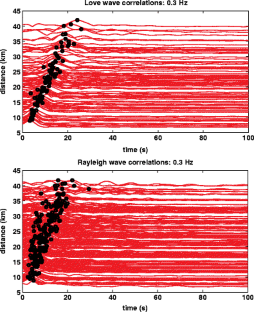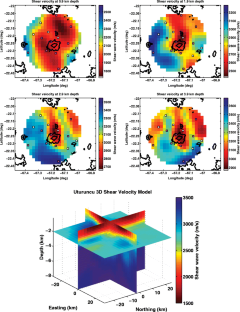 References
Behr Y, Townend J, Bannister S, Savage MK (2011) Crustal shear wave tomography of the Taupo Volcanic Zone, New Zealand, via ambient noise correlation between multiple three-component networks. Geochem Geophys Geosyst 12:3

Benoit JP and McNutt SR (1996) Global volcanic earthquake swarm database 1979–1989. USGS Open-File Report 96–69

Brantley SR, Lowenstern JB, Christiansen RL, Smith RB, Heasler H, Waite G, Wicks C (2004) Tracking changes in Yellowstone's restless volcanic system. US Geol Survey http://pubs.usgs.gov/fs/fs100-03. Accessed 31 March 2011

Chmielowski J, Zandt G, Haberland C (1999) The Central Andean Altiplano-Puna magma body. Geophys Res Lett 26:783–786

Clavero J, Soler V, Polanco E, Amigo A (2005) Preliminary seismic and diffuse CO2 flux characterization of active volcanoes from the central Andes of northern Chile. IASPEI abstract. Proceedings IASPEI General Assembly, Santiago, Chile.

de Silva SL (1989) Altiplano-Puna volcanic complex of the central Andes. Geol 17:1102–1106

de Silva SL, Gosnold WD (2007) Episodic construction of batholiths: insights from the spatiotemporal development of an ignimbrite flare-up. J Volcanol Geotherm Res 167:320–325

Dixon JP, Stihler SD (2009) Catalog of earthquake hypocenters at Alaskan volcanoes: January 1 through December 31, 2008. US Geol Surv Data Ser 467:86

Dixon JP, Stihler SD, Power JA, Tytgat G, Estes S, McNutt SR (2006) Catalog of Earthquake Hypocenters at Alaskan Volcanoes: January 1 through December 31, 2005. USGS Open-File Report 2006–1264

Dixon JP, Stihler SD, Power JA, Searcy C (2008a) Catalog of earthquake hypocenters at Alaskan volcanoes: January 1 through December 31, 2006. US Geol Surv Data Ser 326:79

Dixon JP, Stihler SD, Power JA (2008b) Catalog of earthquake hypocenters at Alaskan volcanoes: January 1 through December 31 2007. US Geol Surv Data Ser 367:82

Dzurisin D, Lisowski M, Wicks CW (2009) Continuing inflation at Three Sisters volcanic center, central Oregon Cascade Range, USA, from GPS, leveling, and InSAR observations. Bull Volcanol 71:1091–1110

Farrell JM (2007) Space-time seismicity and development of a geographical information system database with interactive graphics for the Yellowstone region. Dissertation, The University of Utah

Fialko Y, Simons M (2001) Evidence for on-going inflation of the Socorro magma body, New Mexico, from interferometric synthetic aperture radar imaging. Geophys Res Lett 28:3549–3552

Hamza VM, Dias F, Gomes A, Terceros Z (2005) Numerical and functional representations of regional heat flow in South America. Phys Earth Planet Inter 152:223–256

Hellweg M (2000) Physical models for the source of Lascar's harmonic tremor. J Volcanol Geotherm Res 101:183–198

Henry SG, Pollack HN (1988) Terrestrial heat flow above the Andean subduction zone in Bolivia and Peru. J Geophys Res 93(B12):15,153–15,162

Hill DP (1977) A model for earthquake swarms. J Geophys Res 82(8):1347–1352

Hill DP (1992) Temperatures at the base of the seismogenic crust beneath Long Valley Caldera, California, and the Phlegrean Fields Caldera, Italy. In: Gasparini P, Scarpa R, Aki K (eds) Volcanic Seismology. Springer, Berlin, pp 432–461

Hill DP, Prejean S (2005) Magmatic unrest beneath Mammoth Mountain, California. J Volcanol Geotherm Res 146:257–283

Hill DP, Reasenberg PA, Michael A et al (1993) Seismicity remotely triggered by the magnitude 7.3 Landers, California earthquake. Science 260:1617–1623

Hill DP, Langbein JO, Prejean S (2003) Relations between seismicity and deformation during unrest in Long Valley Caldera, California, from 1995 through 1999. J Volcanol Geotherm Res 127:175–193

Husen S, Wiemer S, Smith RB (2004) Remotely triggered seismicity in the Yellowstone National Park Region by the 2002 Mw 7.9 Denali Fault Earthquake, Alaska. Bull Seismol Soc Am 94(6B):S317–S331

Ibs-von Seht M, Plenefisch T, Klinge K (2008) Earthquake swarms in continental rifts—a comparison of selected cases in America, Africa, and Europe. Tectonophysics 452:66–77

Kirby S, Kronenberg AK (1987) Rheology of the lithosphere: selected topics. Rev Geophys 25(6):1219–1244

Kussmaul S, Hormann PK, Ploskonka E, Subieta T (1977) Volcanism and structure of southwestern Bolivia. J Volcanol Geotherm Res 2:73–111. doi:10.1016/0377-0273(77)90016-6

Legrand D, Barrientos S, Bataille K, Cembrano J, Pavez A (2010) The fluid-driven tectonic swarm of Aysen Fjord, Chile (2007) associated with two earthquakes (Mw = 6.1 and Mw = .2) within the Liquiñe-Ofqui Fault Zone. Cont Shelf Res 31(3–4):154–161

Leidig M, Zandt G (2003) Highly anisotropic crust in the APVC. J Geophys Res 108(B1):2014. doi:10.1029/2001JB000649

Lema JC, Choque N (1996) Carta Geológica Nacional. Servicio Nacional de Geología y Minería. SGB Serie I-CGB

Lin F, Moschetti MP, Ritzwoller MH (2008) Surface wave tomography of the western United States from ambient seismic noise: Rayleigh and Love wave phase velocity maps. Geophys J Int. doi:10.1111/j1365-246X.2008.03720.x

Lu Z, Wicks C, Dzurisin D, Power JA, Moran SC, Thatcher W (2002) Magmatic inflation at a dormant stratovolcano: 1996–1998 activity at Mount Peulik volcano, Alaska, revealed by satellite radar interferometry. J Geophys Res 17:2134

Lu Z, Masterlark T, Dzurisin D, Rykhus R, Wicks C (2003) Magma supply dynamics at Westdahl volcano, Alaska, modeled from satellite radar interferometry. J Geophys Res 108:2354

Lu Z, Dzurisin D, Biggs J, Wicks C, McNutt S (2010) Ground surface deformation patterns, magma supply, and magma storage at Okmok volcano, Alaska, from InSAR analysis: 1. Intereruption Deformation, 1997–2008. J Geophys Res 115:B00B02. doi:10.1029/2009JB006969

Masterlark T, Haney M, Dickinson H, Fournier T, Searcy C (2010) Rheologic and structural controls on the deformation of Okmok volcano, Alaska: FEMs, InSAR, and ambient noise tomography. J Geophys Res 115:B02409

Okada H (2003) The microtremor survey method, Translated by Koya Suto, Geophysical Monograph Series Vol 12. Society of Exploration Geophysicists, Tulsa

Pavlis GL, Vernon F, Harvey D, Quinlan D (2004) The generalized earthquake-location (GENLOC) package: an earthquake-location library. Comput Geosci 30:1079–1091

Pearse J, Fialko Y (2009) Modelling steady magmatic inflation at Uturuncu Volcano, Bolivia. American Geophysical Union, Fall Meeting 2009, abstract #G44A-05

Pearse J, Fialko Y (2010) Mechanics of active magmatic intraplating in the Rio Grande Rift near Socorro, New Mexico. J Geophys Res 115:B07413

Prejean SG, Hill DP, Brodsky EE, Hough SE, Johnston MJS, Malone SD, Oppenheimer DH, Pitt AM, Richards-Dinger KB (2004) Remotely triggered seismicity on the United States West Coast following the Mw 7.9 Denali fault earthquake. Bull Seismol Soc Am 94(6B):S348–S359

Pritchard ME, Simons M (2004) An InSAR-based survey of volcanic deformation in the central Andes. Geochem Geophys Geosyst 5:2. doi:10.1029/2003GC000610

Ranalli G, Murphy DC (1986) Rheological stratification of the lithosphere. Tectonophys 132:281–295

Ruhl C, Bilek SL, Stankova-Pursley J (2010) Relocation and characterization of the August 2009 microearthquake swarm above the Socorro magma body in the central Rio Grande Rift. Geophys Res Lett 37:L23304

Sanford AR, Holmes CR (1962) Microearthquakes near Socorro, New Mexico. J Geophys Res 67:4449–4459

Schilling FR, Partzsch GM, Brasse H, Schwarz G (1997) Partial melting below the magmatic arc in the central Andes deduced from geoelectromagnetic field experiments and laboratory data. Phys Earth Planet Inter 103:17–31

Schurr B, Rietbrock A, Asch G, Kind R, Oncken O (2006) Evidence for lithospheric detachment in the central Andes from local earthquake tomography. Tectonophys 415:203–223

Sheetz KE, Schlue JW (1992) Inferences for the Socorro Magma Body from teleseismic receiver functions. Geophys Res Lett 19:1867–1870

Smith RB, Jordan M, Steinberger B, Puskas CM, Farrell J, Waite GP, Husen S, Chang W, O'Connell R (2009) Geodynamics of the Yellowstone hotspot and mantle plume: Seismic and GPS imaging, kinematics, and mantle flow. J Volcanol Geotherm Res 188:26–56

Sparks RSJ, Folkes CB, Humphreys MCS, Barfod DN, Clavero J, Sunagua MC, McNutt SR, Pritchard ME (2008) Uturuncu Volcano, Bolivia: volcanic unrest due to mid-crustal magma intrusion. Amer J Sci 308:727–769

Springer M, Forster A (1998) Heat-flow density across the Central Andean subduction zone. Tectonophys 291:123–139

Stankova J, Bilek SL, Rowe CA, Aster RC (2008) Characteristics of the October 2005 Microearthquake Swarm and Reactivation of Similar Event seismic swarms over decadal time periods near Socorro, New Mexico. Bull Seismol Soc Am 98(1):93–105

Sunagua M (2004) Amenaza volcánica en la región del volcán Uturuncu–Provincia Sud Lípez del Departamento de Potosí. Dissertation, Universidad Autónoma Tomás Frías

Venzke E, Wunderman RW, McClelland L, Simkin T, Luhr JF, Siebert L, Mayberry G, and Sennert S (eds.) (2002–2010) Global volcanism, 1968 to the present. Smithsonian Institution, Global Volcanism Program Digital Information Series, GVP-4 (http://www.volcano.si.edu/reports/)

Viramonte JG, Galliski MA, Araña Saavedra V, Aparicio A, García Cacho L, Martín Escorza C (1984) El finivolcanismo básico de la depresión de Arizaro, provincia de Salta, República Argentina. IX Congr Geol Argent 3:234–254

Waite GP, Smith RB (2004) Seismotectonics and stress field of the Yellowstone volcanic plateau from earthquake first-motions and other indicators. J Geophys Res 109:B02301. doi:10.1029/2003JB002675

West M, Sanchez JJ, McNutt SR (2005) Periodically triggered seismicity at Mount Wrangell, Alaska, after the Sumatra earthquake. Science 308:1144–1146

Wiemer S (2001) A software package to analyse seismicity: ZMAP. Seismol Res Lett 72(3):373–382

Zandt G, Leidig M, Chmielowski J, Baumont D, Yuan X (2003) Seismic detection and characterization of the Altiplano-Puna magma body, Central Andes. Pure Appl Geophys 160:789–807
Acknowledgments
This project would not have been possible without the help of the Bolivian Servicio de Areas Protegidas (especially the staff at the Reserva Eduardo Avaroa), the residents of Quetena Chico and Quetena Grande, and the staff of the Observatorio San Calixto. Seismic instruments were provided by Program for Array Seismic Studies of the Continental Lithosphere (PASSCAL). We thank Diego Martínez, David Cassis Chuquisea, Luís Galván, Tom Fournier, Lloyd Carothers, Anna Bellesiles, Branden Christensen, Scott Henderson, and the Servicio Nacional de Geología y Técnico de Minas for assistance in the field. We also thank Zach Chartrand, Christopher Bruton, Nicole Button, and Bekah Tsigonis for help in earthquake picking and location. This work was supported by NASA (National Aeronautics and Space Administration) grant NNX08AT02G issued through the Science Mission Directorate's Earth Science Division and NSF (National Science Foundation) grant 0908281 which is part of the PLUTONS project (plutons.science.oregonstate.edu).
Additional information
Editorial responsibility: M. Ripepe
About this article
Cite this article
Jay, J.A., Pritchard, M.E., West, M.E. et al. Shallow seismicity, triggered seismicity, and ambient noise tomography at the long-dormant Uturuncu Volcano, Bolivia. Bull Volcanol 74, 817–837 (2012). https://doi.org/10.1007/s00445-011-0568-7
Received:

Accepted:

Published:

Issue Date:
Keywords
Seismology

Triggered earthquakes

Earthquake swarms

South America