Abstract
Use of eddy covariance (EC) techniques to map the spatial distribution of diffuse volcanic CO2 fluxes and quantify CO2 emission rate was tested at the Horseshoe Lake tree-kill area on Mammoth Mountain, California, USA. EC measurements of CO2 flux were made during September–October 2010 and ranged from 85 to 1,766 g m−2 day−1. Comparative maps of soil CO2 flux were simulated and CO2 emission rates estimated from three accumulation chamber (AC) CO2 flux surveys. Least-squares inversion of measured eddy covariance CO2 fluxes and corresponding modeled source weight functions recovered 58–77% of the CO2 emission rates estimated based on simulated AC soil CO2 fluxes. Spatial distributions of modeled surface CO2 fluxes based on EC and AC observations showed moderate to good correspondence (R 2 = 0.36 to 0.70). Results provide a framework for automated monitoring of volcanic CO2 emissions over relatively large areas.
This is a preview of subscription content, log in to check access.
Access options
Buy single article
Instant access to the full article PDF.
US$ 39.95
Price includes VAT for USA
Subscribe to journal
Immediate online access to all issues from 2019. Subscription will auto renew annually.
US$ 199
This is the net price. Taxes to be calculated in checkout.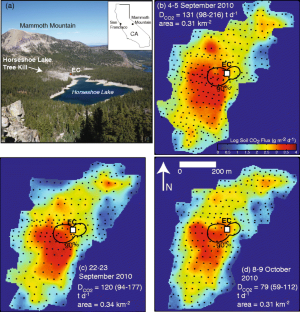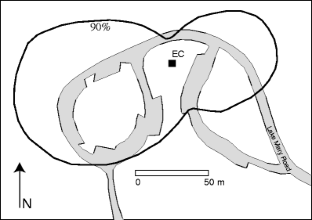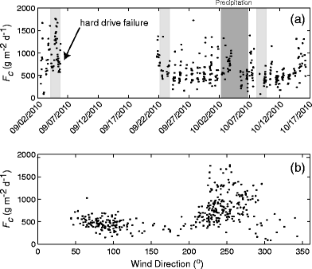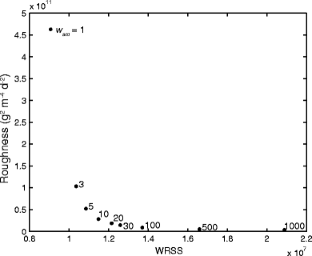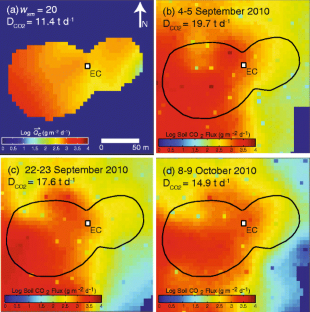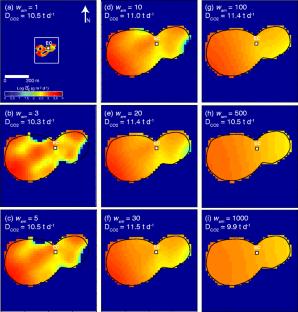 References
Allard P, Carbonelle J, Dajlevic D, Le Bronec J, Morel P, Robe MC, Maurenas JM, Faivre-Pierret R, Martin D, Sabroux JC, Zettwoog P (1991) Eruptive and diffuse emissions of CO2 from Mount Etna. Nature 351:387–391

Anderson DE, Farrar CD (2001) Eddy covariance measurement of CO2 flux to the atmosphere from an area of high volcanogenic emissions, Mammoth Mountain, California. Chem Geol 177:31–42

Baldocchi DD (2003) Assessing the eddy covariance technique for evaluating carbon dioxide exchange rates of ecosystems: past, present, and future. Glob Chang Biol 9:479–492

Baubron JC, Allard P, Toutain JP (1990) Diffuse volcanic emissions of carbon dioxide from Vulcano Island, Italy. Nature 344:51–53

Chiodini G, Cioni GR, Guidi M, Raco B, Marini L (1998) Soil CO2 flux measurements in volcanic and geothermal areas. Appl Geochem 13:543–552

Deutsch CV, Journel AG (1998) GSLIB: Geostatistical software library and user's guide. Oxford Univ. Press, New York

Foken T, Wichura B (1996) Tools for quality assessment of surface-based flux measurements. Agric For Meteorol 78:83–105

Giammanco S, Gurrieri S, Valenza M (1995) Soil CO2 degassing on Mt Etna (Sicily) during the period 1989–1993: discrimination between climatic and volcanic influences. Bull Volcanol 57:52–60

Granieri D, Avino R, Chiodini C (2010) Carbon dioxide diffuse emission from the soil: ten years of observations at Vesuvio and Campi Flegrei (Pozzuoli), and linkages with volcanic activity. Bull Volcanol 72:103–118. doi:10.1007/s0445-009-0304-8

Hammerle A, Haslwanter A, Schmitt M, Bahn M, Tappeiner U, Cernusca A, Wohlfahrt (2007) Eddy covariance measurements of carbon dioxide, latent and sensible energy fluxes above a meadow on a mountain slope. Boundary-Layer Meteorol 122:397–416. doi:10.1007/s10546-006-9109-x

Harris R, Segall P (1987) Detection of a locked zone at depth on the Parkfield, California segment of the San Andreas fault. J Geophys Res 92:27945–27962

Hernandez PA, Notsu K, Salazar JM, Mori T, Natale G, Okada H, Virgilli G, Shimoike Y, Sato M, Perez NM (2001) Carbon dioxide degassing by advective flow from Usu volcano, Japan. Science 2001:83–86

Horst TW, Weil JC (1992) Footprint estimation for scalar flux measurements in the atmospheric surface layer. Bound Layer Meteorol 2:279–296

Lewicki JL, Hilley GE (2011) Eddy covariance network design for mapping and quantification of surface CO2 leakage fluxes. Int J Greenhouse Gas Contr (in review)

Lewicki JL, Hilley GE (2009) Eddy covariance mapping and quantification of surface CO2 leakage fluxes. Geophys Res Lett 36(21):L21802. doi:10.1029/2009GL040775

Lewicki JL, Hilley GE, Tosha T, Aoyagi R, Yamamoto K, Benson SM (2007) Dynamic coupling of volcanic CO2 flow and wind at the Horseshoe Lake tree kill, Mammoth Mountain, California. Geophys Res Lett 34:L03401. doi:10.1029/2006GL028848

Lewicki JL, Fischer ML, Hilley GE (2008) Six-week time series of eddy covariance CO2 flux at Mammoth Mountain, California: performance evaluation and role of meteorological forcing. J Volcanol Geotherm Res 171:178–190. doi:10.1016/j.jvolgeores.2007.11.029

Lewicki JL, Hilley GE, Fischer ML, Pan L, Oldenburg CM, Dobeck L, Spangler L (2009) Eddy covariance observations of surface leakage during shallow subsurface CO2 releases. J Geophys Res 114:D12302. doi:10.1029/2008JD011297

McGee KA, Gerlach TM (1998) Annual cycle of magmatic CO2 in a tree-kill soil at Mammoth Mountain, California: implications for soil acidification. Geology 26:463–466

McGee KA, Gerlach TM, Kessler R, Doukas MP (2000) Geochemical evidence for a magmatic CO2 degassing event at Mammoth Mountain, California, September – December 1997. J Geophys Res 105:8447–8456

Rogie JD, Kerrick DM, Sorey ML, Chiodini G, Galloway DL (2001) Dynamics of carbon dioxide emission at Mammoth Mountain, California. Earth Planet Sci Lett 188:535–541

Schmid HP (1997) Experimental design for flux measurements: matching scales of observations and fluxes. Agric For Meteorol 87(2–3):179–200

Thomas C, Foken T (2002) Re-evaluation of integral turbulence characteristics and their parameterizations. Proceedings of the 15th Symposium on Boundary Layers and Turbulence, Am Meteorol Soc, Wageningen, The Netherlands:129–132

Toutain J-P, Sortino F, Baubron J-C, Richon P, Surono SS, Nonell A (2009) Structure and CO2 budget of Merapi volcano during inter-eruptive periods. Bull Volcanol 71:815–826. doi:10.1007/s00445-009-0266-x

Turnipseed AA, Anderson DE, Blanken PD, Baugh WM, Monson RK (2003) Airflows and turbulent flux measurements in mountainous terrain part 1. Canopy and local effects. Agric For Meteorol 119:1–21

Turnipseed AA, Anderson DE, Burns S, Blanken PD, Monson RK (2004) Airflows and turbulent flux measurements in mountainous terrain part 2. Mesoscale effects. Agric For Meteorol 125:187–205

Werner C, Wyngaard JC, Brantley SL (2000) Eddy-correlation measurement of hydrothermal gases. Geophys Res Lett 27:2925–2928

Werner C, Chiodini G, Voigt D, Caliro S, Avino R, Russo M, Brombach T, Wyngaard J, Brantley S (2003) Monitoring volcanic hazard using eddy covariance at Solfatara volcano, Naples, Italy. Earth Planet Sci Lett 210:561–577

Williams-Jones G, Stix J, Heiligmann M, Charland A, Sherwood Lollar B, Arner N, Garzón G, Barquero J, Fernandez E (2000) A model of diffuse degassing at three subduction-related volcanoes. Bull Volcanol 62:130–142
Acknowledgments
We are grateful to G. Williams-Jones and A. Harris for constructive reviews of this manuscript and thank HP Schmid for the Flux Source Area Model source code. This work was funded by the Assistant Secretary for Fossil Energy, Office of Sequestration, Hydrogen, and Clean Coal Fuels, NETL, of the US Dept. of Energy under Contract No. DE-AC02-05CH11231.
Additional information
Editorial responsibility: A. Harris
About this article
Cite this article
Lewicki, J.L., Hilley, G.E., Dobeck, L. et al. Eddy covariance imaging of diffuse volcanic CO2 emissions at Mammoth Mountain, CA, USA. Bull Volcanol 74, 135–141 (2012). https://doi.org/10.1007/s00445-011-0503-y
Received:

Accepted:

Published:

Issue Date:
Keywords
Eddy covariance

Carbon dioxide flux

Volcano monitoring

Accumulation chamber

Least-squares inversion