Abstract
Jom-Bolok volcanic field is located in the East Sayan Mts. of Siberia (Russia), a portion of the Asian convergent zone. It is located at the boundary of the Riphean Tuva-Mongolia massif, which was probably reactivated because of the interplay between far-field tectonic stress derived from the India–Asia collision zone and extension in the south-western Baikal rift system. The volcanic field comprises a number of hawaiitic lava flows, of various lengths, which flowed down paleorivers. Flows were fed by fissure eruptions and the largest lava flow field was dated as 7,130 ± 140 cal 14C years BP using a buried organic sample found inside the associated cinder cone. This lava flow field is about 70 km long, ∼100 km2 in area, and 7.9 km3 in volume. The area and volume of this flow field ranks this eruption highly in the global record of fissure-fed effusive eruptions. This lava flow field makes up 97% of the entire Jom-Bolok volcanic field, a fact which raises a puzzling question: why and/or how did a relatively small-volume volcanic field produce such a large-volume individual eruption? A working hypothesis is that a pond of sublithospheric melt accumulated over a relatively prolonged period. This was then rapidly drained in response of tectonic changes triggered by unloading of ice in the Early Holocene.
Access options
Buy single article
Instant access to the full article PDF.
US$ 39.95
Tax calculation will be finalised during checkout.
Subscribe to journal
Immediate online access to all issues from 2019. Subscription will auto renew annually.
US$ 119
Tax calculation will be finalised during checkout.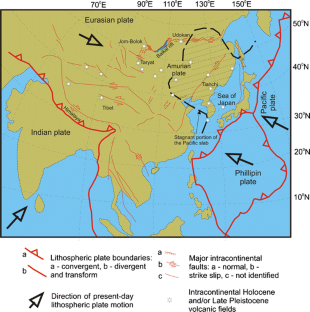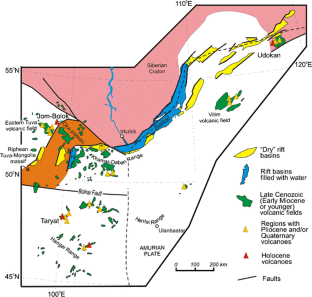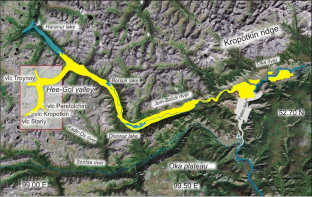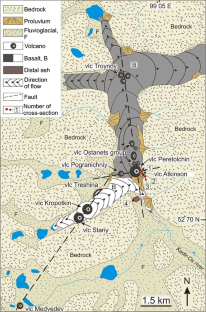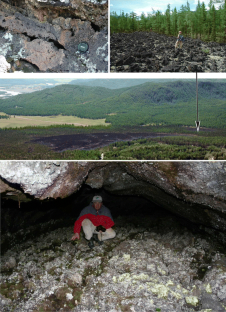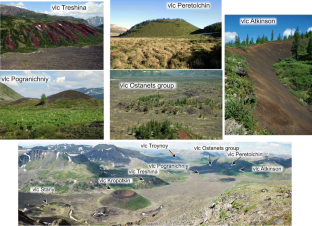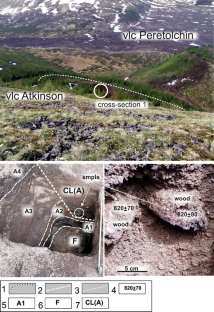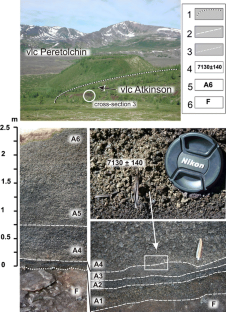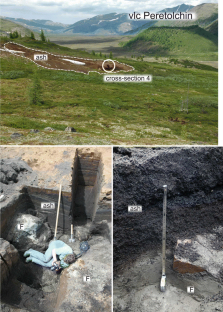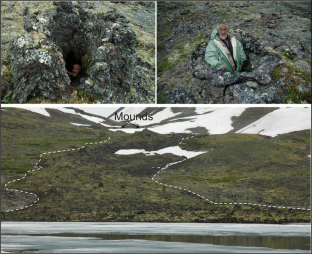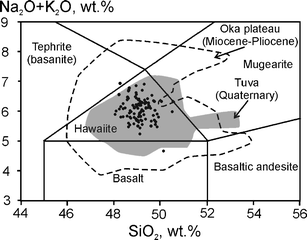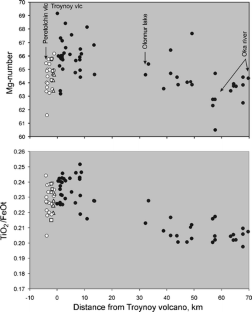 References
Adamovich AF, Grosvald MG, Zonenshain LP (1959) New data on Kropotkin and Peretolchin volcanoes. In: Transactions of Soviet aerogeodetic trust, issue 5. Moscow, Gosgeoltechisdat, pp 79–90 (in Russian)

Arzhannikova A, Arzhannikov S, Jolivet M, Vassalo R, Chauvet A (2011) Pliocene to Quaternary deformation in South East Sayan (Siberia): initiation of Tertiary compressive phase in the southern termination of the Baikal Rift System. J Asian Earth Sci. doi:10.1016/i.jseaes.2010.10.011

Atkinson TW (1859) Oriental and Western Siberia: a narrative of seven years' explorations and adventures in Siberia, Mongolia, the Kirghis steppes, Chinese Tartary and part of Central Asia. J.W. Bradley, Philadelphia, p 483

Barruol G, Deschamps A, Deverchere J, Mordvinova VV, Ulziibat M, Perrot J, Artemiev AA, Dugarmaa T, Bokelmann GHR (2008) Upper mantle flow beneath and around the Hangay dome, Central Mongolia. Earth Planet Sci Lett 274:221–233

Barry TL, Ivanov AV, Rasskazov SV, Demonterova EI, Dunai TJ, Davies GR, Harrison D (2007) Helium isotopes provide no evidence for deep mantle involvement in widespread Cenozoic volcanism across Central Asia. Lithos 95:415–424

Campbell IH, Griffiths RW (1990) Implications of mantle plume structure for the evolution of flood basalts. Earth Planet Sci Lett 99:79–93

Clague DA, Hagstrum JT, Champion DE, Beeson MH (1999) Kilauea summit overflows: their ages and distribution in the Puna District, Hawai'i. Bull Volcanol 61:363–381

Demonterova EI (2002) Late Cenozoic magmatism of the Eastern Tuva. Candidate science (Ph.D. equivalent) thesis, Irkutsk, Institute of the Earth's Crust (in Russian)

Demonterova EI, Ivanov AV, Rasskazov SV, Markova ME, Yasnygina TA, Malykh YuM (2007) Lithospheric control on Late Cenozoic magmatism at the boundary of the Tuva-Mongolian massif, Khubsugul area, Northern Mongolia. Petrology 15:90–107

Devirz AL, Rasskazov SV, Polyakov AI, Dobkina EI (1981) Radiocarbon age of young volcanoes from the Udokan ridge (north-eastern Transbaikalia). Geokhimiya 8:1250–1253 (in Russian)

Fedotov SA, Chirkov AM, Gusev NA, Kovalev GN, Slezin YuB (1980) The Large Fissure eruption in the region of Plosky Tolbachik volcano, in Kamchatka, 1975–1976. Bul Volcanol 43:47–60

Fedotov AP, Chebykin EP, Semenov MYu, Vorobyova SS, Osipov EYu, Goobokova LP, Pogodaeva TV, Zheleznyakova TO, Grachev MA, Tomurhuu D, Ts O, Ts N, Tomurtogoo O, Dolgikh PT, Arsenyuk MI, De Batist M (2004) Changes in the volume and salinity of Lake Khubsugul (Mongolia) in response to global climate changes in the upper Pleistocene and the Holocene. Palaeogeogr Palaeoclimatol Palaeoecol 209:245–257

Foulger GR (2010) Plates vs. plumes: a geological controversy. Wiley-Blackwell, West Sussex

Gao S, Davis PM, Liu H, Slack PD, Zorin YuA, Logatchev NA, Kogan MG, Burkholder PD, Meyer RP (1994) Asymmetric upwarp of the asthenosphere beneath the Baikal rift zone. J Geophys Res 99:15319–15330

Grosvald MG (1965) Development of relief in the Sayan-Tuva highland. Nauka, Moscow (in Russian)

Hon K, Kauahikaua J, Denlinger R, Mackay K (1994) Emplacement and inflation of pahoehoe sheet flows: observations and measurements of active lava flows on Kilauea Volcano, Hawaii. Geol Soc Am Bull 106:351–370

Humphreys ER, Niu Y (2009) On composition of ocean island basalts (OIB): the effects of lithospheric thickness variation and mantle metasomatism. Lithos 112:118–136

Ivanov AV, Demonterova EI (2009) Tectonics of the Baikal rift deduced from volcanism and sedimentation: a review oriented to the Baikal and Hovsgol Lake systems. In: Müller WEG, Grachev MA (eds) Biosilica in evolution, 27 morphogenesis, and nanobiology, progress in molecular and subcellular biology, marine molecular biotechnology 47. Springer, Berlin, pp 27–54

Ivanov AV, Demonterova EI (2010) Extension in the Baikal rift and the depth of basalt magma generation. Doklady Earth Sci 435:1564–1568

Ivanova TK, Markin VA (2008) Piotr Alekseevich Kropotkin and his monograph researches on the glacial period (1876). In: Grapes RH, Oldroyd D, Grigelis A (eds) History of geomorphology and quaternary geology. Geol Soc London Spec Publ 301:117–128

Johnson JS, Gibson SA, Thompson RN, Nowell GM (2005) Volcanism in the Vitim volcanic field, Siberia: geochemical evidence for a mantle plume beneath the Baikal rift zone. J Petrol 46:1309–1344

Kaminski E, Chenet A-L, Jaupart C, Courtillot V (2011) Rise of volcanic plumes to the stratosphere aided by penetrative convection above large lava flows. Earth Planet Sci Lett. doi:10.1016/j.epsl.2010.10.037

Keszthelyi L, Pieri DC (1993) Emplacement of the 75-km-long Carrizozo lava flow field, south-central New Mexico. J Volcanol Geotherm Res 59:59–75

Kiselev AI, Medvedev ME, Golovko GA (1979) Volcanism of the Baikal rift zone and problems of deep magma genesis. Nauka, Novosibirsk (in Russian)

Komatsu G, Arzhannikov SG, Arzhannikova AV, Ershov K (2007) Geomorphology of subglacial volcanoes in the Azas Plateau, the Tuva Republic, Russia. Geomorphology 88:312–328

Kropotkin PA (1867) Travel to the Oka guard. Memoirs of the Russian Geographical Society, Siberian Division, book 9–10 (in Russian)

Le Bas MJ, Streckeisen AL (1991) The IUGS systematics of igneous rocks. J Geol Soc Lond 148:825–833

Logatchev NA, Florensov NA (1978) The Baikal system of rift valleys. Tectonophysics 45:1–14

Molnar P, Tapponnier P (1975) Cenozoic tectonics of Asia: effects of continental collision. Science 189:419–426

Obruchev SV, Lurye ML (1954) Kropotkin and Peretolchin volcanoes in East Sayan. Transactions of laboratory of volcanology of the AN USSR 8:210–225 (In Russian)

Orlova LA (1990) Holocene of the Baraba: stratigraphy and radiocarbon chronology. Nauka, Novosibirsk (in Russian)

Rasskazov SV (1993) Magmatism of the Baikal rift system. Nauka, Novosibirsk (in Russian)

Rasskazov SV (1994) Magmatism related to the East Siberia rift system and the geodynamics. Bull Centres Rech Explor – Prod Elf Aquitaine 18:437–452

Rasskazov SV (1999) A middle Holocene stress change in the Udokan range volcanic zone, Eastern Siberia. Volcanol Seismol 21:261–267

Rasskazov SV, Ivanov AV, Boven A, André L (1997) Late Cenozoic reactivation of the Early Pre-Cambrian Aldan Shield: trace element constraints on magmatic sources beneath the Udokan Ridge, Siberia, Russia. In: Li Z, Qi J, Zhang Z (eds) Igneous petrology, Proceed 30th Int Geol Congr 15, VSP, Utrecht, Tokyo, pp 153–167

Rasskazov SV, Logachev NA, Brandt IS, Brandt SB, Ivanov AV (2000) Geochronology and geodynamics in the Late Cenozoic: (South Siberia—South and East Asia). Nauka, Novosibirsk (In Russian)

Rasskazov SV, Saranina EI, Demonterova EI, Maslovskaya MN, Ivanov AV (2002) Mantle components in Late Cenozoic volcanics, East Sayan (from Pb, Sr, and Nd isotopes). Rus Geol Geophys 43:1065–1079

Savatenkov VM, Yarmolyuk VV, Kudryashova EA, Kozlovskii AM (2010) Sources and geodynamics of the Late Cenozoic volcanism of Central Mongolia: evidence from isotope-geochemical studies. Petrology 18:278–307

Self S, Keszthelyi L, Thordarson T (1998) The importance of pahoehoe. Ann Rev Earth Planet Sci 26:81–110

Self S, Thordarson T, Widdowson M (2005) Gas fluxes from flood basalt eruptions. Elements 1:283–287

Siebert L, Simkin T (2002) Volcanoes of the world: an illustrated catalog of Holocene volcanoes and their eruptions. Smithsonian Institution, Global Volcanism Program Digit Information Series, GVP-3. Available at http://www.volcano.si.edu

Sigmundsson F, Pinel V, Lund B, Albino F, Pagli C, Geirsson H, Sturkell E (2010) Climate effects on volcanism: influence on magmatic systems of loading and unloading from ice mass variations, with examples from Iceland. Philos Trans Royal Soc A 368:2519–2534

Sigvaldason GE, Annertz K, Nilsson M (1992) Effect of glacier loading deloading on volcanism–postglacial volcanic production-rate of the Dyngjufjoll area, central Iceland. Bull Volcanol 54:385–392

Silver PG, Behn MD, Kelley K, Schmitz M, Savage B (2006) Understanding cratonic flood basalts. Earth Planet Sci Lett 245:190–201

Stupak FM (1987) Cenozoic volcanism of the Udokan ridge. Nauka, Novosibirsk (in Russian)

Stupak FM, Stupak RM (1987) Consequence of volcanic appearances of Cenozoic in the Udokan ridge. In: Geology of Cenozoic of Eastern Siberia, Abstracts, Irkutsk, Institute of the Earth's Crust SB RAS, pp 36

Sun S-S, McDonough WF (1989) Chemical and isotopic systematics of oceanic basalts: implications for mantle composition and process. In: Sounders AD, Norry MJ (eds) Magmatism in the oceanic basins, Geol. Soc. Spec. Publ. No. 42, London, pp 313–345

Thordarson T, Self S (2003) Atmospheric and environmental effects of the 1783–1784 Laki eruption: a review and reassessment. J Geophys Res 108(D1):4011

Thordarson T, Self S, Óskarsson N, Hulsebosch T (1996) Sulfur, chlorine, and fluorine degassing and atmospheric loading by the 1783–1784 AD Laki (Skaftar Fires) eruption in Iceland. Bull Volcanol 58:205–225

Vasil'ev EP, Belichenko VG, Reznitskii LZ (1997) Relationship between ancient and Cenozoic structures at the southwestern flank of the Baikal Rift Zone. Doklady Earth Sci 353:381–384

Vipper PB, Dorofeyuk NI, Meteltseva EP, Sokolovskaya VT, Shuliya KS (1976) An experience of reconstruction of vegetation of the western and central Mongolia in the Holocene on basis of study of bottom sediments in freshwater lakes. In: Structure and dynamics of major ecosystems of Mongolia. Nauka, Leningrad, pp 87–98 (in Russian)

Weninger B, Jöris O, Danzeglocke U (2009) CalPal-2007. Cologne Radiocarbon Calibration & Palaeoclimate Research Package. Available at http://www.calpal.de/. Accessed 16 September 2009

Yarmolyuk VV, Lebedev VI, Arakelyants MM, Lebedev VA, Prudnikov SG, Sugorakova AM, Kovalenko VI (1999) The recent volcanism of Tuva: chronology of the volcanic events according to K-Ar data. Doklady Earth Sci 368:244–249

Yarmolyuk VV, Nikiforov AV, Ivanov VG (2003a) The structure, composition, sources and mechanism of Zhom-Bolok valley lava flows (Holocene, South-Baikal volcanic area). Volcanol Seismol 5:41–59

Yarmolyuk VV, Ivanov VG, Kovalenko VI, Pokrovskii BG (2003b) Magmatism and geodynamics of the Southern Baikal volcanic region (Mantle Hot Spot): results of geochronological, geochemical, and isotopic (Sr, Nd, and O) investigations. Petrology 11:1–30

Yarmolyuk VV, Kudryashova EA, Kozlovsky AM, Lebedev VA, Savatenkov VM (2007) Late Cenozoic volcanism at the northeastern flank of the South Khangai volcanic region (Central Mongolia): geochronology and formation conditions. Doklady Earth Sci 417:1320–1324

Zhao D (2004) Global tomographic images of mantle plumes and subducting slabs: insight into deep Earth dynamics. Phys Earth Planet Inter 146:3–35

Zhao D, Tian Y, Lei J, Liu L, Zheng S (2009) Seismic image and origin of the Changbai intraplate volcano in East Asia: role of big mantle wedge above the stagnant Pacific slab. Phys Earth Planet Inter 173:197–206

Zonenshain LP, Savostin LA (1981) Geodynamics of the Baikal rift zone and plate tectonics of Asia. Tectonophysics 76:1–45

Zorin YuA, Turutanov EKh, Mordvinova VV, Kozhevnikov VM, Yanovskaya TB, Treusov AV (2003) The Baikal rift zone: the effect of mantle plumes on older structure. Tectonophysics 371:153–173

Zorin YuA, Turutanov EKh, Kozhevnikov VM, Rasskazov SV, Ivanov AV (2006) The nature of Cenozoic upper mantle plumes in East Siberia (Russia) and Central Mongolia. Rus Geol Geophys 47:1046–1059
Acknowledgements
We thank G.R. Foulger for useful suggestions and correcting English in an earlier version of this paper. A.J.L. Harris helped much to make this paper suitable for publication in the Bulletin of Volcanology from both English and scientific points of view. J. Stix, J.C. Eichelberger and R. Sulpizio provided useful reviews, which helped to reorganize manuscript and avoid some misinterpretations. The work was supported by grants from Russian Foundation for Basic Research (11-05-00425-a and 09-05-91052-CNRS_a). This work is a part of the Integrated Project no. 142 sponsored by the Siberian Branch of the Russian Academy of Sciences and the Taiwan National Science Council.
Additional information
Editorial responsibility: A. Harris
Appendix: Punctuated history of Jom-Bolok studies
Appendix: Punctuated history of Jom-Bolok studies
Initial information about the volcanoes in the East Sayan Mts. was published in a local Siberian newspaper in 1858 by an English architect, Thomas Witlam Atkinson. Later, he devoted a number of pages in his extensive travel book to the same volcanoes (Atkinson 1859). In 1852, Atkinson travelled from the inhabited Oka river area, along Jom-Bolok river (referred by him as Djem-a-look river) up to Haranur lake and the Hee-Gol valley (Fig. 3). Apparently, he was among the first visitors to the volcanoes, because the local Bouriat people had great dread of that valley, and never ascended it except by compulsion (Atkinson 1859, p. 461). His report was used later by the Russian royal Peter Alekseevich Kropotkin, who was famous for both his anarchist philosophy and contributions to glaciology (see Ivanova and Markin 2008). He visited the volcanoes in 1865 and provided a geological description (Kropotkin 1867). In 1914, the Hee-Gol valley was unsuccessfully visited by the Russian geodesist Sergey Pavlovich Peretolchin, who died there under strange circumstances. A local Bouriat, who guided him to the Hee-Gol valley, came back alone to the Oka sentry post (a fortress-like settlement of Russian Cossacks) and reported Peretolchin's death. However, only a theodolite, which had been set up for a geodetic survey, was observed during the Cossacks' inspection in the Hee-Gol valley. Neither his body or belongings were ever found.
The next series of Jom-Bolok studies began in 1940 as part of systematic mapping of the Soviet Union by the USSR Geological Survey. Notable reports on the Jom-Bolok volcanic fields from these studies were by published by Obruchev and Lurye (1954), Adamovich et al. (1959), Grosvald (1965), and Kiselev and Medvedev (Kiselev et al. 1979). In these studies, major cones, namely Kropotkin, Peretolchin, and Stariy, as well as some less prominent edifices (Treshina, Medvedev) were described (Fig. 4). The age of the Jom-Bolok volcanic field was assumed to be Holocene based on the relation between its lavas and glacial deposits, as well as the youthful morphology of the Kropotkin and Peretolchin cones. Obruchev and Lurye (1954) pointed out that the lava was fed from fissures and that Kropotkin and Peretolchin volcanoes were formed during the final stage of the eruptions. They also considered that (a) Stariy (meaning old in Russian) volcano was older than the lava, whereas (b) Kropotkin and Peretolchin volcanoes were younger than the lava. Thus, multiple volcanic episodes were suggested.
Recently, the Jom-Bolok volcanic field was studied by Yarmolyuk et al. (2003a). These authors provided data for the major and trace elements, plus Sr–Nd isotopes, measured for a limited number of samples collected in the Hee-Gol valley and along the Jom-Bolok river. They show that the magma composition was hawaiitic with a typical ocean-island basalt trace element composition (Sun and McDonough 1989) and moderately depleted Sr–Nd isotope ratios.
About this article
Cite this article
Ivanov, A.V., Arzhannikov, S.G., Demonterova, E.I. et al. Jom-Bolok Holocene volcanic field in the East Sayan Mts., Siberia, Russia: structure, style of eruptions, magma compositions, and radiocarbon dating. Bull Volcanol 73, 1279–1294 (2011). https://doi.org/10.1007/s00445-011-0485-9
Received:

Accepted:

Published:

Issue Date:
Keywords
Holocene (effusive) volcanism

Jom-Bolok volcanic field

Lava flow field

Siberia

Radiocarbon dating