Abstract
Assessment of potential future eruptive behaviour of volcanoes relies strongly on detailed knowledge of their activity in the past, such as eruption frequency, magnitude and repose time. The eruption history of three partly subglacial volcanic systems, Grímsvötn, Bárdarbunga and Kverkfjöll, was studied by analysing tephra from soil profiles around the Vatnajökull ice-cap, which extend back to ~7.6 ka. Well known regional Holocene marker tephra (e.g. H3, H4, H5) were utilized to correlate profiles. Stratigraphic positions and geochemical compositions were used for fine-scale correlation of basaltic tephra. Around Vatnajökull ice-cap 345 tephra layers were identified, of which 70% originated from Grímsvötn, Bárdarbunga or Kverkfjöll. The eruption frequency of each volcanic system was estimated; Grímsvötn has been the most active with an average of ~7 eruptions/100 years (range 4–14) during prehistoric time (before ~870 AD); Bárdarbunga has been the second most active with ~5 eruptions/100 years (range 1–8); and Kverkfjöll has remained essentially calm with 0–3 eruptions/100 years but showing periodic activity with repose times of >1000 years. All three volcanic systems experienced lulls in activity from 5 ka to 2 ka, referred to as the "Mid-Holocene low". This reduced eruption frequency appears to have resulted from a decrease in magma generation and delivery from the mantle plume rather than from changes in ice-load/glacier thickness. In prehistoric time, there was a time lag of 1000–3000 years between a peak of activity at volcanoes directly above the mantle plume versus at volcanoes located in the non-rifting part of the Eastern Volcanic Zone, closer to the periphery of the island. This time-space relationship suggests that a significant future increase in volcanism can be expected there, following increased levels of volcanism above the plume.
This is a preview of subscription content, log in to check access.
Access options
Buy single article
Instant access to the full article PDF.
US$ 39.95
Price includes VAT for USA
Subscribe to journal
Immediate online access to all issues from 2019. Subscription will auto renew annually.
US$ 199
This is the net price. Taxes to be calculated in checkout.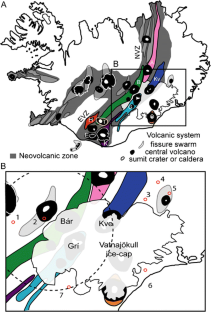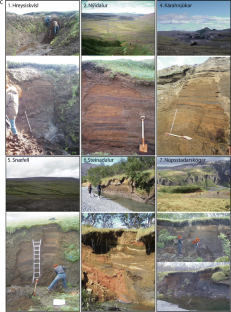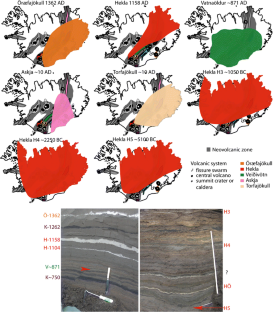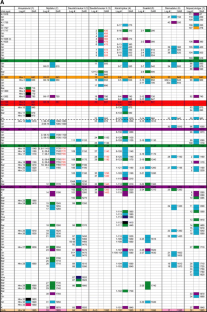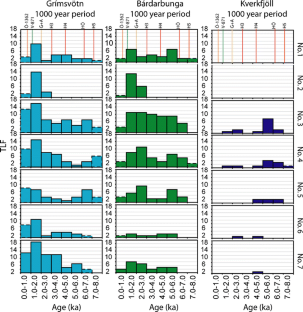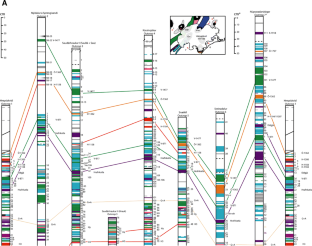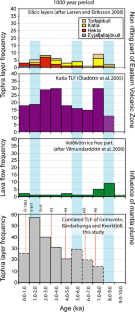 References
Arnalds Ó (2004) Volcanic soils of Iceland. Catena 56(1–3):3–20

Björnsson A (1985) Dynamics of crustal rifting in NE Iceland. J Geophys Res 90:10151–10162

Björnsson H, Einarsson P (1990) Volcanoes beneath Vatnajökull, Iceland: evidence from radio echo-sounding, earthquakes and jökulhlaups. Jökull 40:147–168

Boygle J (2004) Towards a Holocene tephrochronology for Sweden: geochemistry and correlation with the North Atlantic tephra stratigraphy. J Quat Sci 19(2):103–109

Dugmore AJ, Newton A (1998) Holocene tephra layers in the Faroe Islands. Fróðskaparrit 46:191–204

Dugmore AJ, Cook GT, Shore JS, Newton A, Edwards KJ, Larsen G (1995a) Radiocarbon dating tephra layers in Britain and Iceland. Ratiocarbon 37(2):379–388

Dugmore AJ, Larsen G, Newton AJ (1995b) Seven tephra isochrones in Scotland. Holocene 5(3):257–266

Eiríksson J, Larsen G, Knudsen KL, Heinemeier J, Simonarson LA (2004) Marine reservoir age variability and water mass distribution in the Iceland Sea. Quat Sci Rev 23(20–22):2247–2268

Friedman JD, Williams RS, Thorarinsson S, Pálmason G (1972) Infrared emission from Kverkfjöll subglacial volcanic and geothermal area, Iceland. Jökull 22:27–43

Grönvold K, Jóhannesson H (1984) Eruption in Grímsvötn 1983: course of events and chemical studies of the tephra. Jökull 34:1–11

Grönvold K, Óskarsson N, Johnsen SJ, Clausen HB, Hammer CU, Bond G, Bard E (1995) Ash layers from Iceland in the Greenland grip ice core correlated with oceanic and land sediments. Earth Planet Sci Lett 135(1–4):149–155

Gudmundsdóttir ER, Larsen G, Eiríksson J (2011) Two new tephra layers: The Hekla Ö tephra layer, ~6060 cal. yr BP, and Hekla DH tephra layer, ~ 6650 cal. yr BP-Land -sea correlation of Mid-Holocene tephra markers. Holocene (in press)

Gudmundsson Á (2000) Dynamics of volcanic systems in Iceland: example of tectonism and volcanism at juxtaposed hot spot and mid-ocean ridge systems. Annu Rev Earth Planet Sci 28:107–140

Gudmundsson MT, Björnsson H (1991) Eruptions in Grímsvötn, Vatnajökull, Iceland, 1934–1991. Jökull 41:21–46

Hammer CU, Clausen HB, Dansgaard W (1980) Greenland ice sheet evidence of postglacial volcanism and its climatic impact. Nature 288:230–235

Hreinsdóttir S, Einarsson P, Sigmundsson F (2001) Crustal deformation at the oblique spreading Reykjanes Peninsula, SW Iceland: GPS measurements from 1993 to 1998. J Geophys Res 106(B7):13803–13816

Ito G (2001) Reykjanes 'V'-shaped ridges originating from a pulsing and dehydrating mantle plume. Nature 411(6838):681–684

Jakobsson SP (1979) Petrology of recent basalts of the eastern volcanic zone, Iceland. Acta Nat Isl 26:1–103

Jóhannesson H, Sæmundsson K (1998) Geological map of Iceland. Tectonics. 1:500,000. Icelandic Institute of Natural History, Reykjavík

Kaldal I, Víkingsson S (1990) Early Holocene deglaciation in Central Iceland. Jökull 40:51–68

Kaufmann DS, Ager TA, Anderson NJ, Anderson PM, Andrews JT, Bartlein PJ, Brubaker LB, Coats LL, Cwynar LC, Duvall ML, Dyke AS, Edwards ME, Eisner WR, Gajewski K, Geirsdóttir Á, Hu FS, Jennings AE, Kaplan MR, Kerwin MW, Lozhkin AV, MacDonald GM, Miller GH, Mock CJ, Oswald WW, Otto-Bliesner BL, Porinchu DF, Ruhland K, Smol JP, Steig EJ, Wolfe BB (2004) Holocene thermal maximum in the western Arctic (0–180°). Quat Sci Rev 23(5–6):529–560

Kristjánsdóttir GB, Stoner JS, Jennings AE, Andrews JT, Grönvold K (2007) Geochemistry of Holocene cryptotephras from the north Iceland shelf (MD99-2269): intercalibration with radiocarbon and palaeomagnetic chronostratigraphies. Holocene 17(2):155–176

LaFemina PC, Dixon TH, Malservisi R, Árnadóttir Th, Sturkell E, Sigmundsson F, Einarsson P (2005) Geodetic GPS measurements in south Iceland: Strain accumulation and partitioning in a propagating ridge system. J Geophys Res 110:B11405. doi:10.1029/2005JB003675

Larsen G (1982) Gjóskutímatal Jökuldals og nágrennis. In: Thórarinsdóttir H (ed) Eldur er í norðri. Sögufélag, Reykjavík, pp 51–65

Larsen G (1984) Recent volcanic history of the Veidivötn fissure swarm, Southern Iceland. An approach to volcanic risk assessment. J Volcanol Geotherm Res 22:33–58

Larsen G (2000) A brief overview of eruptions from ice-covered and ice-capped volcanic systems in Iceland during the past 11 centuries: frequency, periodicity and implications. In Smellie JL and Chapmann MG (eds) Volcano-Ice Interactions on Earth and Mars. Geological Society, London, Special Publications 202, pp 81–90

Larsen G, Eiríksson J (2008a) Late Quaternary terrestrial tephrochronology of Iceland-frequency of explosive eruptions, type and volume of tephra deposits. J Quat Sci 23(2):109–120

Larsen G, Eiríksson J (2008b) Holocene tephra archives and tephrochronology in Iceland- a brief overview. Jökull 58:229–250

Larsen G, Gudmundsson MT (1997) Gos í eldstöðvum undir Vatnajökli eftir 1200 AD. In: Haraldsson H (ed) Vatnajökull. Gos og hlaup 1996. Vegagerðin, Reykjavík, pp 23–36

Larsen G, Thorarinsson S (1977) H-4 and other acid Hekla tephra layers. Jökull 27:28–46

Larsen G, Gudmundsson MT, Björnsson H (1998) Eight centuries of periodic volcanism at the centre of the Icelandic hotspot revealed by glacier tephrostratigraphy. Geology 26:943–946

Larsen G, Dugmore A, Newton A (1999) Geochemistry of historical-age silicic tephras in Iceland. Holocene 9(4):463–471

Larsen G, Newton AJ, Dugmore AJ, Vilmundardóttir EG (2001) Geochemistry, dispersal, volumes and chronology of Holocene silicic tephra layers form the Katla volcanic system, Iceland. J Quat Sci 16:119–132

Larsen G, Eiríksson J, Knudsen KL, Heinemeier J (2002) Correlation of late Holocene terrestral and marine tephra markers north Iceland: implications for reservoir age changes. Polar Res 21(2):283–290

Maclennan J, Jull M, McKenzie D, Slater L, Grönvold K (2002) The link between volcanism and deglaciation in Iceland. Geochem Geophys Geosyst 3(11):1062. doi:10.1029/2001GC000282

Merlet C (1994) An accurate computer correction program for quantitative electron-probe microanalysis. Mikrochim Acta 114:363–376

Meyer PS, Sigurdsson H, Schilling JG (1985) Petrological and geochemical variations along Iceland's Neovolcanic zones. J Geophys Res 90:10043–10072

Oddsson B (2007) The Grímsvötn eruption in 2004, Dispersal and total mass of tephra and comparison with plume transport models. MS thesis, University of Iceland, Reykjavík

Óladóttir BA (2009) Holocene eruption history and magmatic evolution of the subglacial Vatnajökull volcanoes, Grímsvötn, Bárdarbunga and Kverkfjöll, Iceland. PhD thesis, Université Blaise Pascal, Clermont-Ferrand and University of Iceland, Reykjavík

Óladóttir BA, Sigmarsson O, Larsen G (2011) Provenance of basaltic tephra from Vatnajökull subglacial volcanoes, Iceland, as determined by major- and trace-element analyses. Holocene (in press).

Óladóttir BA, Larsen G, Thordarson T, Sigmarsson O (2005) The Katla volcano S-Iceland: holocene tephra stratigraphy and eruption frequency. Jökull 55:53–74

Óladóttir BA, Thordarson T, Larsen G, Sigmarsson O (2007) Survival of the Mýrdalsjökull ice-cap through the Holocene thermal maximum?-Evidence from sulfur contents in Katla tephra layers (Iceland) from the last 8400 years. Ann Glaciol 45:183–188

Óladóttir BA, Sigmarsson O, Larsen G, Thordarson T (2008) Katla volcano, Iceland: magma composition, dynamics and eruption frequency as recorded by Holocene tephra layers. Bull Volcanol 70(4):475–493

Ran LH, Jiang H, Knudsen KL, Eiríksson J (2008) A high-resolution Holocene diatom record on the North Icelandic shelf. Boreas 37(3):399–413

Sæmundsson K (1978) Fissure swarms and central volcanoes of the neovolcanic zones of Iceland. Geol J Spec Issue 10:451–432

Sæmundsson K (1979) Outline of the geology of Iceland. Jökull 29:7–29

Sigmarsson O, Karlsson HR, Larsen G (2000) The 1996 and 1998 subglacial eruptions beneath the Vatnajökull ice sheet in Iceland: contrasting geochemical and geophysical inferences on magma migration. Bull Volcanol 61(7):468–476

Sigmundsson F (2006) Iceland geodynamics: crustal deformation and divergent plate tectonics. Springer; Praxis, Berlin

Sigvaldason GE, Annertz K, Nilsson M (1992) Effect of glacier loading/deloading on volcanism: Postglacial volcanic production rate of the Dyngjufjöll area, central Iceland. Bull Volcanol 54:385–392

Simkin T, Siebert L (1994) Volcanoes of the World. Smithsonian Institution, Tuscon, p 349

Simkin T, Siebert L (2000) Earth's volcanoes and eruptions: an overview. In: Sigurdsson H et al (eds) Encyclopedia of volcanoes. Academic, San Diego, pp 249–262

Stuiver M, Reimer PJ, Bard E, Beck JW, Burr GS, Hughen KA, McCormac FG, Plicht JVD, Spurk M (1998) INTCAL98 Radiocarbon age calibration 24, 000–0 BP. Radiocarbon 40:1041–1083

Thorarinsson S (1950) Jökulhlaup og eldgos á jökulvatnasvæði Jökulsár á Fjöllum. Náttúrufræðingurinn 20:113–133

Thorarinsson S (1958) The Öræfajökull eruption of 1362. Acta Nat Isl 2:1–100

Thorarinsson S (1961) Uppblástur á Íslandi í ljósi öskulagarannsókna. Ársrit Skógræktarfélags Íslands 1960–1961:17–54

Thorarinsson S (1967) The eruptions of Hekla in historical times. In: Einarsson T, Kjartansson G, Thorarinsson S (eds) The eruption of Hekla 1947–1948. Societas Scientiarum Islandica, Reykjavík, pp 1–177

Thorarinsson S (1968) Heklueldar. Sögufélagið, Reykjavík, p 185

Thorarinsson S (1971) Aldur ljósu gjóskulaganna úr Heklu samkvæmt leiðréttu geislakolstímatali. Náttúrufræðingurinn 41:99–105

Thorarinsson S (1974) Vötnin stríð. Bókaútgáfa Menningarsjóðs, Reykjavík, p 254

Thorarinsson S, Sæmundsson K (1979) Volcanic activity in historical times. Jökull 29:29–32

Thordarson T, Höskuldsson Á (2002) Iceland Terra Publishing, Harpenden, UK, p 200

Thordarson T, Höskuldsson Á (2008) Postglacial volcanism in Iceland. Jökull 58:197–228

Thordarson T, Larsen G (2007) Volcanism in Iceland in historical time: volcano types, eruption styles and eruptive history. J Geodyn 43(1):118–152

Vilmundardóttir EG, Snorrason SP, Larsen G (2000) Geological map of subglacial volcanic area southwest of Vatnajökull ice-cap, Iceland, 1:50.000. National Energy Authority and National Power Company, Reykjavík

Wolfe CJ, Bjarnason IT, VanDecar JC, Solomon SC (1997) Seismic structure of the Iceland mantle plume. Nature 385(6613):245–247

Zielinski GA, Mayewski PA, Meeker LD, Grönvold K, Germani MS, Whitlow S, Twickler MS, Taylor K (1997) Volcanic aerosol records and tephrochronology of the Summit, Greenland, ice cores. J Geophys Res 102(C12):26625–26640
Acknowledgements
This paper is based on a PhD-study at the Laboratoire Magmas et Volcans (LMV), CNRS-Université Blaise Pascal in Clermont-Ferrand and the University of Iceland. It was financed by the Icelandic Science Foundation, Landsvirkjun, Eimskip Fund and the Research Fund of the University of Iceland, the French government through a student's grant and the French-Icelandic collaboration programme Jules Verne. Jean-Luc Devidal is specially thanked for his help and discussions during major-element analyses, Thor Thordarson for valuable comments on early version of the manuscript, we thank Judy Fierstein and David Lowe for their constructive reviews and Gudmundur Óli Sigurgeirsson and Ester Anna Ingólfsdóttir for priceless field assistance and patience.
Additional information
Editorial responsibility: J. D. L. White
About this article
Cite this article
Óladóttir, B.A., Larsen, G. & Sigmarsson, O. Holocene volcanic activity at Grímsvötn, Bárdarbunga and Kverkfjöll subglacial centres beneath Vatnajökull, Iceland. Bull Volcanol 73, 1187–1208 (2011). https://doi.org/10.1007/s00445-011-0461-4
Received:

Accepted:

Published:

Issue Date:
Keywords
Tephra correlation

Eruption frequency

Grímsvötn

Bárdarbunga-Veidivötn

Kverkfjöll

Iceland

Holocene