Abstract
The antagonistic arms races between obligate brood parasites and their hosts provide critical insights into coevolutionary processes and constraints on the evolution of life history strategies. In avian brood parasites—a model system for examining host–parasite dynamics—research has primarily focused on the egg and nestling stage, while far less is known about the behavior and ecology of fledgling and juvenile brood parasites. To provide greater insights into the post-fledging period of generalist brood parasites, we used handheld and automated telemetry systems to examine the behavior and survival of fledgling brown-headed cowbirds (Molothrus ater). Our host community-wide analysis (data on cowbirds fledged from different host species were pooled) shows that fledgling cowbirds' follow patterns of movement and survival found across the post-fledging literature on parental passerine species. Cowbird fledgling survival was lowest during the first 3 days post-fledging, whereas daily rates of survival neared 100% after about 16 days post-fledging. Cowbird daytime post-fledging activity rates, perch heights, and distance from the natal area all increased with fledging age and young generally gained independence from host parents at 3–4 weeks post-fledging, with approximately the same latency as has been observed in studies on fledglings of cowbird host species. Our research demonstrates how automated telemetry systems can overcome past methodological limitations in post-fledging research and provides an important foundation for future studies examining adaptations that cowbirds and other brood parasites use to exploit hosts during the post-fledging period.
Access options
Buy single article
Instant access to the full article PDF.
USD 39.95
Price excludes VAT (USA)
Tax calculation will be finalised during checkout.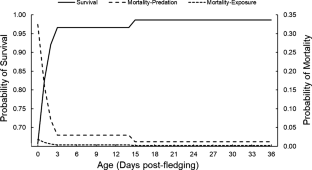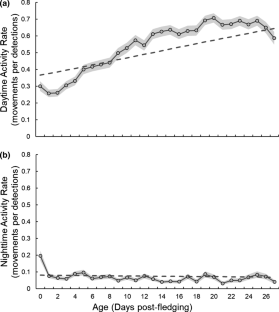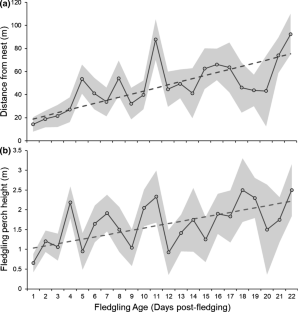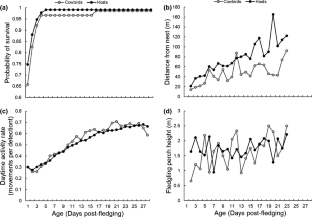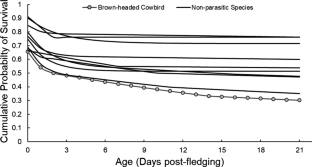 Availability of data and material
References
Anders AD, Dearborn DC, Faaborg J, Thompson FR III (1997) Juvenile survival in a population of neotropical migrant birds. Conserv Biol 11:698–707. https://doi.org/10.1046/j.1523-1739.1997.95526.x

Antonson ND, Rubenstein DR, Hauber ME, Botera CA (2020) Ecological uncertainty favours the diversification of host use in avian brood parasites. Nat Commum 11:4185. https://doi.org/10.1038/s41467-020-18038-y

Arnold TW (2010) Uninformative parameters and model selection using Akaike's Information Criterion. J Wildl Manag 74:1175–1178. https://doi.org/10.1111/j.1937-2817.2010.tb01236.x

Brown CR, Brown MB (1991) Selection of high-quality host nests by parasitic cliff swallows. Anim Behav 41:457–465. https://doi.org/10.1016/S0003-3472(05)80848-6

Burnham KP, Anderson DR (2002) Model selection and multi-model inference. Springer

Cheng Y, Martin TE (2012) Nest predation risk and growth strategies of passerine species: grow fast or develop traits to escape risk? Am Nat 180:285–295. https://doi.org/10.1086/667214

Cox WA, Thompson FR III, Cox AS, Faaborg J (2014) Post-fledging survival in passerine birds and the value of post-fledging studies to conservation. J Wildl Manag 78:183–193. https://doi.org/10.1002/jwmg.670

Curson DR, Goguen CB, Mathews NE (2010) Community-level patterns of population recruitment in a generalist avian brood parasite, the brown-headed cowbird. Oecologia 163:601–612. https://doi.org/10.1007/s00442-010-1630-4

De Mársico MC, Gantchoff MG, Reboreda JC (2012) Host–parasite coevolution beyond the nestling stage? Mimicry of host fledglings by the specialist screaming cowbird. Proc R Soc B 279:3401–3408. https://doi.org/10.1098/rspb.2012.0612

De Mársico MC, Fiorini VD, Tuero DT, Gloag R, Ursino CA, Reboreda JC (2017) Parasite adaptations during the nestling and fledgling stages. In: Soler M (ed) Avian Brood parasitism: behavior, ecology, evolution, and coevolution. Springer International Publishing AG, Cham, pp 161–187

Dearborn DC (1999) Brown-headed cowbird nestling vocalizations and risk of nest predation. Auk 116:448–457. https://doi.org/10.2307/4089378

Grüebler MU, Naef-Daenzer B (2010) Survival benefits of post-fledging care: experimental approach to a critical part of avian reproductive strategies. J Anim Ecol 79:334–341. https://doi.org/10.1111/j.1365-2656.2009.01650.x

Hahn DC, Sedgwick JA, Painter IS, Casna NJ (1999) A spatial and genetic analysis of cowbird host selection. Stud Avian Biol 18:204–217

Hauber ME (2001) Site selection and repeatability in Brown-headed Cowbird (Molothrus ater) parasitism of Eastern Phoebe (Sayornis phoebe) nests. Can J Zool 79:1518–1523. https://doi.org/10.1139/z01-091

Hauber ME, Russo SA, Sherman PW (2001) A password for species recognition in a brood-parasitic bird. Proc R Soc B 268:1041–1048. https://doi.org/10.1098/rspb.2001.1617

Hauber ME, Heath SK, Tonra CM (2020) Direct estimates of breeding site fidelity and natal philopatry in brood parasitic Brown-headed Cowbirds Molothrus ater. Ardea 108:129–137. https://doi.org/10.5253/arde.v108i2.a6

Husby M, Slagsvold T (1992) Post-fledging behaviour and survival in male and female Magpies Pica pica. Ornis Scand 23:483–490. https://doi.org/10.2307/3676680

Jones TM, Ward MP (2020) Pre- to post-fledging carryover effects and the adaptive significance of variation in wing development for juvenile songbirds. J Anim Ecol 89:2235–2245. https://doi.org/10.1111/1365-2656.13285

Jones TM, Ward MP (2021) Parasitic cowbird development up to fledging and subsequent post-fledging survival reflect life history variation found across host species. Behav Ecol Sociobiol 75:133. https://doi.org/10.1007/s00265-021-03074-5

Jones TM, Ward MP (2022) Post-fledging behavioral ecology of migratory songbirds: how do fledgling activity rates vary across species? Behav Ecol (In press)

Jones TM, Brawn JD, Ward MP (2017a) Post-fledging habitat use in the Dickcissel. Condor 119:497–504. https://doi.org/10.1650/CONDOR-17-21.1

Jones TM, Ward MP, Benson TJ, Brawn JD (2017b) Variation in nestling body condition and wing development predict cause-specific mortality in fledgling Dickcissels. J Avian Biol 48:439–447. https://doi.org/10.1111/jav.01143

Jones TM, Brawn JD, Ward MP (2018) Development of activity rates in fledgling songbirds: when do young birds begin to behave like adults? Behaviour 155:337–350. https://doi.org/10.1163/1568539X-00003492

Jones TM, Benson TJ, Ward MP (2020a) Does the size and developmental stage of traits at fledging reflect juvenile flight ability among songbirds? Funct Ecol 34:799–810. https://doi.org/10.1111/1365-2435.13513

Jones TM, Brawn JD, Ausprey IJ, Vitz AC, Rodewald AD, Raybuck DW, Boves TJ, Fiss CJ, McNeil DJ, Stoleson SH, Larking JL, Cox WA, Schwarzer AC, Horsley NP, Trumbo EM, Ward MP (2020b) Parental benefits and offspring costs reflect parent-offspring conflict over the age of fledging among songbirds. P Natl Acad Sci USA 117:30539–30546. https://doi.org/10.1073/pnas.2008955117

Kattan GH (1997) Shiny cowbirds follow the 'shotgun' strategy of brood parasitism. Anim Behav 53:647–654. https://doi.org/10.1006/anbe.1996.0339

Krementz DG, Nichols JD, Hines JE (1989) Postfledging survival of European starlings. Ecology 70:646–655. https://doi.org/10.2307/1940216

Kysucan MP, Samas P, Grim T (2020) Post-fledging interactions between the Common Cuckoo Cuculus canorus and its cavity-nesting Common Redstart Phoenicurus phoenicurus host. Ibis 162:90–103. https://doi.org/10.1111/ibi.12719

Larkin RP, Raim A, Diehl RH (1996) Performance of a non-rotating direction-finder for automatic radio tracking. J Field Ornithol 67:59–71

Lootvoet A, Blanchet S, Gevrey M, Buisson L, Tudesque L, Loot G (2013) Patterns and processes of alternative host use in a generalist parasite: insights from a natural host–parasite interaction. Funct Ecol 27:1403–1414. https://doi.org/10.1111/1365-2435.12140

Louder MIM, Ward MP, Schelsky WM, Hauber ME, Hoover JP (2015) Out on their own: a test of adult-assisted dispersal in fledgling brood parasites reveals solitary departures from hosts. Anim Behav 110:29–37. https://doi.org/10.1016/j.anbehav.2015.09.009

Louder MIM, Hauber ME, Louder ANA, Hoover JP, Schelsky WM (2019) Greater opportunities for sexual selection in male than in female obligate brood parasitic birds. J Evol Biol 32:1310–1315. https://doi.org/10.1111/jeb.13537

Martin TE (2015) Age-related mortality explains life history strategies of tropical and temperate songbirds. Science 349:966–969. https://doi.org/10.1126/science.aad1173

Martin TE, Tobalske B, Riordan MM, Case SB, Dial KP (2018) Age and performance at fledging are a cause and consequence of juvenile mortality between life stages. Sci Adv 4:eaar1988. https://doi.org/10.1126/sciadv.aar1988

Naef-Daenzer B, Grüebler MU (2016) Post-fledging survival of altricial birds: ecological determinants and adaptation. J Field Ornithol 87:227–250. https://doi.org/10.1111/jofo.12157

Naef-Daenzer B, Widmer F, Number M (2001) Differential post-fledging survival of great and coal tits in relation to their condition and fledging date. J Anim Ecol 70:730–738. https://doi.org/10.1111/j.2041-210x.2012.00261.x

Nice MM (1939) Observations on the behavior of a young cowbird. Wilson Bull 51:233–239

Payne RB (1977) The ecology of brood parasitism in birds. Ann Rev Ecol Syst 8:1–28. https://doi.org/10.1146/annurev.es.08.110177.000245

Peer BD, Rivers JW, Merrill L, Robinson SK, Rothstein SI (2017) The Brown-headed Cowbird: a model species for testing novel research questions in animal ecology, evolution, and behavior. In: Soler M (ed) Avian brood parasitism: behavior, ecology, evolution, and coevolution. Springer International Publishing AG, Cham, pp 161–187

Perrins CM (1970) The timing of birds' breeding seasons. Ibis 112:242–255

Polacikovaa LP, Cherry MI, Honza M (2009) Choosing suitable hosts: Common Cuckoos Cuculus canorus parasitize Great Reed Warblers Acrocephalus arundinaceus of high quality. Evol Ecol 23:879–891. https://doi.org/10.1007/s10682-008-9278-9

Price TM, Kirkpatrick M, Arnold SJ (1988) Directional selection and the evolution of breeding date in birds. Science 240:798–799. https://doi.org/10.1126/science.3363360

R Core Team (2020) R: A language and environment for statistical computing. R Foundation for Statistical Computing, Vienna, Austria. https://www.R-project.org/

Rivers JW, Liebl AL, Owen JC, Martin LB, Betts MG (2012) Baseline corticosterone in positively related to juvenile survival in a migrant passerine bird. Funct Ecol 26:1127–1134. https://doi.org/10.1111/j.1365-2435.2012.02025.x

Rothstein SI (1990) A model system for coevolution: avian brood parasitism. Ann Rev Ecol Syst 21:481–508. https://doi.org/10.1146/annurev.es.21.110190.002405

SAS Institute (1990) SASSTAT user's guide. SAS Institute, Cary

Schofield LN, Deppe JL, Zenzal TJ, Ward MP, Diehl RH, Bolus RT, Moore FR (2018) Using automated radio telemetry to quantify activity patterns of songbird during stopover. Auk 135:949–963. https://doi.org/10.1642/AUK-17-229.1

Scott DM, Ankney CD (1980) Fecundity of the Brown-headed Cowbird Molothrus ater in southern Ontario, Canada. Auk 97:677–683

Sealy SG, Lorenzana JC (1997) Feeding of nestling and fledgling brood parasites by individuals other than the foster parents: a review. Can J Zool 75:1739–1752. https://doi.org/10.1139/z97-804

Soler M (1994) Activity, survival, independence and migration of fledgling great spotted cuckoos. Condor 96:802–805. https://doi.org/10.2307/1369485

Soler M, Soler JJ (1999) Innate versus learned recognition of conspecifics in Great Spotted Cuckoos Clamator glandarius. Anim Cogn 2:97–102. https://doi.org/10.1007/s100710050029

Soler M, Palomino JJ, Martinez JG, Soler JJ (1995) Communal parental care by monogamous magpie hosts of fledgling Great Spotted Cuckoos. Condor 97:804–810. https://doi.org/10.2307/1369188

Soler M, de Neve L, Roncalli G, Marcias-Sanches W, Ibanez-Alamo JD, Perez-Contreras T (2014a) Great Spotted Cuckoo fledglings are disadvantaged by magpie host parents when reared together with magpie nestlings. Behav Ecol Sociobiol 68:333–342. https://doi.org/10.1007/s00265-013-1648-9

Soler M, Perez-Contreras T, Ibanez-Alamo JD, Roncalli G, Macias-Sanchez E, de Neve L (2014b) Great Spotted Cuckoo fledglings often receive feedings from other magpie adults than their foster parents: Which magpies accept to feed foreign cuckoo fledglings? PLoS ONE 9:e107412. https://doi.org/10.1371/journal.pone.0107412

Sperry JH, Ward MP, Weatherhead PJ (2013) Effects of temperature, moon phase, and prey on nocturnal activity in ratsnakes: an automated telemetry study. J Herpetol 47:105–111. https://doi.org/10.1670/11-325

Steiger SS, Valcu M, Spoelstra K, Helm B, Wikelski M, Kempenaers B (2013) When the sun never sets: diverse activity rhythms under continuous daylight in free-living arctic-breeding birds. Proc R Soc B. https://doi.org/10.1098/rspb.2013.1016

Stoklosa SK, Kearns LJ, Rodewald AD (2014) Risky edges: temporal variation in brood parasitism of Northern Cardinals. Wilson J Ornithol 26:94–97. https://doi.org/10.1676/13-091.1

Teixeira-Costa L, Davis CC (2021) Life history, diversity, and distribution in parasitic flowering plants. Plant Physiol 187:32–51. https://doi.org/10.1093/plphys/kiab279

Thieurmel B, Elmarhraoui A (2019) 'suncalc': Compute sun position, sunlight phases, moon position and lunar phase. R package version 0.5.0

Thompson AM, Ridley AR (2013) Do fledglings choose wisely? An experimental investigation into social foraging behaviour. Behav Ecol Sociobiol 67:69–78. https://doi.org/10.1007/s00265-012-1426-0

Thorogood R, Spottiswoode CN, Portugal SJ, Gloag R (2019) The coevolutionary biology of brood parasitism: a call for integration. Philos Trans R Soc B 374:20180190. https://doi.org/10.1098/rstb.2018.0190

Ward MP, Sperry JH, Weatherhead PJ (2013) Evaluation of automated radio telemetry for quantifying movements and home ranges of snakes. J Herpetol 47:337–345. https://doi.org/10.1670/12-018

Ward MP, Alessi M, Benson TJ, Chiavacci SJ (2014) The active nightlife of diurnal birds: extra-territorial forays and nocturnal activity patterns. Anim Behav 88:175–218. https://doi.org/10.1016/j.anbehav.2013.11.024

White GC, Burnham KP (1999) Program MARK: survival estimation from populations of marked animals. Bird Study 46:120–139. https://doi.org/10.1080/00063659909477239

Winnicki SK, Strausberger BM, Antonson ND, Burhans DE, Lock J, Kilpatrik AM, Hauber ME (2021) Developmental asynchrony and host species identity predict variability in nestling growth of an obligate brood parasite: a test of the "growth-tuning" hypothesis. Can J Zool 99:213–220. https://doi.org/10.1139/cjz-2020-0147

Woodward PW (1983) Behavior ecology of fledgling Brown-headed Cowbirds and their hosts. Condor 85:151–163. https://doi.org/10.2307/1367248

Yackel Adams AA, Skagen SK, Savidge JA (2006) Modeling post-fledging survival of Lark Buntings in response to ecological and biological factors. Ecology 87:178–188. https://doi.org/10.1890/04-1922

Young AC, Cox WA, McCart JP, Wolfenbarger LL (2019) Postfledging habitat selection and survival of Henslow's Sparrow: management implications for a critical life stage. Avian Conserv Ecol 14:10. https://doi.org/10.5751/ACE-01418-140210
Acknowledgements
This work would not be possible without the dedicated efforts of Alex DiGiovanni, Nicole Suckow, Kara Winter, Abby Riggs, Nisarg Shah, Mia Larrieu, Michael Miller, Evalynn Trumbo, and Ryan Leeson. We are grateful to Kennekuk Cove County Park for access to our study site and help in the field and to the Middlefork Audubon Society for access to nest boxes.
Funding
This research was funded through Federal Aid in Wildlife Restoration from the Illinois Department of Natural Resources and U.S. Fish and Wildlife Service (project W-154-R; to MPW), and research grants from the Illinois Ornithological Society, Association of Field Ornithologists, Wilson Ornithological Society, American Ornithological Society, The North American Bluebird Society, and Inland Bird Banding Association (to TMJ). This work was also supported by the USDA National Institute of Food and Agriculture, Hatch project ILLU-875-963 (to MPW). Additional support was provided by the Center for Advanced Study at the University of Illinois and the Wissenschaftskolleg zu Berlin, Germany (to MEH).
Ethics declarations
Conflict of interest
The authors have no conflicts of interest or competing interests.
Ethics approval
All applicable institutional and/or national guidelines for the care and use of animals were followed; animal care and use were approved by the Institutional Animal Care and Use Committee at the University of Illinois at Urbana-Champaign, protocol no. 18221. All capture and banding practices were covered under a US Fish and Wildlife Service Master Bander Permit #23875 (to TMJ).
Additional information
Communicated by Kathryn E. Sieving.
About this article
Cite this article
Jones, T.M., Benson, T.J., Hauber, M.E. et al. Host community-wide patterns of post-fledging behavior and survival of obligate brood parasitic brown-headed cowbirds. Oecologia 198, 981–993 (2022). https://doi.org/10.1007/s00442-022-05167-y
Received:

Accepted:

Published:

Issue Date:

DOI: https://doi.org/10.1007/s00442-022-05167-y
Keywords
Post-fledging

Cowbird

Brood parasite

Songbird

Fledgling

Activity

Survival