Abstract
Open grassy vegetation and forests share riparian zones across the Neotropical savannas, characterizing alternative stable states. However, factors determining the occurrence and maintenance of each vegetation type are yet to be elucidated. To disentangle the role of environmental factors (soil properties and groundwater depth) constraining tree colonization of wet grasslands in the Cerrado, we assessed tree establishment during the early seedling and sapling stages and the influence of these factors on leaf gas exchange and leaf water potential of tree saplings. Three functionally distinct tree species were studied: (1) flood-tolerant species characteristic of gallery forests, (2) flood-intolerant species characteristic of seasonally dry savannas, and (3) generalist species found in both gallery forests and seasonally dry savannas. Savanna species was constrained by waterlogging, especially at the sapling stage, with restricted stomatal conductance and leaf water potential, resulting in low carbon assimilation, decreased plant size, and high mortality (above 80%). The gallery forest and the generalist species, however, were able to colonize the wet grasslands and survive, despite the low seedling emergence (below 30%) and sapling growth constrained by low gas exchange rates. Soil waterlogging is, therefore, an effective environmental filter that prevents savanna trees from expanding over wet grasslands. However, colonization by trees adapted to a shallow water table cannot be constrained by this or other soil properties, turning the wet grasslands dependent on natural disturbances to persist as an alternative state, sharing the waterlogged environments with the gallery forests in the Cerrado region.
Access options
Buy single article
Instant access to the full article PDF.
US$ 39.95
Tax calculation will be finalised during checkout.
Subscribe to journal
Immediate online access to all issues from 2019. Subscription will auto renew annually.
US$ 119
Tax calculation will be finalised during checkout.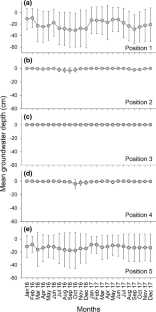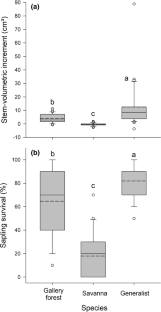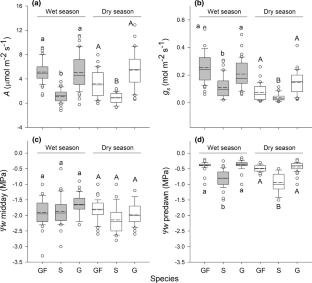 References
Allen SW, Grimshaw HM, Parkinson JA, Quarmby C (1974) Chemical analysis of ecological materials. Blackwell Scientific Publications, Oxford

Alvares CA, Stape JL, Sentelhas PC, Gonçalves JLM, Sparovek G (2013) Köppen's climate classification map for Brazil. Metereol Z 22:711–728. https://doi.org/10.1127/0941-2948/2013/0507

Arieira J, Padovani CR, Schuchmann KL, Landeiro VL, Santos AS (2018) Modeling climatic and hydrological suitability for an encroaching tree species in a Neotropical flooded savanna. For Ecol Manag 429:244–255. https://doi.org/10.1016/j.foreco.2018.07.019

Assis ACC, Coelho RM, Pinheiro ES, Durigan G (2011) Water availability determines physiognomic gradient in an area of low-fertility soils under Cerrado vegetation. Plant Ecol 212:1135–1147. https://doi.org/10.1007/s11258-010-9893-8

Bates D, Maechler M, Bolker B, Walker S (2015) Fitting linear mixed-effects models using lme4. J Stat Softw 67:1–48. https://doi.org/10.18637/jss.v067.i01

Bond WJ (2008) What limits trees in C4 grasslands and savannas? Annu Rev Ecol Evol S 39:641–659. https://doi.org/10.1146/annurev.ecolsys.39.110707.173411

Bond WJ (2010) Do nutrient-poor soils inhibit development of forests? A nutrient stock analysis. Plant Soil 334:47–60. https://doi.org/10.1007/s11104-010-0440-0

Bond WJ, Woodward FI, Midgley GF (2005) The global distribution of ecosystems in a world without fire. New Phytol 165:525–538. https://doi.org/10.1111/j.1469-8137.2004.01252.x

Camargo AO, Moniz AC, Jorge JA, Valadares JMAS (1986) Métodos de análise química, mineralógica e física de solos do Instituto Agronômico de Campinas (Boletim Técnico, 106). Instituto Agronômico, Campinas

Dantas VL, Batalha MA, Pausas J (2013) Fire drives functional thresholds on the savanna–forest transition. Ecology 94:2454–2463. https://doi.org/10.1890/12-1629.1

Durigan G, Bacic MC, Franco GADC, Siqueira MF (1999) Inventário florístico do Cerrado na Estação Ecológica de Assis, SP. Hoehnea 26:149–172

Ella ES, Setter TL (1999) Importance of seed carbohydrates in rice seedling establishment under anoxia. Acta Hortic 504:209–216. https://doi.org/10.17660/ActaHortic.1999.504.22

Else MA, Janowiak F, Atkinson CJ, Jackson MB (2009) Root signals and stomatal closure in relation to photosynthesis, chlorophyll a fluorescence and adventitious rooting of flooded tomato plants. Ann Bot 103:313–323. https://doi.org/10.1093/aob/mcn208

Fernández-Pascual E, Pérez-Arcoiza A, Prieto JA, Díaz TE (2017) Environmental filtering drives the shape and breadth of the seed germination niche in coastal plant communities. Ann Bot 119:1169–1177. https://doi.org/10.1093/aob/mcx005

Franco AC (1998) Seasonal patterns of gas exchange, water relations and growth of Roupala montana, an evergreen savanna species. Plant Ecol 136:69–76. https://doi.org/10.1023/A:1009763328808

Franco AC, Lüttge U (2002) Midday depression in savanna trees: coordinated adjustments in photochemical efficiency, photorespiration, CO2 assimilation and water use efficiency. Oecologia 131:356–365. https://doi.org/10.1007/s00442-002-0903-y

Graves S, Piepho H-P, Selzer L, Dorai-Raj S (2019) Visualizations of paired comparisons: Package 'multcompView'. https://cran.r-project.org/web/packages/multcompView/multcompView.pdf. Accessed 20 Apr 2020

Hoffmann WA (1996) The effects of cover and fire on seedling establishment in a neotropical savanna. J Ecol 84:383–393. https://doi.org/10.2307/226120

Hoffmann WA (2000) Post-establishment seedling success in the Brazilian Cerrado: a comparison of savanna and forest species. Biotropica 32:62–69. https://doi.org/10.1111/j.1744-7429.2000.tb00448.x

Hoffmann WA, Orthen B, Franco AC (2004) Constraints to seedling success of savanna and forest trees across the savanna–forest boundary. Oecologia 140:252–260. https://doi.org/10.1007/s00442-004-1595-2

Hoffmann WA, Geiger EL, Gotsch SG, Rossatto DR, Silva LC, Lau OL, Haridasan M, Franco AC (2012) Ecological thresholds at the savanna–forest boundary: how plant traits, resources and fire govern the distribution of tropical biomes. Ecol Lett 15:759–768. https://doi.org/10.1111/j.1461-0248.2012.01789.x

Hoffmann WA, Flake SW, Abreu RCR, Pilon NAL, Rossatto DR, Durigan G (2019) Rare frost events reinforce tropical savanna–forest boundaries. J Ecol 107:1–10. https://doi.org/10.1111/1365-2745.13047

Jahn R, Blume HP, Asio VB, Spaargaren O, Schad P (2006) Guidelines for soil description of Food and Agriculture Organization of the United Nations. FAO, Rome

Joly CA, Crawford RMM (1982) Variation in tolerance and metabolic responses to flooding in some tropical trees. J Exp Bot 33:799–809. https://doi.org/10.1093/jxb/33.4.799

Juhász CEP, Cursi PR, Cooper M, Oliveira TC, Rodrigues RR (2006) Dinâmica físico-hídrica de uma topossequência de solos sob savana florestada (cerradão) em Assis, SP. Rev Bras Cienc Solo 30:401–412. https://doi.org/10.1590/S0100-06832006000300002

Kissmann C, Veiga EB, Eichemberg MT, Habermann G (2014) Morphological effects of flooding on Styrax pohlii and the dynamics of physiological responses during flooding and post-flooding conditions. Aquat Bot 119:7–14. https://doi.org/10.1016/j.aquabot.2014.06.007

Kozlowski TT (1997) Responses of woody plants to flooding and salinity. Tree Physiol 17:490–490. https://doi.org/10.1093/treephys/17.7.490

Lehmann CER, Archibald SA, Hoffmann WA, Bond WJ (2011) Deciphering the distribution of the savanna biome. New Phytol 191:197–209. https://doi.org/10.1111/j.1469-8137.2011.03689.x

Lehmann CER, Anderson TM, Sankaran M, Higgins SI, Archibald S, Hoffmann WA, Hanan NP, Williams RJ, Fensham RJ, Felfili J, Hutley LB, Ratnam J, San Jose J, Montes R, Franklin D, Russell-Smith J, Ryan CM, Durigan G, Hiernaux P, Haidar R, Bowman DMJS, Bond WJ (2014) Savanna vegetation–fire–climate relationships differ among continents. Science 343:548–552. https://doi.org/10.1126/science.1247355

Leite MB, Xavier RO, Oliveira PTS, Silva FKG, Matos DMS (2018) Groundwater depth as a constraint on the woody cover in a Neotropical Savanna. Plant Soil 426:1–15. https://doi.org/10.1007/s11104-018-3599-4

Lenth R (2018) Least-squares means: Package 'lsmeans'. https://cran.r-project.org/web/packages/lsmeans/lsmeans.pdf. accessed 20 Apr 2020

Marques MCM, Joly CA (2000) Germinação e crescimento de Calophyllum brasiliense (Clusiaceae), uma espécie típica de florestas inundadas. Acta Bot Bras 14:113–120. https://doi.org/10.1590/S0102-33062000000100010

Mielke MS, Almeida AAF, Gomes FP, Aguilar MAG, Mangabeira PAO (2003) Leaf gas exchange, chlorophyll fluorescence and growth responses of Genipa americana seedlings to soil flooding. Environ Exp Bot 50:221–231. https://doi.org/10.1016/S0098-8472(03)00036-4

Munhoz CBR, Felfili JM, Rodrigues C (2008) Species–environment relationship in the herb-subshrub layer of a moist Savanna site, Federal District, Brazil. Braz J Biol 68:25–35. https://doi.org/10.1590/S1519-69842008000100005

Oliveira VC, Joly CA (2010) Flooding tolerance of Calophyllum brasiliense Camb. (Clusiaceae): morphological, physiological and growth responses. Trees 24:185–193. https://doi.org/10.1007/s00468-009-0392-2

Oliveira AS, Ferreira CS, Graciano-Ribeiro D, Franco AC (2015) Anatomical and morphological modifications in response to flooding by six Cerrado tree species. Acta Bot Bras 29:478–488. https://doi.org/10.1590/0102-33062014abb0035

Oliveira PC, Parolin P, Borghetti F (2019) Can germination explain the distribution of tree species in a savanna wetland? Austral Ecol 44:1373–1383. https://doi.org/10.1111/aec.12811

Oliveira-Filho AT, Ratter JA (1995) A study of the origin of central Brazilian forests by the analysis of plant species distribution patterns. Edinb J Bot 52:141–194. https://doi.org/10.1017/S0960428600000949

Parent C, Crèvecoeur M, Capelli N, Dat JF (2011) Contrasting growth and adaptive responses of two oak species to flooding stress: role of non-symbiotic haemoglobin. Plant Cell Environ 34:1113–1126. https://doi.org/10.1111/j.1365-3040.2011.02309.x

Passaretti RA, Pilon NAL, Durigan G (2020) Weed control, large seeds and deep roots: Drivers of success in direct seeding for savanna restoration. Appl Veg Sci 23:406–416. https://doi.org/10.1111/avsc.12495

Pérez-Ramos IM, Marañón T (2009) Effects of waterlogging on seed germination of three Mediterranean oak species: ecological implications. Acta Oecol 35:422–428. https://doi.org/10.1016/j.actao.2009.01.007

Pezeshki SR (2001) Wetland plant responses to soil flooding. Environ Exp Bot 46:299–312. https://doi.org/10.1016/S0098-8472(01)00107-1

Prado CHBA, Wenhui Z, Rojas MHC, Souza GM (2004) Seasonal leaf gas exchange and water potential in a woody Cerrado species community. Braz J Plant Phys 16:7–16. https://doi.org/10.1590/S1677-04202004000100002

Quaggio JA, Raij BV (2001) Determinação do pH em cloreto de cálcio e da acidez total. In: Raij B, Andrade VJC, Cantarella H, Quaggio JA (eds) Análise química para avaliação da fertilidade de solos tropicais. Instituto Agronômico, Campinas, pp 181–188

Quinn GP, Keough MJ (2002) Experimental design and data analysis for biologists. Cambridge University Press, Cambridge

R Core Team (2018) R: a language and environment for statistical computing. R Foundation for Statistical Computing. [WWW document]. https://www.R-project.org/. accessed 16 Jun 2019

Raij B, Quaggio JA, Cantarella H, Ferreira ME, Lopes AS, Bataglia OC (1987) Análise química de solo para fins de fertilidade. Fundação Cargill, Campinas

Ribeiro JF, Walter BMT (2008) As principais fitofisionomias do bioma Cerrado. In: Sano SM, Almeida SP, Ribeiro JF (eds) Cerrado: ecologia e flora. Embrapa Informação tecnológica, Brasília, pp 151–212

Rodrigues JAM, Viola MR, Alvarenga LA, de Mello CR, Chou SC, de Oliveira VA, Uddameri V, Morais MAV (2020) Climate change impacts under representative concentration pathway scenarios on streamflow and droughts of basins in the Brazilian Cerrado biome. Int J Climatol 40:2511–2526. https://doi.org/10.1002/joc.6347

Rossatto DR, Hoffmann WA, Silva LCR, Haridasan M, Sternberg LS, Franco AC (2013) Seasonal variation in leaf traits between congeneric savanna and forest trees in Central Brazil: implications for forest expansion into savanna. Trees 27:1139–1150. https://doi.org/10.1007/s00468-013-0864-2

Rossatto DR, Silva LCR, Sternberg LSL, Franco AC (2014) Do woody and herbaceous species compete for soil water across topographic gradients? Evidence for niche partitioning in a Neotropical savanna. S Afr J Bot 91:14–18. https://doi.org/10.1016/j.sajb.2013.11.011

Russell L (2019) Emmeans: Estimated Marginal Means, aka Least-Squares Means. R package version 1.4.1. https://CRAN.R-project.org/package=emmeans. accessed 15 Sep 2019

Sankaran M, Hanan NP, Scholes RJ, Ratnam J, Augustine DJ, Cade BS, Gignoux J, Higgins S, Roux X, Ludwig F, Ardo J, Banyikwa F, Bronn A, Bucini G, Caylor KK, Coughenour MB, Diouf A, Ekaya W, Feral CJ, February EC, Frost PG, Hiernaux P, Hrabar H, Metzger KL, Prins HHT, Ringrose S, Sea W, Tews J, Worden J, Zambatis N (2005) Determinants of woody cover in African savannas. Nature 438:846–849. https://doi.org/10.1038/nature04070

Sarmiento G (1984) The Ecology of Neotropical Savannas. Harvard University Press, Cambridge

Scarano FR, Ribeiro KT, Moraes LFD, Lima HC (1997) Plant establishment on flooded and unflooded patches of a freshwater swamp forest in southeastern Brazil. J Trop Ecol 13:793–803. https://doi.org/10.1017/S0266467400011007

Scholes RJ, Archer SR (1997) Tree grass interactions in savannas. Annu Rev Ecol Syst 28:517–544. https://doi.org/10.1146/annurev.ecolsys.28.1.517

Secretaria do Meio Ambiente (2010) Plano De Manejo Da Estação Ecológica De Assis. Secretaria do Meio Ambiente, São Paulo. https://www.infraestruturameioambiente.sp.gov.br/institutoflorestal/wp-content/uploads/sites/234/2013/03/Plano_de_Manejo_EEc_Assis.pdf. Accessed 29 Oct 2020

Sieblel HN, Blom CWPM (1998) Effects of irregular flooding on the establishment of tree species. Acta Bot Neerl 47:231–240

Silva LCR (2015) Seasonal variation in groundwater depth does not explain structure and diversity of tropical savannas. J Veg Sci 26:404–405. https://doi.org/10.1111/jvs.12244

Sims J, Harby VA (1971) Simplified colorimetric determination of soil organic matter. Soil Sci 112:137–141

Teixeira AP, Assis MA, Luize BG (2011) Vegetation and environmental heterogeneity relationships in a Neotropical swamp forest in southeastern Brazil (Itirapina, SP). Aquat Bot 94:17–23. https://doi.org/10.1016/j.aquabot.2010.10.001

Tiné MAS, Cortelazzo AL, Buckeridge MS (2000) Xyloglucan mobilisation in cotyledons of developing plantlets of Hymenaea courbaril L. (Leguminosae-Caesalpinoideae). Plant Sci 154:117–126. https://doi.org/10.1016/s0168-9452(99)00245-9

Van Auken OW (2009) Causes and consequences of woody plant encroachment into western North American grasslands. J Environ Manage 90:2931–2942. https://doi.org/10.1016/j.jenvman.2009.04.023

Venter ZS, Cramer MD, Hawkins H-J (2018) Drivers of woody plant encroachment over Africa. Nat Commun 9:2272. https://doi.org/10.1038/s41467-018-04616-8

Villalobos-Vega R, Salazar A, Miralles-Wilhelm F, Haridasan M, Franco AC, Goldstein G (2014) Do groundwater dynamics drive spatial patterns of tree density and diversity in Neotropical savannas? J Veg Sci 25:1465–1473. https://doi.org/10.1111/jvs.12194

Xavier RO, Leite MB, Dexter K, Matos DMS (2019) Differential effects of soil waterlogging on herbaceous and woody plant communities in a Neotropical savanna. Oecologia 190:471–483. https://doi.org/10.1007/s00442-019-04423-y

Zhang J, Zhang X (1994) Can early wilting of old leaves account for much of the ABA accumulation in flooded pea plants? J Exp Bot 45:1335–1342. https://doi.org/10.1093/jxb/45.9.1335
Acknowledgements
The authors are grateful to the Instituto Florestal do Estado de São Paulo for research permit (#010.244/2015) and for assistance during the field work. We thank L. Pinheiro, R. Bailon, T. Montenegro, D. Chaves, R. Gonçalo, G. Marroni, G. Maekawa, S. Cassemiro, and G. Schmidt for their assistance during the field work. We are thankful to Conselho Nacional de Desenvolvimento Científico e Tecnológico—CNPq, for the funding granted to JWFR (#141443/2016-2), GD (#303179/2016-3), and DRR (#302897/2018-6). RMK received research grant from Fundação de Amparo à Pesquisa do Estado de São Paulo—FAPESP (#15/24093-3). We thank the anonymous reviewers who provided helpful feedback and greatly improved this manuscript.
Ethics declarations
Conflict of interest
Authors declare no conflict of interest.
Additional information
Communicated by Hermann Heilmeier.
Supplementary Information
Below is the link to the electronic supplementary material.
About this article
Cite this article
Ribeiro, J.W.F., Pilon, N.A.L., Rossatto, D.R. et al. The distinct roles of water table depth and soil properties in controlling alternative woodland-grassland states in the Cerrado. Oecologia 195, 641–653 (2021). https://doi.org/10.1007/s00442-021-04869-z
Received:

Accepted:

Published:

Issue Date:
Keywords
Alternative stable-states

Neotropical savanna

Grassland-forest boundary

Groundwater depth

Flood tolerance

Seedling establishment