Abstract
Most non-native domesticated plants provide benefits without escaping cultivation, but others have become prominent invaders. A better understanding of how domestication might alter plant traits that influence the ability of species to overcome barriers to invasion could improve invasion risk predictions. We explored how variation in foliar chemistry among cultivars of a widespread invader in the U.S. (Lespedeza cuneata) might influence invasion risk through differences in herbivore interactions and a potential tradeoff with competitive ability. In a no-choice feeding bioassay a generalist herbivore performed better when fed cultivars compared to wild genotypes and native congeners, suggesting domesticated L. cuneata may be more vulnerable to herbivory compared to wild genotypes. However, in a factorial greenhouse experiment, with treatments of herbivory and competition, all cultivars had similar seed and biomass production as the wild genotype. Competition with native species reduced productivity of all L. cuneata types, while experimental herbivory alone did not. We also found far less variation in foliar chemistry among L. cuneata types than expected based on domestication history. While our findings from the bioassay suggest potentially lower invasion risk for cultivars if herbivore populations expand more rapidly when feeding on cultivars, we did not find evidence that cultivars had different responses to herbivory or competition with native species in the greenhouse experiment. Altogether, the findings from our multi-pronged approach for evaluating potential factors underlying invasion success of a domesticated species indicate that domestication has not altered invasion risk of this widespread plant invader.
Access options
Buy single article
Instant access to the full article PDF.
US$ 39.95
Tax calculation will be finalised during checkout.
Subscribe to journal
Immediate online access to all issues from 2019. Subscription will auto renew annually.
US$ 119
Tax calculation will be finalised during checkout.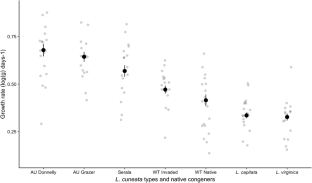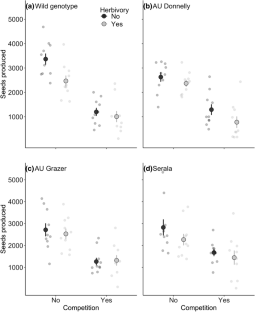 References
Adams JM, Rehill B, Zhang Y, Gower J (2009) A test of the latitudinal defense hypothesis: herbivory, tannins and total phenolics in four North American tree species. Ecol Res 24:697–704. https://doi.org/10.1007/s11284-008-0541-x

Ball D, Mosjidis J (2007) Sericea lespedeza: A pasture, hay, and conservation plant. Alabama Cooperative Extension System Publication ANR-1318, College Station

Beaton LL, van Zandt PA, Esselman EJ, Knight TM (2011) Comparison of the herbivore defense and competitive ability of ancestral and modern genotypes of an invasive plant, Lespedeza cuneata. Oikos 120:1413–1419. https://doi.org/10.1111/j.1600-0706.2011.18893.x

Blackburn TM, Pyšek P, Bacher S, Carlton JT, Duncan RP, Jarošík V, Wilson JRU, Richardson DM (2011) A proposed unified framework for biological invasions. Trends Ecol Evol 26:333–339. https://doi.org/10.1016/j.tree.2011.03.023

Bradley BA, Blumenthal DM, Early R, Grosholz ED, Lawler JJ, Miller LP, Sorte CJB, D'Antonio CM, Diez JM, Dukes JS, Ibanez I, Olden JD (2012) Global change, global trade, and the next wave of plant invasions. Front Ecol Environ 10:20–28. https://doi.org/10.1890/110145

Brandon AL, Gibson DJ, Middleton BA (2004) Mechanisms for dominance in an early successional old field by the invasive non-native Lespedeza cuneata (Dum. Cours.) G. Donw 6:483–493. https://doi.org/10.1023/B:BINV.0000041561.71407.f5

Broderick GA, Albrecht KA (1997) Ruminal in vitro degradation of protein in tannin-free and tannin-containing forage legume species. Crop Sci 37:6. https://doi.org/10.2135/cropsci1997.0011183X003700060037x

CABI (2019) Spodoptera frugiperda (fall armyworm). In: Invasive Species Compendium. https://www.cabi.org/isc/datasheet/29810#a0a9bc7f-43cd-478d-8432-ed202c180c58. (Accessed 13 Oct 2019)

Cappuccino N, Carpenter D (2005) Invasive exotic plants suffer less herbivory than non-invasive exotic plants. Biol Let 1:435–438. https://doi.org/10.1098/rsbl.2005.0341

Chapman JW, Williams T, Escribano A, Caballero P, Cave RD, Goulson D (1999) Fitness consequences of cannibalism in the fall armyworm, Spodoptera frugiperda. Behav Ecol 10:298–303. https://doi.org/10.1093/beheco/10.3.298

Cogni R (2010) Resistance to plant invasion? A native specialist herbivore shows preference for and higher fitness on an introduced host. Biotropica 42:188–193. https://doi.org/10.1111/j.1744-7429.2009.00570.x

Coley PD, Bryant JP, Chapin FS (1985) Resource availability and plant antiherbivore defense. Science 230:895–899. https://doi.org/10.1126/science.230.4728.895

Cook GD, Dias L (2006) It was no accident: Deliberate plant introductions by Australian government agencies during the 20th century. Aust J Bot 54:601–625. https://doi.org/10.1071/BT05157

Cummings DC, Fuhlendorf SD, Engle DM (2007) Is altering grazing selectivity of invasive forage species with patch burning more effective than herbicide treatments? Rangeland Ecol Manag. https://doi.org/10.2111/1551-5028(2007)60[253:IAGSOI]2.0.CO;2

Denison RF, Kiers ET, West SA (2003) Darwinian agriculture: when can humans find solutions beyond the reach of natural selection? Q Rev Biol 78:145–168. https://doi.org/10.1086/374951

Diamond J (2002) Evolution, consequences and future of plant and animal domestication. Nature 418:700–707. https://doi.org/10.1038/nature01019

Donald CM (1968) The breeding of crop ideotypes. Euphytica 17:385–403. https://doi.org/10.1007/BF00056241

Eckberg JO, Johnson GA, Seefeldt LL, Felton AJ, Casler MD, Shaw RG (2018) Competitive effects of cultivar and wild switchgrass on other native grasses. Biol Invasions 20:2439–2449. https://doi.org/10.1007/s10530-018-1711-6

Eddy TA, Moore CM (1998) Effects of sericea lespedeza (Lespedeza cuneata (Dumont) G. Don) invasion on oak savannas in Kansas. Trans Wisconsin Acad Sci Arts Lett 86:57–62

Flory SL, Lorentz KA, Gordon DR, Sollenberger LE (2012) Experimental approaches for evaluating the invasion risk of biofuel crops. Environ Res Lett 7:045904. https://doi.org/10.1088/1748-9326/7/4/045904

Gordon DR, Onderdonk DA, Fox AM, Stocker RK (2008) Consistent accuracy of the Australian weed risk assessment system across varied geographies. Divers Distrib 14:234–242. https://doi.org/10.1111/j.1472-4642.2007.00460.x

Gordon DR, Mitterdorfer B, Pheloung PC, Ansari S, Buddenhagen C, Chimera C, Daehler CC, Dawson W, Denslow JS, LaRosa A, Nishida T, Onderdonk DA, Panetta F, Pysek P, Randall RP, Richardson DM, Tshidada NJ, Virtue JG, Williams PA (2010) Guidance for addressing the Australian weed risk assessment questions. Plant Prot Q 25:56

Guernsey WJ (1970) Sericea Lespedeza, its use and management. U.S, Government Printing Office, Washington, D.C.

Hahn PG, Maron JL (2016) A framework for predicting intraspecific variation in plant defense. Trends Ecol Evol 31:646–656. https://doi.org/10.1016/j.tree.2016.05.007

Harvey JA, Bukovinszky T, van der Putten WH (2010) Interactions between invasive plants and insect herbivores: a plea for a multitrophic perspective. Biol Cons 143:2251–2259. https://doi.org/10.1016/j.biocon.2010.03.004

Herms DA, Mattson WJ (1992) The dilemma of plants: to grow or defend. Q Rev Biol 67:283–335. https://doi.org/10.1086/417659

Houseman GR, Mahoney AK (2015) Intraspecific seed interactions alter seedling emergence of Lespedeza cuneata under field conditions. Popul Ecol 57:539–544. https://doi.org/10.1007/s10144-015-0495-0

Hruska AJ, Gould F (1997) Fall armyworm (Lepidoptera: Noctuidae) and Diatraea lineolata (Lepidoptera: Pyralidae): Impact of larval population level and temporal occurrence on maize yield in Nicaragua. J Econ Entomol 90:611–622. https://doi.org/10.1093/jee/90.2.611

Huang W, Siemann E, Wheeler GS, Zou J, Carrillo J, Ding J (2010) Resource allocation to defence and growth are driven by different responses to generalist and specialist herbivory in an invasive plant. J Ecol 98:1157–1167. https://doi.org/10.1111/j.1365-2745.2010.01704.x

Jakubowski AR, Casler MD, Jackson RD (2011) Has selection for improved agronomic traits made reed canarygrass invasive? PLoS ONE 6:e25757. https://doi.org/10.1371/journal.pone.0025757

Kahm M, Hasenbrink G, Lichtenberg-Frate H, Ludwig J, Kschischo M (2010) Package "grofit": Fitting biological growth curves with R. J Stat Softw 33:1–21

Kareiva P, Watts S, McDonald R, Boucher T (2007) Domesticated nature: Shaping landscapes and ecosystems for human welfare. Science 316:1866–1869. https://doi.org/10.1126/science.1140170

Keane RM, Crawley MJ (2002) Exotic plant invasions and the enemy release hypothesis. Trends Ecol Evol 17:164–170. https://doi.org/10.1016/S0169-5347(02)02499-0

Lake JC, Leishman MR (2004) Invasion success of exotic plants in natural ecosystems: The role of disturbance, plant attributes and freedom from herbivores. Biol Cons 117:215–226. https://doi.org/10.1016/S0006-3207(03)00294-5

Lieurance D, Cipollini D (2013) Exotic Lonicera species both escape and resist specialist and generalist herbivores in the introduced range in North America. Biol Invasions 15:1713–1724. https://doi.org/10.1007/s10530-012-0402-y

Loughrin JH, Manukian A, Heath RR, Tumlinson JH (1995) Volatiles emitted by different cotton varieties damaged by feeding beet armyworm larvae. J Chem Ecol 21:1217–1227. https://doi.org/10.1007/BF02228321

Mack RN (2000) Cultivation fosters plant naturalization by reducing environmental stochasticity. Biol Invasions 2:111–122. https://doi.org/10.1023/A:1010088422771

Mack RN, Lonsdale WM (2001) Humans as global plant dispersers: Getting more than we bargained for: Current introductions of species for aesthetic purposes present the largest single challenge for predicting which plant immigrants will become future pests. Bioscience 51:95–102. https://doi.org/10.1641/0006-3568(2001)051[0095:HAGPDG]2.0.CO;2

Meyer RS, DuVal AE, Jensen HR (2012) Patterns and processes in crop domestication: an historical review and quantitative analysis of 203 global food crops. New Phytol 196:29–48. https://doi.org/10.1111/j.1469-8137.2012.04253.x

Milla R, Morente-López J, Alonso-Rodrigo JM et al (2014) Shifts and disruptions in resource-use trait syndromes during the evolution of herbaceous crops. Royal Soc Biol Sci 281:20141429. https://doi.org/10.1098/rspb.2014.1429

Mosjidis JA (2001) Registration of "AU Grazer" sericea lespedeza. Crop Sci 41:262. https://doi.org/10.2135/cropsci2001.411262x

Muir JP, Terrill TH, Kamisetti NR, Bow JR (2014) Environment, harvest regimen, and ontogeny change Lespedeza cuneata condensed tannin and nitrogen. Crop Sci 54:2903–2909. https://doi.org/10.2135/cropsci2014.02.0143

Palik DJ, Snow AA, Stottlemyer AL, Miriti MN, Heaton EA (2016) Relative performance of non-local cultivars and local, wild populations of switchgrass (Panicum virgatum) in competition experiments. PLoS ONE 11:e0154444. https://doi.org/10.1371/journal.pone.0154444

Petzoldt T (2019) Package "growthrates." Version 0.8.1. https://cran.r-project.org/web/packages/growthrates/growthrates.pdf

Pheloung PC, Williams PA, Halloy SR (1999) A weed risk assessment model for use as a biosecurity tool evaluating plant introductions. J Environ Manage 57:239–251. https://doi.org/10.1006/jema.1999.0297

Pyšek P, Richardson DM (2008) Traits associated with invasiveness in alien plants: where do we stand? In: Nentwig W (ed) Biological Invasions. Springer, Berlin, pp 97–125

Quinn LD, Gordon DR, Glaser A, Lieurance D, Flory SL (2015) Bioenergy feedstocks at low risk for invasion in the USA: a "White List" approach. Bioenerg Res 8:471–481. https://doi.org/10.1007/s12155-014-9503-z

R Core Team (2013) A language and environment for statistical computing. R Foundation for Statistical Computing, Vienna

Rehill BJ, Whitham TG, Martinsen GD, Schweitzer JA, Bailey JK, Lindroth RL (2006) Developmental trajectories in cottonwood phytochemistry. J Chem Ecol 32:2269–2285. https://doi.org/10.1007/s10886-006-9141-9

Reichard SH, Hamilton CW (1997) Predicting invasions of woody plants introduced into North America. Conserv Biol 11:193–203. https://doi.org/10.1046/j.1523-1739.1997.95473.x

Richardson DM, Pyšek P (2012) Naturalization of introduced plants: ecological drivers of biogeographical patterns. New Phytol 196:383–396. https://doi.org/10.1111/j.1469-8137.2012.04292.x

Rossiter M, Schultz JC, Baldwin IT (1988) Relationships among defoliation, red oak phenolics, and gypsy moth growth and reproduction. Ecology 69:267–277. https://doi.org/10.2307/1943182

Schultz JC, Baldwin IT (1982) Oak leaf quality declines in response to defoliation by gypsy moth larvae. Science 217:149–151. https://doi.org/10.1126/science.217.4555.149

Schutzenhofer MR, Knight TM (2007) Population-level effects of augmented herbivory on Lespedeza cuneata: Implications for biological control. Ecol Appl 17:965–971. https://doi.org/10.1890/06-1282

Sidhu G (2010) Variability for morphological and forage quality traits in sericea lespedeza [Lespedeza cuneata (Dumont de Courset) G Don] cultivars. Auburn University, Auburn

USDA, NRCS (1999) The PLANTS database. National Plant Data Center, LA

van Kleunen M, Essl F, Pergl J, Brundu G, Carboni M, Dullinger S, Early R, González-Moreno P, Groom QJ, Hulme PE, Kueffer C, Kühn I, Máguas C, Maurel N, Novoa A, Parepa M, Pyšek P, Seebens H, Tanner R, Touza J, Verbrugge L, Weber E, Dawson W, Kreft H, Weigelt P, Winter M, Klonner G, Talluto MV, Dehnen-Schmutz K (2018) The changing role of ornamental horticulture in alien plant invasions. Biol Rev 93:1421–1437. https://doi.org/10.1111/brv.12402

Verardo DJ, Froelich PN, McIntyre A (1990) Determination of organic carbon and nitrogen in marine sediments using the Carlo Erba NA-1500 analyzer. Deep Sea Res Part A Oceanographic Res Papers 37:157–165. https://doi.org/10.1016/0198-0149(90)90034-S

Vilà M, Weiner J (2004) Are invasive plant species better competitors than native plant species? – Evidence from pair-wise experiments. Oikos 105:229–238. https://doi.org/10.1111/j.0030-1299.2004.12682.x

Wang C, Zhou B, Palm HL (2008) Detecting invasive sericea lespedeza (Lespedeza cuneata) in mid-Missouri pastureland using hyperspectral imagery. Environ Manage 41:853–862. https://doi.org/10.1007/s00267-008-9092-8

Zou J, Rogers WE, Siemann E (2008) Increased competitive ability and herbivory tolerance in the invasive plant Sapium sebiferum. Biol Invasions 10:291–302. https://doi.org/10.1007/s10530-007-9130-0
Acknowledgements
We thank Doria Gordon, Christina Romagosa, Amy Kendig, Susan Canavan, and Jesse Borden for advice on experimental design and interpretation of results, and Gregory Houseman for supplying wild genotype seeds. The University of Florida (UF) Institute of Food and Agricultural Sciences (IFAS) Center for Aquatic and Invasive Plants, The UF School of Natural Resources and Environment, and the UF/IFAS Dean for Research provided funding. We also thank May Zhou, Mily Gandhi, Taylor Clark, Jessica Williams, and Peter Gianelli for assistance with field work.
Funding
The funding was provide by University of Florida (UF) Institute of Food and Agricultural Sciences (IFAS) Center for Aquatic and Invasive Plants: S. Luke Flory. The UF School of Natural Resources and Environment: Tabitha Petri. UF/IFAS Dean for Research: Deah Lieurance.
Ethics declarations
Conflict of interests
The authors declare that they have no conflict of interest.
Additional information
This study evaluated how domestication might alter invasion risk of species, by testing if trait changes from crop breeding provided benefits or hinderances to cultivars when they were subjected to herbivory and competition with native species. The results show that cultivars and wild biotypes of a non-native legume do not respond differently to experimental treatments, suggesting that putative cultivar trait differences may not be expressed in the field. This approach for experimentally evaluating potential invasion mechanisms of domesticated plants can inform risk prediction, without chancing escape into natural areas.
Communicated by Casey P. terHorst.
About this article
Cite this article
Petri, T., Rehill, B., Lieurance, D. et al. Domestication does not alter invasion risk of a non-native legume. Oecologia (2021). https://doi.org/10.1007/s00442-021-04866-2
Received:

Accepted:

Published:
Keywords
Invasive

Cultivar

Bioassay

Lespedeza cuneata
Spodoptera frugiperda