Abstract
Temporal dynamics of plant-pollinator interactions inform the mechanisms of community assembly and stability. However, most studies on the dynamics of pollination networks do not consider plant reproductive traits thus offering poor understanding of the mechanism of how networks maintain stable structure under seasonal changes in flower community. We studied seasonal dynamics of pollination networks in a subtropical monsoon forest in China with a clear rainy season (April–September) and dry season (October–March) over 2 consecutive years. We constructed dioecy-ignored networks (combining visitations to dioecious male and female plants by ignoring the difference between dioecious and hermaphroditic plants) and dioecy-considered networks (excluding those visitations that only occurred either on dioecious male or female plants) for eight sampling sessions for each season. Although flower richness and flower abundance were higher in the rainy season than in the dry season, no pronounced seasonal difference was found in network specialization, nestedness and modularity for both networks. There were only significant differences in plant community robustness and pollinator specialization between seasons for dioecy-considered networks but not for dioecy-ignored networks. Furthermore, we found the flower abundance of dioecious and hermaphrodite plants mostly showed trade-off variation between rainy and dry seasons. Our results suggest various plant reproductive traits affect the temporal dynamics of pollination networks, which should be considered for conservation of plant-pollinator interactions in forest communities.
Access options
Buy single article
Instant access to the full article PDF.
US$ 39.95
Tax calculation will be finalised during checkout.
Subscribe to journal
Immediate online access to all issues from 2019. Subscription will auto renew annually.
US$ 119
Tax calculation will be finalised during checkout.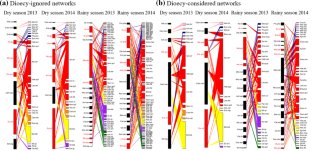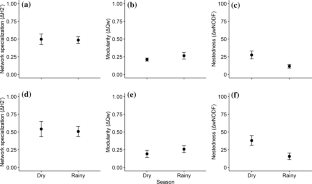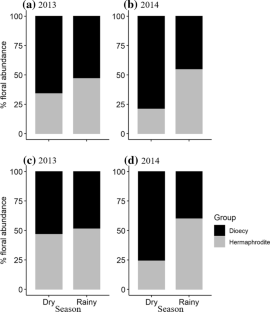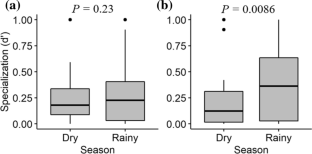 References
Alarcón R, Waser NM, Ollerton J (2008) Year-to-year variation in the topology of a plant-pollinator interaction network. Oikos 117:1796–1807. https://doi.org/10.1111/j.0030-1299.2008.16987.x

Almeida-Neto M, Ulrich W (2011) A straightforward computational approach for measuring nestedness using quantitative matrices. Environ Model Softw 26:173–178. https://doi.org/10.1016/j.envsoft.2010.08.003

Almeida-Neto M, Guimarães P, Guimarães PR, Loyola RD, Ulrich W (2008) A consistent metric for nestedness analysis in ecological systems: Reconciling concept and measurement. Oikos 117:1227–1239. https://doi.org/10.1111/j.0030-1299.2008.16644.x

Baldock KCR, Memmott J, Ruiz-Guajardo JC, Roze D, Stone GN (2011) Daily temporal structure in African savanna flower visitation networks and consequences for network sampling. Ecology 92:687–698. https://doi.org/10.1890/10-1110.1

Banza P, Macgregor CJ, Belo ADF, Fox R, Pocock MJO, Evans DM (2019) Wildfire alters the structure and seasonal dynamics of nocturnal pollen-transport networks. Funct Ecol 33:1882–1892. https://doi.org/10.1111/1365-2435.13388

Beckett SJ (2016) Improved community detection in weighted bipartite networks. R Soc Open Sci. https://doi.org/10.1098/rsos.140536

Biella P, Akter A, Ollerton J, Nielsen A, Klecka J (2020) An empirical attack tolerance test alters the structure and species richness of plant–pollinator networks. Funct Ecol. https://doi.org/10.1111/1365-2435.13642

Blüthgen N, Menzel F, Blüthgen N (2006) Measuring specialization in species interaction networks. BMC Ecol 6:9. https://doi.org/10.1186/1472-6785-6-9

Burgos E, Ceva H, Perazzo RPJ, Devoto M, Medan D, Zimmermann M, María Delbue A (2007) Why nestedness in mutualistic networks? J Theor Biol 249:307–313. https://doi.org/10.1016/j.jtbi.2007.07.030

Burkle LA, Alarcón R (2011) The future of plant-pollinator diversity: understanding interaction networks across time, space, and global change. Am J Bot 98:528–538. https://doi.org/10.3732/ajb.1000391

CaraDonna PJ, Petry WK, Brennan RM, Cunningham JL, Bronstein JL, Waser NM, Sanders NJ (2017) Interaction rewiring and the rapid turnover of plant–pollinator networks. Ecol Lett 20:385–394. https://doi.org/10.1111/ele.12740

Chacoff NP, Resasco J, Vázquez DP (2018) Interaction frequency, network position, and the temporal persistence of interactions in a plant–pollinator network. Ecology 99:21–28. https://doi.org/10.1002/ecy.2063

Devaux C, Lepers C, Porcher E (2014) Constraints imposed by pollinator behaviour on the ecology and evolution of plant mating systems. J Evol Biol 27:1413–1430. https://doi.org/10.1111/jeb.12380

Dormann CF, Fründ J, Bluthgen N, Gruber B (2009) Indices, graphs and null models: analysing bipartite ecological networks. Open Ecol J 2:7–24. https://doi.org/10.2174/1874213000902010007

Fründ J, Linsenmair KE, Blüthgen N (2010) Pollinator diversity and specialization in relation to flower diversity. Oikos 119:1581–1590. https://doi.org/10.1111/j.1600-0706.2010.18450.x

Humphries MM, Studd EK, Menzies AK, Boutin S (2017) To everything there is a season: summer-to-winter food webs and the functional traits of keystone species. Integr Comp Biol 57:961–976

Kaartinen R, Roslin T (2012) High temporal consistency in quantitative food web structure in the face of extreme species turnover. Oikos 121:1771–1782. https://doi.org/10.1111/j.1600-0706.2012.20108.x

Kaiser-Bunbury CN, Muff S, Memmott J, Müller CB, Caflisch A (2010) The robustness of pollination networks to the loss of species and interactions: a quantitative approach incorporating pollinator behaviour. Ecol Lett 13:442–452. https://doi.org/10.1111/j.1461-0248.2009.01437.x

Kaiser-Bunbury CN, Mougal J, Whittington AE, Valentin T, Gabriel R, Olesen JM, Blüthgen N (2017) Ecosystem restoration strengthens pollination network resilience and function. Nature 542:223–227. https://doi.org/10.1038/nature21071

Kang H, Bawa KS (2003) Effects of successional status, habit, sexual systems, and pollinators on flowering patterns in tropical rain forest trees. Am J Bot 90:865–876. https://doi.org/10.3732/ajb.90.6.865

Kemp JE, Evans DM, Augustyn WJ, Ellis AG (2017) Invariant antagonistic network structure despite high spatial and temporal turnover of interactions. Ecography 40:1315–1324. https://doi.org/10.1111/ecog.02150

McMeans BC, McCann KS, Humphries M, Rooney N, Fisk AT (2015) Food web structure in temporally-forced ecosystems. Trends Ecol Evol 30:662–672. https://doi.org/10.1016/j.tree.2015.09.001

Memmott J, Waser NM, Price MV (2004) Tolerance of pollination networks to species extinctions. Proc R Soc London Ser B Biol Sci 271:2605–2611. https://doi.org/10.1098/rspb.2004.2909

Ohya I, Nanami S, Itoh A (2017) Dioecious plants are more precocious than cosexual plants: a comparative study of relative sizes at the onset of sexual reproduction in woody species. Ecol Evol 7:5660–5668. https://doi.org/10.1002/ece3.3117

Opler PA, Frankie GW, Baker HG (1976) Rainfall as a factor in the release, timing, of anthesis by tropical trees and shrubs. J Biogeogr 3:231–236. https://doi.org/10.2307/3038013

Petanidou T, Kallimanis AS, Tzanopoulos J, Sgardelis SP, Pantis JD (2008) Long-term observation of a pollination network: fluctuation in species and interactions, relative invariance of network structure and implications for estimates of specialization. Ecol Lett 11:564–575. https://doi.org/10.1111/j.1461-0248.2008.01170.x

Petry WK, Perry KI, Fremgen A, Rudeen SK, Lopez M, Dryburgh J, Mooney KA (2013) Mechanisms underlying plant sexual dimorphism in multi-trophic arthropod communities. Ecology 94:2055–2065. https://doi.org/10.1890/12-2170.1

Plein M, Langsfeld L, Neuschulz EL, Schulthei C, Ingmann L, Topfer T, Bohning-Gaese K, Schleuning M (2013) Constant properties of plant-frugivore networks despite fluctuations in fruit and bird communities in space and time. Ecology 94:1296–1306. https://doi.org/10.1890/12-1213.1

Poisot T, Stouffer DB, Gravel D (2015) Beyond species: Why ecological interaction networks vary through space and time. Oikos 124:243–251. https://doi.org/10.1111/oik.01719

Ponisio LC, Gaiarsa MP, Kremen C (2017) Opportunistic attachment assembles plant–pollinator networks. Ecol Lett 20:1261–1272. https://doi.org/10.1111/ele.12821

Saavedra S, Rohr RP, Fortuna MA, Selva N, Bascompte J (2016) Seasonal species interactions minimize the impact of species turnover on the likelihood of community persistence. Ecology 97:865–873. https://doi.org/10.1890/15-1013.1

Santos GMM, Dáttilo W, Presley SJ (2014) The seasonal dynamic of ant-flower networks in a semi-arid tropical environment. Ecol Entomol 39:674–683. https://doi.org/10.1111/een.12138

Schleuning M, Fründ J, Klein A-M, Abrahamczyk S, Alarcón R, Albrecht M, Andersson GKS, Bazarian S, Böhning-Gaese K, Bommarco R, Dalsgaard B, Dehling DM, Gotlieb A, Hagen M, Hickler T, Holzschuh A, Kaiser-Bunbury CN, Kreft H, Morris RJ, Sandel B, Sutherland WJ, Svenning J-C, Tscharntke T, Watts S, Weiner CN, Werner M, Williams NM, Winqvist C, Dormann CF, Blüthgen N (2012) Specialization of mutualistic interaction networks decreases toward tropical latitudes. Curr Biol 22:1925–1931. https://doi.org/10.1016/j.cub.2012.08.015

Souza CS, Maruyama PK, Aoki C, Sigrist MR, Raizer J, Gross CL, de Araujo AC (2018) Temporal variation in plant–pollinator networks from seasonal tropical environments: higher specialization when resources are scarce. J Ecol 106:2409–2420. https://doi.org/10.1111/1365-2745.12978

Tinoco BA, Graham CH, Aguilar JM, Schleuning M (2017) Effects of hummingbird morphology on specialization in pollination networks vary with resource availability. Oikos 126:52–60. https://doi.org/10.1111/oik.02998

Trøjelsgaard K, Olesen JM (2016) Ecological networks in motion: micro- and macroscopic variability across scales. Funct Ecol 30:1926–1935

Valdovinos FS (2019) Mutualistic networks: moving closer to a predictive theory. Ecol Lett 22:1517–1534. https://doi.org/10.1111/ele.13279

Vázquez DP, Morris WF, Jordano P (2005) Interaction frequency as a surrogate for the total effect of animal mutualists on plants. Ecol Lett 8:1088–1094. https://doi.org/10.1111/j.1461-0248.2005.00810.x

Weinstein BG, Graham CH (2017) Persistent bill and corolla matching despite shifting temporal resources in tropical hummingbird-plant interactions. Ecol Lett 20:326–335. https://doi.org/10.1111/ele.12730

Zhang MH, He F (2017) Plant sex affects the structure of plant–pollinator networks in a subtropical forest. Oecologia 185:269–279. https://doi.org/10.1007/s00442-017-3942-0

Zhang F, Hui C, Terblanche JS (2011) An interaction switch predicts the nested architecture of mutualistic networks. Ecol Lett 14:797–803. https://doi.org/10.1111/j.1461-0248.2011.01647.x
Acknowledgements
We thank Zeqing Niu, Ganyan Yang, Dandan Zhang, Jinwei Li, Yun Li for identifying insect specimen. We are grateful to Buhang Li, Weinan Ye, Rui Tang and Xiaoqing Hu for their assistance in the field. FH acknowledges the support of NSERC (Canada).
Funding
This study was funded by the National Natural Science Foundation of China (Grant number 31901105).
Ethics declarations
Conflict of interest
The authors declare that they have no conflict of interest.
Additional information
Communicated by Katherine L. Gross.
Supplementary Information
Below is the link to the electronic supplementary material.
About this article
Cite this article
Zhang, M., He, F. Plant breeding systems influence the seasonal dynamics of plant-pollinator networks in a subtropical forest. Oecologia 195, 751–758 (2021). https://doi.org/10.1007/s00442-021-04863-5
Received:

Accepted:

Published:

Issue Date:
Keyword
Plant-pollinator network

Seasonality

Stability

Plant breeding systems

Subtropical forest