Abstract
Foliar fungi (defined as all fungal species in leaves after surface sterilization; hereafter, 'FF') are of great importance to host plant growth and health, and can also affect ecosystem functioning. Despite this importance, few studies have explicitly examined the role of host filtering in shaping local FF communities, and we know little about the differences of FF community assembly between symptomatic (caused by fungal pathogens) and asymptomatic leaves, and whether there is phylogenetic congruence between host plants and FF. We examined FF communities from 25 host plant species (for each species, symptomatic and asymptomatic leaves, respectively) in an alpine meadow of the Tibetan Plateau using MiSeq sequencing of ITS1 gene biomarkers. We evaluated the phylogenetic congruence of FF–plant interactions based on cophylogenetic analysis, and examined α- and β-phylogenetic diversity indices of the FF communities. We found strong support for phylogenetic congruence between host plants and FF for both asymptomatic and symptomatic leaves, and a host-caused filter appears to play a major role in shaping FF communities. Most importantly, we provided independent lines of evidence that host environmental filtering (caused by fungal infections) outweighs competitive exclusion in driving FF community assembly in symptomatic leaves. Our results help strengthen the foundation of FF community assembly by demonstrating the importance of host environmental filtering in driving FF community assembly.
Access options
Buy single article
Instant access to the full article PDF.
US$ 39.95
Tax calculation will be finalised during checkout.
Subscribe to journal
Immediate online access to all issues from 2019. Subscription will auto renew annually.
US$ 119
Tax calculation will be finalised during checkout.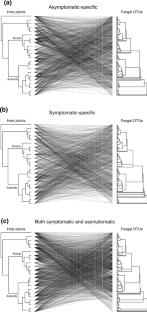 Data availability
All sequences were deposited in the NCBI-SRA database (SRP107289).
References
Arnold AE, Lutzoni F (2007) Diversity and host range of foliar fungal endophytes: are tropical leaves biodiversity hotspots? Ecology 88:541–549. https://doi.org/10.1890/05-1459

Bálint M, Bartha L, O'Hara RB, Olson MS, Otte J, Pfenninger M, Robertson AL, Tiffin P, Schmitt I (2015) Relocation, high-latitude warming and host genetic identity shape the foliar fungal microbiome of poplars. Mol Ecol 24:235–248. https://doi.org/10.1111/mec.13018

Bassler C, Heilmann-Clausen J, Karasch P, Brandl R, Halbwachs H (2015) Ectomycorrhizal fungi have larger fruit bodies than saprotrophic fungi. Fungal Ecology 17:205–212. https://doi.org/10.1016/j.funeco.2014.06.005

Becklin KM, Hertweck KL, Jumpponen A (2012) Host identity impacts rhizosphere fungal communities associated with three alpine plant species. Microb Ecol 63:682–693. https://doi.org/10.1007/s00248-011-9968-7

Berger S, Sinha AK, Roitsch T (2007) Plant physiology meets phytopathology: plant primary metabolism and plant-pathogen interactions. J Exp Bot 58:4019–4026. https://doi.org/10.1093/jxb/erm298

Brem D, Leuchtmann A (2003) Molecular evidence for host-adapted races of the fungal endophyte Epichloë bromicola after presumed host shifts. Evolution 57:37–51. https://doi.org/10.1111/j.0014-3820.2003.tb00214.x

Buckley H, Young CA, Charlton ND, Hendricks WQ, Haley B, Nagabhyru P, Rudgers JA (2019) Leaf endophytes mediate fertilizer effects on plant yield and traits in northern oat grass (Trisetum spicatum). Plant Soil 434:425–440. https://doi.org/10.1007/s11104-018-3848-6

Busby PE, Zimmerman N, Weston DJ, Jawdy SS, Houbraken J, Newcombe G (2013) Leaf endophytes and Populus genotype affect severity of damage from the necrotrophic leaf pathogen, Drepanopeziza populi. Ecosphere 4:1–12. https://doi.org/10.1890/ES13-00127.1

Busby PE, Peay KG, Newcombe G (2016) Common foliar fungi of Populus trichocarpa modify Melampsora rust disease severity. New Phytol 209:1681–1692. https://doi.org/10.1111/nph.13742

Cadotte MW, Tucker CM (2017) Should environmental filtering be abandoned? Trends Ecol Evol 32:429–437. https://doi.org/10.1016/j.tree.2017.03.004

Cavender-Bares J, Kozak KH, Fine PV, Kembel SW (2009) The merging of community ecology and phylogenetic biology. Ecol Lett 12:693–715. https://doi.org/10.1111/j.1461-0248.2009.01314.x

Celio GJ, Padamsee M, Dentinger BTM, Bauer R, McLaughlin DJ (2006) Assembling the Fungal Tree of Life: constructing the structural and biochemical database. Mycologia 98:850–859. https://doi.org/10.3852/mycologia.98.6.850

Christian N, Herre EA, Clay K (2019) Foliar endophytic fungi alter patterns of nitrogen uptake and distribution in Theobroma cacao. New Phytol 222:1573–1583. https://doi.org/10.1111/nph.15693

Cook RJ (1993) Making greater use of introduced microorganisms for biological control of plant pathogens. Annu Rev Phytopathol 31:53–80. https://doi.org/10.1146/annurev.py.31.090193.000413

Cordier T, Robin C, Capdevielle X, Fabreguettes O, Desprez-Loustau M, Vacher C (2012) The composition of phyllosphere fungal assemblages of European beech (Fagus sylvatica) varies significantly along an elevation gradient. New Phytol 196:510–519. https://doi.org/10.1111/j.1469-8137.2012.04284.x

de Vienne DM, Hood ME, Giraud T (2009) Phylogenetic determinants of potential host shifts in fungal pathogens. J Evol Biol 22:2532–2541. https://doi.org/10.1111/j.1420-9101.2009.01878.x

de Vienne DM, Refrégier G, López-illavicencio M, Tellier A, Hood ME, Giraud T (2013) Cospeciation vs host-shift speciation: methods for testing, evidence from natural associations and relation to coevolution. New Phytol 198:347–385. https://doi.org/10.1111/nph.12150

Djonović S, Vargas WA, Kolomiets MV, Horndeski M, Wiest A, Kenerley CM (2007) A proteinaceous elicitor Sm1 from the beneficial fungus Trichoderma virens is required for induced systemic resistance in maize. Plant Physiol 145:875–889. https://doi.org/10.1104/pp.107.103689

Donald J, Roy M, Suescun U, Iribar A, Manzi S, Péllissier L, Gaucher P, Chave J (2020) A test of community assembly rules using foliar endophytes from a tropical forest canopy. J Ecol 108:1605–1616. https://doi.org/10.1111/1365-2745.13344

Dwivedi UN, Singh P, Pandey VP, Kumar A (2011) Structure-function relationship among bacterial, fungal and plant laccases. J Mol Catal B Enzym 68:117–128. https://doi.org/10.1016/j.molcatb.2010.11.002

Edgar RC (2004) MUSCLE: multiple sequence alignment with high accuracy and high throughput. Nucleic Acids Res 32:1792–1797. https://doi.org/10.1093/nar/gkh340

Edgar RC (2013) UPARSE: highly accurate OTU sequences from microbial amplicon reads. Nat Methods 10:996–998. https://doi.org/10.1038/nmeth.2604

Ellis RJ, Timms-Wilson TM, Bailey MJ (2000) Identification of conserved traits in fluorescent pseudomonads with antifungal activity. Environ Microbiol 2:274–284. https://doi.org/10.1046/j.1462-2920.2000.00102.x

Eusemann P, Schnittler M, Nilsson RH, Jumpponen A, Dahl MB, Würth DG, Buras A, Wilmking M, Unterseher M (2016) Habitat conditions and phenological tree traits overrule the influence of tree genotype in the needle mycobiome—Picea glauca system at an arctic treeline ecotone. New Phytol 211:1221–1231. https://doi.org/10.1111/nph.13988

Fahrenholz H (1913) Ektoparasiten und abstammungslehre. Zoologischer Anzeiger 41:371–374

Fisher MC, Henk DA, Briggs CJ, Brownstein JS, Madoff LC, McCraw SL, Gurr SJ (2012) Emerging fungal threats to animal, plant and ecosystem health. Nature 484:186–194. https://doi.org/10.1038/nature10947

Fritz SA, Purvis A (2010) Selectivity in mammalian extinction risk and threat types: a new measure of phylogenetic signal strength in binary traits. Conserv Biol 24:1042–1051. https://doi.org/10.1111/j.1523-1739.2010.01455.x

Fukami T (2015) Historical contingency in community assembly: integrating niches, species pools, and priority effects. Annu Rev Ecol Evol Syst 46:1–23. https://doi.org/10.1146/annurev-ecolsys-110411-160340

Gilbert GS, Parker IM (2016) The evolutionary ecology of plant disease: a phylogenetic perspective. Annu Rev Phytopathol 54:549–578. https://doi.org/10.1146/annurev-phyto-102313-045959

Gilbert GS, Magarey R, Suiter K, Webb CO (2012) Evolutionary tools for phytosanitary risk analysis: phylogenetic signal as a predictor of host range of plant pests and pathogens. Evol Appl 5:869–878. https://doi.org/10.1111/j.1752-4571.2012.00265.x

Gordon A, Hannon GJ (2010) Fastx-toolkit. FASTQ/A short-reads preprocessing tools

Griffin EA, Carson WP (2015) The ecology and natural history of foliar bacteria with a focus on tropical forests and agroecosystems. Bot Rev 81:105–149. https://doi.org/10.1007/s12229-015-9151-9

Guindon S, Dufayard JF, Lefort V, Anisimova M, Hordijk W, Gascuel O (2010) New algorithms and methods to estimate maximum-likelihood phylogenies: assessing the performance of PhyML 3.0. Syst Biol 59:307–321. https://doi.org/10.1093/sysbio/syq010

Gururani MA, Venkatesh J, Upadhyaya CP, Nookaraju A, Pandey SK, Park SW (2012) Plant disease resistance genes: current status and future directions. Physiol Mol Plant Pathol 78:51–65. https://doi.org/10.1016/j.pmpp.2012.01.002

Hahlbrock K, Scheel D (1989) Physiology and molecular biology of phenylpropanoid metabolism. Ann Rev Plant Biol 40:347–369. https://doi.org/10.1146/annurev.pp.40.060189.002023

Halbwachs H, Brandl R, Bassler C (2015) Spore wall traits of ectomycorrhizal and saprotrophic agarics may mirror their distinct lifestyles. Fungal Ecol 17:197–204. https://doi.org/10.1016/j.funeco.2014.10.003

Hartley SE, Eschen R, Horwood JM, Gange AC, Hill EM (2015) Infection by a foliar endophyte elicits novel arabidopside-based plant defence reactions in its host, Cirsium arvense. New Phytol 205:816–827. https://doi.org/10.1111/nph.13067

Heil M, Ton J (2008) Long-distance signalling in plant defence. Trends Plant Sci 13:264–272. https://doi.org/10.1016/j.tplants.2008.03.005

Huang YL, Devan MN, U'Ren JM, Furr SH, Arnold AE (2016) Pervasive effects of wildfire on foliar endophyte communities in montane forest trees. Microb Ecol 71:452–468. https://doi.org/10.1007/s00248-015-0664-x

Hutchinson MC, Cagua EF, Balbuena JA, Stouffer DB, Poisot T (2017) paco: implementing Procrustean approach to Cophylogeny in R. Methods Ecol Evol 8:932–940. https://doi.org/10.1111/2041-210X.12736

Iqbal J, Siegrist JA, Nelson JA, McCulley RL (2012) Fungal endophyte infection increases carbon sequestration potential of southeastern USA tall fescue stands. Soil Biol Biochem 44:81–92. https://doi.org/10.1016/j.soilbio.2011.09.010

Jakuschkin B, Fievet V, Schwaller L, Fort T, Robin C, Vacher C (2016) Deciphering the pathobiome: intra- andinterkingdom interactions involving the pathogen Erysiphe alphitoides. Microb Ecol 72:870–880

Jawallapersand P, Mashele SS, Kovacic L, Stojan J, Komel R et al (2014) Cytochrome P450 monooxygenase CYP53 family in fungi: comparative structural and evolutionary analysis and its role as a common alternative anti-fungal drug target. PLoS ONE 9:e107209. https://doi.org/10.1371/journal.pone.0107209

Kembel SE, Cowan PD, Helmus MR, Cornwell WK, Morlon H, Ackerly DD et al (2010) Picante: R tools for integrating phylogenies and ecology. Bioinformatics 26:1463–1464. https://doi.org/10.1093/bioinformatics/btq166

Kosentka P, Sprague SL, Ryberg M, Gartz J, May AL et al (2013) Evolution of the toxins muscarine and psilocybin in a family of mushroom-forming Fungi. PLoS ONE 8:e64646. https://doi.org/10.1371/journal.pone.0064646

Kraft NJ, Adler PB, Godoy O, James EC, Fuller S, Levine JM (2015) Community assembly, coexistence and the environmental filtering metaphor. Funct Ecol 29:592–599. https://doi.org/10.1111/1365-2435.12345

Le Gac M, Hood ME, Fournier E, Giraud T (2007) Phylogenetic evidence of host-specific cryptic species in the anther smut fungus. Evolution 61:15–26. https://doi.org/10.1111/j.1558-5646.2007.00002.x

Legendre P, Desdevises Y, Bazin E (2002) A statistical test for host-parasite coevolution. Syst Biol 51:217–234. https://doi.org/10.1080/10635150252899734

Li SP, Cadotte MW, Meiners SJ, Hua ZS, Jiang L, Shu WS (2015) Species colonisation, not competitive exclusion, drives community overdispersion over long-term succession. Ecol Lett 18:964–973. https://doi.org/10.1111/ele.12476

Liu J, Zhang X, Song F, Zhou S, Cadotte MW, Bradshaw CJ (2015) Explaining maximum variation in productivity requires phylogenetic diversity and single functional traits. Ecology 96:176–183. https://doi.org/10.1890/14-1034.1

Liu X, Lyu S, Zhou S, Bradshaw CJ (2016a) Warming and fertilization alter the dilution effect of host diversity on disease severity. Ecology 97:1680–1689. https://doi.org/10.1890/15-1784.1

Liu X, Liang M, Etienne RS, Gilbert GS, Yu S (2016b) Phylogenetic congruence between subtropical trees and their associated fungi. Ecol Evol 6:8412–8422. https://doi.org/10.1002/ece3.2503

Liu X, Lyu S, Sun D, Bradshaw CJ, Zhou S (2017) Species decline under nitrogen fertilization increases community-level competence of fungal diseases. Proc R Soc B Biol Sci 284:20162621. https://doi.org/10.1098/rspb.2016.2621

Maignien L, DeForce EM, Chafee ME, Eren AM, Simmons SL (2014) Ecological succession and stochastic variation in the assembly of Arabidopsis thaliana phyllosphere communities. mBio 5:e00682-e713. https://doi.org/10.1128/mBio.00682-13

Mandeel Q, Baker R (1991) Mechanisms involved in biological control of Fusarium wilt of cucumber with strains of nonpathogenic Fusarium oxysporum. Phytopathology 81:462–469

Mayfield MM, Levine JM (2010) Opposing effects of competitive exclusion on the phylogenetic structure of communities. Ecol Lett 13:1085–1093. https://doi.org/10.1111/j.1461-0248.2010.01509.x

Minerdi D, Bossi S, Gullino ML, Garibaldi A (2009) Volatile organic compounds: a potential direct long-distance mechanism for antagonistic action of Fusarium oxysporum strain MSA 35. Environ Microbiol 11:844–854. https://doi.org/10.1111/j.1462-2920.2008.01805.x

Pan JJ, May G (2009) Fungal-fungal associations affect the assembly of endophyte communities in maize (Zea mays). Microb Ecol 58:668–678. https://doi.org/10.1007/s00248-009-9543-7

Photita W, Lumyong S, Lumyong P, McKenzie EHC, Hyde KD (2004) Are some endophytes of Musa acuminata latent pathogens? Fungal Divers 16:131–140

Piasecka A, Jedrzejczak-Rey N, Bednarek P (2015) Secondary metabolites in plant innate immunity: conserved function of divergent chemicals. New Phytol 206:948–964. https://doi.org/10.1111/nph.13325

Rodriguez RJ, Henson J, Van Volkenburgh E, Hoy M, Wright L, Beckwith F et al (2008) Stress tolerance in plants via habitat-adapted symbiosis. ISME J 2:404–416. https://doi.org/10.1038/ismej.2007.106

Rodriguez RJ, White JF Jr, Arnold AE, Redman RS (2009) Fungal endophytes: diversity and functional roles. New Phytol 182:314–330. https://doi.org/10.1111/j.1469-8137.2009.02773.x

Sarmiento C, Zalamea PC, Dalling JW, Davis AS, Stump SM, U'Ren JM, Arnold AE (2017) Soilborne fungi have host affinity and host-specific effects on seed germination and survival in a lowland tropical forest. Proc Natl Acad Sci USA 114:11458–11463. https://doi.org/10.1073/pnas.1706324114

Saunders M, Kohn LM (2009) Evidence for alteration of fungal endophyte community assembly by host defense compounds. New Phytol 182:229–238. https://doi.org/10.1111/j.1469-8137.2008.02746.x

Saunders M, Glenn AE, Kohn LM (2010) Exploring the evolutionary ecology of fungal endophytes in agricultural systems: using functional traits to reveal mechanisms in community processes. Evol Appl 3:525–537. https://doi.org/10.1111/j.1752-4571.2010.00141.x

Seabloom EW, Kinkel L, Borer ET, Hautier Y, Montgomery RA, Tilman D (2017) Food webs obscure the strength of plant diversity effects on primary productivity. Ecol Lett 20:505–512. https://doi.org/10.1111/ele.12754

Slippers B, Wingfield MJ (2007) Botryosphaeriaceae as endophytes and latent pathogens of woody plants: diversity, ecology and impact. Fungal Biol Rev 21:90–106. https://doi.org/10.1016/j.fbr.2007.06.002

Solis MJL, Cruz TED, Schnittler M, Unterseher M (2016) The diverse community of leaf-inhabiting fungal endophytes from Philippine natural forests reflects phylogenetic patterns of their host plant species Ficus benjaminaF elastica and F religiosa. Mycoscience 57:96–106. https://doi.org/10.1016/j.myc.2015.10.002

Srivastava SL, Bisht S (1986) Inhibitory effect of some phylloplane fungi on powdery mildew disease development. Indian Phytopathol 39:83–86

Tian P, Nan Z, Li C, Spangenberg G (2008) Effect of the endophyte Neotyphodium lolii on susceptibility and host physiological response of perennial ryegrass to fungal pathogens. Eur J Plant Pathol 122:593–602. https://doi.org/10.1007/s10658-008-9329-7

Tucker CM, Fukami T (2014) Environmental variability counteracts priority effects to facilitate species coexistence: evidence from nectar microbes. Proc R Soc London B Biol Sci 281:20132637. https://doi.org/10.1098/rspb.2013.2637

U'Ren JM, Lutzoni F, Miadlikowska J, Laetsch AD, Arnold AE (2012) Host and geographic structure of endophytic and endolichenic fungi at a continental scale. Am J Bot 99:898–914. https://doi.org/10.3732/ajb.1100459

Vályi K, Mardhiah U, Rillig MC, Hempel S (2016) Community assembly and coexistence in communities of arbuscular mycorrhizal fungi. ISME J 10:2341–2351. https://doi.org/10.1038/ismej.2016.46

Vincent JB, Weiblen GD, May G (2016) Host associations and beta diversity of fungal endophyte communities in New Guinea rainforest trees. Mol Ecol 25:825–841. https://doi.org/10.1111/mec.13510

Waqas M, Khan AL, Kamran M, Hamayun M, Kang SM, Kim YH, Lee IJ (2012) Endophytic fungi produce gibberellins and indoleacetic acid and promotes host-plant growth during stress. Molecules 17:10754–10773. https://doi.org/10.3390/molecules170910754

Webb CO, Donoghue MJ (2005) Phylomatic: tree assembly for applied phylogenetics. Mol Ecol Resour 5:181–183. https://doi.org/10.1111/j.1471-8286.2004.00829.x

Webb CO, Ackerly DD, McPeek MA, Donoghue MJ (2002) Phylogenies and community ecology. Annu Rev Ecol Syst 33:475–505. https://doi.org/10.1146/annurev.ecolsys.33.010802.150448

Yang T, Weisenhorn P, Gilbert JA, Ni Y, Sun R, Shi Y, Chu H (2016) Carbon constrains fungal endophyte assemblages along the timberline. Environ Microbiol 18:2455–2469. https://doi.org/10.1111/1462-2920.13153

Zhang YM, Ma HL, Tang YZ (2015) Structural changes in leaves in Medicago sativa infected with Erysiphe pisi. Acta Prataculturae Sinica 26:88–94

Ziemert N, Lechner A, Wietz M, Millán-Aguiñaga N, Chavarria KL, Jensen PR (2014) Diversity and evolution of secondary metabolism in the marine actinomycete genus Salinispora. Proc Natl Acad Sci USA 111:E1130–E1139. https://doi.org/10.1073/pnas.1324161111

Zimmerman NB, Vitousek PM (2012) Fungal endophyte communities reflect environmental structuring across a Hawaiian landscape. Proc Natl Acad Sci USA 109:13022–13027. https://doi.org/10.1073/pnas.1209872109

Zipfel C (2014) Plant pattern-recognition receptors. Trends Immunol 35:345–351. https://doi.org/10.1016/j.it.2014.05.004
Acknowledgements
We thank two anonymous reviewers for the constructive comments on an early version of the manuscript. We also thank Dexin Sun from Fudan University for assistance in the field, Dr. Ning Ling, Xu Gao, Ying Chen from Nanjing Agricultural University, Dr. Yu Shi from Institute of Soil Science, Chinese Academy of Sciences for help in laboratory, and Weirui Fu from Fudan University for help in fungi phylogeny. This field work was done in the Research Station of Alpine Meadow and Wetland Ecosystems of Lanzhou University.
Funding
This study was supported by the National Natural Science Foundation of China (31770518 and 31830009 to SZ, 32001116 to XL), the Fundamental Research Funds for the Central Universities (lzujbky-2020-cd01 to XL), and by a Research Project of the Chinese Ministry of Education (113021A to SZ). XL would like to thank the China Scholarship Council (CSC) for his scholarship (#201606100165).
Ethics declarations
Conflict of interest
The authors declare that they have no conflict of interest.
Additional information
Communicated by Christiane Roscher.
Supplementary Information
Below is the link to the electronic supplementary material.
About this article
Cite this article
Liu, X., Jia, P., Cadotte, M.W. et al. Host plant environmental filtering drives foliar fungal community assembly in symptomatic leaves. Oecologia 195, 737–749 (2021). https://doi.org/10.1007/s00442-021-04849-3
Received:

Accepted:

Published:

Issue Date:
Keywords
Alpine meadow

Endophyte

Foliar fungal disease

Host filter

Phylogenetic congruence