Abstract
Behavioral interactions such as dominance are critical components of animal social lives, competitive abilities, and resulting distribution patterns with coexisting species. Strong interference competition can drive habitat separation, but less is known of the role of interference if agonistic interactions are weak. While most theoretical models assume interference abilities to be constant in an environment, few consider that the extent of interference can vary by habitat and change model predictions. Using baited underwater cameras, we show a consistent dominance status between two sympatric reef sharks at an uninhabited Pacific atoll. Blacktip reef shark (Carcharhinus melanopterus) and gray reef shark (Carcharhinus amblyrhyncos) relative abundance showed an inverse relationship to each other but the strength of this relationship varied by habitat. Reef shark relative abundance declined more rapidly in the presence of heterospecifics on forereef habitats as opposed to backreefs. In all habitats, gray reef sharks were more likely to bite bait cages than blacktips when both species were present, and appeared to be the dominant species. Intraspecific interactions were also apparent, with individual willingness to bite bait decreasing as the number of conspecifics increased. Gray reef sharks may exert differential control over blacktip foraging success in different habitats. Habitat-specific behavioral interactions may partially explain patterns of spatial separation between competing species where interference is weak.
Access options
Buy single article
Instant access to the full article PDF.
US$ 39.95
Tax calculation will be finalised during checkout.
Subscribe to journal
Immediate online access to all issues from 2019. Subscription will auto renew annually.
US$ 119
Tax calculation will be finalised during checkout.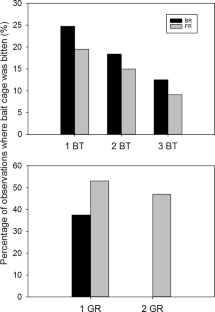 References
Acevedo-Gutiérrez A (2002) Interactions between marine predators: dolphin food intake is related to number of sharks. Mar Ecol Prog Ser 240:267–271

Blumstein DT, Daniel JC, Evans CS (2006) JWatcher 1.0. http://www.jwatcher.ucla.edu

Bradley D, Conklin E, Papastamatiou YP, McCauley DJ, Pollock K, Pollock A, Kendall BE, Gaines SD, Caselle JE (2017a) Resetting predator baselines in coral reef ecosystems. Sci Rep 7:43131

Bradley D, Papastamatiou YP, Caselle JE (2017b) No persistent behavioral effects of SCUBA diving on reef sharks. Mar Ecol Prog Ser 567:173–184

Bradley D, Conklin E, Papastamatiou YP, McCauley DJ, Pollock K, Kendall BE, Gaines SD, Caselle JE (2017c) Growth and life history variability of the gray reef shark (Carcharhinus amblyrhynchos) across its range. PLoS ONE 12:e0172370

Brena PF, Mourier J, Planes S, Clua EE (2018) Concede or clash? Solitary sharks competing for food assess rivals to decide. Proc R Soc B 285:20180006

Cappo M, Speare P, De'ath G (2004) Comparison of baited remote underwater video stations (BRUVS) and prawn (shrimp) trawls for assessments of fish biodiversity in inter-reefal areas of the Great Barrier Reef Marine Park. J Exp Mar Biol Ecol 302:123–152

Case TJ, Gilpin ME (1974) Interference competition and niche theory. Proc Natl Acad Sci 71:3073–3077

Cresswell W, Smith RD, Ruxton GD (2001) Absolute foraging rate and susceptibility to interference competition in blackbirds varies with patch conditions. J Anim Ecol 70:228–236

Dolman PM (1995) The intensity of interference varies with resource density: evidence from a field study with snow buntings, Plectrophenax nivalis. Oecologia 102:511–514

Heupel MR, Ledee EJI, Simpfendorfer CA (2018) Telemetry reveals spatial separation of co-occurring sharks. Mar Ecol Prog Ser 589:179–192

Hobson ES (1963) Feeding behavior in three species of sharks. Pac Sci 17:171–194

Holmgren N (1995) The ideal free distribution of unequal competitors: predictions from a behavior-based functional response. J Anim Ecol 64:197–212

Humphries S, Ruxton GD, Van der Meer J (2001) Unequal competitor ideal free distributions: predictions for differential effects of interference between habitats. J Anim Ecol 70:1062–1069

Jacoby DMP, Papastamatiou YP, Freeman R (2016) Inferring animal social networks and leadership: applications for passive monitoring arrays. J R Soc Interface 13:20160676

Lea JSE, Humphries NE, von Brandis RG, Clarke CR, Sims DW (2016) Acoustic telemetry and network analysis reveal the space use of multiple reef predators and enhance marine protected area design. Proc R Soc B 283:20160717

Mclean DL, Harvey ES, Meeuwig JJ (2011) Declines in the abundance of coral trout (Plectropomus leopardus) in areas closed to fishing at the Houtman Abrolhos Islands, Western Australia. J Exp Mar Biol Ecol 406:71–78

Mourier J, Vercelloni J, Planes J (2012) Evidence of social communities in a spatially structured network of a free-ranging shark species. Anim Behav 83:389–401

Myberg AA, Gruber SH (1974) The behavior of the bonnethead shark, Sphyrna tiburo. Copeia 2:358–374

O'Shea OR, Mandelman J, Talwar B, Brooks EJ (2015) Novel observations of an opportunistic predation event by four apex predatory sharks. Mar Fresh Behav Physiol 48:374–380

Papastamatiou YP, Caselle JE, Friedlander AM, Lowe CG (2009) Distribution, size frequency, and sex ratios of blacktip reef sharks Carcharhinus melanopterus at Palmyra Atoll: a predator-dominated ecosystem. J Fish Biol 75:647–654

Papastamatiou YP, Bodey TW, Friedlander AM, Lowe CG, Bradley D, Weng K, Priestley V, Caselle JE (2018) Spatial separation without territoriality in shark communities. Oikos 127:767–779

Pasch B, Bolker BM, Phelps SM (2013) Interspecific dominance via vocal interactions mediates altitudinal zonation in neotropical singing mice. Am Nat 182:161–173

Randall JA (1978) Behavioral mechanisms of habitat segregation between sympatric species of Microtus: habitat preference and interspecific dominance. Behav Ecol Sociobiol 3:187–202

Rebollo S, Martinez-Hesterkamp S, Garcia-Salgado G, Perez-Camacho L, Fernandez-Pereira JM, Jennes J (2017) Spatial relationships and mechanisms of coexistence between dominant and subordinate top predators. J Avian Biol 48:1226–1237

Ritter EK (2001) Food-related dominance between two carcharhinid shark species, the Caribbean reef shark (Carcharhinus perezi) and the blacktip shark (Carcharhinus limbatus). Mar Fresh Behav Physiol 34:125–129

Robinson SK, Terborgh J (1995) Interspecific aggression and habitat selection by Amazonian birds. J Anim Ecol 64:1–11

Sanders NJ, Gordon DM (2003) Resource-dependent interactions and the organization of desert ant communities. Ecology 84:1024–1031

Tallian A et al (2017) Competition between apex predators? Brown bears decrease wolf kill rate on two continents. Proc R Soc B 284:20162368

Wakefield ED et al (2013) Space partitioning without territoriality in gannets. Science 341:68–70
Acknowledgements
We thank K. Davis and P. Carlson for assistance in the field and the entire staff of the Palmyra Atoll research station, TNC, and USFWS for their support. We also thank the two reviewers whose comments improved the manuscript. Research was conducted under US Fish and Wildlife permits #12533-14011 and #12533-15011. All animal surveys were approved by the IACUC of University California Santa Barbara (#856). This is contribution #193 from the Coastlines and Oceans Division of the Institute of Environment at Florida International University. This is publication number PARC-157 from the Palmyra Atoll Research Consortium (PARC).
Funding
Funding was provided by Save Our Seas Foundation (to DB), Marisla Foundation grant (to JEC), and MARC U*STAR and the FIU Ronald E. McNair Post-Baccalaureate Achievment Program (to MS).
Additional information
Communicated by Aaron J Wirsing.
Electronic supplementary material
Below is the link to the electronic supplementary material.
About this article
Cite this article
Sabando, M.A., Rieucau, G., Bradley, D. et al. Habitat-specific inter and intraspecific behavioral interactions among reef sharks. Oecologia 193, 371–376 (2020). https://doi.org/10.1007/s00442-020-04676-y
Received:

Accepted:

Published:

Issue Date:
Keywords
Blacktip reef shark

Grey reef shark

BRUV

Competition

Dominance