Abstract
While functional traits can facilitate or constrain interactions between pair of species in ecological communities, relative abundances regulate the probabilities of encounter among individuals. However, the relative importance of traits and relative abundances for the role species play in seed dispersion networks remains poorly explored. Here, we analyzed 20 Neotropical seed dispersal networks distributed from Mexico to southeastern Brazil to evaluate how relative abundance and functional traits influence bat species' roles in seed dispersal networks. We tested how bat relative abundance and traits relate to species contribution to between-module (c metric) and within-module connectivity (z metric) and their position and potential to mediate indirect effects between species (betweenness centrality). Our results indicate that relative abundance is the main determinant of the role bats play in the networks, while traits such as aspect ratio show modest yet statistically significant importance in predicting specific roles. Moreover, all seed dispersal networks presented two or three superabundant obligatory frugivore species that interacted with a high number of plants. The modest influence of the functional traits on species' roles is likely related to the low variation of morphological traits related to foraging ecology, which reduces the chances of morphological mismatching between consumers and resources in the system. In this scenario, abundant bats have higher chances of encountering resources and being capable of consuming them which leads such species to play critical roles in the community by acting as module hubs and network connectors.
Access options
Buy single article
Instant access to the full article PDF.
US$ 39.95
Tax calculation will be finalised during checkout.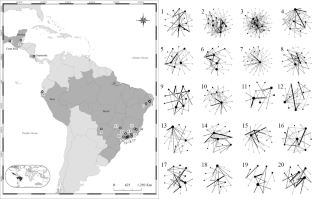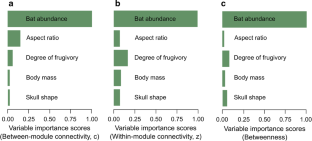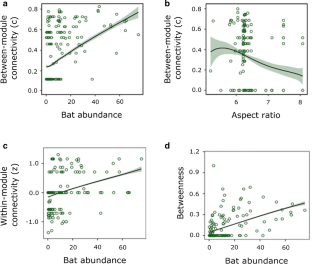 References
Bascompte J, Jordano P (2007) Plant–animal mutualistic networks: the architecture of biodiversity. Annu Rev Ecol Evol Syst 38:567–593. https://doi.org/10.1146/annurev.ecolsys.38.091206.095818

Bernard E, Albernaz ALKM, Magnusson WE (2001) Bat species composition in three localities in the Amazon basin. Stud Neotrop Fauna Environ 36:177–184. https://doi.org/10.1076/snfe.36.3.177.2125

Bezerra ELS, Machado IC, Mello MAR (2009) Pollination networks of oil-flowers: a tiny world within the smallest of all worlds. J Anim Ecol 78:1096–1101. https://doi.org/10.1111/j.1365-2656.2009.01567.x

Bolker BM, Brooks ME, Clark CJ et al (2009) Generalized linear mixed models: a practical guide for ecology and evolution. Trends Ecol Evol 24:127–135. https://doi.org/10.1016/j.tree.2008.10.008

Burnham KP, Anderson DR (2002) Model selection and multimodel inference. Springer, New York

Chamberlain SA, Holland JN (2009) Body size predicts degree in ant-plant mutualistic networks. Funct Ecol 23:196–202. https://doi.org/10.1111/j.1365-2435.2008.01472.x

Cirtwill AR, Dalla Riva GV, Gaiarsa MP et al (2018) A review of species' role concepts in food webs. Food Webs 16:e00093. https://doi.org/10.1016/j.fooweb.2018.e00093

Denzinger A, Schnitzler HU (2013) Bat guilds, a concept to classify the highly diverse foraging and echolocation behaviors of microchiropteran bats. Front Physiol 4:1–15. https://doi.org/10.3389/fphys.2013.00164

Donatti CI, Guimarães PR, Galetti M et al (2011) Analysis of a hyper-diverse seed dispersal network: modularity and underlying mechanisms. Ecol Lett 14:773–781. https://doi.org/10.1111/j.1461-0248.2011.01639.x

Dorado J, Vázquez DP, Stevani EL, Chacoff NP (2011) Rareness and specialization in plant–pollinator networks. Ecology 92:19–25. https://doi.org/10.1890/10-0794.1

Dormann CF, Fründ J, Blüthgen N, Gruber B (2009) Indices, graphs and null models: analyzing bipartite ecological networks. Open Ecol J 2:7–24. https://doi.org/10.2174/1874213000902010007

Dormann CF, Fründ J, Schaefer HM (2017) Identifying causes of patterns in ecological networks: opportunities and limitations. Ann Rev Ecol Evol Syst 48:559–584. https://doi.org/10.1146/annurev-ecolsys-110316-022928

Fort H, Vázquez DP, Lan BL (2016) Abundance and generalisation in mutualistic networks: solving the chicken-and-egg dilemma. Ecol Lett 19:4–11. https://doi.org/10.1111/ele.12535

Fleming TH, Kress WJ (2013) The ornaments of life: coevolution and conservation in the tropics. University of Chicago Press, Chicago

Gregorin R, Bernard E, Lobao KW et al (2017) Vertical stratification in bat assemblages of the Atlantic Forest of south-eastern Brazil. J Trop Ecol 33:299–308. https://doi.org/10.1017/S026646741700027X

Guimerà R, Nunes Amaral LA (2005) Functional cartography of complex metabolic networks. Nature 433:895–900. https://doi.org/10.1038/nature03288

Guimerà R, Sales-Pardo M, Amaral LAN (2007) Module identification in bipartite and directed networks. Phys Rev E. https://doi.org/10.1103/PhysRevE.76.036102

Kalko EKV, Handley CO, Handley D (1996) Organization, diversity, and long-term dynamics of a Neotropical bat community. In: Cody ML, Smallwood JA (eds) Long-term studies of vertebrate communities. Elsevier, New York, pp 503–553. https://doi.org/10.1016/B978-012178075-3/50017-9

Kaiser-Bunbury CN, Blüthgen N (2015) Integrating network ecology with applied conservation: a synthesis and guide to implementation. AoB Plants. https://doi.org/10.1093/aobpla/plv076

Laurindo RS, Novaes RLM, Vizentin-Bugoni J, Gregorin R (2019) The effects of habitat loss on bat-fruit networks. Biodivers Conserv 28(589–60):1. https://doi.org/10.1007/s10531-018-1676-x

Lobova TA, Geiselman CK, Mori SA (2009) Seed dispersal by bats in the Neotropics. New York Botanical Garden Press, New York

Maia KP, Rasmussen C, Olesen JM, Guimarães PR Jr (2019) Does the sociality of pollinators shape the organisation of pollination networks? Oikos 128:741–752. https://doi.org/10.1111/oik.05387

Marinello MM, Bernard E (2014) Wing morphology of Neotropical bats: a quantitative and qualitative analysis with implications for habitat use. Can J Zool 92:141–147. https://doi.org/10.1139/cjz-2013-0127

Martín González AM, Dalsgaard B, Olesen JM (2010) Centrality measures and the importance of generalist species in pollination networks. Ecol Complexity 7:36–43. https://doi.org/10.1016/j.ecocom.2009.03.008

Mello MAR, Marquitti FMD, Guimarães PR et al (2011) The modularity of seed dispersal: differences in structure and robustness between bat– and bird–fruit networks. Oecologia 167:131–140. https://doi.org/10.1007/s00442-011-1984-2

Mello MAR, Rodrigues FA, Costa LF et al (2015) Keystone species in seed dispersal networks are mainly determined by dietary specialization. Oikos 124:1031–1039. https://doi.org/10.1111/oik.01613

Mello MAR, Felix GM, Pinheiro RB et al (2019) Insights into the assembly rules of a continent-wide multilayer network. Nat Ecol Evol. https://doi.org/10.1038/s41559-019-1002-3

Montoya-Arango S, Acevedo-Quintero JF, Parra JL (2019) Abundance and size of birds determine the position of the species in plant–frugivore interaction networks in fragmented forests. Community Ecol 20:75–82. https://doi.org/10.1556/168.2019.20.1.8

Munin RL, Fischer E, Gonçalves F (2012) Food habits and dietary overlap in a phyllostomid bat assemblage in the Pantanal of Brazil. Acta Chiropterol 14:195–204. https://doi.org/10.3161/150811012X654871

Murillo-García O, De la Vega M (2018) Divergence, convergence and phenotypic diversity of Neotropical frugivorous bats. Diversity 10:100. https://doi.org/10.3390/d10030100

Muylaert RL, Stevens RD, Esbérard CEL et al (2017) ATLANTIC BATS: a data set of bat communities from the Atlantic Forests of South America. Ecology 98:3227–3227. https://doi.org/10.1002/ecy.2007

Nogueira MR, Peracchi AL, Monteiro LR (2009) Morphological correlates of bite force and diet in the skull and mandible of phyllostomid bats. Funct Ecol 23:715–723. https://doi.org/10.1111/j.1365-2435.2009.01549.x

Olesen JM, Bascompte J, Dupont YL, Jordano P (2007) The modularity of pollination networks. Proc Natl Acad Sci 104:19891–19896. https://doi.org/10.1073/pnas.0706375104

Palacio RD, Valderrama-Ardila C, Kattan GH (2016) Generalist species have a central role in a highly diverse plant–frugivore network. Biotropica 48:349–355. https://doi.org/10.1111/btp.12290

Saavedra S, Stouffer DB, Uzzi B, Bascompte J (2011) Strong contributors to network persistence are the most vulnerable to extinction. Nature 478:233–235. https://doi.org/10.1038/nature10433

Sánchez F, Alvarez J, Ariza C, Cadena A (2007) Bat assemblage structure in two dry forests of Colombia: composition, species richness, and relative abundance. Mammal Biol 72:82–92. https://doi.org/10.1016/j.mambio.2006.08.003

Sazatornil FD, More M, Benitez-Vieyra S et al (2016) Beyond neutral and forbidden links: morphological matches and the assembly of mutualistic hawkmoth–plant networks. J Anim Ecol 85:1586–1594. https://doi.org/10.1111/1365-2656.12509

Sarmento R, Alves-Costa CP, Ayub A, Mello MAR (2014) Partitioning of seed dispersal services between birds and bats in a fragment of the Brazilian Atlantic Forest. Zoologia 31:245–255. https://doi.org/10.1590/S1984-46702014000300006

Schleuning M, Ingmann L, Strauss R et al (2014) Ecological, historical and evolutionary determinants of modularity in weighted seed-dispersal networks. Ecol Lett 17:454–463. https://doi.org/10.1111/ele.12245

Sebastián-González E (2017) Drivers of species' role in avian seed-dispersal mutualistic networks. J Anim Ecol 86:878–887. https://doi.org/10.1111/1365-2656.12686

Simmons BI, Wauchope HS, Amano T et al (2019a) Vulnerable species interactions are important for the stability of mutualistic networks. BioRxiv 20:604868

Simmons BI, Vizentin-Bugoni J, Maruyama PK et al (2019b) Abundance drives broad patterns of generalisation in plant–hummingbird pollination networks. Oikos 128:1287–1295. https://doi.org/10.1111/oik.06104

Sonne J, Vizentin-Bugoni J, Maruyama PK et al (2020) Ecological mechanisms explaining interactions within plant–hummingbird networks: morphological matching increases towards lower latitudes. Proc R Soc B 287:20192873. https://doi.org/10.1098/rspb.2019.2873

Soriano PJ (2000) Functional structure of bat communities in tropical rainforests and Andean cloud forests. Ecotrópicos 13:1–20

Tavares DC, Guadagnin DL, Moura JF, Siciliano S, Merico A (2015) Environmental and anthropogenic factors structuring waterbird habitats of tropical coastal lagoons: implications for management. Biol Cons 186:12–21. https://doi.org/10.1016/j.biocon.2015.02.027

Tavares DC, Moura JF, Siciliano S (2016) Environmental predictors of seabird wrecks in a tropical coastal area. PLoS ONE 11:e0168717. https://doi.org/10.1371/journal.pone.0168717

Tavares DC, Moura JF, Acevedo-Trejos E, Merico A (2019) Traits shared by marine megafauna and their relationships with ecosystem functions and services. Front Mar Sci 6:262. https://doi.org/10.3389/fmars.2019.00262

Trevelin LC, Novaes RLM, Colas-Rosas PF, Benathar TCM, Peres CA (2017) Enhancing sampling design in mist-net bat surveys by accounting for sample size optimization. PLoS ONE. https://doi.org/10.1371/journal.pone.0174067

Vázquez DP, Chacoff NP, Cagnolo L (2009) Evaluating multiple determinants of the structure of plant–animal mutualistic networks. Ecology 90:2039–2046. https://doi.org/10.1890/08-1837.1

Vizentin-Bugoni J, Maruyama PK, Sazima M (2014) Processes entangling interactions in communities: forbidden links are more important than abundance in a hummingbird–plant network. Proc R Soc B 281:20132397. https://doi.org/10.1098/rspb.2013.2397

Vizentin-Bugoni J, Maruyama PKM, Souza CS, Ollerton J, Rech AR, Sazima M (2018) Plant-pollinator networks in the tropics: a review. In: Dáttilo W, Rico-Gray V (eds) Ecological networks in the tropics. Springer, Berlin, pp 73–91. https://doi.org/10.1007/978-3-319-68228-0_6

Wilson DE, Mittermeier RA (2019) Handbook of the mammals of the world: bats. Lynx Edicions, Barcelona

Winfree R, Williams NM, Dushoff J, Kremen C (2014) Species abundance, not diet breadth, drives the persistence of the most linked pollinators as plant–pollinator networks disassemble. Am Nat 183:600–611. https://doi.org/10.1086/675716

Zuur AF, Ieno EN, Elphick CS (2010) A protocol for data exploration to avoid common statistical problems. Methods Ecol Evol 1:3–14. https://doi.org/10.1111/j.2041-210X.2009.00001.x

Zuur AF, Ieno EN, Walker NJ et al (2009) Mixed effects models and extensions in Ecology with R. Springer, New York
Acknowledgements
We thank the Brazilian Army, Pindamonhangaba City Hall, and Débora Mascarenhas (from Renópolis Farm), São José dos Campos City Hall for logistic support and permission to work in lands under their responsibility. We thank Lívia Loureiro and Burton K. Lim (Royal Ontario Museum, Toronto) for morphometric measurements of some specimens. RSL, MCSM, RMM thank to the Coordenação de Aperfeiçoamento de Pessoal de Nível Superior—Brasil (CAPES)—Finance Code 001. JVB thanks to the US Army CERL-ERDC for funding. DCT acknowledges the Alexander von Humboldt Foundation/CAPES (Project number 88881.162169/2017-01) for funding.
Additional information
Communicated by David M. Watson.
Electronic supplementary material
Below is the link to the electronic supplementary material.
About this article
Cite this article
Laurindo, R.S., Vizentin-Bugoni, J., Tavares, D.C. et al. Drivers of bat roles in Neotropical seed dispersal networks: abundance is more important than functional traits. Oecologia 193, 189–198 (2020). https://doi.org/10.1007/s00442-020-04662-4
Received:

Accepted:

Published:

Issue Date:
Keywords
Chiroptera

Frugivory

Neotropics

Morphological traits

Mutualistic interactions