Abstract
Intermittent breeding, in which an adult skips a breeding opportunity, can represent a non-adaptive constraint or an adaptive response to the tradeoff between current and future reproduction. In group-living animals, the social group may also affect the frequency of reproduction, but this possibility has received little attention. Here we use an 11-year data set to investigate intermittent breeding in the greater ani (Crotophaga major), a tropical bird that nests in stable breeding groups containing several unrelated co-breeding females. Population-wide, an average of 62% of females laid eggs in a given year (range 35–84%), and the average female failed to lay eggs once every 3.2 years. We found little support for the hypothesis that intermittent breeding reflects a tradeoff between current and future reproduction: breeding in year t did not affect a female's likelihood of breeding in year t + 1, and clutch size in year t did not affect clutch size in year t + 1. Increases in clutch size were associated with decreases in egg mass for eggs laid at the end of that clutch, but this did not affect subsequent nesting attempts. However, reproductive skipping was associated with changes in group membership. Females whose groups changed in composition after year t were significantly less likely to breed in year t + 1 than females whose groups remained stable. These results indicate that breeding group stability influences the frequency of reproduction, suggesting that transitions between groups may be costly to females and their mates.
Access options
Buy single article
Instant access to the full article PDF.
US$ 39.95
Tax calculation will be finalised during checkout.
Subscribe to journal
Immediate online access to all issues from 2019. Subscription will auto renew annually.
US$ 119
Tax calculation will be finalised during checkout.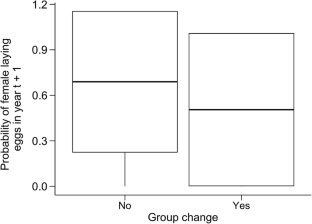 Data accessibility
The data generated and analyzed during this study will be made publicly available in the Dryad Digital Repository upon publication.
References
Almany GR, De Arruda MP, Arthofer W, Atallah ZK, Beissinger SR, Berumen ML, Bogdanowicz SN, Brown SD, Bruford MW, Burdine C et al (2009) Permanent genetic resources added to molecular ecology resources database. Mol Ecol Resour 9:1460–1466

Armitage KB (1999) Evolution of sociality in marmots. J Mammal 80:1–10

Arnold TW (2010) Uninformative parameters and model selection using Akaike's information criterion. J Wildl Manag 74:1175–1178

Baron JP, Le Galliard JF, Ferrière R, Tully T (2013) Intermittent breeding and the dynamics of resource allocation to reproduction, growth and survival. Funct Ecol 27:173–183

Barton K (2019) MuMIn: multi-model inference. R package 1.43.10

Bates D, Machler M, Bolker BM, Walker SC (2015) Fitting linear mixed-effects models using lme4. J Stat Softw 67:1–48

Bauwens D, Claus K (2019) Intermittent reproduction, mortality patterns and lifetime breeding frequency of females in a population of the adder (Vipera berus). Peer J 7:e6912

Beehner JC, Lu A (2013) Reproductive suppression in female primates: a review. Evol Anthropol Issues News Rev 22:226–238

Blomberg EJ, Sedinger JS, Nonne DV, Atamian MT (2013) Seasonal reproductive costs contribute to reduced survival of female greater sage-grouse. J Avian Biol 44:49–158

Bradley JS, Wooller RD, Skira IJ (2000) Intermittent breeding in the short-tailed shearwater Puffinus tenuirostris. J Anim Ecol 69:639–650

Bruinzeel LW (2007) Intermittent breeding as a cost of site fidelity. Behav Ecol Sociobiol 61:551–556

Catry P, Phillips RA, Hamer KC, Ratcliffe N, Furness RW (1998) The incidence of nonbreeding by adult great skuas and parasitic jaegers from Foula, Shetland. Condor 100:448–455

Chastel O, Weimerskirch H, Jouventin P (1993) High annual variability in reproductive success and survival of an Antarctic seabird, the snow petrel Pagodroma nivea. Oecologia 94:278–285

Cockburn A (2006) Prevalence of different modes of parental care in birds. Proc R Soc B Biol Sci 273:1375–1383

Crawley MJ (2013) The R book. Wiley, West Sussex

Cubaynes S, Doherty PF Jr, Schreiber EA, Gimenez O (2010) To breed or not to breed: a seabird's response to extreme climatic events. Biol Lett 7:303–306

Culina A, Radersma R, Sheldon BC (2015) Trading up: the fitness consequences of divorce in monogamous birds. Biol Rev 90:1015–1034

Danchin E, Cam E (2002) Can non-breeding be a cost of breeding dispersal? Behav Ecol Sociobiol 51:153–163

Desprez M, Pradel R, Cam E, Monnat JY, Gimenez O (2011) Now you see him, now you don't: experience, not age, is related to reproduction in kittiwakes. Proc R Soc B Biol Sci 278:3060–3066

Dijkstra C, Bult A, Bijlsma S, Daan S, Meijer T, Zijlstra M (1990) Brood size manipulations in the kestrel (Falco tinnunculus): effects on offspring and parent survival. J Anim Ecol 59:269–285

Fernandez-Duque E, Huck M (2013) Till death (or an intruder) do us part: intrasexual-competition in a monogamous primate. PLoS ONE 8:e53724

Goutte A, Kriloff M, Weimerskirch H, Chastel O (2011) Why do some adult birds skip breeding? A hormonal investigation in a long-lived bird. Biol Lett 7:790–792

Griesser M, Wagner GF, Drobniak SM, Ekman J (2017) Reproductive trade-offs in a long-lived bird species: condition-dependent reproductive allocation maintains female survival and offspring quality. J Evol Biol 30:782–795

Griffen BD (2018) Reproductive skipping as an optimal life history strategy in the southern elephant seal, Mirounga leonina. Ecol Evol 8:9158–9170

Gustafsson L, Sutherland WJ (1988) The costs of reproduction in the collared flycatcher Ficedula albicollis. Nature 335:813–815

Hair JF, Black WC, Babin BJ, Anderson RE (2010) Multivariate data analysis. Prentice Hall, Upper Saddle River

Hamel S, Côté SD, Gaillar J-M, Festa-Bianchet M (2009) Individual variation in reproductive costs of reproduction: high-quality females always do better. J Anim Ecol 78:143–151

Hanssen SA, Hasselquist D, Folstad I, Erikstad KE (2005) Cost of reproduction in a long-lived bird: incubation effort reduces immune function and future reproduction. Proc R Soc B Biol Sci 272:1039–1046

Jean-Gagnon F, Legagneux P, Gilchrist G, Bélanger S, Love OP, Bêty J (2018) The impact of sea ice conditions on breeding decisions is modulated by body condition in an arctic partial capital breeder. Oecologia 186:1–10

Kuznetsova A, Brockhoff PB, Christensen RHB (2017) lmerTest package: tests in linear mixed effects models. J Stat Softw 82:1–26

Lack DL (1968) Ecological adaptations for breeding in birds. Methuen, London

Le Bohec CL, Gauthier-Clerc M, Grémillet D, Pradel R, Béchet A, Gendner JP, Maho YL (2007) Population dynamics in a long-lived seabird: I. Impact of breeding activity on survival and breeding probability in unbanded king penguins. J Anim Ecol 76:1149–1160

Martín-Galvez D, Peralta-Sánchez JM, Dawson DA, Martín-Platero AM, Martínez-Bueno M, Burke T, Soler JJ (2011) DNA sampling from eggshell swabbing is widely applicable in wild bird populations as demonstrated in 23 species. Mol Ecol Resour 11:481–493

Monaghan P, Nager RG, Houston DC (1998) The price of eggs: increased investment in egg production reduces the offspring rearing capacity of parents. Proc R Soc B Biol Sci 265:1731–1735

Nilsson JÅ, Råberg L (2001) The resting metabolic cost of egg laying and nestling feeding in great tits. Oecologia 128:187–192

Nur N, Sydeman WJ (1999) Survival, breeding probability and reproductive success in relation to population dynamics of Brandt's cormorants Phalacrocorax penicillatus. Bird Study 46(supplement 1):S92–S103

Öst M, Lindén A, Karell P, Ramula S, Kilpi M (2018) To breed or not to breed: drivers of intermittent breeding in a seabird under increasing predation risk and male bias. Oecologia 188:129–138

Pianka ER, Parker WS (1975) Age-specific reproductive tactics. Am Nat 109:453–464

Pilastro A, Tavecchia G, Marin G (2003) Long living and reproduction skipping in the fat dormouse. Ecology 84:1784–1792

Pinheiro JC, Bates DM (2000) Mixed-effects models in S and S-PLUS. Springer, New York

Pope TR (2000) Reproductive success increases with degree of kinship in cooperative coalitions of female red howler monkeys (Alouatta seniculus). Behav Ecol Sociobiol 48:253–267

Pusey AE, Schroepfer-Walker K (2013) Female competition in chimpanzees. Philos Trans R Soc B Biol Sci 368:20130077

R Core Team (2018) R: a language and environment for statistical computing. 3.5.1. R Foundation for Statistical Computing, Vienna

Reed TE, Harris MP, Wanless S (2015) Skipped breeding in common guillemots in a changing climate: restraint or constraint? Front Ecol Evol 3:1–13

Rideout RM, Tomkiewicz J (2011) Skipped spawning in fishes: more common than you might think. Mar Coast Fish 3:176–189

Ridley AR, Raihani NJ (2008) Task partitioning increases reproductive output in a cooperative bird. Behav Ecol 19:1136–1142

Riehl C (2010) Egg ejection risk and hatching asynchrony predict egg mass in a communally breeding cuckoo, the greater ani (Crotophaga major). Behav Ecol 21:676–683

Riehl C (2011) Living with strangers: direct benefits favour non-kin cooperation in a communally nesting bird. Proc R Soc B Biol Sci 278:1728–1735

Riehl C (2012) Mating system and reproductive skew in a communally breeding cuckoo: hard-working males do not sire more young. Anim Behav 84:707–714

Riehl C, Jara L (2009) Natural history and reproductive biology of the communally breeding greater ani (Crotophaga major) at Gatún Lake, Panama. Wilson J Ornithol 121:679–688

Riehl C, Strong MJ (2019) Social parasitism as an alternative reproductive tactic in a cooperatively breeding cuckoo. Nature 567:96–99

Riehl C, Strong MJ (2018) Stable social relationships between unrelated females increase individual fitness in a cooperative bird. Proc R Soc B Biol Sci 285:20180130

Rivalan P, Prevot-Julliard AC, Choquet R, Pradel R, Jacquemin B, Girondot M (2005) Trade-off between current reproductive effort and delay to next reproduction in the leatherback sea turtle. Oecologia 145:564–574

Shaw AK, Levin SA (2013) The evolution of intermittent breeding. J Math Biol 66:685–703

Skjæraasen JE, Nash RD, Korsbrekke K, Fonn M, Nilsen T, Kennedy J, Nedreaas KH, Thorsen A, Witthames PR, Geffen AJ, Høie H (2012) Frequent skipped spawning in the world's largest cod population. Proc Natl Acad Sci 109:8995–8999

Stearns SC (1989) Trade-offs in life-history evolution. Funct Ecol 3:259–268

Strausberger BM, Ashley MV (2001) Eggs yield nuclear DNA from egg-laying female cowbirds, their embryos and offspring. Conserv Genet 2:385–390

Vehrencamp SL (1977) Relative fecundity and parental effort in communally nesting anis, Crotophaga sulcirostris. Science 197:403–405

Vehrencamp SL, Bowen BS, Koford RR (1986) Breeding roles and pairing patterns within communal groups of groove-billed anis. Anim Behav 34:347–366

Verhulst S, Hut RA (1996) Post-fledging care, multiple breeding and the costs of reproduction in the great tit. Anim Behav 51:957–966

Vézina F, Williams TD (2005) The metabolic cost of egg production is repeatable. J Exp Biol 208:2533–2538

Visser ME, Lessells CM (2001) The costs of egg production and incubation in great tits (Parus major). Proc R Soc B Biol Sci 268:1271–1277

Warren JM, Cutting KA, Takekawa JY, De La Cruz SE, Williams TD, Koons DN (2014) Previous success and current body condition determine breeding propensityin lesser scaup: evidence for the individual heterogeneity hypothesis. Auk Ornithol Adv 131:287–297

Williams GC (1966) Natural selection, the costs of reproduction, and a refinement of Lack's principle. Am Nat 100:687–690

Williams CT, Klaasen M, Barnes BM, Buck CL, Arnold W, Giroud S, Vetter SG, Ruf T (2017) Seasonal reproductive tactics: annual timing and the capital-to income breeder continuum. Philos Trans R Soc B Biol Sci 372:20160250
Acknowledgements
We thank Meghan J. Strong for invaluable assistance with field and genetic analyses and for database management. Chiti Arvind, Luke Carabbia, Christa Morris, Laura Jara Reyes, Amanda G. Savagian and Zachariah Smart assisted with data collection in the field. Dustin Rubenstein and Joan Silk provided valuable feedback on different aspects of the results. We are very grateful to the Smithsonian Tropical Research Institute for hosting this long-term project and providing infrastructure and support.
Funding
Long-term monitoring of the greater ani study population was funded by the Smithsonian Tropical Research Institute, the Milton Fund of Harvard University, the Putnam Expedition Fund of the Museum of Comparative Zoology at Harvard University, the Program for Latin American Studies at Princeton University, and the Princeton Environmental Institute at Princeton University, via grants to C.R. Funding to M.G.S. was provided by a National Science Foundation Graduate Research Fellowship and by Princeton University.
Ethics declarations
Conflict of interest
The authors declare no competing interests.
Ethical standards
The research in this study was approved by the Institutional Animal Care and Use Committee of the Smithsonian Tropical Research Institute. Genetic samples were collected and exported with approval from the Ministerio de Ambiente de Panamá and imported to the USA with approval from the US Department of Agriculture.
Additional information
Communicated by Robert L. Thomson.
About this article
Cite this article
Smith, M.G., Riehl, C. Intermittent breeding is associated with breeding group turnover in a cooperatively breeding bird. Oecologia 192, 953–963 (2020). https://doi.org/10.1007/s00442-020-04635-7
Received:

Accepted:

Published:

Issue Date:
Keywords
Communal breeding

Group stability

Life history theory

Skipped spawning

Reproductive skipping