Abstract
Restoration plantings are frequently occupied by native wildlife, but little is known about how planting attributes influence breeding by, and persistence of, fauna populations. We monitored breeding success of woodland birds in restoration plantings in a fragmented agricultural landscape in south-eastern Australia. We documented nest fate and daily nest survival (DSR) in plantings and remnant woodland sites. We analysed the influence on breeding success of patch attributes (size, shape, type) compared to other potentially influential predictors such as nest-site and microhabitat variables. We found that, in general, patch attributes did not play a significant role in determining breeding success for woodland birds. However, we examined a subset of species of conservation concern, and found higher DSR for these species in restoration plantings than in similarly sized woodland remnants. We also found negative effects of patch size and linearity on DSR in species of conservation concern. The primary cause of nest failure was predation (91%). We used camera trap imagery to identify the most common nest predators in our study sites: native predatory bird species, and the introduced red fox (Vulpes vulpes). Our findings are further evidence of the value of restoration plantings and small habitat patches for bird populations in fragmented agricultural landscapes. We recommend controlling for foxes to maximise the likelihood that restoration plantings and other woodland patches in Australia support breeding populations of woodland birds. More broadly, our study highlights the importance of taking a detailed, population-oriented approach to understanding factors that influence habitat suitability for fauna of conservation concern.
Access options
Buy single article
Instant access to the full article PDF.
US$ 39.95
Tax calculation will be finalised during checkout.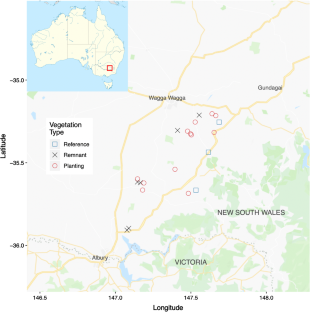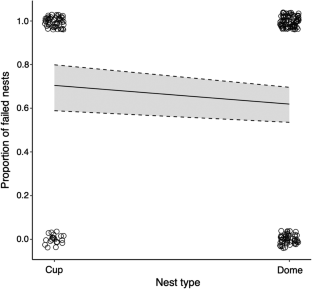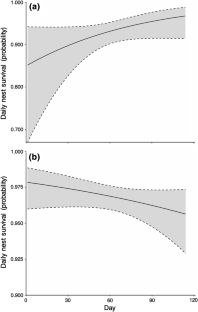 References
Andersson M (1978) Optimal foraging area: size and allocation of search effort. Theor Popul Biol 13:397–409. https://doi.org/10.1016/0040-5809(78)90054-0

Andrén H (1992) Corvid density and nest predation in relation to forest fragmentation: a landscape perspective. Ecology 73:794–804. https://doi.org/10.2307/1940158

Antos MJ, Bennett AF (2006) Foraging ecology of ground-feeding woodland birds in temperate woodlands of southern Australia. Emu 106:29–40

Arlt D, Pärt T (2007) Nonideal breeding habitat selection: a mismatch between preference and fitness. Ecology 88:792–801. https://doi.org/10.1890/06-0574

Arnold JM, Hatch JJ, Nisbet ICT (2004) Seasonal declines in reproductive success of the common tern Sterna hirundo: timing or parental quality? J Avian Biol 35:33–45. https://doi.org/10.1111/j.0908-8857.2004.03059.x

Barrett GW, Freudenberger D, Drew A et al (2008) Colonisation of native tree and shrub plantings by woodland birds in an agricultural landscape. Wildl Res 35:19–32. https://doi.org/10.1071/Wr07100

Barrett GW, Silcocks AF, Cunningham RB et al (2007) Comparison of atlas data to determine the conservation status of bird species in New South Wales, with an emphasis on woodland-dependent species. Aust Zool 34:37–77. https://doi.org/10.7882/AZ.2007.003

Bartoń K (2018) MuMIn: Multi-Model Inference. R package version 1.40.4. https://cran.r-project.org/package=MuMIn

Bates D, Maechler M, Bolker B, Walker S (2015) Fitting linear mixed-effects models using lme4. J Stat Soft 67:1–48

Beggs R, Tulloch AIT, Pierson J et al (2019) Patch-scale culls of an overabundant bird defeated by immediate recolonization. Ecol Appl 29:e01846. https://doi.org/10.1002/eap.1846

Belder DJ (2018) Likely depredation of a superb Fairy-wren Malurus cyaneus nest by an uncommon predator, the White-browed Babbler Pomatostomus superciliosus. Aust F Ornithol 35:146–148. https://doi.org/10.20938/afo35146148

Belder DJ, Pierson JC, Ikin K et al (2019) Is bigger always better? Influence of patch attributes on breeding activity of birds in box-gum grassy woodland restoration plantings. Biol Conserv 236:134–152

Belder DJ, Pierson JC, Ikin K, Lindenmayer DB (2018) Beyond pattern to process: current themes and future directions for the conservation of woodland birds through restoration plantings. Wildl Res 45:473–489. https://doi.org/10.1071/WR17156

Bennett JM, Clarke RH, Thomson JR, Mac Nally R (2015) Fragmentation, vegetation change and irruptive competitors affect recruitment of woodland birds. Ecography 38:163–171. https://doi.org/10.1111/ecog.00936

Bovet P, Benhamou S (1991) Optimal sinuosity in central place foraging movements. Anim Behav 42:57–62. https://doi.org/10.1016/S0003-3472(05)80605-0

Braysher ML (2017) Managing Australia's pest animals: a guide to strategic planning and effective management. CSIRO Publishing, Clayton South

Burbidge AA, Fuller PJ (2007) Gibson desert birds: responses to drought and plenty. Emu 107:126–134

Burke DM, Nol E (2000) Landscape and fragment size effects on reproductive success of forest-breeding birds in Ontario. Ecol Appl 10:1749–1761

Burnham KP, Anderson DR (2004) Multimodel inference: understanding AIC and BIC in model selection. Sociol Methods Res 33:261–304. https://doi.org/10.1177/0049124104268644

Catterall CP (2018) Fauna as passengers and drivers in vegetation restoration: a synthesis of processes and evidence. Ecol Manag Restor 19:54–62. https://doi.org/10.1111/emr.12306

Crouzeilles R, Curran M, Ferreira MS et al (2016) A global meta-analysis on the ecological drivers of forest restoration success. Nat Commun 7:11666. https://doi.org/10.1038/ncomms11666

Cunningham RB, Lindenmayer DB, Crane MJ et al (2007) Reptile and arboreal marsupial response to replanted vegetation in agricultural landscapes. Ecol Appl 17:609–619. https://doi.org/10.1890/05-1892

Cunningham RB, Lindenmayer DB, Crane MJ et al (2008) The combined effects of remnant vegetation and tree planting on farmland birds. Conserv Biol 22:742–752

Debus SJS, Martin WK, Lemon JM (2017) Changes in woodland bird communities as replanted woodland matures. Pac Conserv Biol 23:359–371. https://doi.org/10.1071/PC16028

Egli L, Meyer C, Scherber C et al (2018) Winners and losers of national and global efforts to reconcile agricultural intensification and biodiversity conservation. Glob Chang Biol 24:2212–2228. https://doi.org/10.1111/gcb.14076

ESRI (2011) ArcGIS Desktop: Release 10

Ewers RM, Didham RK (2007) The effect of fragment shape and species' sensitivity to habitat edges on animal population size. Conserv Biol 21:926–936. https://doi.org/10.1111/j.1523-1739.2007.00720.x

Flockhart DTT, Mitchell GW, Krikun RG, Bayne EM (2016) Factors driving territory size and breeding success in a threatened migratory songbird, the Canada Warbler. Avian Conserv Ecol 11:4. https://doi.org/10.5751/ACE-00876-110204

Ford HA, Barrett GW, Saunders DA, Recher HF (2001) Why have birds in the woodlands of Southern Australia declined? Biol Conserv 97:71–88. https://doi.org/10.1016/S0006-3207(00)00101-4

Fuller RJ, Noble DG, Smith KW, Vanhinsbergh D (2005) Recent declines in populations of woodland birds in Britain: a review of possible causes. Br Birds 98:116–143

Fulton G (2019) Meta-analyses of nest predation in temperate Australian forests and woodlands. Austral Ecol 44:389–396. https://doi.org/10.1111/aec.12698

Graham CA, Maron M, McAlpine CA (2012) Influence of landscape structure on invasive predators: feral cats and red foxes in the brigalow landscapes, Queensland Australia. Wildl Res 39:661. https://doi.org/10.1071/WR12008

Guppy M, Guppy S, Marchant R et al (2017) Nest predation of woodland birds in south-east Australia: importance of unexpected predators. Emu 117:92–96. https://doi.org/10.1080/01584197.2016.1258997

Haddad NM, Brudvig LA, Clobert J et al (2015) Habitat fragmentation and its lasting impact on Earth's ecosystems. Sci Adv 1:e1500052. https://doi.org/10.1126/sciadv.1500052

Hinsley SA, Hill RA, Bellamy PE et al (2008) Effects of structural and functional habitat gaps on breeding woodland birds: working harder for less. Landsc Ecol 23:615–626

Ikin K, Tulloch AIT, Ansell D, Lindenmayer DB (2018) Old growth, regrowth, and planted woodland provide complementary habitat for threatened woodland birds on farms. Biol Conserv 223:120–128. https://doi.org/10.1016/j.biocon.2018.04.025

Kahle D, Wickham H (2013) ggmap: spatial visualization with ggplot2. R J 5:144–161

Kimball S, Lulow M, Sorenson Q et al (2015) Cost-effective ecological restoration. Restor Ecol 23:800–810. https://doi.org/10.1111/rec.12261

King DI, Chandler RB, Collins JM et al (2009) Effects of width, edge and habitat on the abundance and nesting success of scrub–shrub birds in powerline corridors. Biol Conserv 142:2672–2680. https://doi.org/10.1016/j.biocon.2009.06.016

Kinross CM (2004) Avian use of farm habitats, including windbreaks, on the New South Wales tablelands. Pac Conserv Biol 10:180–192

Laake JL (2003) RMark: an R interface for analysis of capture–recapture data with MARK. R package version 2.2.6. https://CRAN.R-project.org/package=RMark

Letnic M, Dickman CR (2006) Boom means bust: interactions between the El Niño/Southern Oscillation (ENSO), rainfall and the processes threatening mammal species in arid Australia. Biodivers Conserv 15:3847–3880. https://doi.org/10.1007/s10531-005-0601-2

Lindenmayer D (2019) Small patches make critical contributions to biodiversity conservation. Proc Natl Acad Sci USA 116:717–719. https://doi.org/10.1073/pnas.1820169116

Lindenmayer DB, Blanchard W, Crane M et al (2018a) Biodiversity benefits of vegetation restoration are undermined by livestock grazing. Restor Ecol 26:1157–1164. https://doi.org/10.1111/rec.12676

Lindenmayer DB, Blanchard W, Crane M et al (2018b) Size or quality. What matters in vegetation restoration for bird biodiversity in endangered temperate woodlands? Austral Ecol 43:798–806. https://doi.org/10.1111/aec.12622

Lindenmayer DB, Knight EJ, Crane MJ et al (2010) What makes an effective restoration planting for woodland birds? Biol Conserv 143:289–301

Lindenmayer DB, Lane P, Crane M et al (2018c) Weather effects on birds of different size are mediated by long-term climate and vegetation type in endangered temperate woodlands. Glob Chang Biol 25:675–685. https://doi.org/10.1111/gcb.14524

Lindenmayer DB, Lane PW, Barton PS et al (2016) Long-term bird colonization and turnover in restored woodlands. Biodivers Conserv 25:1587–1603. https://doi.org/10.1007/s10531-016-1140-8

Lindenmayer DB, Michael D, Crane M, Florance D (2018d) Ten lessons in 20 years: insights from monitoring fauna and temperate woodland revegetation. Ecol Manag Restor 19:36–43. https://doi.org/10.1111/emr.12303

Mac Nally R (2008) The lag dæmon: hysteresis in rebuilding landscapes and implications for biodiversity futures. J Environ Manag 88:1202–1211

Mac Nally R, De Vries L, Thomson JR (2010) Are replanted floodplain forests in southeastern Australia providing bird biodiversity benefits? Restor Ecol 18:85–94

Manning A, Wood J, Cunningham R et al (2011) Integrating research and restoration: the establishment of a long-term woodland experiment in south-eastern Australia. Aust Zool 35:633–648. https://doi.org/10.7882/AZ.2011.016

Maron M (2007) Threshold effect of eucalypt density on an aggressive avian competitor. Biol Cons 136:100–107. https://doi.org/10.1016/j.biocon.2006.11.007

Maron M, Grey MJ, Catterall CP et al (2013) Avifaunal disarray due to a single despotic species. Divers Distrib 19:1468–1479. https://doi.org/10.1111/ddi.12128

Maron M, Lill A, Watson DM, Mac Nally R (2005) Temporal variation in bird assemblages: How representative is a one-year snapshot? Austral Ecol 30:383–394. https://doi.org/10.1111/j.1442-9993.2005.01480.x

Maron M, Main A, Bowen M et al (2011) Relative influence of habitat modification and interspecific competition on woodland bird assemblages in eastern Australia. Emu 111:40–51. https://doi.org/10.1071/MU09108

Martin WK, Eldridge D, Murray PA (2011) Bird assemblages in remnant and revegetated habitats in an extensively cleared landscape, Wagga Wagga, New South Wales. Pac Conserv Biol 17:110–120

Maxwell SL, Fuller RA, Brooks TM, Watson JEM (2016) Biodiversity: the ravages of guns, nets and bulldozers. Nature 536:143–145. https://doi.org/10.1038/536143a

McAlpine C, Catterall CP, Mac Nally R et al (2016) Integrating plant- and animal-based perspectives for more effective restoration of biodiversity. Front Ecol Environ 14:37–45

Milligan MC, Dickinson JL (2016) Habitat quality and nest-box occupancy by five species of oak woodland birds. Auk 133:429–438. https://doi.org/10.1642/AUK-15-187.1

Montague-Drake RM, Lindenmayer DB, Cunningham RB (2009) Factors affecting site occupancy by woodland bird species of conservation concern. Biol Conserv 142:2896–2903

Montague-Drake RM, Lindenmayer DB, Cunningham RB, Stein JAR (2011) A reverse keystone species affects the landscape distribution of woodland avifauna: a case study using the Noisy Miner (Manorina melanocephala) and other Australian birds. Landsc Ecol 26:1383–1394. https://doi.org/10.1007/s10980-011-9665-4

Mortelliti A, Lindenmayer DB (2015) Effects of landscape transformation on bird colonization and extinction patterns in a large-scale, long-term natural experiment. Conserv Biol 29:1314–1326. https://doi.org/10.1111/cobi.12523

Munro NT, Fischer J, Barrett GW et al (2011) Bird's response to revegetation of different structure and floristics—Are "restoration plantings" restoring bird communities? Restor Ecol 19:223–235

NSW OEH (2016) White box yellow box Blakely's red gum woodland—endangered ecological community listing. https://www.environment.nsw.gov.au/determinations/BoxgumWoodlandEndComListing.htm

Okada S, Lindenmayer DB, Wood JT (2019) Does land use change influence predation of bird nests? Austral Ecol 44:768–776. https://doi.org/10.1111/aec.12747

Okada S, Lindenmayer DB, Wood JT et al (2017) How does a transforming landscape influence bird breeding success? Landsc Ecol 32:1039–1048. https://doi.org/10.1007/s10980-017-0507-x

R Core Team (2019) R: A language and environment for statistical computing

Rayner L, Lindenmayer DB, Gibbons P, Manning AD (2014) Evaluating empirical evidence for decline in temperate woodland birds: a nationally threatened assemblage of species. Biol Conserv 171:145–155. https://doi.org/10.1016/j.biocon.2014.01.029

Recher HF, Davis WE Jr, Calver MC (2002) Comparative foraging ecology of five species of ground-pouncing birds in western Australian woodlands with comments on species decline. Ornithol Sci 1:29–40

Remeš V, Matysioková B, Cockburn A (2012) Data from: Long-term and large-scale analyses of nest predation patterns in Australian songbirds and a global comparison of nest predation rates. Dryad Digit Repos. https://doi.org/10.5061/dryad.0ct6s

Rosenberg DK, McKelvey KS (2016) Estimation of habitat selection for central-place foraging animals. J Wildl Manage 63:1028–1038

Rotella JJ, Dinsmore SJ, Shaffer TL (2004) Modeling nest-survival data: a comparison of recently developed methods that can be implemented in MARK and SAS. Anim Biodivers Conserv 27:187–205

Ruiz-Jaen MC, Aide TM (2005) Restoration success: How is it being measured? Restor Ecol 13:569–577. https://doi.org/10.1111/j.1526-100X.2005.00072.x

Seddon JA, Briggs SV, Doyle SJ (2003) Relationships between bird species and characteristics of woodland remnants in central New South Wales. Pac Conserv Biol 9:95–119

Selwood K, Mac Nally R, Thomson JR (2009) Native bird breeding in a chronosequence of revegetated sites. Oecologia 159:435–446

Shaffer TL, Thompson FR III (2007) Making meaningful estimates of nest survival with model-based methods. Stud Avian Biol 34:84–95

Stanton RL, Morrissey CA, Clark RG (2018) Analysis of trends and agricultural drivers of farmland bird declines in North America: a review. Agric Ecosyst Environ 254:244–254. https://doi.org/10.1016/j.agee.2017.11.028

Thiele KR, Prober SM (2000) Reserve concepts and conceptual reserves: options for the protection of fragmented ecosystems. In: Hobbs RJ, Yates CJ (eds) Temperate eucalypt woodlands in australia: biology, conservation, management and restoration. Surrey Beatty and Sons, Chipping Norton, pp 351–358

Tulloch AIT, Barnes MD, Ringma J et al (2016) Understanding the importance of small patches of habitat for conservation. J Appl Ecol 53:418–429. https://doi.org/10.1111/1365-2664.12547

Vesk PA, Nolan R, Thomson JR et al (2008) Time lags in provision of habitat resources through revegetation. Biol Conserv 141:174–186. https://doi.org/10.1016/j.biocon.2007.09.010

Watson DM (2011) A productivity-based explanation for woodland bird declines: poorer soils yield less food. Emu 111:10–18. https://doi.org/10.1071/MU09109

Weatherhead PJ, Blouin-Demers G (2004) Understanding avian nest predation: Why ornithologists should study snakes. J Avian Biol 35:185–190. https://doi.org/10.1111/j.0908-8857.2004.03336.x

Wickham H (2016) ggplot2: Elegant Graphics for Data Analysis. Springer-Verlag, New York

White GC, Burnham KP (1999) Program MARK: survival estimation from populations of marked animals. Bird Study 46:S120–S139. https://doi.org/10.1080/00063659909477239

Wickham H, François R, Henry L, Müller K (2019) dplyr: A Grammar of Data Manipulation. R package version 0.8.0. https://CRAN.R-project.org/package=dplyr

Wintle BA, Kujala H, Whitehead A et al (2019) Global synthesis of conservation studies reveals the importance of small habitat patches for biodiversity. Proc Natl Acad Sci USA 116:909–914. https://doi.org/10.1073/pnas.1813051115

Zanette L (2001) Indicators of habitat quality and the reproductive output of a forest songbird in small and large fragments. J Avian Biol 32:38–46. https://doi.org/10.1034/j.1600-048X.2001.320106.x

Zanette L, Doyle P, Trémont SM (2000) Food shortage in small fragments: evidence from an area-sensitive passerine. Ecology 81:1654–1666

Zanette L, Jenkins B (2000) Nesting success and nest predators in forest fragments: a study using real and artificial nests. Auk 117:445–454
Acknowledgements
We are grateful for the feedback of the reviewers, which greatly improved an earlier version of our manuscript. We acknowledge the contributions of several field assistants, especially Ashwin Rudder, Matt Gale, and Ira Dudley-Bestow. Additional field assistance was provided by Lachlan Duncan, Gary Belder, and Nick Shore. Hayden Stevens assisted with processing camera trap imagery. We extend our thanks and appreciation to the landowners who permitted access to their properties for the study, and to the Riverina Local Land Services for permission to conduct research on land under their jurisdiction. We are grateful to Phil Gibbons and the Riverina Local Land Services for the loan of wildlife cameras. A Stuart Leslie Research Award to DJB enabled the purchase of additional wildlife cameras. Further funding was provided by the Riverina Local Land Services (research grant no. MBG-0315 to DBL), the Australian Federal Government via the National Environmental Science Program's Threatened Species Recovery Hub, a Margaret Middleton Fund Award (to DJB), and a Lesslie Scholarship (to DJB). DJB was personally supported by an Australian Postgraduate Award. DBL is supported by a range of key donors under the Sustainable Farms project.
Ethics declarations
Conflict of interest
The authors declare no conflicts of interest.
Ethical approval
This research was conducted with approval from the Australian National University's Animal Ethics and Experimentation Committee.
Additional information
Our research is novel in its use of a mechanistic approach to assess the effectiveness of restoration plantings as a conservation strategy. We highlight the value of small habitat patches for threatened and declining avifauna.
Communicated by Ola Olsson.
Electronic supplementary material
Below is the link to the electronic supplementary material.
About this article
Cite this article
Belder, D.J., Pierson, J.C., Ikin, K. et al. Revegetation and reproduction: do restoration plantings in agricultural landscapes support breeding populations of woodland birds?. Oecologia 192, 865–878 (2020). https://doi.org/10.1007/s00442-020-04611-1
Received:

Accepted:

Published:

Issue Date:
Keywords
Revegetation

Temperate woodland

SLOSS

Population dynamics