Abstract
Determining the characteristics of non-native plants that can successfully establish and spread is central to pressing questions in invasion ecology. Evidence suggests that some non-native species establish and spread in new environments because they possess characteristics (functional traits) that allow them to either successfully compete with native residents or fill previously unfilled niches. However, the relative importance of out-competing native species vs. filling empty niche space as potential mechanisms of invasion may depend on environmental characteristics. Here, we measured plant functional traits, proxies indicative of competitive and establishment strategies, to determine if these traits vary among native and invasive species and if their prevalence is dependent on environmental conditions. Using a natural environmental gradient in Hawai'i Volcanoes National Park, we evaluated how functional traits differ between native and non-native plant communities and if these differences change along an environmental gradient from hot, dry to cool, wet conditions. Functional trait differences suggested that both competition and open niche space may be important for invasion. Non-native communities tended to have traits associated with faster growth strategies such as higher specific leaf area and lower leaf thickness. However, native and non-native community traits became more dissimilar along the gradient, suggesting that non-native species may be occupying previously unfilled niche space at the hot, dry end of the gradient. We also found that most of the variation in functional trait values amongst plots was due to species turnover rather than intraspecific variation. These results highlight the role of environmental context when considering invasion mechanisms.
Access options
Buy single article
Instant access to the full article PDF.
US$ 39.95
Tax calculation will be finalised during checkout.
Subscribe to journal
Immediate online access to all issues from 2019. Subscription will auto renew annually.
US$ 119
Tax calculation will be finalised during checkout.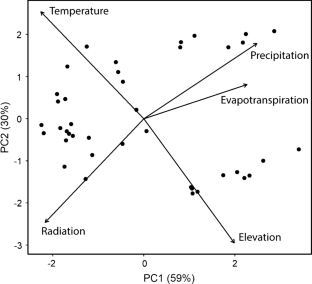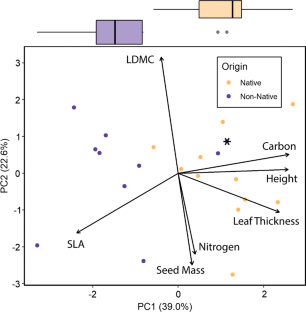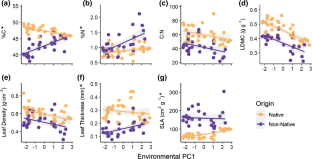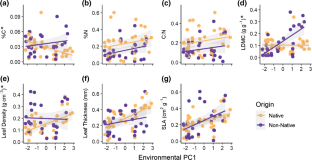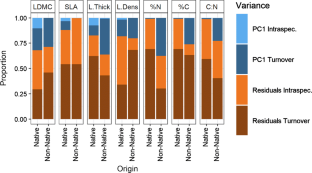 References
Ainsworth A, Berkowitz P, Jacobi J, Loh R, Kozar K (2011) Focal terrestrial plant communities monitoring protocol: Pacific Island network. Createspace Independent, Fort Collins

Alexander JM, Kueffer C, Daehler CC, Edwards PJ, Pauchard A, Seipel T (2011) Assembly of nonnative floras along elevational gradients explained by directional ecological filtering. Proc Natl Acad Sci 108:656–661. https://doi.org/10.1073/pnas.1013136108

Allison SD, Vitousek PM (2004) Rapid nutrient cycling in leaf litter from invasive plants in Hawai'i. Oecologia 141:612–619. https://doi.org/10.1007/s00442-004-1679-z

Asner GP, Hughes RF, Vitousek PM, Knapp DE, Kennedy-Bowdoin T, Boardman J, Martin RE, Eastwood M, Green RO (2008) Invasive plants transform the three-dimensional structure of rain forests. Proc Natl Acad Sci 105:4519–4523. https://doi.org/10.1073/pnas.0710811105

Baldwin PH, Fagerlund GO (1943) The effect of cattle grazing on koa reproduction in Hawai'i National Park. Ecology 24:118–122

Bernard-Verdier M, Navas ML, Vellend M, Violle C, Fayolle A, Garnier E (2012) Community assembly along a soil depth gradient: contrasting patterns of plant trait convergence and divergence in a Mediterranean rangeland. J Ecol 100:1422–1433. https://doi.org/10.1111/1365-2745.12003

Brooks TM, Mittermeier RA, da Fonseca GAB, Gerlach J, Hoffmann M, Lamoreux JF, Mittermeier CG, Pilgrim JD, Rodrigues ASL (2006) Global biodiversity conservation priorities. Science 80(313):58–62

Buckley YM, Anderson S, Catterall CP, Corlett RT, Engel T, Gosper CR, Nathan R, Richardson DM, Setter M, Spiegel O, Vivian-Smith G, Voigt FA, Weir JES, Westcott DA (2006) Management of plant invasions mediated by frugivore interactions. J Appl Ecol 43:848–857. https://doi.org/10.1111/j.1365-2664.2006.01210.x

Carboni M, Munkemuller T, Lavergne S, Choler P, Borgy B, Violle C, Essl F, Roquet C, Munoz F, Consortium D, Thuiller W (2016) What it takes to invade grassland ecosystems: traits, introduction history and filtering processes. Eol Lett 19:219–229. https://doi.org/10.1111/ele.12556

Conti L, Block S, Parepa M, Münkemüller T, Thuiller W, Acosta ATR, van Kleunen M, Dullinger S, Essl F, Dullinger I, Moser D, Klonner G, Bossdorf O, Carboni M (2017) Functional trait differences and trait plasticity mediate biotic resistance to potential plant invaders. J Ecol 12:3218–3221. https://doi.org/10.1111/1365-2745.12928

Cordell S, Goldstein G, Mueller-Dombois D, Webb D, Vitousek PM (1998) Physiological and morphological variation in Metrosideros polymorpha, a dominant Hawaiian tree species, along an altitudinal gradient: the role of phenotypic plasticity. Oecologia 113:188–196. https://doi.org/10.1007/s004420050367

Cornwell WK, Ackerly DD (2009) Community assembly and shifts in plant trait distributions across an environmental gradient in coastal California. Ecol Monogr 79:109–126. https://doi.org/10.1890/07-1134.1

D'Antonio CM, Ostertag R, Cordell S, Yelenik S (2017) Interactions among invasive plants: lessons from Hawai'i. Annu Rev Ecol Evol Syst 48:521–541. https://doi.org/10.1146/annurev-ecolsys-110316-022620

Daehler CC, Denslow JS, Ansari S, Kuo H-C (2004) A risk-assessment system for screening out invasive pest plants from Hawaii and other Pacific islands. Conserv Biol 18:360–368. https://doi.org/10.1111/j.1523-1739.2004.00066.x

Davidson AM, Jennions M, Nicotra AB (2011) Do invasive species show higher phenotypic plasticity than native species and if so, is it adaptive? a meta-analysis. Ecol Lett 14:419–431. https://doi.org/10.1111/j.1461-0248.2011.01596.x

Denslow JS (2003) Weeds in paradise: thoughts on the invasibility of tropical islands. Ann Missouri Bot Gard 90:119–127

Díaz S, Kattge J, Cornelissen JHC, Wright IJ et al (2016) The global spectrum of plant form and function. Nature 529:1–17. https://doi.org/10.1038/nature16489

Divíšek J, Chytrý M, Beckage B, Gotelli NJ, Lososová Z, Pyšek P, Richardson DM, Molofsky J (2018) Similarity of introduced plant species to native ones facilitates naturalization, but differences enhance invasion success. Nat Commun 9:1–10. https://doi.org/10.1038/s41467-018-06995-4

Drenovsky RE, Grewell BJ, D'Antonio CM, Funk JL, James JJ, Molinari N, Parker IM, Richards CL (2012a) A functional trait perspective on plant invasion. Ann Bot 110:141–153. https://doi.org/10.1093/aob/mcs100

Drenovsky RE, Khasanova A, James JJ (2012b) Trait convergence and plasticity among native and invasive species in resource-poor environments. Am J Bot 99:629–639. https://doi.org/10.3732/ajb.1100417

Dwyer JM, Hobbs RJ, Mayfield MM (2014) Specific leaf area responses to environmental gradients through space and time. Ecology 95:399–410. https://doi.org/10.1890/13-0412.1

Ehleringer JR, Monson RK (1993) Evolutionary and ecological aspects of photosynthetic pathway variation. Annu Rev Ecol Syst 24:411–439

Ehrenfeld JG (2010) Ecosystem consequences of biological invasions. Annu Rev Ecol Evol Syst 41:59–80. https://doi.org/10.1146/annurev-ecolsys-102209-144650

Enquist BJ, Norberg J, Bonser SP, Violle C, Webb CT, Henderson A, Sloat LL, Savage VM (2015) Scaling from traits to ecosystems: developing a general trait driver theory via integrating trait-based and metabolic scaling theories, 1st edn. Elsevier, Amsterdam

Enquist BJ, Bentley LP, Shenkin A, Maitner B, Savage V, Michaletz S, Blonder B, Buzzard V, Espinoza TEB, Farfan-Rios W, Doughty CE, Goldsmith GR, Martin RE, Salinas N, Silman M, Díaz S, Asner GP, Malhi Y (2017) Assessing trait-based scaling theory in tropical forests spanning a broad temperature gradient. Glob Ecol Biogeogr 26:1357–1373. https://doi.org/10.1111/geb.12645

Funk JL (2008) Differences in plasticity between invasive and native plants from a low resource environment. J Ecol 96:1162–1173. https://doi.org/10.1111/j.1365-2745.2008.01435.x

Funk JL, Vitousek PM (2007) Resource-use efficiency and plant invasion in low-resource systems. Nature 446:1079–1081. https://doi.org/10.1038/nature05719

Funk JL, Standish RJ, Stock WD, Valladares F (2016) Plant functional traits of dominant native and invasive species in Mediterranean-climate ecosystems. Ecology 97:75–83. https://doi.org/10.1890/15-0974.1

Gallien L, Carboni M (2017) The community ecology of invasive species: where are we and what's next? Ecography (Cop) 40:335–352. https://doi.org/10.1111/ecog.02446

Giambelluca T, Shuai X, Barnes M, Alliss R, Longman R, Miura T, Chen Q, Frazier A, Mudd R, Cuo L, Businger A (2014) Evapostranspiration of Hawai'i. Honolulu, HI

Gioria M, Pyšek P (2017) Early bird catches the worm: germination as a critical step in plant invasion. Biol Invasions 19:1055–1080. https://doi.org/10.1007/s10530-016-1349-1

Godoy O, Valladares F, Castro-Díez P (2011) Multispecies comparison reveals that invasive and native plants differ in their traits but not in their plasticity. Funct Ecol 25:1248–1259. https://doi.org/10.1111/j.1365-2435.2011.01886.x

Gross N, Börger L, Duncan RP, Hulme PE (2013) Functional differences between alien and native species: do biotic interactions determine the functional structure of highly invaded grasslands? Funct Ecol 27:1262–1272. https://doi.org/10.1111/1365-2435.12120

Hooper DU, Dukes JS (2010) Functional composition controls invasion success in a California serpentine grassland. J Ecol 98:764–777. https://doi.org/10.1111/j.1365-2745.2010.01673.x

Huenneke LF, Vitousek PM (1990) Seedling and clonal recruitment of the invasive tree Psidium cattleianum: implications for management of native Hawaiian forests. Biol Conserv 53:199–211. https://doi.org/10.1016/0006-3207(90)90086-5

Hulme PE, Bernard-Verdier M (2017) Comparing traits of native and alien plants: can we do better? Funct Ecol 32:117–125. https://doi.org/10.1111/1365-2435.12982

Hulme PE, Bernard-Verdier M (2018) Evaluating differences in the shape of native and alien plant trait distributions will bring new insights into invasions of plant communities. J Veg Sci 29:348–355. https://doi.org/10.1111/jvs.12625

Jung V, Violle C, Mondy C, Hoffmann L, Muller S (2010) Intraspecific variability and trait-based community assembly. J Ecol 98:1134–1140. https://doi.org/10.1111/j.1365-2745.2010.01687.x

Keddy PA (1992) Assembly and response rules: two goals for predictive community ecology. J Veg Sci 3:157–164. https://doi.org/10.2307/3235676

Kennedy TA, Naeem S, Howe KM, Knops JM, Tilman D, Reich P (2002) Biodiversity as a barrier to ecological invasion. Nature 417:1997–1999

Laliberte E, Legendre P (2010) A distance-based framework for measuring functional diversity from multiple traits a distance-based framework for measuring from multiple traits functional diversity. Ecology 91:299–305. https://doi.org/10.1890/08-2244.1

Leishman MR, Haslehurst T, Ares A, Baruch Z (2007) Leaf trait relationships of native and invasive plants: community- and global-scale comparisons. New Phytol 176:635–643. https://doi.org/10.1111/j.1469-8137.2007.02189.x

Lepš J, de Bello F, Šmilauer P, Doležal J (2011) Community trait response to environment: disentangling species turnover vs intraspecific trait variability effects. Ecography (Cop) 34:856–863. https://doi.org/10.1111/j.1600-0587.2010.06904.x

Lonsdale WM (1999) Global patterns of plant invasions and the concept of invasibility. Ecology 80:1522–1536

MacDougall AS, Gilbert B, Levine JM (2009) Plant invasions and the niche. J Ecol 97:609–615. https://doi.org/10.1111/j.1365-2745.2009.01514.x

Mack MC, D'Antonio CM (1998) Impacts of biological invasions on disturbance regimes. Trends Ecol Evol 13:195–198

McGill BJ, Enquist BJ, Weiher E, Westoby M (2006) Rebuilding community ecology from functional traits. Trends Ecol Evol 21:178–185. https://doi.org/10.1016/j.tree.2006.02.002

Ordonez A, Wright IJ, Olff H (2010) Functional differences between native and alien species: a global-scale comparison. Funct Ecol 24:1353–1361. https://doi.org/10.1111/j.1365-2435.2010.01739.x

Ostertag R, Inman-Narahari F, Cordell S, Giardina CP, Sack L (2014) Forest structure in low-diversity tropical forests: a study of Hawaiian wet and dry forests. PLoS One. https://doi.org/10.1371/journal.pone.0103268

Pérez-Harguindeguy N, Díaz S, Garnier E, Lavorel S et al (2013) New handbook for standardised measurement of plant functional traits worldwide. Aust J Bot 61:167–234. https://doi.org/10.1071/BT12225

Price JN, Pärtel M (2013) Can limiting similarity increase invasion resistance? a meta-analysis of experimental studies. Oikos 122:649–656. https://doi.org/10.1111/j.1600-0706.2012.00121.x

Pyšek P, Jarošík V, Hulme PE, Pergl J, Hejda M, Schaffner U, Vilà M (2012) A global assessment of invasive plant impacts on resident species, communities and ecosystems: the interaction of impact measures, invading species' traits and environment. Glob Chang Biol 18:1725–1737. https://doi.org/10.1111/j.1365-2486.2011.02636.x

Raich JW, Russell A, Vitousek PM (1997) Primary productivity and ecosystem development along an elevational gradient on Mauna Loa, Hawai'i. Ecology 78:707–721

R Core Team (2017) R: a language and environment for statistical computing. R Foundation for Statistical Computing, Vienna, Austria. https://www.R-project.org/

Reich PB (2014) The world-wide "fast-slow" plant economics spectrum: a traits manifesto. J Ecol 102:275–301. https://doi.org/10.1111/1365-2745.12211

Reid W (1998) Biodiversity hotspots. Trends Ecol Evol 13:275–280. https://doi.org/10.1016/S0169-5347(98)01363-9

Ricciardi A, Blackburn TM, Carlton JT, Dick JTA, Hulme PE, Iacarella JC, Jeschke JM, Liebhold AM, Lockwood JL, MacIsaac HJ, Pyšek P, Richardson DM, Ruiz GM, Simberloff D, Sutherland WJ, Wardle DA, Aldridge DC (2017) Invasion science: a horizon scan of emerging challenges and opportunities. Trends Ecol Evol 32:464–474. https://doi.org/10.1016/j.tree.2017.03.007

Richardson DM, Pysek P, Rejmanek M, Barbour MG, Dane F, Diversity S, Mar N, Richardson DM, Pysek P, Rejmanek M, Barbour MG, Panetta FD, West CJ (2000) Naturalization and invasion of alien plants: concepts and definitions. Divers Distrib 6:93–107

Royal Botanic Gardens Kew (2019) Seed information database (SID). Version 7.1. Available from: http://data.kew.org/sid/

Schneider CA, Rasband WS, Eliceiri KW (2012) NIH Image to ImageJ: 25 years of image analysis. Nat Methods 9:671–675. https://doi.org/10.1038/nmeth.2089

Scowcroft PG (1997) Mass and nutrient dynamics of decaying litter from Passiflora mollissima and selected native species in a Hawaiian montane rain forest. J Trop Ecol 13:407–426. https://doi.org/10.1017/S0266467400010592

Shea K, Chesson P (2002) Community ecology theory as a framework for biological invasions. Trends Ecol Evol 17:170–176

Sherrod DR, Sinton JM, Watkins SE, Brunt KM (2007) Geologic map of the State of Hawai`i: U.S. Geological Survey Open-File Report 2007–1089. http://pubs.usgs.gov/of/2007/1089/

Stachowicz JJ, Tilman D (2005) Species invasions and the relationships between species diversity, community saturation, and ecosystem functioning. In: Sax DF, Stachowicz JJ, Gaines DS (eds) Species invasions: insights into ecology, evolution, and biogeography, 1st edn. Sinauer Associates, Sunderland, Massachusetts, pp 41–64

Subramaniam B (2014) Ghost stories for Darwin: the science of variation and the politics of diversity. University of Illinois Press, Chicago

Theoharides KA, Dukes JS (2007) Plant invasion across space and time: factors affecting nonindigenous species success during four stages of invasion. New Phytol 176:256–273. https://doi.org/10.1111/j.1469-8137.2007.02207.x

Turnbull MH, Griffin KL, Fyllas NM, Lloyd J, Meir P, Atkin OK (2016) Separating species and environmental determinants of leaf functional traits in temperate rainforest plants along a soil-development chronosequence. Funct Plant Biol 43:751. https://doi.org/10.1071/FP16035

Van Kleunen M, Weber E, Fischer M (2010) A meta-analysis of trait differences between invasive and non-invasive plant species. Ecol Lett 13:235–245. https://doi.org/10.1111/j.1461-0248.2009.01418.x

Van Kleunen M, Dawson W, Essl F, Pergl J et al (2015) Global exchange and accumulation of non-native plants. Nature 525:100–103. https://doi.org/10.1038/nature14910

Violle C, Jiang L (2009) Towards a trait-based quantification of species niche. J Plant Ecol 2:87–93. https://doi.org/10.1093/jpe/rtp007

Vitousek PM, Walker LR (1989) Biological invasion by Myrica faya in Hawai'i: plant demography, nitrogen fixation, ecosystem effects. Ecol Monogr 59:247–265

Wagner WL, Herbst DR, Lorence DH (2005) Flora of the Hawaiian islands website. http://botany.si.edu/pacificislandbiodiversity/hawaiianflora/index.htm

Weiher E, Keddy PA (1995) Assembly rules, null models, and trait dispersion: new questions from old patterns. Oikos 74:159–164

Wright IJ, Westoby M, Reich PB, Oleksyn J et al (2004) The worldwide leaf economics spectrum. Nature 428:821–827. https://doi.org/10.1038/nature02403

Yelenik SG, D'Antonio CM, August-Schmidt E (2017) The influence of soil resources and plant traits on invasion and restoration in a subtropical woodland. Plant Ecol 218:1149–1161. https://doi.org/10.1007/s11258-017-0757-3

Young SL, Barney JN, Kyser GB, Jones TS, Ditomaso JM (2009) Functionally similar species confer greater resistance to invasion: implications for grassland restoration. Restor Ecol 17:884–892. https://doi.org/10.1111/j.1526-100X.2008.00448.x
Acknowledgements
Funding for this project was provided by the U.S. Geological Survey. The authors thank Ali Ainsworth for access and help with Inventory and Monitoring data and the Damschen Lab provided helpful comments. Any use of trade, firm, or product names is for descriptive purposes only and does not imply endorsement by the U.S. Government. This material is based upon work supported by the National Science Foundation Graduate Research Fellowship Program under Grant No. DGE-1747503. Any opinions, findings, and conclusions or recommendations expressed in this material are those of the author(s) and do not necessarily reflect the views of the National Science Foundation. Support was also provided by the Graduate School and the Office of the Vice Chancellor for Research and Graduate Education at the University of Wisconsin, Madison with funding from the Wisconsin Alumni Research Foundation.
Ethics declarations
Conflict of interest
The authors declare that they have no conflict of interest.
Additional information
Communicated by Jennifer Funk.
Electronic supplementary material
Below is the link to the electronic supplementary material.
About this article
Cite this article
Henn, J.J., Yelenik, S. & Damschen, E.I. Environmental gradients influence differences in leaf functional traits between native and non-native plants. Oecologia 191, 397–409 (2019). https://doi.org/10.1007/s00442-019-04498-7
Received:

Accepted:

Published:

Issue Date:
Keywords
Environmental gradient

Functional traits

Hawaiʻi

Invasion mechanisms