Abstract
Non-native plant species reliant on insect pollination must attract novel pollinators in their introduced habitat to reproduce. Indeed, pollination services provided by resident floral visitors may contribute to the spread of non-native species, which may then affect the pollination services received by native plants. To determine the mechanisms by which an invasive thistle attracts pollinators in its introduced range, and whether its presence changes the pollinator visitation to native plant species, we compared bee visitation to native plants in the presence or absence of the invader. We experimentally tested the effect of a thistle invasion into a native plant community. We found that the non-native thistle was the most attractive of the plant species to visiting bee species. However, there was no effect of experimental treatment (presence of thistle) on bee abundance or visitation rate (bees per unit floral area per sample) to native plant species. Across 68 bee and 6 plant species, we found a significant correlation between pollen protein content and bee abundance and visitation rate. Thistle pollen also had a similar protein:lipid ratio to legumes, which correlated with bumble bee visitation. The high protein content of the thistle pollen, as compared to four native asters, may allow it to attract pollinators in novel ecosystems, and potentially contribute to its success as an invader. At the same time, this high protein pollen may act as a novel resource to pollinators in the thistle's invaded range.
Access options
Buy single article
Instant access to the full article PDF.
US$ 39.95
Tax calculation will be finalised during checkout.
Subscribe to journal
Immediate online access to all issues from 2019. Subscription will auto renew annually.
US$ 119
Tax calculation will be finalised during checkout.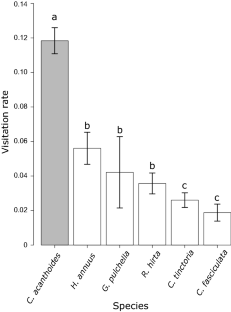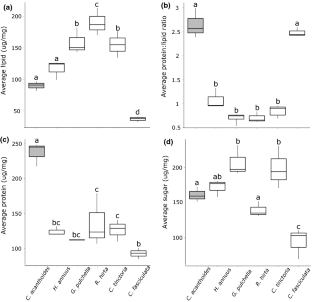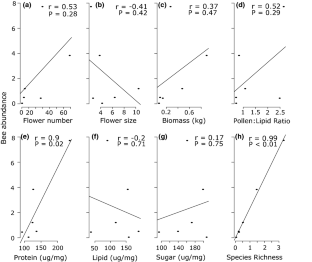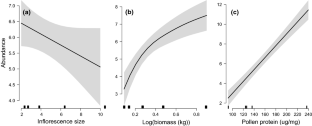 Data availability
Interaction data will be made available on the Interaction Web Database (https://www.nceas.ucsb.edu/interactionweb/) upon publication and are currently included in the supplementary material. The separate measures of plant traits and abundances of collected species are all reported in the supplementary material.
References
Aizen M, Morales C, Morales J (2008) Invasive mutualists erode native pollination webs. PLoS Biol 6:396–403. https://doi.org/10.1371/journal.pbio.0060031

Bartomeus I (2013) Understanding linkage rules in plant-pollinator networks by using hierarchical models that incorporate pollinator detectability and plant traits. PLoS One 8:e69200. https://doi.org/10.1371/journal.pone.0069200

Bartomeus I, Vilà M, Santamaría L (2008) Contrasting effects of invasive plants in plant–pollinator networks. Oecologia 155:761–770. https://doi.org/10.1007/s00442-007-0946-1

Bartomeus I, Frund J, Williams NM (2016) Invasive plants as novel food resources, the pollinators' perspective. In: Weis J, Sol D (eds) Biological invasions and animal behaviour, 1st edn. Cambridge University Press, Cambridge, p 353

Barton K (2018) MuMIn: multi-model inference. In: R Packag. version 1.42.1

Carvalheiro LG, Biesmeijer JC, Benadi G et al (2014) The potential for indirect effects between co-flowering plants via shared pollinators depends on resource abundance, accessibility and relatedness. Ecol Lett 17:1389–1399. https://doi.org/10.1111/ele.12342

Charlebois JA, Sargent RD (2017) No consistent pollinator-mediated impacts of alien plants on natives. Ecol Lett 20:1479–1490. https://doi.org/10.1111/ele.12831

Chittka L, Schurkens S (2001) Successful invasion of a floral market—an exotic Asian plant has moved in on Europe's river banks by bribing pollinators. Nature 411:653

Cook SM, Awmack CS, Murray DA, Williams IH (2003) Are honey bees' foraging preferences affected by pollen amino acid composition? Ecol Entomol 28:622–627. https://doi.org/10.1046/j.1365-2311.2003.00548.x

Core Team R (2013) R: a language and environment for statistical computing. R Foundation for Statistical Computing, Vienna

Costa CM, Yang S (2009) Counting pollen grains using readily available, free image processing and analysis software. Ann Bot 104:1005–1010. https://doi.org/10.1093/aob/mcp186

Dobson HEM, Bergström G (2000) The ecology and evolution of pollen odors. Plant Syst Evol 222:63–87. https://doi.org/10.1007/BF00984096

Genissel A, Aupinel P, Bressac C et al (2002) Influence of pollen origin on performance of Bombus terrestris micro-colonies. Entomol Exp Appl 104:329–336. https://doi.org/10.1046/j.1570-7458.2002.01019.x

Gibson MR, Richardson DM, Pauw A (2012) Can floral traits predict an invasive plant's impact on native plant-pollinator communities? J Ecol 100:1216–1223. https://doi.org/10.1111/j.1365-2745.2012.02004.x

Gleditsch JM, Carlo TA (2011) Fruit quantity of invasive shrubs predicts the abundance of common native avian frugivores in central Pennsylvania. Divers Distrib 17:244–253. https://doi.org/10.1111/j.1472-4642.2010.00733.x

Goulson D, Hawson SA, Stout JC (1998) Foraging bumblebees avoid flowers already visited by conspecifics or by other bumblebee species. Anim Behav 55:199–206. https://doi.org/10.1006/ANBE.1997.0570

Hanley ME, Franco M, Pichon S et al (2008) Breeding system, pollinator choice and variation in pollen quality in British herbaceous plants. Funct Ecol 22:592–598. https://doi.org/10.1111/j.1365-2435.2008.01415.x

Harder LD (1983) Flower handling efficiency of bumble bees: morphological aspects of probing time. Oecologia 57:274–280. https://doi.org/10.1007/BF00379591

Harder LD, Thomson JD (1989) Evolutionary options for maximizing pollen dispersal of animal-pollinated plants. Am Nat 133:323–344. https://doi.org/10.1086/284922

Harmanescu M, Popovici D, Gergen I (2012) Mineral micronutrients composition of bee's pollen. Pak J Pharm Sci 25:871–875

Heil M (2011) Nectar: generation, regulation and ecological functions. Trends Plant Sci 16:191–200. https://doi.org/10.1016/J.TPLANTS.2011.01.003

Human H, Nicolson SW, Strauss K et al (2007) Influence of pollen quality on ovarian development in honeybee workers (Apis mellifera scutellata). J Insect Physiol 53:649–655. https://doi.org/10.1016/J.JINSPHYS.2007.04.002

Irwin RE, Cook D, Richardson LL et al (2014) Secondary compounds in floral rewards of toxic rangeland plants: impacts on pollinators. J Agric Food Chem 62:7335–7344. https://doi.org/10.1021/jf500521w

Jongejans E, Skarpaas O, Tipping PW, Shea K (2007) Establishment and spread of founding populations of an invasive thistle: the role of competition and seed limitation. Biol Inv 9:317–325

Jordano P, Bascompte J, Olesen JM (2002) Invariant properties in coevolutionary networks of plant-animal interactions. Ecol Lett 6:69–81. https://doi.org/10.1046/j.1461-0248.2003.00403.x

Junker RR, Parachnowitsch AL (2015) Working towards a holistic view on flower traits—how floral scents mediate plant–animal interactions in concert with other floral characters. J Indian Inst Sci 95:43–68

Kaiser-Bunbury CN, Mougal J, Whittington AE et al (2017) Ecosystem restoration strengthens pollination network resilience and function. Nature 542:223–227. https://doi.org/10.1038/nature21071

Leonhardt SD, Blüthgen N (2012) The same, but different: pollen foraging in honeybee and bumblebee colonies. Apidologie 43:449–464. https://doi.org/10.1007/s13592-011-0112-y

Lopezaraiza-Mikel M, Hayes R, Whalley M, Memmott J (2007) The impact of an alien plant on a native plant–pollinator network: an experimental approach. Ecol Lett 10:539–550

Maruyama PK, Vizentin-Bugoni J, Sonne J et al (2016) The integration of alien plants in mutualistic plant–hummingbird networks across the Americas: the importance of species traits and insularity. Divers Distrib 22:672–681. https://doi.org/10.1111/ddi.12434

Mata M (2018) Two approaches to protecting bees: bee nutrition in a changing climate and community outreach as a tool for bee conservation. North Carolina State University, PhD diss.

Michener CD (2000) The bees of the world. John Hopkins University Press, Baltimore

Moragues E, Traveset A (2005) Effect of Carpobrotus spp. on the pollination success of native plant species of the Balearic Islands. Biol Conserv 122:611–619. https://doi.org/10.1016/J.BIOCON.2004.09.015

Morales CL, Traveset A (2009) A meta-analysis of impacts of alien vs. native plants on pollinator visitation and reproductive success of co-flowering native plants. Ecol Lett 12:716–728. https://doi.org/10.1111/j.1461-0248.2009.01319.x

Nicolson SW, Human H (2013) Chemical composition of the 'low quality' pollen of sunflower (Helianthus annuus, Asteraceae). Apidologie 44:144–152. https://doi.org/10.1007/s13592-012-0166-5

Park MG, Blitzer EJ, Gibbs J et al (2015) Negative effects of pesticides on wild bee communities can be buffered by landscape context. Proc R Soc Lond B Biol Sci 282:20150299. https://doi.org/10.1098/rspb.2015.0299

Pernal SF, Currie RW (2002) Discrimination and preferences for pollen-based cues by foraging honeybees, Apis mellifera L. Anim Behav 63:369–390. https://doi.org/10.1006/ANBE.2001.1904

Praz CJ, Müller A, Dorn S (2008) Specialized bees fail to develop on non-host pollen: do plants chemically protect their pollen. Ecology 89:795–804. https://doi.org/10.1890/07-0751.1

Pyšek P, Jarošík V, Chytrý M et al (2011) Successful invaders co-opt pollinators of native flora and accumulate insect pollinators with increasing residence time. Ecol Monogr 81:277–293. https://doi.org/10.1890/10-0630.1

Pywell RF, Warman EA, Carvell C et al (2005) Providing foraging resources for bumblebees in intensively farmed landscapes. Biol Conserv 121:479–494. https://doi.org/10.1016/j.biocon.2004.05.020

Raguso RA (2008) Wake up and smell the roses: the ecology and evolution of floral scent. Annu Rev Ecol Evol Syst 39:549–569. https://doi.org/10.1146/annurev.ecolsys.38.091206.095601

Rasheed S, Harder L (1997) Economic motivation for plant species preferences of pollen-collecting bumble bees. Ecol Entomol 22:209–219. https://doi.org/10.1046/j.1365-2311.1997.t01-1-00059.x

Richardson DM, Allsopp N, D'Antonio CM et al (2007) Plant invasions—the role of mutualisms. Biol Rev 75:65–93. https://doi.org/10.1111/j.1469-185X.1999.tb00041.x

Roulston TH, Cane JH (2000) Pollen nutritional content and digestibility for animals. Pollen and pollination. Springer, Vienna, pp 187–209

Roulston TH, Cane JH (2002) The effect of pollen protein concentration on body size in the sweat bee Lasioglossum zephyrum (Hymenoptera: Apiformes). Evol Ecol 16:49–65. https://doi.org/10.1023/A:1016048526475

Ruedenauer FA, Spaethe J, Leonhardt SD (2015) How to know which food is good for you: bumblebees use taste to discriminate between different concentrations of food differing in nutrient content. J Exp Biol 218:2233–2240. https://doi.org/10.1242/jeb.118554

Ruedenauer FA, Spaethe J, Leonhardt SD (2016) Hungry for quality—individual bumblebees forage flexibly to collect high-quality pollen. Behav Ecol Sociobiol 70:1209–1217. https://doi.org/10.1007/s00265-016-2129-8

Russo L, Debarros N, Yang S et al (2013) Supporting crop pollinators with floral resources: network-based phenological matching. Ecol Evol 3:3125–3140

Russo L, Memmott J, Montoya D et al (2014) Patterns of introduced species interactions affect multiple aspects of network structure in plant–pollinator communities. Ecology 95:2953–2963. https://doi.org/10.1890/13-2229.1

Russo L, Nichol C, Shea K (2016) Pollinator floral provisioning by a plant invader: quantifying beneficial effects of detrimental species. Divers Distrib 22:189–198. https://doi.org/10.1111/ddi.12397

Russo L, Albert R, Campbell C, Shea K (2019) Experimental species introduction shapes network interactions in a plant-pollinator community. Biol Inv (in press)

Sedivy C, Müller A, Dorn S (2011) Closely related pollen generalist bees differ in their ability to develop on the same pollen diet: evidence for physiological adaptations to digest pollen. Funct Ecol 25:718–725. https://doi.org/10.1111/j.1365-2435.2010.01828.x

Seifan M, Hoch E-M, Hanoteaux S, Tielbörger K (2014) The outcome of shared pollination services is affected by the density and spatial pattern of an attractive neighbour. J Ecol 102:953–962. https://doi.org/10.1111/1365-2745.12256

Stanley DA, Stout JC (2014) Pollinator sharing between mass-flowering oilseed rape and co-flowering wild plants: implications for wild plant pollination. Plant Ecol 215:315–325. https://doi.org/10.1007/s11258-014-0301-7

Stouffer DB, Cirtwill AR, Bascompte J (2014) How exotic plants integrate into pollination networks. J Ecol. https://doi.org/10.1111/1365-2745.12310

Stout JC, Morales CL (2009) Ecological impacts of invasive alien species on bees. Apidologie 40:388–409. https://doi.org/10.1051/apido/2009023

Stout JC, Tiedeken EJ (2017) Direct interactions between invasive plants and native pollinators: evidence, impacts and approaches. Funct Ecol 31:38–46. https://doi.org/10.1111/1365-2435.12751

Sun S-G, Montgomery BR, Li B (2013) Contrasting effects of plant invasion on pollination of two native species with similar morphologies. Biol Invasions 15:2165–2177. https://doi.org/10.1007/s10530-013-0440-0

Thomson JD, Draguleasa MA, Tan MG (2015) Flowers with caffeinated nectar receive more pollination. Arthropod Plant Interact 9:1–7. https://doi.org/10.1007/s11829-014-9350-z

Traveset A, Richardson D (2011) Mutualisms: key drivers of invasions key casualties of invasions. Fifty years of invasion ecology: the legacy of Charles Elton. Wiley-Blackwell, Oxford, pp 143–160

Valdovinos FS, Ramos-Jiliberto R, Flores JD et al (2009) Structure and dynamics of pollination networks: the role of alien plants. Oikos 118:1190–1200. https://doi.org/10.1111/j.1600-0706.2009.17364.x

Van Handel E, Day JF (1988) Assay of lipids, glycogen and sugars in individual mosquitoes: correlations with wing length in field-collected Aedes vexans. J Am Mosq Control Assoc 4:549–550

Vanderplanck M, Moerman R, Rasmont P et al (2014) How does pollen chemistry impact development and feeding behaviour of polylectic bees? PLoS One 9:e86209. https://doi.org/10.1371/journal.pone.0086209

Vanderplanck M, Vereecken NJ, Grumiau L et al (2017) The importance of pollen chemistry in evolutionary host shifts of bees. Sci Rep 7:43058. https://doi.org/10.1038/srep43058

Vaudo AD, Patch HM, Mortensen DA et al (2014) Bumble bees exhibit daily behavioral patterns in pollen foraging. Arthropod Plant Interact 8:273–283. https://doi.org/10.1007/s11829-014-9312-5

Vaudo AD, Patch HM, Mortensen DA et al (2016a) Macronutrient ratios in pollen shape bumble bee (Bombus impatiens) foraging strategies and floral preferences. Proc Natl Acad Sci USA 113:E4035–E4042. https://doi.org/10.1073/pnas.1606101113

Vaudo AD, Stabler D, Patch HM et al (2016b) Bumble bees regulate their intake of the essential protein and lipid pollen macronutrients. J Exp Biol 219:3962–3970

Vilà M, Bartomeus I, Dietzsch AC et al (2009) Invasive plant integration into native plant–pollinator networks across Europe. Proc R Soc B Biol Sci 276:3887–3893. https://doi.org/10.1098/rspb.2009.1076
Acknowledgements
This paper is dedicated in loving memory to S. Smiles. We would like to thank the farmers at the Russell Larson Research Farm, especially W. S. Harkcom, greenhouse manager, L.S. Burghard, field assistants D. Brough and K. McIlroy, S. Droege for identifications, J. Keller and E. Allen for additional field assistance. We would also like to thank S. Hodge and A. Jackson for advice on statistics. CJ Fisher was supported by an Apes Valentes undergraduate research award. AV was supported by a United States Department of Agriculture -NIFA-AFRI Predoctoral Fellowship (2014-02219). LR was supported by National Science Foundation Grant #DMS-1313115 and a Marie Curie Fellowship (FOMN-705287). KS was supported by a National Science Foundation Grants #DMS-1313115 and #DEB-1556444.
Ethics declarations
Conflict of interest
The authors declare that they have no conflict of interest.
Additional information
Communicated by Monica Geber.
Electronic supplementary material
Below is the link to the electronic supplementary material.
About this article
Cite this article
Russo, L., Vaudo, A.D., Fisher, C.J. et al. Bee community preference for an invasive thistle associated with higher pollen protein content. Oecologia 190, 901–912 (2019). https://doi.org/10.1007/s00442-019-04462-5
Received:

Accepted:

Published:

Issue Date:
Keywords
Bees

Carduus acanthoides

Invasive species

Pollen nutrition

Pollination