Abstract
We utilized natural experiment opportunities presented by differential conditions (presence/absence of seabirds and invasive species) on cays in the Bahamas to study whether interisland variations in food resources contributed to gigantism in Allen Cays Rock Iguanas (Cyclura cychlura inornata). We analyzed the stable carbon (δ13C) and nitrogen (δ15N) isotope values from iguana tissues and resources from each island food web to test the predictions that (1) food webs on islands with seabirds exhibit the influence of marine subsidies from seabird guano, whereas those from non-seabird islands do not, and (2) size differences in iguanas among cays were due to either (a) supplemental food availability from mice and/or seabird carcasses killed by barn owls (Tyto alba) and/or (b) access to more nutrient-rich vegetation fertilized by seabird guano. Food web components from the seabird island (Allen Cay) had 5–9‰ higher δ15N values than those on the other cays and Allen Cay plants contained nearly two times more nitrogen. Bayesian stable isotope mixing models indicated that C3 plants dominated iguana diets on all islands and showed no evidence for consumption of mice or shearwaters. The iguanas on Allen Cay were ~ 2 times longer (48.3 ± 11.6 cm) and ~ 6 times heavier (5499 ± 2847 g) than iguanas on other cays and this was likely from marine-derived subsidies from seabird guano which caused an increase in nitrogen concentration in the plants and a resultant increase in the δ15N values across the entire food web relative to non-seabird islands.
This is a preview of subscription content, log in to check access.
Access options
Buy single article
Instant access to the full article PDF.
US$ 39.95
Price includes VAT for USA
Subscribe to journal
Immediate online access to all issues from 2019. Subscription will auto renew annually.
US$ 199
This is the net price. Taxes to be calculated in checkout.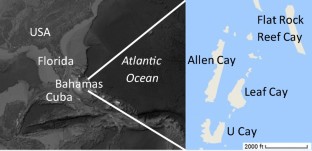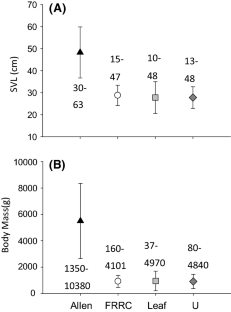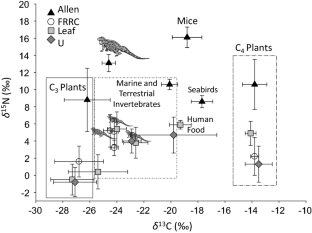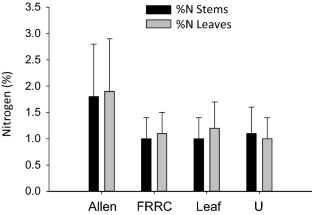 References
Alifano A, Jolley W, Griffiths R (2012) Final Operational Report for the Removal of Introduced House Mice from Allen Cay, Exuma Islands, Bahamas. Unpublished report prepared for the Bahamas National Trust (BNT), Nassau, Bahamas. Island Conservation, Santa Cruz

Allen M, Oftedal O, Baer D, Werner D (1989) Nutritional studies with the green iguana. In: Proceedings of the Eighth Dr. Scholl conference on the nutrition of captive wild animals, Lincoln Park Zoological Gardens, Chicago, Illinois

Anderson W, Polis GA (1999) Nutrient fluxes from water to land: seabirds affect plant nutrient status of Gulf of California islands. Oecologia 118:324–332

Anderson W, Mulder C, Ellis J (2017) Seabird Island ecology. Encyclopedia of life sciences. Wiley, Chichester

Aplasca A, Iverson J, Colosimo G, Welch M, Hekkala E (2016) Genetic diversity and structure of the endangered Allen Cays Rock Iguana, Cyclura cychlura inornata. PeerJ 4:e1793

Auffenberg W (1982) Feeding strategy of the Caicos ground iguana, Cyclura carinata. In: Burghardt G, Rand A (eds) Iguanas of the world: their behavior, ecology and conservation. Noyes, Park Ridge, pp 84–116

Avery H, Spotila J, Congdon J, Fischer R Jr, Standora E, Avery S (1993) Role of diet protein and temperature in the growth and nutritional energetics of juvenile slider turtles, Trachemys scripta. Physiol Zool 66:902–925

Barrett K, Anderson W, Wait D, Grismer L (2005) Marine subsidies alter the diet and abundance of insular and coastal lizard populations. Oikos 109:145–153

Ben-David M, Flaherty E (2012) Stable isotopes in mammalian research: a beginner's guide. J Mamm 93:312–328

Blair D (2000) Cyclura cychlura inornata. IUCN 2012. IUCN red list of threatened species. Version 2012.2

Boecklen W, Yarnes C, Cook B, James A (2011) On the use of stable isotopes in trophic ecology. Annu Rev Ecol Syst 42:411–440

Briggs A, Young H, McCauley D, Hathaway S, Dirzo R, Fisher R (2012) Effects of spatial subsidies and habitat structure on the foraging ecology and size of geckos. PLoS One 7:e41364

Case T (1978) A general explanation for insular body size trends in terrestrial vertebrates. Ecology 59:1–18

Caut S et al (2012) Seabird modulations of isotopic nitrogen on islands. PLoS One 7:e39125

Chiari Y, Glaberman S, Tarroso P, Caccone A, Claude J (2016) Ecological and evolutionary influences on body size and shape in the Galapagos marine iguana (Amblyrhynchus cristatus). Oecologia 181:885–894

Croll DA, Maron J, Estes J, Danner EM, Byrd GV (2005) Introduced predators transform subarctic islands from grassland to tundra. Science 307:1959–1961

Donoghue S (1994) Growth of juvenile green iguanas (Iguana iguana) fed four diets. J Nutr 124:2626S–2629S

Donoghue S, Vidal J, Kronfeld D (1998) Growth and morphometrics of green iguanas (Iguana iguana) fed four levels of dietary protein. J Nutr 128:2587S–2589S

Durst P, Roth V (2015) Mainland size variation informs predictive models of exceptional insular body size change in rodents. Proc R Soc B 282:20150239

Ellis J (2005) Marine birds on land: a review of plant biomass, species richness, and community composition in seabird colonies. Plant Ecol 181:227–241

Farina J, Salazar S, Wallem K, Witman J, Ellis J (2003) Nutrient exchanges between marine and terrestrial ecosystems:the case of the Galapagos sea lion Zalophus wollebaecki. J Anim Ecol 72:873–887

Fukami T et al (2006) Above-and-below-ground impacts of introduced predators in seabird-dominated ecosystems. Ecol Lett 9:1299–1307

Gillham M (1960) Destruction of indigenous heath vegetation in Victorian sea-bird colonies. Aust J Bot 8:277–317

Havik G, Catenazzi A, Holmgren M (2014) Seabird nutrient subsidies benefit non-nitrogen fixing trees and alter species composition in South American coastal dry forests. PLoS One 9:e86381

Hayes W, Carter R, Cyril S Jr, Thornton B (2004) Conservation of an endangered Bahamian rock iguana. I. Population assessments, habitat restoration, and behavioral ecology. In: Alberts A, Carter R, Hayes W, Martins E (eds) Iguanas: Biology and conservation. University of California Press, Berkeley, pp 232–257

Hines K (2011) Effects of ecotourism on endangered Northern Bahamian Rock Iguanas (Cyclura cychlura). Herpetol Conserv Biol 13:279–281

Hines K (2013) Natural diet of Northern Bahamian Rock Iguanas (Cyclura cychlura) in the Exuma Islands Bahamas national natural history conference, Nassau, The Bahamas

Hines K (2016) Food habits of Northern Bahamian Rock Iguanas (Cyclura cychlura) in the Exuma Islands, with a dietary review of Rock Iguanas (Genus Cyclura). Herpetol Conserv Biol 11:121–138

Hines K, Iverson J (2006) West Indian Iguanas: an update; Allen Cays Iguana (Cyclura cychlura inornata). Iguana 13:279–281

Hobson K, Piatt J, Pitocchelli J (1994) Using stable isotopes to determine seabird trophic relationships. J Anim Ecol 63:786–798

Hobson K, Gibbs H, Gloutney M (1997) Preservation of blood and tissue samples for stable-carbon and stable-nitrogen isotope analysis. Can J Zool 75:1720–1723

Hopkins J, Ferguson J (2012) Estimating the diets of Animals using stable isotopes and a comprehensive Bayesian mixing model. PLOS One. https://doi.org/10.1371/journal.pone.0028478

Iverson J (1979) Behavior and ecology of the rock iguana, Cyclura carinata. Bull Florida State Mus 24:173–356

Iverson J (1980) Colic modifications in Iguanine lizards. J Morphol 163:79–93

Iverson J (1982) Adaptions to herbivory in Iguanine lizards. In: Burghardt G, Rand A (eds) Iguanas: their behavior, ecology, and conservation. Noyes, Park Ridge

Iverson J (2012) Allen Cays Iguana Research Update (Cyclura cychlura inornata) 15 May to 25 May 2011. Department of Biology, Earlham College, Richmond

Iverson J, Hines K, Valiulis J (2004a) The nesting ecology of the Allen Cays rock iguana, Cyclura cychlura inornata in the Bahamas. Herpetol Monogr 18:1–36

Iverson J, Smith G, Pieper L (2004b) Factors affecting long-term growth of the Allen Cays Rock Iguana, Cyclura cychlura inornata. In: Alberts A, Carter R, Hayes W, Martins E (eds) Iguanas: biology and conservation. University of California Press, Berkeley

Iverson J, Converse S, Smith G, Valiulis J (2006) Long-term trends in the demography of the Allen Cays Rock Iguana (Cyclura cychlura inornata): human disturbance and density-dependent effects. Biol Cons 132:300–310

Iverson J, Knapp C, Hines K, Pasachnik S, Pieper L (2011) Cyclura cychlura inornata (Allen Cays Rock Iguana) mortality. Herpetol Rev 42:274

Iverson J, Smith G, Pasachnik S, Hines K, Pieper L (2016) Growth, coloration, and demography of an introduced population of the Acklins Iguana (Cyclura rileyi nuchalis) in the Exuma Islands, The Bahamas. Herpetol Conserv Biol 11:106–120

Jones H (2010) Seabird islands take mere decades to recover following rat eradication. Ecol Appl 20:2075–2080

Knapp C (2001) Status of a translocated Cyclura iguana colony in the Bahamas. J Herpetol 35:239–248

Knapp C, Hines K (2006) Exuma Island Iguana (Cyclura cychlura figginsi). Iguana Spec Group Newsl 9:12–13

Knapp C, Iverson J, Buckner S (2004) Cyclura cychlura. The IUCN red list of threatened species. Version 2014.2. http://www.iucnredlist.org. Accessed 02 Oct 2014

Knapp C et al (2013) Physiological effects of tourism and associated food provisioning in an endangered iguana. Conserv Physiol 1:1–12

Kolb G, Jerling I, Essenberg C, Palmborg C, Hamback P (2012) The impact of nesting cormorants on plant and arthropod diversity. Ecography 35:726–740

Kurle C (2009) Interpreting temporal variation in omnivore foraging ecology via stable isotope modeling. Funct Ecol 23:733–744

Kurle C, Koch P, Tershy B, Croll D (2014) The effects of sex, tissue type, and dietary components on stable isotope discrimination factors (∆13C and ∆15N) in mammalian omnivores. Isot Environ Health Stud 50:307–321

Lee D (2000) Status and conservation priorities for Audubon's Shearwaters in the West Indies. In: Schreiber E, Lee D (eds) Status and conservation of west indian seabirds. Society of Caribbean Ornithology, Special Publication 1.225, Ruston, Louisiana, USA

Lomolino M (1984) Immigrant selection, predation, and the distributions of Microtus pennsylvanicus and Blarina brevicauda on islands. Am Nat 123:468–483

Lomolino M (1985) Body size of mammals on islands: the island rule reexamined. Am Nat 125:310–316

Luther B, Knapp C, Greene D, Buckner S, Iverson J (2012) Cyclura cychlura figginsi (Exuma Island Iguana), rodent kill. Herpetol Rev 43:48

Mackie R, Rycyk M, Ruemmier R, Aminov R, Wikelsik M (2004) Biochemical and microbiological evidence for fermentative digestion in free-living land iguanas (Conolophus pallidus) and marine iguanas (Amblyrhynchus cristatus) on the Galapagos archipelago. Physiol Biochem Zool 77:127–138

Mackin W (2007) Conservation of Audubon's shearwater in the Bahamas: status, threats, and practical solutions. In: Proceedings of the 11th symposium on the natural history of the Bahamas

Maron J, Estes J, Croll D, Danner EM, Elmendorf S, Buckelew S (2006) An introduced predator alters Aleutian Island plant communities by thwarting nutrient subsidies. Ecol Monogr 76:3–24

Mayhew W (1963) Some food preference of captive Sauromalus obesus. Herpetologica 19:10–16

McClain C, Durst P, Boyer A, Francis C (2012) Unravelling the determinants of insular body size shifts. Biol Let 9:20120989

Meiri S (2007) Size evolution in island lizards. Glob Ecol Biogeogr 16:702–708

Meiri S, Dayan T, Simberloff D (2006) The generality of the island rule reexamined. J Biogeogr 33:1571–1577

Meiri S, Cooper N, Purvis A (2008) The island rule: made to be broken? Proc R Soc B 275:141–148

Meiri S, Raia P, Phillimore A (2011) Slaying dragons: limited evidence for unusual body size evolution on islands. J Biogeogr 38:89–100

Meiri S, Brown J, Sibly R (2012) The ecology of lizard reproductive output. Glob Ecol Biogeogr 21:592–602

Michaux J, Goüy de Bellocq J, Sarà M, Morand S (2002) Body size in insular rodent populations: a role for predators? Glob Ecol Biogeogr 11:427–436

Mizutani H, Wada E (1988) Nitrogen and carbon isotope ratios in seabird rookeries and their ecological implications. Ecology 69:340–349

Mizutani H, Kabaya Y, Wada E (1985) Ammonia volatilization and high 15N/14N ratio in a penguin rookery in Antarctica. Geochem J 19:323–327

Onuf C, Teal J, Valiela I (1977) Interactions of nutrients, plant growth and herbivory in a mangrove ecosystem. Ecology 58:514–526

Pafilis P, Meiri S, Foufopoulos J, Valakos E (2009) Intraspecific competition and high food availability are associated with insular gigantism in a lizard. Naturwissenschaften 96:1107–1113

Pafilis P, Foufopoulos J, Sagonas K, Runemark A, Svensson E, Valakos E (2011) Reproductive biology of insular reptiles: marine subsidies modulate expression of the "Island Syndrome". Copeia 2011:545–552

Polis GA, Hurd SD (1996) Linking marine and terrestrial food webs: allochthonous input from the ocean supports high secondary productivity on small islands and coastal land communities. Am Nat 147:396–423

Polis GA, Anderson W, Holt R (1997) Toward an integration of landscape and food web ecology: the dynamics of spatially subsidized food webs. Annu Rev Ecol Syst 28:289–316

Pough F (1973) Lizard energetics and diet. Ecology 54:837–844

Raia P, Meiri S (2006) The island rule in large mammals: paleontology meets ecology. Evolution 60:1731–1742

Reich K, Bjorndal K, del Rio C (2008) Effects of growth and tissue type on the kinetics of 13C and 15N incorporation in a rapidly growing ectotherm. Oecologia 155:651–663

Richman A, Case T, Schwaner T (1988) Natural and unnatural extinction rates of reptiles on islands. Am Nat 131:611–630

Ruffino L, Russell J, Vidal E (2013) Anthropogenic subsidies mitigate environmental variability for insular rodents. Oecologia 172:737–749

Runemark A, Sagonas K, Svensson E (2015) Ecological explanations to island gigantism: dietary niche divergence, predation, and size in an endemic lizard. Ecology 96:2077–2092

Sale M, Arnould J (2012) Inflated population density of island antechinus: a case of allochthonous marine inputs leading to increased food availability. Aust J Zool 60:343–351

Sanchez-Pinero F, Polis GA (2000) Bottom-up dynamics of allochthonous input: direct and indirect effects of seabirds on islands. Ecology 81:3117–3132

Schwartz A, Carey M (1977) Systematics and evolution in the West Indian iguanid genus Cyclura. Studies on the fauna of Curaçao and other Caribbean Islands 173:15–97

Simberloff D, Wilson E (1970) Experimental zoogeography of islands. A two-year record of colonization. Ecology 51:934–937

Steinitz R, Lemm J, Pasachnik S, Kurle C (2016) Diet-tissue stable isotope (Δ 13C and Δ 15N) discrimination factors for multiple tissues from terrestrial reptiles. Rapid Commun Mass Spectrom 30:9–21

Stock B, Jackson A, Ward E, Parnell A, Phillips D, Semmens B (2018) Analyzing mixing systems using a new generation of Bayesian tracer mixing models. PeerJ 6:e5096. https://doi.org/10.7717/peerj.5096

Strengbom J, Nordin A, Nasholm T, Ericson L (2002) Parasitic fungus mediates change in nitrogen-exposed boreal forest vegetation. J Ecol 90:61–67

Szpak P, Longstaffe F, Millaire J, White C (2012) Stable isotope biogeochemistry of seabird guano fertilization: results from growth chamber studies with Maize (Zea mays). PLoS One 7:e33741

Therrien J, Fitzgerald G, Gauthier G, Bety J (2011) Diet–tissue discrimination factors of carbon and nitrogen stable isotopes in blood of Snowy Owl (Bubo scandiacus). Can J Zool 89:343–347

Van Valen L (1973) A new evolutionary law. Evol Theory 1:1–33

White T (1993) The inadequate environment. Nitrogen and the abundance of animals. Springer, Berlin
Acknowledgements
We thank W. Mackin, S. Buckner, and C. Knapp for assistance, field support, and transport or storage of samples, C. Kelleher and M. McCartha for laboratory assistance, and the Kurle lab for input and guidance in manuscript preparation. Thanks to E. Cleland, J. Kohn, D. Holway, B. Wolf, and two anonymous reviewers for their comments in improving this manuscript. Funding for KMR and CMK was provided by UC San Diego. Funding for JBI was provided by the National Fish and Wildlife Foundation, Zoo Atlanta, the International Iguana Foundation, the late Ned and Sally Test, and the Cope Museum Fund of Earlham College. Seven C's Charters provided transportation and housing in the field, and Earlham students and alumni provided critical field assistance. Samples were collected and processed under permits to JBI from the Bahamas Environment Sciences and Technology (BEST) Commission and the Bahamas Department of Agriculture. All animal capture, handling, and sampling was performed following the American Society of Ichthyologists and Herpetologists (ASIH) guidelines for use of reptiles and amphibians in research and is approved under an IACUC permit from Earlham College (20150420-3JI), and tissues transported to UCSD were done so under a UCSD approved Tissue Transfer Permit (13132).
Additional information
K. Richardson's novel contribution to the Island Rule literature provides mechanistic evidence of insular gigantism caused by marine subsidies with applications to the wider field of community ecology.
Communicated by Blair Wolf.
Electronic supplementary material
Below is the link to the electronic supplementary material.
About this article
Cite this article
Richardson, K.M., Iverson, J.B. & Kurle, C.M. Marine subsidies likely cause gigantism of iguanas in the Bahamas. Oecologia 189, 1005–1015 (2019). https://doi.org/10.1007/s00442-019-04366-4
Received:

Accepted:

Published:

Issue Date:
Keywords
Stable isotope analysis

Allochthonous inputs

Audubon's Shearwaters (Puffinus ihermineiri ihermineiri)
Allen Cays Rock Iguana (Cyclura cychlura inornata)

Invasive species