Abstract
The size and distribution of animal populations may vary drastically over time following a disturbance event. While both competition and predation can control the size of animal populations, changes in the relative importance of these two density-dependent processes remain poorly documented during ecological succession. Here, we combined habitat selection and optimal foraging theory to identify the processes that can explain the increase in red-backed voles (Myodes gapperi) during post-logging forest succession in boreal ecosystems. Specifically, we assessed the extent to which changes in intra- and interspecific competition and in predation risk can explain variation in abundance and distribution of voles during post-harvest forest succession. We estimated the abundances of the red-backed vole and of its main competitor, the deer mouse (Peromyscus maniculatus), in adjacent pairs of logged (5–66 years old) forest stands and uncut stands (> 120 years old). We found that voles increased their preference for uncut stands with increasing conspecific density. Foraging experiments revealed that in early-seral forest stands, voles increased their feeding effort in the presence of deer mice, particularly in safer food patches. This behaviour is expected from foraging theory when interspecific competitors increase predation risk. Apparent competition would thus limit the density of red-backed voles, and changes in the relative strength of this process during forest succession would control patterns of distribution and abundance of the species.
Access options
Buy single article
Instant access to the full article PDF.
US$ 39.95
Tax calculation will be finalised during checkout.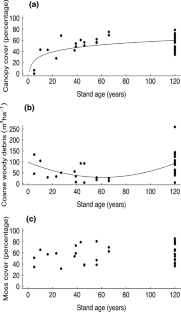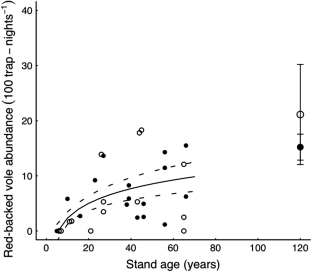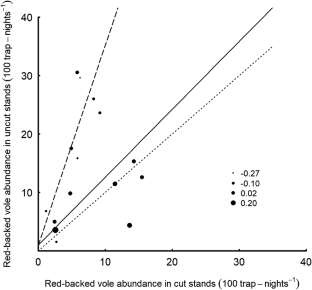 References
Amarasekare P (2003) Competitive coexistence in spatially structured environments: a synthesis. Ecol Lett 6:1109–1122. https://doi.org/10.1046/J.1461-0248.2003.00530.X

Andruskiw M, Fryxell JM, Thompson ID, Baker JA (2008) Habitat-mediated variation in predation risk by the American marten. Ecology 89:2273–2280. https://doi.org/10.1890/07-1428.1

Beauvais GP, Buskirk SW (1999) Modifying estimates of sampling effort to account for sprung traps. Wildl Soc Bull 27:39–43

Bouchard M, Pothier D (2011) Long-term influence of fire and harvesting on boreal forest age structure and forest composition in eastern Quebec. For Ecol Manag 261:811–820. https://doi.org/10.1016/j.foreco.2010.11.020

Bouchard M, Pothier D, Gauthier S (2008) Fire return intervals and tree species succession in the North Shore region of eastern Quebec. Can J For Res 38:1621–1633. https://doi.org/10.1139/X07-201

Brown J (1988) Patch use as an indicator of habitat preference, predation risk, and competition. Behav Ecol Sociobiol 22:37–47. https://doi.org/10.1007/bf00395696

Brown JS, Arel Y, Abramsky Z, Kotler BP (1992) Patch use by gerbils (Gerbillus allenbyi) in sandy and rocky habitats. J Mammal 73:821–829. https://doi.org/10.2307/1382202

Buddle CM, Spence JR, Langor DW (2000) Succession of boreal forest spider assemblages following wildfire and harvesting. Ecography 23:424–436. https://doi.org/10.1034/j.1600-0587.2000.230405.x

Burnham KP, Anderson DR (2002) Model selection and multimodel inference: a practical information-theoretic approach, 2nd edn. Springer-Verlag, New York

Cheveau M, Drapeau P, Imbeau L, Bergeron Y (2004) Owl winter irruptions as an indicator of small mammal population cycles in the boreal forest of eastern North America. Oikos 107:190–198. https://doi.org/10.1111/j.0030-1299.2004.13285.x

Clarke JA (1983) Moonlight's influence on predator/prey interactions between short-eared owls (Asio flammeus) and deermice (Peromyscus maniculatus). Behav Ecol Sociobiol 13:205–209. https://doi.org/10.1007/BF00299924

Clavero M, Brotons L, Herrando S (2011) Bird community specialization, bird conservation and disturbance: the role of wildfires. J Anim Ecol 80:128–136. https://doi.org/10.1111/j.1365-2656.2010.01748.x

Cook LM, Grant BS, Saccheri IJ, Mallet J (2012) Selective bird predation on the peppered moth: the last experiment of Michael Majerus. Biol Lett 8:609–612. https://doi.org/10.1098/rsbl.2011.1136

Cronbach LJ (1987) Statistical tests for moderator variables: flaws in analyses recently proposed. Psychol Bull 102:414–417. https://doi.org/10.1037//0033-2909.102.3.414

de Vries PG (1973) A general theory on line intersect sampling with application to logging residue inventory. Mededelingen Landbouw Hogeschool No. 73–11. Wageningen, The Netherlands

Drost CA, Fellers GM (1991) Density cycles in an island population of deer mice, Peromyscus maniculatus. Oikos 60:351. https://doi.org/10.2307/3545078

Dupuch A, Morris DW, Halliday WD (2013) Patch use and vigilance by sympatric lemmings in predator and competitor-driven landscapes of fear. Behav Ecol Sociobiol 68:299–308. https://doi.org/10.1007/s00265-013-1645-z

Dupuch A, Morris DW, Ale SB, Wilson DJ, Moore DE (2014) Landscapes of fear or competition? Predation did not alter habitat choice by Arctic rodents. Oecologia 174:403–412. https://doi.org/10.1007/s00442-013-2792-7

Efron B, Tibshirani RJ (1994) An introduction to the bootstrap (monographs on statistics and applied probability). Chapman and Hall, London

Fauteux D, Imbeau L, Drapeau P, Mazerolle MJ (2012) Small mammal responses to coarse woody debris distribution at different spatial scales in managed and unmanaged boreal forests. For Ecol Manag 266:194–205. https://doi.org/10.1016/J.Foreco.2011.11.020

Fauteux D, Cheveau M, Imbeau L, Drapeau P (2015) Cyclic dynamics of a boreal southern red-backed vole population in northwestern Quebec. J Mammal 96:573–578. https://doi.org/10.1093/jmammal/gyv062

Fisher JT, Wilkinson L (2005) The response of mammals to forest fire and timber harvest in the North American boreal forest. Mammal Rev 35:51–81. https://doi.org/10.1111/j.1365-2907.2005.00053.x

Fourrier A, Pothier D, Bouchard M (2013) A comparative study of long-term stand growth in eastern Canadian boreal forest: fire versus clear-cut. For Ecol Manage 310:10–18. https://doi.org/10.1016/j.foreco.2013.08.011

Fretwell SD, Lucas HL (1970) On territorial behaviour and other factors influencing habitat distribution in birds. I. Theoretical development. Acta Biotheor 19:16–36

Fuller AK, Harrison DJ, Lachowski HJ (2004) Stand scale effects of partial harvesting and clearcutting on small mammals and forest structure. For Ecol Manag 191:373–386. https://doi.org/10.1016/J.Foreco.2004.01.014

Getz LL (1968) Influence of water balance and microclimate on local distribution of redback vole and white-footed mouse. Ecology 49:276–286. https://doi.org/10.2307/1934456

Gibb H (2011) Experimental evidence for mediation of competition by habitat succession. Ecology 92:1871–1878

Hakkarainen H, Korpimaki E, Koivunen V, Kurki S (1997) Boreal Owl responses to forest management: a review. J Raptor Res 31:125–128

Halle S (1988) Avian predation upon a mixed community of common voles (Microtus arvalis) and wood mice (Apodemus sylvaticus). Oecologia 75:451–455. https://doi.org/10.1007/BF00376950

Halliday WD, Morris DW (2013) Safety from predators or competitors? Interference competition leads to apparent predation risk. J Mammal 94:1380–1392. https://doi.org/10.1644/12-mamm-a-304.1

Hart SA, Chen HYH (2006) Understory vegetation dynamics of North American boreal forests. Crit Rev Plant Sci 25:381–397. https://doi.org/10.1080/007352600819286

Hill JK, Hamer KC (2004) Determining impacts of habitat modification on diversity of tropical forest fauna: the importance of spatial scale. J Appl Ecol 41:1413–1420. https://doi.org/10.1111/j.0021-8901.2004.00926.x

Hodson J, Fortin D, Le Blanc ML, Belanger L (2010) An appraisal of the fitness consequences of forest disturbance for wildlife using habitat selection theory. Oecologia 164:73–86. https://doi.org/10.1007/S00442-010-1691-4

Hodson J, Fortin D, Belanger L (2011) Changes in relative abundance of snowshoe hares (Lepus americanus) across a 265-year gradient of boreal forest succession. Can J Zool 89:908–920. https://doi.org/10.1139/Z11-079

Holt RD (1977) Predation, apparent competition, and structure of prey communities. Theor Popul Biol 12:197–229. https://doi.org/10.1016/0040-5809(77)90042-9

Holt RD, Kotler BP (1987) Short-term apparent competition. Am Nat 130:412. https://doi.org/10.1086/284718

Janssen P, Fortin D, Hebert C (2009) Beetle diversity in a matrix of old-growth boreal forest: influence of habitat heterogeneity at multiple scales. Ecography 32:423–432. https://doi.org/10.1111/j.1600-0587.2008.05671.x

Johnson DR, Swanson BJ, Eger JL (2000) Cyclic dynamics of eastern Canadian ermine populations. Can J Zool 78:835–839. https://doi.org/10.1139/cjz-78-5-835

Kane SA, Zamani M (2014) Falcons pursue prey using visual motion cues: new perspectives from animal-borne cameras. J Exp Biol 217:225–234. https://doi.org/10.1242/jeb.092403

Klenner W, Sullivan TP (2009) Partial and clearcut harvesting of dry Douglas-fir forests: implications for small mammal communities. For Ecol Manag 257:1078–1086. https://doi.org/10.1016/J.Foreco.2008.11.012

Knight TW, Morris DW (1996) How many habitats do landscapes contain? Ecology 76:1756–1764

Kotler BP, Brown JS, Bouskila A (2004) Apprehension and time allocation in gerbils: the effects of predatory risk and energetic state. Ecology 85:917–922. https://doi.org/10.1890/03-3002

Kotler BP, Morris DW, Brown JS (2007) Behavioral indicators and conservation: wielding "the biologist's tricorder". Isr J Ecol Evol 53:237–244. https://doi.org/10.1560/IJEE.53.3.237

Le Blanc ML, Fortin D, Darveau M, Ruel JC (2010) Short term response of small mammals and forest birds to silvicultural practices differing in tree retention in irregular boreal forests. Ecoscience 17:334–342. https://doi.org/10.2980/17-3-3340

Leibold MA (1996) A graphical model of keystone predators in food webs: trophic regulation of abundance, incidence, and diversity patterns in communities. Am Nat 147:784. https://doi.org/10.1086/285879

Lemaître J, Fortin D, Morris DW, Darveau M (2010) Deer mice mediate red-backed vole behaviour and abundance along a gradient of habitat alteration. Evol Ecol Res 12:203–216

Malumbres-Olarte J, Barratt BIP, Vink CJ, Paterson AM, Cruickshank RH, Ferguson CM, Barton DM (2013) Habitat specificity, dispersal and burning season: recovery indicators in New Zealand native grassland communities. Biol Conserv 160:140–149. https://doi.org/10.1016/j.biocon.2013.01.004

Martineau J, Pothier D, Fortin D (2016) Processes driving short-term temporal dynamics of small mammal distribution in human-disturbed environments. Oecologia 181:831–840. https://doi.org/10.1007/s00442-016-3613-6

Mills SW, Mullineaux LS, Beaulieu SE, Adams DK (2013) Persistent effects of disturbance on larval patterns in the plankton after an eruption on the East Pacific rise. Mar Ecol Prog Ser 491:67–76. https://doi.org/10.3354/meps10463

Morris DW (1988) Habitat-dependent population regulation and community structure. Evol Ecol 2:253–269. https://doi.org/10.1007/Bf02214286

Morris DW (1990) Temporal variation, habitat selection and community structure. Oikos 59:303–312. https://doi.org/10.2307/3545140

Morris DW (1992) Scales and costs of habitat selection in heterogeneous landscapes. Evol Ecol 6:412–432. https://doi.org/10.1007/BF02270701

Morris DW (1996) Coexistence of specialist and generalist rodents via habitat selection. Ecology 77:2352–2364. https://doi.org/10.2307/2265737

Morris DW (2005) Habitat-dependent foraging in a classic predator–prey system: a fable from snowshoe hares. Oikos 109:239–254. https://doi.org/10.1111/j.0030-1299.2005.13789.x

Morris DW, Davidson DL (2000) Optimally foraging mice match patch use with habitat differences in fitness. Ecology 81:2061–2066. https://doi.org/10.1890/0012-9658(2000)081%5b2061:OFMMPU%5d2.0.CO;2

Morris DW, Kotler BP, Brown JS, Sundararaj V, Ale SB (2009) Behavioral indicators for conserving mammal diversity. Year Ecol Conserv Biol 1162:334–356. https://doi.org/10.1111/J.1749-6632.2009.04494.X

Morrison ML, Mathewson HA (2015) Wildlife habitat conservation: concepts, challenges, and solutions. JHU Press, Baltimore

Novak M, Baker JA, Obbard ME, Malloch B (1987) Wild furbearer management and conservation in North America. Ontario Ministry of Natural Resources, Peterborough

Oliver CD (1981) Forest development in North-America following major disturbances. For Ecol Manag 3:153–168

Pearce J, Venier L (2005) Small mammals as bioindicators of sustainable boreal forest management. For Ecol Manag 208:153–175. https://doi.org/10.1016/J.Foreco.2004.11.024

Pearson DE, Ortega YK, McKelvey KS, Ruggiero LF (2001) Small mammal communities and habitat selection in Northern Rocky Mountain bunchgrass: implications for exotic plant invasions. Northwest Sci 75:107–117

Pilliod DS, Bury RB, Hyde EJ, Pearl CA, Corn PS (2003) Fire and amphibians in North America. For Ecol Manag 178:163–181. https://doi.org/10.1016/S0378-1127(03)00060-4

Pinault M, Loiseau N, Chabanet P, Durville P, Magalon H, Quod JP, Galzin R (2013) Marine fish communities in shallow volcanic habitats. J Fish Biol 82:1821–1847. https://doi.org/10.1111/jfb.12110

Pinheiro J, Bates D, DebRoy S, Sarkar D et al (2017) nlme: Linear and nonlinear mixed effects models. R package version 3.1-131

Pusenius J, Schmidt KA (2002) The effects of habitat manipulation on population distribution and foraging behavior in meadow voles. Oikos 98:251–262. https://doi.org/10.1034/j.1600-0706.2002.980207.x

R Core Team (2016) R: A language and environment for statistical computing. R Foundation for Statistical Computing, Vienna

Rieucau G, Vickery WL, Doucet GJ, Laquerre B (2007) An innovative use of white-tailed deer (Odocoileus virginianus) foraging behaviour in impact studies. Can J Zool 85:839–846. https://doi.org/10.1139/Z07-062

Rieucau G, Vickery WL, Doucet GJ (2009) A patch use model to separate effects of foraging costs on giving-up densities: an experiment with white-tailed deer (Odocoileus virginianus). Behav Ecol Sociobiol 63:891–897. https://doi.org/10.1007/S00265-009-0732-7

Rosenberg DK, Swindle KA, Anthony RG (2003) Influence of prey abundance on northern spotted owl reproductive success in western Oregon. Can J Zool 81:1715–1725. https://doi.org/10.1139/z03-167

Santos X, Cheylan M (2013) Taxonomic and functional response of a Mediterranean reptile assemblage to a repeated fire regime. Biol Conserv 168:90–98. https://doi.org/10.1016/j.biocon.2013.09.008

Savola S, Henttonen H, Linden H (2013) Vole population dynamics during the succession of a commercial forest in northern Finland. Ann Zool Fenn 50:79–88. https://doi.org/10.5735/086.050.0107

Schmidt KA, Manson R, Lewis D (2005) Voles competing with mice: differentiating exploitative, interference and apparent competition using patch use theory. Evol Ecol Res 7:273–286

Smith AC, Koper N, Francis CM, Fahrig L (2009) Confronting collinearity: comparing methods for disentangling the effects of habitat loss and fragmentation. Landsc Ecol 24:1271–1285. https://doi.org/10.1007/s10980-009-9383-3

Stokes VL, Pech RP, Banks PB, Arthur AD (2004) Foraging behaviour and habitat use by Antechinus flavipes and Sminthopsis murina (Marsupialia: Dasyuridae) in response to predation risk in eucalypt woodland. Biol Conserv 117:331–342. https://doi.org/10.1016/j.biocon.2003.12.012

Sulkava S, Huhtala K (1997) The Great Gray owl (Strix nebulosa) in the changing forest environment of northern Europe. J Raptor Res 31:151–159

Viitala J, Korplmäki E, Palokangas P, Koivula M (1995) Attraction of kestrels to vole scent marks visible in ultraviolet light. Nature 373:425–427. https://doi.org/10.1038/373425a0

Ward JPJ (2001) Ecological responses by Mexican spotted owls to environmental variation in the Sacramento Mountains, New Mexico. Fort Collins, CO: Colorado State University. 411 p. Dissertation

Widén P (1994) Habitat quality for raptors: a field experiment. J Avian Biol 25:219. https://doi.org/10.2307/3677078

Wissinger S, Whiteman H, Sparks G et al (1999) Foraging trade-offs along a predator-permanence gradient in subalpine wetlands. Ecology 80:2102–2116

Ylönen H, Sundell J, Tiilikainen R, Eccard JA, Horne T (2003) Weasels' (Mustela nivalis nivalis) preference for olfactory cues of the vole (Clethrionomys glareolus). Ecology 84:1447–1452. https://doi.org/10.1890/0012-9658(2003)084%5b1447:WMNNPF%5d2.0.CO;2

Zhao Q, Azeria ET, Le Blanc M-L, Lemaître J, Fortin D (2013) Landscape-scale disturbances modified bird community dynamics in successional forest environment. PLoS One 8:e81358. https://doi.org/10.1371/journal.pone.0081358

Zwolak R (2009) A meta-analysis of the effects of wildfire, clearcutting, and partial harvest on the abundance of North American small mammals. For Ecol Manag 258:539–545. https://doi.org/10.1016/j.foreco.2009.05.033

Zwolak R, Pearson DE, Ortega YK, Crone EE (2012) Mechanisms driving postfire abundance of a generalist mammal. Can J Zool 90:51–60. https://doi.org/10.1139/Z11-111
Acknowledgements
We thank Orphé Bichet, Andréanne Beardsell, Maxime Cotnoir, Pascal Royer-Boutin, Marie-Hélène Chabot, Gabriel Emond, Adam Moreira and Jean-Pierre Michaud for their help at different stages of the study, and W.F.J. Parsons for English revision. This research was funded by the Natural Sciences and Engineering Research Council of Canada (NSERC)—Laval University Industrial Research Chair in Silviculture and Wildlife.
Additional information
Communicated by Peter Banks.
Electronic supplementary material
Below is the link to the electronic supplementary material.
About this article
Cite this article
Le Borgne, H., Dupuch, A. & Fortin, D. Ecological processes determining the distribution dynamics of vole populations during forest succession. Oecologia 188, 721–732 (2018). https://doi.org/10.1007/s00442-018-4261-9
Received:

Accepted:

Published:

Issue Date:
Keywords
Competition

Forest succession

Habitat selection

Logging

Predation