Abstract
Enemy release often is invoked to explain the success of invasive plants: an invader benefits from reduced attack as it escapes specialized enemies through the invasion process. Enemy release typically is thought of as occurring at large geographic scales, but local-scale interactions may also be important for invader establishment and success. Furthermore, most tests of local enemy release have been conducted over a single year even though release may be a transient phenomenon, especially at small scales. In this study, we used a multi-year field experiment to investigate whether locally isolated populations of the noxious non-native weed Cirsium arvense benefit from reduced levels of aboveground damage, and whether any initial advantage is lost over subsequent growing seasons. Populations of C. arvense were grown in plots at set distances from established source populations for 4 years. In the first year of the experiment, folivory significantly declined with host isolation, but damage from specialist stem gallers and seed predators did not. However, in subsequent years of observation, folivores began colonizing isolated C. arvense populations while stem gallers exhibited very slow colonization of more isolated plots; seed predation showed no pattern with distance in any year. Local enemy escape did not result in increased plant performance, which instead negatively correlated with degree of isolation. Nonetheless, our results stress the importance of multi-year observations in tests of enemy release, since the herbivory patterns initially observed often changed within subsequent years depending on the dispersal ability and biology of the causal organism involved.
Access options
Buy single article
Instant access to the full article PDF.
US$ 39.95
Tax calculation will be finalised during checkout.
Subscribe to journal
Immediate online access to all issues from 2019. Subscription will auto renew annually.
US$ 119
Tax calculation will be finalised during checkout.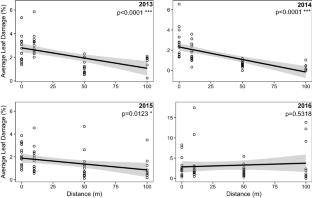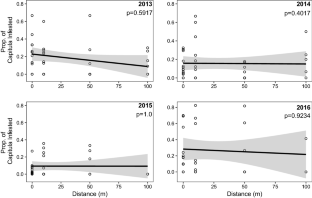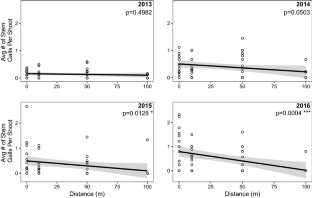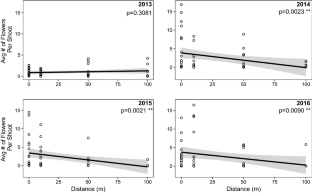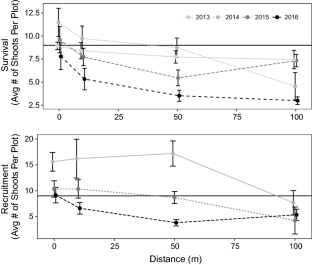 References
Abela-Hofbauerova I, Munzbergova Z, Skuhrovec J (2011) The effect of different natural enemies on the performance of Cirsium arvense in its native range. Weed Res 51:394–403. https://doi.org/10.1111/j.1365-3180.2011.00851.x

Alexander HM, Price S, Houser R, Finch D, Tourtellot M (2007) Is there reduction in disease and pre-dispersal seed predation at the border of a host plant's range? Field and herbarium studies of Carex blanda. J Ecol 95:446–457. https://doi.org/10.1111/j.1365-2745.2007.01228.x

Ang BN, Kok LT, Holtzman GI, Wolf DD (1995) Canada thistle [Cirsium arvense (L.) Scop.] response to density of Cassida rubiginosa Muller (Coleoptera, Chrysomelidae) and plant competition. Biol Control 5:31–38. https://doi.org/10.1006/bcon.1995.1004

Bagchi R et al (2010) Testing the Janzen–Connell mechanism: pathogens cause overcompensating density dependence in a tropical tree. Ecol Lett 13:1262–1269. https://doi.org/10.1111/j.1461-0248.2010.01520.x

Bell T, Freckleton RP, Lewis OT (2006) Plant pathogens drive density-dependent seedling mortality in a tropical tree. Ecol Lett 9:569–574. https://doi.org/10.1111/j.1461-0248.2006.00905.x

Connell JH (1971) On the role of natural enemies in preventing competitive exclusion in some marine animals and in rain forest trees. In: den Boer PJ, Gradwell GR (eds) Dynamics of populations. Proceedings of the advanced study institute on dynamics of numbers in populations, Oosterbeek. Centre for Agricultural Publishing and Documentation, Wageningen, pp 298–310

Cripps MG, Gassmann A, Fowler SV, Bourdôt GW, McClay AS, Edwards GR (2011) Classical biological control of Cirsium arvense: lessons from the past. Biol Control 57:165–174. https://doi.org/10.1016/j.biocontrol.2011.03.011

Dudenhoffer JH, Pufal G, Roscher C, Klein AM (2016) Plant density can increase invertebrate postdispersal seed predation in an experimental grassland community. Ecol Evol 6:3796–3807. https://doi.org/10.1002/ece3.2039

Eber S, Brandl R (1996) Metapopulation dynamics of the tephritid fly Urophora cardui: an evaluation of incidence-function model assumptions with field data. J Anim Ecol 65:621–630

Eber S, Brandl R (2003) Regional patch dynamics of Cirsium arvense and possible implications for plant–animal interactions. J Veg Sci 14:259–266

Elton CS (1958) The ecology of invasions by animals and plants. Wiley, New York, p 16

Fricke EC, Tewksbury JJ, Rogers HS (2014) Multiple natural enemies cause distance-dependent mortality at the seed-to-seedling transition. Ecol Lett 17:593–598. https://doi.org/10.1111/ele.12261

Harvey KJ, Nipperess DA, Britton DR, Hughes L (2013) Does time since introduction influence enemy release of an invasive weed? Oecologia 173:493–506. https://doi.org/10.1007/s00442-013-2633-8

Hatcher MJ, Dunn AM (2011) Parasites in ecological communities: from interactions to ecosystems. Cambridge University Press, Cambridge

Hawkes CV (2007) Are invaders moving targets? The generality and persistence of advantages in size, reproduction, and enemy release in invasive plant species with time since introduction. Am Nat 170:832–843. https://doi.org/10.1086/522842

Janzen DH (1970) Herbivores and the number of tree species in tropical forests. Am Nat 104:501–528

Johnson MTJ, Bertrand JA, Turcotte MM (2016) Precision and accuracy in quantifying herbivory. Ecol Entomol 41:112–121. https://doi.org/10.1111/een.12280

Joshi J, Vrieling K (2005) The enemy release and EICA hypothesis revisited: incorporating the fundamental difference between specialist and generalist herbivores. Ecol Lett 8:704–714. https://doi.org/10.1111/j.1461-0248.2005.00769.x

Keane RM, Crawley MJ (2002) Exotic plant invasions and the enemy release hypothesis. Trends Ecol Evol 17:164–170

Kotanen PM (2007) Effects of fungal seed pathogens under conspecific and heterospecific trees in a temperate forest. Can J Bot 85:918–925

Kruess A, Tscharntke T (2000) Species richness and parasitism in a fragmented landscape: experiments and field studies with insects on Vicia sepium. Oecologia 122:129–137

Lalonde RG, Roitberg BD (1992) Field studies of seed predation in an introduced weedy thistle. Oikos 65:363–370

Lalonde RG, Shorthouse JD (1985) Growth and development of larvae and galls of Urophora cardui (Diptera, Tephritidae) on Cirsium arvense (Compositae). Oecologia 65:161–165

Levine JM, Adler PB, Yelenik SG (2004) A meta-analysis of biotic resistance to exotic plant invasions. Ecol Lett 7:975–989. https://doi.org/10.1111/j.1461-0248.2004.00657.x

Liu X, Liang M, Etienne RS, Wang Y, Staehelin C, Yu S (2012) Experimental evidence for a phylogenetic Janzen–Connell effect in a subtropical forest. Ecol Lett 15:111–118. https://doi.org/10.1111/j.1461-0248.2011.01715.x

MacArthur RH, Wilson EO (1963) Equilibrium-theory of insular zoogeography. Evol Int J Org Evol 17:373–387

MacArthur RH, Wilson EO (1967) The theory of island biogeography. Princeton University Press, Princeton

MacKay J, Kotanen PM (2008) Local escape of an invasive plant, common ragweed (Ambrosia artemisiifolia L.), from above-ground and below-ground enemies in its native area. J Ecol 96:1152–1161. https://doi.org/10.1111/j.1365-2745.2008.01426.x

Mangan SA et al (2010) Negative plant-soil feedback predicts tree-species relative abundance in a tropical forest. Nature 466:752–755. https://doi.org/10.1038/nature09273

McClay AS, Bourchier RS, Butts RA, Peschken DP (2002) Cirsium arvense (L.) Scopoli, Canada thistle (Asteraceae). In: Mason PG, Huber JT (eds) Biological control programmes in Canada, 1981–2000. CABI, New York, pp 318–330

Mitchell CE et al (2006) Biotic interactions and plant invasions. Ecol Lett 9:726–740. https://doi.org/10.1111/j.1461-0248.2006.00908.x

Muller-Scharer H, Schaffner U, Steinger T (2004) Evolution in invasive plants: implications for biological control. Trends Ecol Evol 19:417–422. https://doi.org/10.1016/j.tree.2004.05.010

Norghauer JM, Malcolm JR, Zimmerman BL (2006) Juvenile mortality and attacks by a specialist herbivore increase with conspecific adult basal area of Amazonian Swietenia macrophylla (Meliaceae). J Trop Ecol 22:451–460. https://doi.org/10.1017/s0266467406003257

Nunes KA, Cassin CM, Kotanen PM (2016) Variation in herbivory along a latitudinal gradient for native and exotic Asteraceae. Plant Ecol 217:481–493. https://doi.org/10.1007/s11258-016-0593-x

Price PW (1991) The plant vigor hypothesis and herbivore attack. Oikos 62:244–251

R Core Team (2016) R: a language and environment for statistical computing. R Foundation for Statistical Computing, Vienna, Austria. http://www.R-project.org/

Richardson AE, Barea J-M, McNeill AM, Prigent-Combaret C (2009) Acquisition of phosphorus and nitrogen in the rhizosphere and plant growth promotion by microorganisms. Plant Soil 321:305–339. https://doi.org/10.1007/s11104-009-9895-2

Rout ME, Callaway RM (2012) Interactions between exotic invasive plants and soil microbes in the rhizosphere suggest that 'everything is not everywhere'. Ann Bot 110:213–222. https://doi.org/10.1093/aob/mcs061

Schröder D (1980) The biological control of thistles. Biocontrol News Inf 1:9–26

Solé M, Durka W, Eber S, Brandl R (2004) Genotypic and genetic diversity of the common weed Cirsium arvense (Asteraceae). Int J Plant Sci 165:43–444. https://doi.org/10.1016/j.prosdent.2004.03.031

Sullivan JJ (2003) Density-dependent shoot-borer herbivory increases the age of first reproduction and mortality of neotropical tree saplings. Oecologia 136:96–106. https://doi.org/10.1007/s00442-003-1233-4

Tiley GED (2010) Biological flora of the British Isles: Cirsium arvense (L.) Scop. J Ecol 98:938–983. https://doi.org/10.1111/j.1365-2745.2010.01678.x

Torchin ME, Mitchell CE (2004) Parasites, pathogens, and invasions by plants and animals. Front Ecol Environ 2:183–190

Visser MD, Muller-Landau HC, Wright SJ, Rutten G, Jansen PA (2011) Tri-trophic interactions affect density dependence of seed fate in a tropical forest palm. Ecol Lett 14:1093–1100. https://doi.org/10.1111/j.1461-0248.2011.01677.x

Winston RL, Schwarzlander M, Hinz HL, Day MD, Cock MJW, Julien MH (2014) Biological control of weeds: a world catalogue of agents and their target weeds, 5th edn. UDSA Forest Service, Forest Health Technology Enterprise Team, Morgantown

Ziska LH, Faulkner S, Lydon J (2004) Changes in biomass and root:shoot ratio of field-grown Canada thistle (Cirsium arvense), a noxious, invasive weed, with elevated CO2: implications for control with glyphosate. Weed Sci 52:584–588. https://doi.org/10.1614/ws-03-161r

Zwolfer H, Frick KE, Andres LA (1971) A study of the host plant relationships of European members of the genus Larinus (Col: Curculionidae). Commonw Inst Biol Control 14:97–143
Acknowledgements
We would like to thank L. Goodine, J. Hu, A. Longley, and J. O'Connell for assistance in the field and lab.
Funding
This research was supported by a Natural Sciences and Engineering Research Council of Canada (NSERC) Discovery Grant (PMK), an NSERC CGS-M Award (KAN), a Zimmerman and Weis PhD Scholarships in Field Biology (KAN), and an Ontario Graduate Scholarship (KAN).
Ethics declarations
Conflicts of interest
The authors declare that they have no conflict of interest.
Additional information
Communicated by Richard Karban.
Electronic supplementary material
Below is the link to the electronic supplementary material.
About this article
Cite this article
Nunes, K.A., Kotanen, P.M. Does local isolation allow an invasive thistle to escape enemy pressure?. Oecologia 188, 139–147 (2018). https://doi.org/10.1007/s00442-018-4175-6
Received:

Accepted:

Published:

Issue Date:
Keywords
Cirsium arvense

Herbivory

Plant–herbivore interactions

Biological control

Invasion ecology