Abstract
Populations of large terrestrial carnivores are in various stages of recovery worldwide and the question of whether there is compensation in mortality sources is relevant to conservation. Here, we show variation in Wisconsin wolf survival from 1979 to 2013 by jointly estimating the hazard of wolves' radio-telemetry ending (endpoint) and endpoint cause. In previous analyses, wolves lost to radio-telemetry follow-up (collar loss) were censored from analysis, thereby assuming collar loss was unconfounded with mortality. Our approach allowed us to explicitly estimate hazard due to collar loss and did not require censoring these records from analysis. We found mean annual survival was 76% and mean annual causes of mortality were illegal killing (9.4%), natural and unknown causes (9.5%), and other human-caused mortality such as hunting, vehicle collisions and lethal control (5.1%). Illegal killing and natural mortality were highest during winter, causing wolf survival to decrease relative to summer. Mortality was highest during early recovery and lowest during a period of sustained population growth. Wolves again experienced higher risk of human-caused mortality relative to natural mortality as wolves expanded into areas with more human activity. We detected partial compensation in human- and natural-caused mortality since 2004 as the population saturated more available habitat. Prior to 2004, we detected additivity in mortality sources. Assessments of wolf survival and cause of mortality rates and the finding of partial compensation in mortality sources will inform wolf conservation and management efforts by identifying sources and sinks, finding areas of conservation need, and assessing management zone delineation.
Access options
Buy single article
Instant access to the full article PDF.
USD 39.95
Price includes VAT (USA)
Tax calculation will be finalised during checkout.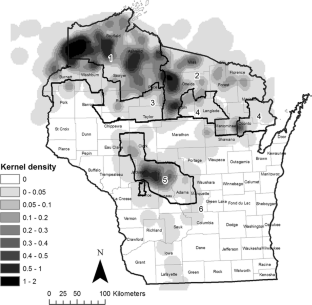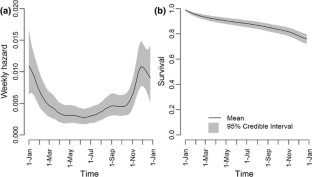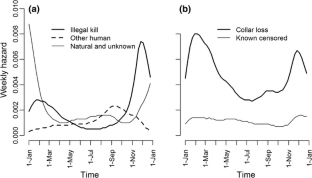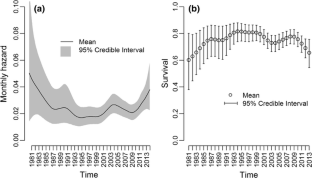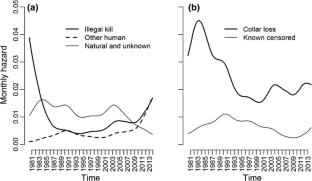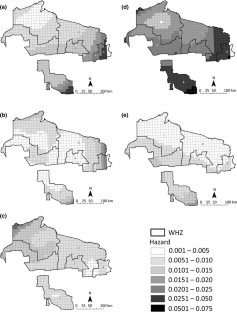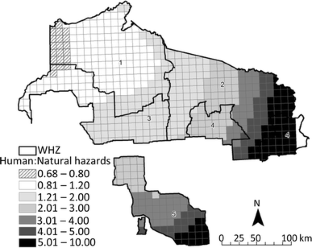 References
Adams L, Stephenson R, Dale B, Ahgook R, Demma D (2008) Population dynamics and harvest characteristics of wolves in the Central Brooks Range. Alaska Wildl Monogr 170:1–25. https://doi.org/10.2193/2008-012

Anderson DR, Burnham KP (1976) Population ecology of the mallard: VI. The effect of exploitation on survival, vol. 128. US Fish and Wildlife Service Resource Publication, pp 1–66

Crainiceanu CM, Ruppert D, Wand MP (2005) Bayesian analysis for penalized spline regression using WinBUGS. J Stat Softw 14:1–24

Creel S, Rotella J (2010) Meta-analysis of relationships between human offtake, total mortality and population dynamics of gray wolves (Canis lupus). PLoS ONE 5:e12918. https://doi.org/10.1371/journal.pone.0012918

Cross PC et al (2015) Estimating the phenology of elk brucellosis transmission with hierarchical models of cause-specific and baseline hazards. J Wildl Manage 79:739–748

Cubaynes S, MacNulty DR, Stahler DR, Quimbym KA, Smith DW, Coulson T (2014) Density-dependent intraspecific aggression regulates survival in northern yellowstone wolves (Canis lupus). J Appl Ecol 83:1344–1356

Fuller T (1989) Population dynamics of wolves in north-central Minnesota. Wildl Monogr 105:1–41

Fuller TK, Mech LD, Cochrane JF (2003) Wolf population dynamics. In: Mech LD, Boitani L (eds) Wolves: behavior, ecology, and conservation. The University of Chicago Press, Chicago, pp 161–191

Gelman A, Rubin DB (1992) Inference from iterative simulation using multiple sequences. Stat Sci 7:457–472

Heisey DM, Patterson BR (2006) A review of methods to estimate cause-specific mortality in presence of competing risks. J Wildl Manage 70:1544–1555

Klein JP, Moeschberger ML (2003) Survival analysis: statistical methods for censored and truncated data. Springer, New York

Liberg O, Chapron G, Wabakken P, Pedersen HC, Hobbs NT, Sand H (2012) Shoot, shovel and shut up: cryptic poaching slows restoration of a large carnivore in Europe. Proc R Soc Lond Ser B Biol Sci 279:910–915

MacFarland D, Wiedenhoeft JE (2013) Wisconsin gray wolf post-delisting monitoring: 27 January 2012 through 14 April 2013. Bureau of Wildlife Management, Wisconsin Department of Natural Resources, Madison, Wisconsin

Marucco F, Pletscher DH, Boitani L, Schwartz MK, Pilgrim KL, Lebreton JD (2009) Wolf survival and population trend using non-invasive capture–recapture techniques in the Western Alps. J Appl Ecol 46:1003–1010

Mech LD, Boitani L (2003) Wolf social ecology. In: Mech LD, Boitani L (eds) Wolves: behavior, ecology, and conservation. The University of Chicago Press, Chicago, pp 1–34

Mladenoff D, Sickley T, Haight R, Wydeven A (1995) A regional landscape analysis and prediction of favorable gray wolf habitat in the norther Great Lakes region. Conserv Biol 9:279–294

Mladenoff DJ, Clayton MK, Pratt SD, Sickley TA, Wydeven AP (2009) Change in occupied wolf habitat in the northern Great Lakes region. In: Wydeven AP, Van Deelen TR, Heske EJ (eds) Recovery of Gray wolves in the Great Lakes region of the United States: an endangered species success story. Springer, New York, pp 119–138

Murray D (2006) On improving telemetry-based survival estimation. J Wildl Manage 70:1530–1543

Nychka D, Furrer R, Sain S (2015) Fields: Tools for spatial data., R package version 8.2-1. http://CRAN.R-project.org/package=fields edn

Olson ER et al (2015) Pendulum swings in wolf management led to conflict, illegal kills, and a legislated wolf hunt. Conserv Lett 8:351–360

O'Neil ST, Bump JK, Beyer DE (2017) Spatially varying density dependence drives a shifting mosaic of survival in a recovering apex predator (Canis lupus). Ecol Evol 00:1–13. https://doi.org/10.1002/ece3.3463

Péron G (2013) Compensation and additivity of anthropogenic mortality: life-history effects and review of methods. J Anim Ecol 82:408–417

Péron G, Ferrand Y, Gossmann F, Bastat C, Guenezan M, Gimenez O (2011) Nonparametric spatial regression of survival probability: visualization of population sinks in Eurasian Woodcock. Ecology 92:1672–1679

Peterson RO, Page RE (1988) The rise and fall of Isle Royale wolves, 1975–1986. J Mammal 69:89–99

Peterson RO, Thomas NJ, Thurber JM, Vucetich JA, Waite TA (1998) Population limitation and the wolves of Isle Royale. J Mammal 79:828–841

Plummer M (2003) JAGS: a program for analysis of Bayesian graphical models using Gibbs sampling. In: Hornik K, Leisch F, Zeileis A (eds) Proceedings of the 3rd international workshop on distributed statistical computing, vol. 124. Technische Universit at Wien, Vienna, Austria, pp 1–10

Plummer M (2011) rjags: Bayesian graphical models using MCMC. R package version 3-5

Prentice RL, Gloeckler LA (1978) Regression analysis of grouped survival data with application to breast cancer data. Biometrics:57-67

R developement Core Team (2013) R: a language and environment for statistical computing. R Foundation for Statistical Computing, Vienna, Austria

Schaub M, Lebreton JD (2004) Testing the additive versus the compensatory hypothesis of mortality from ring recovery data using a random effects model. Anim Biodivers Conserv 27:73–85

Schwartz CC, Haroldson MA, White GC (2010) Hazards affecting grizzly bear survival in the Greater Yellowstone Ecosystem. J Wildl Manage 74:654–667

Servanty S et al (2010) Assessing whether mortality is additive using marked animals: a Bayesian state-space modeling approach. Ecology 91:1916–1923

Sinclair ARE, Pech RP (1996) Density dependence, stochasticity, compensation and predator regulation. Oikos:164–173

Smith DW et al (2010) Survival of colonizing wolves in the northern Rocky Mountains of the United States, 1982–2004. J Wildl Manage 74:620–634

Stenglein JL, Van Deelen TR (2016) Demographic and component Allee effects in Southern Lake Superior gray wolves. PLoS ONE 11:e0150535

Stenglein JL, Gilbert JH, Wydeven AP, Van Deelen TR (2015a) An individual-based model for southern Lake Superior wolves: a tool to explore the effect of human-caused mortality on a landscape of risk. Ecol Model 302:13–24

Stenglein JL et al (2015b) Mortality patterns and detection bias from carcass data: an example from wolf recovery in Wisconsin. J Wildl Manage 79:1173–1184

Stenglein JL, Zhu J, Clayton MK, Van Deelen TR (2015c) Are the numbers adding up? Exploiting discrepancies among complementary population models. Ecol Evol 5:368–376

Treves A, Langenberg JA, López-Bao JV, Rabenhorst MF (2017) Gray wolf mortality patterns in Wisconsin from 1979 to 2012. J Mammal 98:17–32

Van Deelen TR (2009) Growth characteristics of a recovering wolf population in the Great Lakes region. In: Wydeven AP, Van Deelen TR, Heske EJ (eds) Recovery of gray wolves in the great lakes region of the United States: an endangered species success story. Springer, New York, pp 139–153

Vucetich JA, Peterson RO (2004) The influence of top–down, bottom–up and abiotic factors on the moose (Alces alces) population of Isle Royale. Proc R Soc Lond Ser B Biol Sci 271:183–189

Wydeven AP, Schultz RN, Thiel RP (1995) Monitoring of a recovering gray wolf population in Wisconsin, 1979-1991. In: Carbyn LN, Fritts SH, Seip DR (eds) Ecology and Conservation of Wolves in a Changing World. Canadian Circumpolar Institute, Edmonton, pp 147–156

Wydeven AP et al (2009) History, population growth, and management of wolves in Wisconsin. In: Wydeven AP, Van Deelen TR, Heske EJ (eds) Recovery of gray wolves in the great lakes region of the United States: an endangered species success story. Springer, New York, pp 87–105

Wydeven AP, Wiedenhoeft JE, Schultz RN, Bruner J, Boles S (2012) Wisconsin endangered resources report#143: Status of the timber wolf in Wisconsin. Performance report 1 July 2011 through 30 June 2012 (also progress reports for 15 April 2011 - 14 April 2012, and 2011 summaries). Bureau of Endangered Resources, Wisconsin Department of Natural Resources, Madison, Wisconsin
Acknowledgements
We thank D. Heisey, R. Jurewitz, D. MacFarland, N. Roberts, R. Schultz, D. Thiel and J. Weidenhoeft for their development of the wolf monitoring program in Wisconsin, on-going data collection, and feedback on this research. Thank you to other Wisconsin Department of Natural Resources staff and volunteers who contributed to wolf monitoring and to the Department of Forest and Wildlife Ecology, UW-Madison for their support. We thank G. Péron for a very helpful review of this manuscript. Thank you to our additional sources of funding and support.
Funding
This study was funded by National Science Foundation-IGERT (Grant Number DGE-1144752), the Wisconsin Department of Natural Resources, the University of Wisconsin-Madison Department of Forest and Wildlife Ecology, and a USDA Hatch Act Grant.
Ethics declarations
Conflict of interest
The authors declare that they have no conflict of interest.
Additional information
Communicated by Ilpo Kojola.
Electronic supplementary material
Below is the link to the electronic supplementary material.
About this article
Cite this article
Stenglein, J.L., Wydeven, A.P. & Van Deelen, T.R. Compensatory mortality in a recovering top carnivore: wolves in Wisconsin, USA (1979–2013). Oecologia 187, 99–111 (2018). https://doi.org/10.1007/s00442-018-4132-4
Received:

Accepted:

Published:

Issue Date:
Keywords
Additive mortality

Canis lupus

Cause-specific mortality

Censoring

Survival