Abstract
The functional relationship between arbuscular mycorrhizal fungi (AMF) and their hosts is variable on small spatial scales. Here, we hypothesized that herbivore exclusion changes the AMF community and alters the ability of AMF to enhance plant tolerance to grazing. We grew the perennial bunchgrass, Themeda triandra Forssk in inoculum from soils collected in the Kenya Long-term Exclosure Experiment where treatments representing different levels of herbivory have been in place since 1995. We assessed AMF diversity in the field, using terminal restriction fragment length polymorphism and compared fungal diversity among treatments. We conducted clipping experiments in the greenhouse and field and assessed regrowth. Plants inoculated with AMF from areas accessed by wild herbivores and cattle had greater biomass than non-inoculated controls, while plants inoculated with AMF from where large herbivores were excluded did not benefit from AMF in terms of biomass production. However, only the inoculation with AMF from areas with wild herbivores and no cattle had a positive effect on regrowth, relative to clipped plants grown without AMF. Similarly, in the field, regrowth of plants after clipping in areas with only native herbivores was higher than other treatments. Functional differences in AMF were evident despite little difference in AMF species richness or community composition. Our findings suggest that differences in large herbivore communities over nearly two decades has resulted in localized, functional changes in AMF communities. Our results add to the accumulating evidence that mycorrhizae are locally adapted and that functional differences can evolve within small geographical areas.
This is a preview of subscription content, log in to check access.
Access options
Buy single article
Instant access to the full article PDF.
US$ 39.95
Price includes VAT for USA
Subscribe to journal
Immediate online access to all issues from 2019. Subscription will auto renew annually.
US$ 199
This is the net price. Taxes to be calculated in checkout.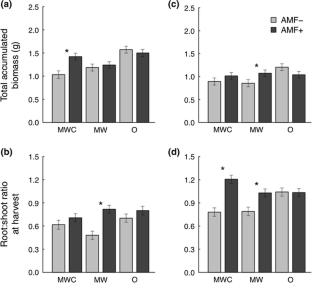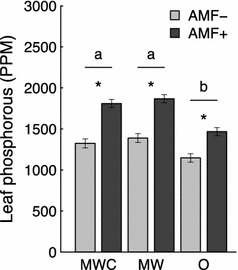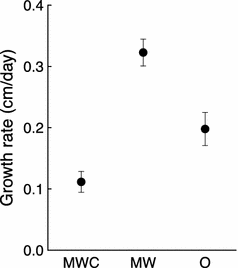 References
A'Bear AD, Johnson SN, Jones TH (2014) Putting the "upstairs–downstairs" into ecosystem service: what can aboveground–belowground ecology tell us? Biol Control 75:97–107

Aguilar-Chama A, Guevara R (2012) Mycorrhizal colonization does not affect tolerance to defoliation of an annual herb in different light availability and soil fertility treatments but increases flower size in light-rich environments. Oecologia 168(1):131–139

Anderson MJ (2001) A new method for non-parametric multivariate analysis of variance. Austral Ecol 26:32–46

Angelard C, Tanner CJ, Fontanillas P, Niculita-Hirzel H, Masclaux F, Sanders IR (2014) Rapid genotypic change and plasticity in arbuscular mycorrhizal fungi is caused by a host shift and enhanced by segregation. ISME J 8(2):284–294

Antunes PM, Koch AM, Morton JB, Rillig MC, Klironomos JN (2011) Evidence for functional divergence in arbuscular mycorrhizal fungi from contrasting climatic origins. New Phytol 189:507–514

Barber NA, Kiers ET, Theis N, Hazzard RV, Adler LS (2013) Linking agricultural practices, mycorrhizal fungi, and traits mediating plant–insect interactions. Ecol Appl 23(7):1519–1530

Bardgett RD, Wardle DA (2003) Herbivore-mediated linkages between aboveground and belowground communities. Ecology 84:2258–2268

Bates D, Maechler M, Bolker B, Walker S (2014) lme4: Linear mixed-effects models using Eigen and S4. R Pack Vers 1(7):1–23

Bennett AE, Bever JD (2007) Mycorrhizal species differentially alter plant growth and response to herbivory. Ecology 88:210–218

Bever JD (2015) Preferential allocation, physio-evolutionary feedbacks, and the stability and environmental patterns of mutualism between plants and their root symbionts. New Phytol 205:1503–1514

Bever JD, Richardson SC, Lawrence BM, Holmes J, Watson M (2009) Preferential allocation to beneficial symbiont with spatial structure maintains mycorrhizal mutualism. Ecol Lett 12:13–21

Borowicz VA (1997) A fungal root symbiont modifies plant resistance to an insect herbivore. Oecologia 112:534–542

Borowicz VA (2013) The impact of arbuscular mycorrhizal fungi on plant growth following herbivory: a search for pattern. Acta Oecol 52:1–9

Brundrett MC (2002) Coevolution of roots and mycorrhizas of land plants. New Phytol 154:275–304

Brundrett MC (2009) Mycorrhizal associations and other means of nutrition of vascular plants: understanding the global diversity of host plants by resolving conflicting information and developing reliable means of diagnosis. Plant Soil 320:37–77

Charles GK, Porensky LM, Riginos C, Veblen KE, Young TP (2017) Herbivore effects on herbaceous productivity vary by guild: cattle increase mean productivity while wildlife reduce variability. Ecol Appl 27:143–155

Culman SW, Bukowski R, Gauch HG, Cadillo-Quiroz H, Buckley DH (2009) T-Rex: software for the processing and analysis of T-RFLP data. BMC Bioinform 10:171

Eldridge DJ, Delgado-Baquerizo M, Travers SK, Val J, Oliver I, Hamonts K, Singh BK (2017) Competition drives the response of soil microbial diversity to increased grazing by vertebrate herbivores. Ecology 98:1922–1931

Entry JA, Rygiewicz PT, Watrud LS, Donnelly PK (2002) Influence of adverse soil conditions on the formation and function of arbuscular mycorrhizas. Adv Environ Res 7(1):123–138

Eom A-H, Wilson GWT, Hartnett DC (2001) Effects of ungulate grazers on arbuscular mycorrhizal symbiosis and fungal community structure in tallgrass prairie. Mycologia 93:233–242

Fellbaum CR, Gachomo EW, Beesetty Y, Choudhari S, Strahan GD, Pfeffer PE, Kiers ET, Bücking H (2012) Carbon availability triggers fungal nitrogen uptake and transport in arbuscular mycorrhizal symbiosis. Proc Natl Acad Sci 109:2666–2671

Frank DA, McNaughton SJ, Tracy BF (1998) The ecology of the Earth's grazing ecosystems. Bioscience 48:513–521

Frank DA, Gehring CA, Machut L, Phillips M (2003) Soil community composition and the regulation of grazed temperate grassland. Oecologia 137:603–609

Friesen ML, Porter SS, Stark SC, von Wettberg EJ, Sachs JL, Martinez-Romero E (2011) Microbially mediated plant functional traits. Annu Rev Ecol Evol S 42:23–46

Gange AC (2007) Insect-mycorrhizal interactions: patterns, processes, and consequences. In: Ohgushi T, Craig TP, Price PW (eds) Ecological communities: plant mediation in indirect interaction webs, vol 6. Cambridge University Press, New York, pp 124–144

Gange AC, Bower E, Brown VK (2002) Differential effects of insect herbivory on arbuscular mycorrhizal colonization. Oecologia 131:103–112

Gange AC, Brown VK, Aplin DM (2005) Ecological specificity of arbuscular mycorrhizae: evidence from foliar- and seed-feeding insects. Ecology 86:603–611

Garrido E, Bennett AE, Fornoni J, Strauss SY (2010) Variation in arbuscular mycorrhizal fungi colonization modifies the expression of tolerance to above-ground defoliation. J Ecol 98(1):43–49

Giovannetti M, Mosse B (1980) An evaluation of techniques for measuring vesicular arbuscular mycorrhizal infection in roots. New Phytol 84:489–500

González JB, Clarke GL, Brody AB (2015) Lack of sex-specific differences in mycorrhizal associations and response to herbivory in the gynodioecious herb, Polemonium foliosissimum. Plant Ecol 216:951–962

Hartley SE, Gange AC (2009) Impacts of plant symbiotic fungi on insect herbivores: mutualism in a multitrophic context. Annu Rev Entomol 54:323–342

Hobbs NT (1996) Modification of ecosystems by ungulates. J Wildl Manag 60:695–713

Hoeksema JD, Chaudhary VB, Gehring CA, Johnson NC, Karst J, Koide RT, Wilson GW (2010) A meta-analysis of context-dependency in plant response to inoculation with mycorrhizal fungi. Ecol Lett 13(3):394–407

Ji B, Bentivenga SP, Casper BB (2010) Evidence for ecological matching of whole AM fungal communities to the local plant–soil environment. Ecology 91:3037–3046

Ji B, Gehring CA, Wilson GWT, Miller RM, Flores-Rentería L, Johnson NC (2013) Patterns of diversity and adaptation in Glomeromycota from three prairie grasslands. Mol Ecol 22:2573–2587

Johnson NC (1993) Can fertilization of soil select less mutualistic mycorrhizae? Ecol Appl 3:749–757

Johnson NC, Graham JH, Smith FA (1997) Functioning of mycorrhizal associations along the mutualism–parasitism continuum. New Phytol 135:575–585

Johnson NC, Wilson GWT, Bowker MA, Wilson JA, Miller RM (2010) Resource limitation is a driver of local adaptation in mycorrhizal symbioses. Proc Natl Acad Sci 107:2093–2098

Johnson D, Martin F, Cairney JW, Anderson IC (2012) The importance of individuals: intraspecific diversity of mycorrhizal plants and fungi in ecosystems. New Phytol 194(3):614–628

Kiers ET, Duhamel M, Beesetty Y, Mensah JA, Franken O, Verbruggen E, Fellbaum CR, Kowalchuk GA, Hart MM, Bago A, Palmer TM, West SA, Vandenkoornhuyse P, Jansa J, Bucking H (2011) Reciprocal rewards stabilize cooperation in the mycorrhizal symbiosis. Science 333:880–882

Kimuyu DM, Veblen KE, Riginos C, Chira RM, Githaiga JM, Young TP (2017) Influence of cattle on browsing and grazing wildlife varies with rainfall and presence of megaherbivores. Ecol Appl 27:786–798

Klironomos JN (2002) Feedback with soil biota contributes to plant rarity and invasiveness in communities. Nature 418:67–70

Klironomos JN (2003) Variation in plant response to native and exotic arbuscular mycorrhizal fungi. Ecology 84:2292–2301

Knegt B, Jansa J, Franken O, Engelmoer DJ, Werner GD, Bücking H, Kiers ET (2016) Host plant quality mediates competition between arbuscular mycorrhizal fungi. Fungal Ecol 20:233–240

Koch AM, Kuhn G, Fontanillas P, Fumagalli L, Goudet J, Sanders IR (2004) High genetic variability and low local diversity in a population of arbuscular mycorrhizal fungi. Proc Natl Acad Sci 101(8):2369–2374

Koch AM, Croll D, Sanders IR (2006) Genetic variability in a population of arbuscular mycorrhizal fungi causes variation in plant growth. Ecol Lett 9(2):103–110

Koide RT, Li M (1989) Appropriate controls for vesicular–arbuscular mycorrhiza research. New Phytol 111:35–44

Kula AAR, Hartnett DC (2015) Effects of mycorrhizal symbiosis on aboveground arthropod herbivory in tallgrass prairie: an in situ experiment. Plant Ecol 216(4):589–597

Laird RA, Addicott JF (2007) Arbuscular mycorrhizal fungi reduce the construction of extrafloral nectaries in Vicia faba. Oecologia 152(3):541–551

McNaughton SJ (1985) Ecology of a grazing ecosystem: the Serengeti. Ecol Monogr 55:259–294

Middleton EL, Richardson S, Koziol L, Palmer CE, Yermakov Z, Henning JA, Bever JD (2015) Locally adapted arbuscular mycorrhizal fungi improve vigor and resistance to herbivory of native prairie plant species. Ecosphere 6(12):1–16

Morton JB, Bentivenga SP, Bever JD (1995) Discovery, measurement, and interpretation of diversity in arbuscular endomycorrhizal fungi (Glomales, Zygomycetes). Can J Bot 73(Suppl 1):S25–S32

Murray TR, Frank DA, Gehring CA (2010) Ungulate and topographic control of arbuscular mycorrhizal fungal spore community composition in a temperate grassland. Ecology 91:815–827

Nijjer S, Rogers WE, Siemann E (2010) The impacts of fertilization on mycorrhizal production and investment in western gulf coast grasslands. Am Midl Nat 163:124–133

Oksanen J, Blanchet FG, Friendly M, Kindt R, Legendre P, McGlinn D, Minchin PR, O'Hara RB, Simpson PR, Solymos P, Stevens HH, Szoecs E, Wagner H (2011) Vegan: community ecology package. R package version 20-2

Ourry A, Boucaud J, Salette J (1988) Nitrogen mobilization from stubble and roots during re-growth of defoliated perennial ryegrass. J Exp Bot 39(6):803–809

Oyarzabal M, Oesterheld M (2009) Phosphorus reserves increase grass regrowth after defoliation. Oecologia 159:717–724

Petipas RH, Brody AK (2014) Termites and ungulates affect arbuscular mycorrhizal richness and infectivity in a semiarid savanna. Botany 92(3):233–240

Petipas RH, González JB, Palmer TM, Brody AK (2017) Habitat-specific AMF symbioses enhance drought tolerance of a native Kenyan grass. Acta Oecol 78:71–78

Piippo S, Markkola A, Härmä E, Tuomi J (2011) Do compensatory shoot growth and mycorrhizal symbionts act as competing above- and below-ground sinks after simulated grazing? Plant Ecol 212:33–42

Pinheiro J, Bates D, DebRoy S, Sarkar D, R Core Team (2017) nlme: Linear and nonlinear mixed effects models. R package version 31-131

Porensky LM, Wittman SE, Riginos C, Young TP (2013) Herbivory and drought interact to enhance spatial patterning and diversity in a savanna understory. Oecologia 173:591–602

Pringle RM, Palmer TM, Goheen JR, McCauley DJ, Keesing F (2011) Ecological importance of large herbivores in the Ewaso ecosystem. Smithson Control Zool 632:43–54

R Development Core Team (2016) R: a language and environment for statistical computing. R Foundation for Statistical Computing, Vienna

Read DJ (2002) Towards ecological relevance—progress and pitfalls in the path towards an understanding of mycorrhizal functions in nature. In: van der Heijden MGA, Sanders IR (eds) Mycorrhizal ecology. Springer, Berlin, pp 3–29

Redecker D, Morton JB, Bruns TD (2000) Ancestral lineages of arbuscular mycorrhizal fungi (Glomales). Mol Phylogenet Evol 14(2):276–284

Remy W, Taylor TN, Hass H, Kerp H (1994) Four hundred-million-year-old vesicular arbuscular mycorrhizae. Proc Natl Acad Sci 91:11841–11843

Revillini D, Gehring CA, Johnson NC (2016) The role of locally adapted mycorrhizas and rhizobacteria in plant–soil feedback systems. Funct Ecol 30(7):1086–1098

Ruotsalainen AL, Eskelinen A (2011) Root fungal symbionts interact with mammalian herbivory, soil nutrient availability and specific habitat conditions. Oecologia 166(3):807–817

Saravesi K, Ruotsalainen AL, Cahill JF (2014) Contrasting impacts of defoliation on root colonization by arbuscular mycorrhizal and dark septate endophytic fungi of Medicago sativa. Mycorrhiza 24:239–245

Smith SE, Read D (2008) Mycorrhizal symbiosis, 3rd edn. Academic Press, Amsterdam, p 787

Smith-Ramesh LM, Reynolds HL (2017) The next frontier of plant–soil feedback research: unraveling context dependence across biotic and abiotic gradients. J Veg Sci 28(3):484–494

Tao L, Ahmad A, Roode JC, Hunter MD (2016) Arbuscular mycorrhizal fungi affect plant tolerance and chemical defences to herbivory through different mechanisms. J Ecol 104(2):561–571

van der Heyde M, Bennett JA, Pither J, Hart M (2017) Longterm effects of grazing on arbuscular mycorrhizal fungi. Agric Ecosyst Environ 243:27–33

van der Putten WH, Bardgett RD, Bever JD, Bezemer TM, Casper BB, Fukami T, Kardol P, Klironomos JN, Kulmatiski A, Schweitzer JA, Suding KN, van de Voorde TFJ, Wardle DA (2013) Plant–soil feedbacks: the past, present and future challenges. J Ecol 101:265–276

van der Putten WH, Bradford MA, Pernilla Brinkman E, Voorde TF, Veen GF (2016) Where, when and how plant–soil feedback matters in a changing world. Funct Ecol 30(7):1109–1121

Varga S, Kytöviita MM, Siikamäki P (2009) Sexual differences in response to simulated herbivory in the Gynodioecious herb Geranium sylvaticum. Plant Ecol 202(2):325–336

Veblen KE, Young TP (2010) Contrasting effects of cattle and wildlife on the vegetation development of a savanna landscape mosaic. J Ecol 98:993–1001

Veblen KE, Porensky LM, Riginos C, Young TP (2016) Are cattle surrogate wildlife? Savanna plant community composition explained by total herbivory more than herbivore type. Ecol Appl 26:1610–1623

Vega-Frutis R, Guevara R (2013) Greater mycorrhizal colonization of unisexual morphs than of hermaphroditic morphs of Jacaratia mexicana during flowering and fruiting in central Mexico. Symbiosis 59:173–181

Verbruggen E, Kiers ET (2010) Evolutionary ecology of mycorrhizal functional diversity in agricultural systems. Evol Appl 3:547–560

Verbruggen E, Röling WFM, Gamper HA, Kowalchuk GA, Verhoef HA, van der Heijden MGA (2010) Positive effects of organic farming on below-ground mutualists: large-scale comparison of mycorrhizal fungal communities in agricultural soils. New Phytol 186:968–979

Verbruggen E, Mouden CE, Jansa J, Akkermans G, Bücking H, West SA, Kiers ET (2012) Spatial structure and interspecific cooperation: theory and an empirical test using the mycorrhizal mutualism. Am Nat 179:E133–E146

Veresoglou SD, Menexes G, Rillig MC (2012) Do arbuscular mycorrhizal fungi affect the allometric partition of host plant biomass to shoots and roots? A meta-analysis of studies from 1990 to 2010. Mycorrhiza 22(3):227–235

Vierheilig H, Coughlan AP, Wyss U, Piche Y (1998) Ink and vinegar, a simple staining technique for arbuscular-mycorrhizal fungi. Appl Environ Microbiol 64:5004–5007

Wang M, Bezemer TM, van der Putten WH, Biere A (2015) Effects of the timing of herbivory on plant defense and insect performance in ribwort plantain (Plantago lanceolate L) depend on plant mycorrhizal status. J Chem Ecol 41:1006–1017

Wardle DA, Bardgett RD, Klironomos JN, Setälä H, van der Putten WH, Wall DH (2004) Ecological linkages between aboveground and belowground biota. Science 304:1629–1633

Wearn JA, Gange AC (2007) Above-ground herbivory causes rapid and sustained changes in mycorrhizal colonization of grasses. Oecologia 153(4):959–971

Weiner J (2004) Allocation, plasticity and allometry in plants. Perspect Plant Ecol 6(4):207–215

Young TP, Okello B, Kinyua D, Palmer TP (1998) KLEE: a long-term, large scale herbivore exclusion experiment in Laikipia, Kenya. Afr J Range For Sci 14:94–102

Young TP, Palmer TM, Gadd ME (2005) Competition and compensation among cattle, zebras, and elephants in a semi-arid savanna in Laikipia, Kenya. Biol Conserv 122:351–359

Young HS, McCauley DJ, Helgen KM, Goheen JR, Otarola-Castillo E, Palmer TM, Pringle RM, Young TP, Dirzo R (2013) Effects of mammalian herbivore declines on plant communities: observations and experiments in an African savanna. J Ecol 101:1030–1041

Zheng C, Ji B, Zhang J, Zhang F, Bever J (2015) Shading decreases plant carbon preferential allocation towards the most beneficial mycorrhizal mutualist. New Phytol 205:261–368
Acknowledgements
We thank, G. Clarke, C. Armstrong, D. Heleba for help in the greenhouse and comments on JBG's thesis. Special thanks to JBG's MSc committee, J.M. Harris and J.O. Vigoreaux, for constructive criticism of the analysis and interpretation of the results, and to A. Howard (UVM) and F. Vermeylen (Cornell) for help with the statistical analysis. We thank J. Morton (INVAM, WVU) for his mentorship in the field of AMF and for constructive remarks on this and other AMF projects. Our work was supported by NSF DEB-0519223 to A.K. Brody. Mpala Research Centre and staff provided logistical support. KLEE was carried out under Government of Kenya research clearance permit No. NCST/RCD/12B/012/42. KLEE was built and maintained by grants from the James Smithson Fund of the Smithsonian Institution (to A.P. Smith), The National Geographic Society (Grants 4691-91 and 9106-12), NSF (LTREB DEB 97-07477, 03-16402, 08-16453, 12-56004, and 12-56034) and the African Elephant Program of the US Fish and Wildlife Service (98210-0-G563) (to T.P. Young, C. Riginos, and K.E. Veblen).
Additional information
Communicated by Corné Pieterse.
Electronic supplementary material
Below is the link to the electronic supplementary material.
About this article
Cite this article
González, J.B., Petipas, R.H., Franken, O. et al. Herbivore removal reduces influence of arbuscular mycorrhizal fungi on plant growth and tolerance in an East African savanna. Oecologia 187, 123–133 (2018). https://doi.org/10.1007/s00442-018-4124-4
Received:

Accepted:

Published:

Issue Date:
Keywords
Below and aboveground interactions

Arbuscular mycorrhizal fungi

Simulated herbivory

Local adaptation

Kenya Long-term Exclosure Experiment (KLEE)