Abstract
The perceived quality of habitat patches in complex landscapes is highly context dependent. Characteristics of neighboring patches in such complex landscapes can influence perceived habitat quality, altering colonization dynamics and community structure. Spatial contagion of predation risk across patches has been observed over smaller spatial scales in aquatic systems. Naturally colonizing aquatic beetles were used to examine the spatial dynamics of risk contagion by quantifying the size of predator shadows around fish patches across spatial scales potentially involving numerous patches in natural landscapes. These consisted of fish free, replicate experimental mesocosm arrays radiating from larger central mesocosms containing fish, and allowed examination of the effect of distance to fish on beetle abundance, rarified species richness, and variation in species responses. Overall, beetles avoided pools closer to fish, but species varied in colonization pattern, resulting in species-specific predator shadows and potential behavioral species sorting. The spatial and phylogenetic extent of contagion and other context-dependent effects has implications for the role of complex behavior in the dynamics of communities and metacommunities.
Access options
Buy single article
Instant access to the full article PDF.
US$ 39.95
Tax calculation will be finalised during checkout.
Subscribe to journal
Immediate online access to all issues from 2019. Subscription will auto renew annually.
US$ 119
Tax calculation will be finalised during checkout.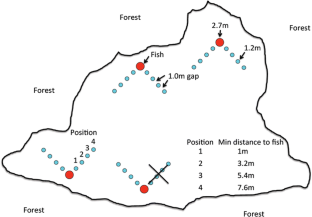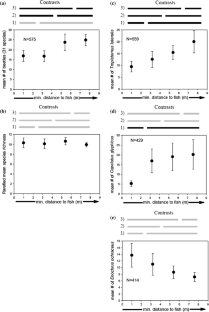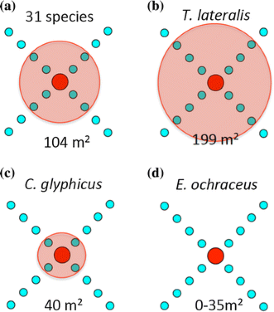 References
Abrams PA (2007) Habitat choice in predator-prey systems: spatial instability due to interacting adaptive movements. Am Nat 169:581–594. https://doi.org/10.1086/512688

Abrams PA, Cressman R, Krivan V (2007) The role of behavioral dynamics in determining the patch distributions of interacting species. Am Nat 169:505–518. https://doi.org/10.1086/511963

Armsworth PR, Roughgarden JE (2005) The impact of directed versus random movement on population dynamics and biodiversity patterns. Am Nat 165:449–465. https://doi.org/10.1086/428595

Bilton DT (2014) Dispersal in Dytiscidae. In: Yee DA (ed) Ecology, systematics, and the natural history of predaceous diving beetles (Coleoptera: Dytiscidae). Springer, The Netherlands, pp 387–407

Binckley CA, Resetarits WJ Jr (2002) Reproductive decisions under threat of predation: squirrel treefrog (Hyla squirella) responses to banded sunfish (Enneacanthus obesus). Oecologia. https://doi.org/10.1007/s004420100781

Binckley CA, Resetarits WJ Jr (2005) Habitat selection determines abundance, richness and species composition of beetles in aquatic communities. Biol Lett 1:370–374. https://doi.org/10.1098/rsbl.2005.0310

Binckley CA, Resetarits WJ Jr (2009) Spatial and temporal dynamics of habitat selection across canopy gradients generates patterns of species richness and composition in aquatic beetles. Ecol Entomol 34:457–465. https://doi.org/10.1111/j.1365-2311.2008.01069.x

Blaustein L (1999) Oviposition site selection in response to risk of predation: evidence from aquatic habitats and consequences for population dynamics and community structure. In: Wasser S (ed) Evolutionary theory and processes: modern perspectives. Kluwer, Dordrecht, pp 441–456

Colwell RK (2013) EstimateS: Statistical estimation of species richness and shared species from samples. Version 9. User's Guide and application published at: http://purl.oclc.org/estimates

Deans RA, Chalcraft DR (2016) Matrix context and patch quality jointly determine diversity in a landscape-scale experiment. Oikos 126:874–887

Delibes M, Gaona P, Ferreras P (2001) Effects of an attractive sink leading into maladaptive habitat selection. Am Nat 158:277–285. https://doi.org/10.1086/321319

Eveland LL, Bohenek J, Silberbush A, Resetarits WJ Jr (2016) Detection of fish and newt kairomones by ovipositing mosquitoes. In: Schulte BA, Goodwin T, Ferkin MH (eds) Chemical signals in vertebrates-volume 13. Springer, Berlin, pp 247–259

Fretwell SD, Lucas HLJ (1970) On territorial behavior and other factors influencing habitat distribution in birds. I. Theoretical development. Acta Biotheor 19:16–36

Golubski AJ, Abrams PA (2011) Modifying modifiers: what happens when interspecific interactions interact? J Anim Ecol 80:1097–1108. https://doi.org/10.1111/j.1365-2656.2011.01852.x

Hughey MC, McCoy MW, Vonesh JR, Warkentin KM (2012) Spatial contagion drives colonization and recruitment of frogflies on clutches of red-eyed treefrogs. Biol Lett 8:887–889. https://doi.org/10.1098/rsbl.2012.0468

Johnson CG (1969) Migration and dispersal of insects by flight. Methuen, London

Kraus J, Vonesh J (2010) Feedbacks between community assembly and habitat selection shape variation in local colonization. J Anim Ecol. https://doi.org/10.1111/j.1365-2656.2010.01684.x

Layton RJ, Voshell JRJ (1991) Colonization of new experimental ponds by benthic macroinvertebrates. Environ Entomol 20:110–117

Lundkvist E, Landin J, Milberg P (2001) Diving beetle (Dytiscidae) assemblages along environmental gradients in an agricultural landscape in southeastern Sweden. Wetlands 21:48–58. https://doi.org/10.1672/0277-5212(2001)021[0048:DBDAAE]2.0.CO;2

MacArthur RH, Wilson EO (1967) The theory of island biogeography. Princeton University Press, Princeton

McCoy MW, Barfield M, Holt RD (2009) Predator shadows: complex life histories as generators of spatially patterned indirect interactions across ecosystems. Oikos 118:87–100. https://doi.org/10.1111/j.1600-0706.2008.16878.x

Morris DW (2003) Toward an ecological synthesis: a case for habitat selection. Oecologia 136:1–13

Orians GH, Wittenberger JF (1991) Spatial and temporal scales in habitat selection. Am Nat 137:S29–S49. https://doi.org/10.2307/2678832

Orrock JL, Dill LM, Sih A et al (2010) Predator effects in predator-free space: the remote effects of predators on prey. Open Ecol 3:22–30. https://doi.org/10.2174/1874213001003030022

Pearl CA, Adams MJ, Leuthold N, Bury RB (2005) Amphibian occurrence and aquatic invaders in a changing landscape: implications for wetland mitigation in the Willamette Valley, Oregon, USA. Wetlands 25:76–88. https://doi.org/10.1672/0277-5212(2005)025[0076:AOAAII]2.0.CO;2

Petranka JW, Holbrook CT (2006) Wetland restoration for amphibians: should local sites be designed to support metapopulations or patchy populations? Restor Ecol 14:404–411. https://doi.org/10.1111/j.1526-100X.2006.00148.x

Pulliam HR, Danielson BJ (1991) Sources, sinks, and habitat selection: a landscape perspective on population dynamics. Am Nat 137:S50–S66

Resetarits WJ Jr (2005) Habitat selection behaviour links local and regional scales in aquatic systems. Ecol Lett 8:480–486. https://doi.org/10.1111/j.1461-0248.2005.00747.x

Resetarits WJ Jr, Binckley CA (2009) Spatial contagion of predation risk affects colonization dynamics in experimental aquatic landscapes. Ecology 90:869–876. https://doi.org/10.1890/08-0613.1

Resetarits WJ Jr, Binckley CA (2013a) Patch quality and context, but not patch number, drive multi-scale colonization dynamics in experimental aquatic landscapes. Oecologia 173:933–946. https://doi.org/10.1007/s00442-013-2644-5

Resetarits WJ, Binckley CA (2013b) Is the pirate really a ghost? evidence for generalized chemical camouflage in an aquatic predator, pirate perch. Am Nat 181(5):690–699

Resetarits WJ Jr, Pintar MR (2016) Functional diversity of non-lethal effects, chemical camouflage, and variation in fish avoidance in colonizing beetles. Ecology 97:3517–3529. https://doi.org/10.1002/ecy.1593

Resetarits WJ Jr, Silberbush A (2016) Local contagion and regional compression: habitat selection drives spatially explicit, multiscale dynamics of colonisation in experimental metacommunities. Ecol Lett 19:191–200. https://doi.org/10.1111/ele.12553

Resetarits WJ Jr, Binckley CA, Chalcraft DR (2005) Habitat selection, species interactions, and processes of community assembly in complex landscapes: a metacommunity perspective. In: Holyoak M, Leibold MA, Holt RD (eds) Metacommunities: spatial dynamics and ecological communities. University of Chicago Press, Chicago, pp 374–398

Robert S, Torrie JH, Dickey D (1997) Principles and procedures of statistics: a biometrical approach. McGraw-Hill, New York

Schlaepfer MA, Runge MC, Sherman PW (2002) Ecological and evolutionary traps. Trends Ecol Evol 17:474–480. https://doi.org/10.1016/S0169-5347(02)02580-6

Sheldon AL (1984) Colonization dynamics of aquatic insects. In: Resh HV, Rosenberg DM (eds) The ecology of aquatic insects. Praeger, New York, pp 401–429

Silberbush A, Blaustein L (2008) Oviposition habitat selection by a mosquito in response to a predator: are predator-released kairomones air-borne cues? J Vector Ecol 33:208–211

Trexler JC, Loftus WF, Jordan CF et al (2001) Ecological scale and its implications for freshwater fishes in the Florida Everglades. In: Porter JW, Porter KG (eds) The Everglades, Florida Bay, and coral reefs of the Florida keys: an ecosystem sourcebook. CRC Press, Boca Raton, pp 153–181

Vonesh JR, Kraus JM (2009) Pesticide alters habitat selection and aquatic community composition. Oecologia 160:379–385. https://doi.org/10.1007/s00442-009-1301-5

Vonesh JR, Kraus JM, Rosenberg JS, Chase JM (2009) Predator effects on aquatic community assembly: disentangling the roles of habitat selection and post-colonization processes. Oikos 118:1219–1229. https://doi.org/10.1111/j.1600-0706.2009.17369.x

Wellborn GA, Skelly DK, Werner EE (1996) Mechanisms creating community structure across a freshwater habitat gradient. Annu Rev Ecol Syst 27:337–363. https://doi.org/10.1146/annurev.ecolsys.27.1.337

Wesner JS, Billman EJ, Belk MC (2012) Multiple predators indirectly alter community assembly across ecological boundaries. Ecology 93:1674–1682. https://doi.org/10.1890/11-2061.1

Wiens JA (1976) Population responses to patchy environment. Annu Rev Ecol Syst 7:81–120. https://doi.org/10.1146/annurev.es.07.110176.000501

Zalom FG, Grigarick AA, Way MO (1979) Seasonal and diel flight periodicities of rice field Hydrophilidae. Environ Entomol 8:938–943

Zera AJ, Denno RF (1997) Physiology and ecology of dispersal polymorphism in insects. Annu Rev Entomol 42:207–230. https://doi.org/10.1146/annurev.ento.42.1.207
Acknowledgements
M. Pintar, J. Bohenek, and L. Eveland helped with numerous aspects of the experiment. M. Pintar identified the beetles. The manuscript benefitted from the comments of J. Bohenek, M. Pintar, and T. Breech. Special thanks to D. Chalcraft for stimulating discussions on analysis and the nature of independence. The work was supported by The University of Mississippi and the Henry L. and Grace Doherty Foundation. Logistical support provided by the UM Field Station.
Ethics declarations
Ethical approval
All applicable institutional and national guidelines for the care and use of animals were followed.
Additional information
Communicated by Jill Lancaster.
About this article
Cite this article
Resetarits, W.J. Giving predators a wide berth: quantifying behavioral predator shadows in colonizing aquatic beetles. Oecologia 186, 415–424 (2018). https://doi.org/10.1007/s00442-017-4024-z
Received:

Accepted:

Published:

Issue Date:
Keywords
Community assembly

Habitat selection

Phantom interactions

Remote effects

Risk contagion