Abstract
A significant fraction of the terrestrial biosphere comprises biomes containing tree–grass mixtures. Forecasting vegetation dynamics in these environments requires a thorough understanding of how trees and grasses use and compete for key belowground resources. There is disagreement about the extent to which tree–grass vertical root separation occurs in these ecosystems, how this overlap varies across large-scale environmental gradients, and what these rooting differences imply for water resource availability and tree–grass competition and coexistence. To assess the extent of tree–grass rooting overlap and how tree and grass rooting patterns vary across resource gradients, we examined landscape-level patterns of tree and grass functional rooting depth along a mean annual precipitation (MAP) gradient extending from ~ 450 to ~ 750 mm year−1 in Kruger National Park, South Africa. We used stable isotopes from soil and stem water to make inferences about relative differences in rooting depth between these two functional groups. We found clear differences in rooting depth between grasses and trees across the MAP gradient, with grasses generally exhibiting shallower rooting profiles than trees. We also found that trees tended to become more shallow-rooted as a function of MAP, to the point that trees and grasses largely overlapped in terms of rooting depth at the wettest sites. Our results reconcile previously conflicting evidence for rooting overlap in this system, and have important implications for understanding tree–grass dynamics under altered precipitation scenarios.
This is a preview of subscription content, log in to check access.
Access options
Buy single article
Instant access to the full article PDF.
US$ 39.95
Price includes VAT for USA
Subscribe to journal
Immediate online access to all issues from 2019. Subscription will auto renew annually.
US$ 199
This is the net price. Taxes to be calculated in checkout.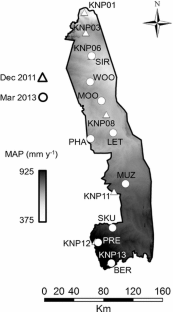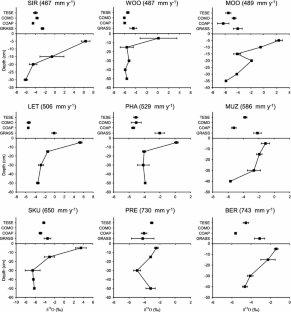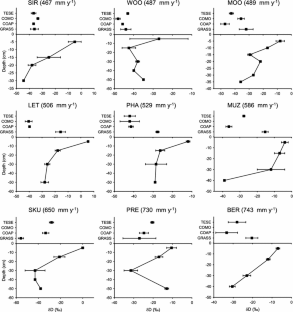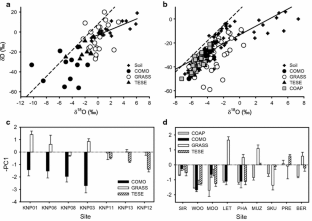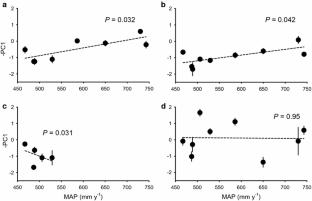 References
Belsky AJ (1994) Influences of trees on savanna productivity: tests of shade, nutrients, and tree–grass competition. Ecology 75:922–932

Brown JR, Archer S (1990) Water relations of a perennial grass and seedling vs adult woody plants in a subtropical savanna, Texas. Oikos 57:366–374

Bucini G, Hanan NP (2007) A continental-scale analysis of tree cover in African savannas. Glob Ecol Biogeogr 16:593–605

Corbin J, Thomsen M, Dawson T, D'Antonio C (2005) Summer water use by California coastal prairie grasses: fog, drought, and community composition. Oecologia 145:511–521

Cramer MD, Van Cauter A, Bond WJ (2010) Growth of N2-fixing African savanna Acacia species is constrained by below-ground competition with grass. J Ecol 98:156–167

Development Core Team R (2011) R: a language and environment for statistical computing. R Foundation for Statistical Computing, Vienna

Dodd MB, Lauenroth WK, Welker JM (1998) Differential water resource use by herbaceous and woody plant life-forms in a shortgrass steppe community. Oecologia 117:504–512

February EC, Higgins SI (2010) The distribution of tree and grass roots in savannas in relation to soil nitrogen and water. S Afr J Bot 76:517–523

Guswa AJ, Celia MA, Rodriguez-Iturbe I (2002) Models of soil moisture dynamics in ecohydrology: a comparative study. Water Resour Res 38:1–15

Herman A, Kumar VB, Arkin PA, Kousky JV (1997) Objectively determined 10-day African rainfall estimates created for famine early warning systems. Int J Remote Sens 18:2147–2159

Herr DG (1986) On the history of ANOVA in unbalanced, factorial designs: the first 30 years. Am Stat 40:265–270

Hipondoka MHT, Aranibar JN, Chirara C, Lihavha M, Macko SA (2003) Vertical distribution of grass and tree roots in arid ecosystems of Southern Africa: niche differentiation or competition? J Arid Environ 54:319–325

Holdo RM (2013) Revisiting the two-layer hypothesis: coexistence of alternative functional rooting strategies in savannas. PLoS One 8:e69625

Holdo RM, Mack MC (2014) Functional attributes of savanna soils: contrasting effects of tree canopies and herbivores on bulk density, nutrients and moisture dynamics. J Ecol 102:1171–1182

Holdo RM, Nippert J (2015) Transpiration dynamics support resource partitioning in African savanna trees and grasses. Ecology 96:1466–1472

Holdo RM, Timberlake J (2008) Rooting depth and above-ground community composition in Kalahari sand woodlands in western Zimbabwe. J Trop Ecol 24:169–176

Kambatuku JR, Cramer MD, Ward D (2013) Overlap in soil water sources of savanna woody seedlings and grasses. Ecohydrology 6:464–473

Kulmatiski A, Beard K (2013a) Root niche partitioning among grasses, saplings, and trees measured using a tracer technique. Oecologia 171:25–37

Kulmatiski A, Beard KH (2013b) Woody plant encroachment facilitated by increased precipitation intensity. Nat Clim Change 3:833–837

Kulmatiski A, Beard KH, Verweij RJT, February EC (2010) A depth-controlled tracer technique measures vertical, horizontal and temporal patterns of water use by trees and grasses in a subtropical savanna. New Phytol 188:199–209

Le Maitre DC, van Wilgen BW, Gelderblom CM, Bailey C, Chapman RA, Nel JA (2002) Invasive alien trees and water resources in South Africa: case studies of the costs and benefits of management. For Ecol Manag 160:143–159

Mordelet P, Menaut J-C, Mariotti A (1997) Tree and grass rooting patterns in an African humid savanna. J Veg Sci 8:65–70

Nippert JB, Holdo RM (2015) Challenging the maximum rooting depth paradigm in grasslands and savannas. Funct Ecol 29:739–745

Nippert J, Knapp AK (2007a) Linking water uptake with rooting patterns in grassland species. Oecologia 153:261–272

Nippert JB, Knapp AK (2007b) Soil water partitioning contributes to species coexistence in tallgrass prairie. Oikos 116:1017–1029

Nippert JB, Wieme RA, Ocheltree TW, Craine JM (2012) Root characteristics of C4 grasses limit reliance on deep soil water in tallgrass prairie. Plant Soil 355:385–394

Novella NS, Thiaw WM (2013) African rainfall climatology version 2 for famine early warning systems. J Appl Meteorol Climatol 52:588–606

Ogle K, Wolpert RL, Reynolds JF (2004) Reconstructing plant root area and water uptake profiles. Ecology 85:1967–1978

Parnell AC, Inger R, Bearhop S, Jackson AL (2010) Source partitioning using stable isotopes: coping with too much variation. PLoS One 5:e9672

Pinheiro JC, Bates M (2000) Mixed-effects models in S and S-PLUS. Springer, New York

Roux XL, Bariac T, Mariotti A (1995) Spatial partitioning of the soil water resource between grass and shrub components in a West African humid savanna. Oecologia 104:147–155

Sala OE, Golluscio RA, Lauenroth WK, Soriano A (1989) Resource partitioning between shrubs and grasses in the Patagonian steppe. Oecologia 81:501–505

Sankaran M et al (2005) Determinants of woody cover in African savannas. Nature 438:846–849

Schenk HJ, Jackson RB (2002) Rooting depths, lateral root spreads and belowground/aboveground allometries of plants in water-limited ecosystems. J Ecol 90:480–494

Scholes RJ, Walker BH (1993) An African savanna: synthesis of the Nylsvley study. Cambridge University Press, Cambridge

Treydte AC, van der Beek JGM, Perdok AA, van Wieren SE (2011) Grazing ungulates select for grasses growing beneath trees in African savannas. Mamm Biol-Zeitschrift fur Saugetierkunde 76:345–350

Venter FJ, Scholes RJ, Eckhardt HC (2003) The abiotic template and its associated vegetation pattern. In: Du Toit J, Rogers KH, Biggs H (eds) The Kruger experience: ecology and management of savanna heterogeneity. Island Press, Washington, pp 83–129

Verweij RJT, Higgins SI, Bond WJ, February EC (2011) Water sourcing by trees in a mesic savanna: responses to severing deep and shallow roots. Environ Exp Bot 74:229–236

Walker BH, Noy-Meir I (1982) Aspects of the stability and resilience of savanna ecosystems. In: Huntley BJ, Walker BH (eds) Ecology of tropical savannas. Springer, Berlin, pp 556–590

Walter H (1971) Ecology of tropical and subtropical vegetation. Oliver and Boyd, Endinburgh

Ward D, Wiegand K, Getzin S (2013) Walter's two-layer hypothesis revisited: back to the roots! Oecologia 172:616–630

Weltzin JF, McPherson GR (1997) Spatial and temporal soil moisture resource partitioning by trees and grasses in a temperate savanna, Arizona, USA. Oecologia 112:156–164

West AG, February EC, Bowen GJ (2014) Spatial analysis of hydrogen and oxygen stable isotopes ("isoscapes") in ground water and tap water across South Africa. J Geochem Explor 145:213–222

Yu K, Saha MV, D'Odorico P (2017) The effects of interannual rainfall variability on tree–grass composition along Kalahari rainfall gradient. Ecosystems 20:975–988
Acknowledgements
SANParks allowed access to Kruger NP for sample collection. We would like to acknowledge Navashni Govender and the Scientific Services staff at SANParks for assistance. Wayne Twine and Wits University provided access to the field site at Wits Rural Facility. Ben Ketter assisted with laboratory work, and Hloniphani Moyo, Deus Rugemalila, and Zak Ratajczak helped with field data collection. This research was partly funded by a grant from the Andrew W. Mellon Foundation. We thank Kevin Mueller and an anonymous reviewer for helpful suggestions on an earlier version of the manuscript.
Additional information
Communicated by Miquel A Gonzalez-Meler.
Electronic supplementary material
Below is the link to the electronic supplementary material.
About this article
Cite this article
Holdo, R.M., Nippert, J.B. & Mack, M.C. Rooting depth varies differentially in trees and grasses as a function of mean annual rainfall in an African savanna. Oecologia 186, 269–280 (2018). https://doi.org/10.1007/s00442-017-4011-4
Received:

Accepted:

Published:

Issue Date:
Keywords
African savanna

Environmental gradients

Tree–grass coexistence

Two-layer model

Stable isotopes